Palestinian Territories/Gaza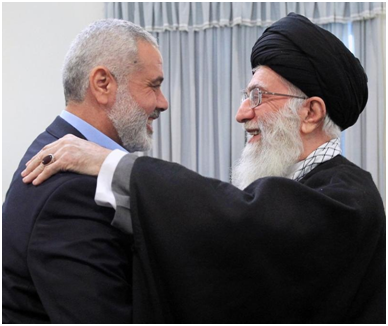 A key ideological pillar of the Islamic Republic of Iran is its struggle to "liberate" the Muslim lands of Palestine and the holy city of Jerusalem from what it disparagingly refers to as the illegitimate "Zionist Regime." To help achieve these ends, Iran has armed, trained, and funded –often working indirectly through Hezbollah—Palestinian terrorist groups like Hamas and Palestinian Islamic Jihad (PIJ), despite the Sunni-Shi'a divide between them.
Iran's primary goal in supporting various militant Palestinian factions is to foment continuous armed struggle against Israel, weakening a key regional foe and enhancing Iran's image among Muslim and Arab publics. Arming the Palestinians enables Tehran to play one faction against another, allowing Iran to maintain leverage over the various Palestinian groups and thereby the Palestinian nationalist movement as a whole, bringing them into line with the regime's foreign policy objectives.
Iran has been the leading sponsor of Gaza-based Palestinian Islamic Jihad (PIJ), which was founded in 1979, inspired by the success of the Islamic Revolution. Iranian funding of PIJ has been in place since 1987. During the early 1990s, much of PIJ organizational and operations-based support came from the Iranian sub-group Hezbollah. The PIJ is extremely open about Iran being its main supporter: "All of the weapons in Gaza are provided by Iran… the largest share of this financial and military support is coming from Iran."
Iran has also exerted considerable influence over Hamas, the Sunni Islamist terror group in control of the Gaza Strip. In 1993 Iran, pledged $30 million in annual support for Hamas' anti-Israel operations. Hamas had consistently enjoyed this financial support, in addition to military training, until disagreements over Iran's role in Syria created a rift between the two parties. However, Iranian favor has once again returned to Hamas to the tune of "tens of millions of dollars." Israeli media reported in August 2019 that Iran expressed a willingness to increase its funding of Hamas to $30 million per month in exchange for intelligence on Israel's missile stockpiles.
Iran's rapprochement with Hamas is part of an effort to restore Tehran's image in the Arab and Sunni world, damaged due to its brutality in propping up the Assad regime, through taking back the mantle of anti-Zionist resistance. Restoring ties with Tehran has helped Hamas whether diplomatic isolation as well. In recent years, Hamas has faced a hostile Egyptian government on its Gaza border and fallen out of financial favor with Gulf monarchies, which have quietly aligned their regional policy with Israel and backed more moderate Palestinian forces in response to the Iranian threat.
Hamas had also suffered fractured relations with the Assad regime and Hezbollah, the other primary actors in the Iran-led "resistance axis," over the Syrian Civil War. At Iran's behest, the Assad regime and Hezbollah have mended ties with Hamas in an effort to rebuild the axis. The effort to reintegrate Hamas into the Iranian sphere of influence furthers Iran's hegemonic regional ambitions and gives Iran an ongoing outlet to focus on "resistance" activities against Israel.
Hamas's second in command, Saleh al-Arouri, led a Hamas delegation to Tehran in October 2017 that met with former Quds Force Commander Qassem Soleimani, who assured them that "Iran's support to the resistance is the main priority now." Arouri, who vacated his safe haven in Qatar and set up shop in Hezbollah's Beirut stronghold, subsequently met with Hezbollah Secretary General Hassan Nasrallah on November 1, 2017. According to media reports of the meeting, both sides stressed their willingness to place their "misunderstandings" over Syria in the past and form a united resistance front against Israel.
In June 2018, Israel complained to the U.N. Security Council that it had intelligence showing that Hamas was working with Hezbollah to establish missile factories and training camps for thousands of Palestinian fighters in southern Lebanon. Hamas and Hezbollah's growing cooperation lays the groundwork for a future struggle with Israel that may encompass fighting on multiple fronts with Hamas, Hezbollah, and other Iranian proxies all joining the fray. In August 2019, a Hamas official warned, "If the Israeli enemy launches aggression against the Gaza Strip, and we estimate that it is a confined battle that will not develop into a war to break us, we will face it alone. But if the enemy [Israel] tries to break the resistance, the rest of the axis will join the battle," referring to Hezbollah and Iran's foreign legion of proxy militias.
In September 2019, Hamas leader Ismail Haniyeh wrote a letter to Iran's Supreme Leader Ali Khamenei thanking him for Tehran's "extensive" support and for "Iran's readiness to equip the resistance for whatever it needs to discharge its duty."
In February 2020, Israel seized $4 million in funds that it alleged were transferred from Iran to Hamas to help the group build its weapons infrastructure and pay its operatives.
Iran's influence extends far beyond financial support, particularly in Gaza. Iran has supplied and trained groups like Hamas and the PIJ in the use of longer-range rockets. In 2002 Israeli forces intercepted the Gaza-bound Karine A vessel in a raid in the Red Sea, which was loaded with 50 tons of advanced weaponry from Iran. Iran has supplied ever increasingly sophisticated and powerful munitions to Hamas with technology including UAVs being delivered to these groups via Iran's Islamic Revolutionary Guard Corps (IRGC). Iran has supplied Hamas with IEDs, anti-tank munitions, and provides training for up to 6 months in modern tactical warfare for Hamas operatives.
In May 2019, Hamas's leader in Gaza Yahya Sinwar thanked Iran for providing the group with increasingly sophisticated and long-range rocketry. Following a weekend in which Hamas and Palestinian Islamic Jihad fired 700 rockets into Israeli territory, Sinwar stated, "Iran provided us with rockets, and we surprised the world when our resistance targeted Beersheba. Had it not been for Iran, the resistance in Palestine would not have possessed its current capabilities."
Iran is now also building a loyalist, "Hezbollah-style terror group" in the Gaza Strip. Known as Al-Sabirin, the organization is funded directly by Tehran. Through Al-Sabirin, Iran is also seeking to make inroads into the West Bank. On January 31, 2018, the U.S. Department of State designated Hamas leader Ismail Haniyeh and Harakat al-Sabireen, as Specially Designated Global Terrorists (SDGTs), noting that they are "sponsored and directed by Iran."
Hezbollah itself has stepped up its activities in the West Bank in recent years. In January 2016, Israeli security forces dismantled a five-man terror cell in the West Bank city of Tulkarem recruited by Hezbollah's Unit 133, which is tasked with recruitment and planning attacks in Israel, the West Bank and Gaza. The cell—recruited and trained by Hassan Nasrallah's son, Jawad—was instructed to gather intelligence on IDF training facilities for an attack, and to prepare a bomb for use in a suicide operation against Israeli civilians. In July 2019, Shin Bet announced that it had thwarted another cell—an Iranian espionage network—based in Syria, which was recruiting operatives in the West Bank and Gaza via social media.
The emergence of these cells within the Palestinian territories appears indicative of a longer-term Iranian strategy. In the short-term, Iran is content to support and ally with extremist groups with shared anti-Israel aims, such as Hamas and PIJ, to fulfill broad geopolitical objectives. Al-Sabirin's name, which translates to "the patient ones," attests to a desire to anchor proxies loyal to Iran and who share its ideological predilections in the Palestinian territories further down the road if conditions on the ground are conducive. In fact, there have been signs of increased coordination within Iran's broader Axis of Resistance in furtherance of this project. In 2019, Iran's supreme leader reportedly proposed PIJ form a joint operations room in Gaza with Hezbollah and Iraqi militias.
Due to its implacable opposition to Israel's existence, Iran has waged proxy warfare in the Palestinian Territories, backing the most recalcitrant elements of Palestinian society, including terrorist organizations such as Hamas and Palestinian Islamic Jihad. Iran's bid to hijack the Palestinian national movement serves to undermine efforts for a peaceable, negotiated solution to the Israeli-Palestinian conflict. In January 2020, following the Trump Administration's unveiling of the "Deal of the Century," the IRGC called for resistance against the peace plan and praised the Palestinians for "standing alone" against it.
Iran has also stood against regional initiatives to accept Israel's existence and normalize its position in the Middle East. After Israel and the UAE announced a deal establishing full diplomatic relations in August 2020, Iran condemned the normalization of ties and vowed that the UAE's decision would strengthen the forces of the "resistance axis" in the region. Iran similarly condemned Bahrain in September 2020 after it decided to normalize ties with Israel, saying, "The rulers of Bahrain will from now on be partners to the crimes of the Zionist regime as a constant threat to the security of the region and the world of Islam."
In May of 2021, during clashes between Israel and Palestinian factions in the Gaza Strip, Hamas, and Palestinian Islamic Jihad significantly improved their rocket capabilities and tactics. Both organizations employed swarming tactics to overwhelm Iron Dome batteries by firing simultaneous barrages consisting of hundreds of rockets at a time. In one case, Palestinian Islamic Jihad's Quds Brigade admitted it fired volleys of rockets directly at an Iron Dome battery near Nir Yitzhak, near Israel's border with Gaza, to disable the battery and facilitate the group's other rocket attacks on Israeli cities.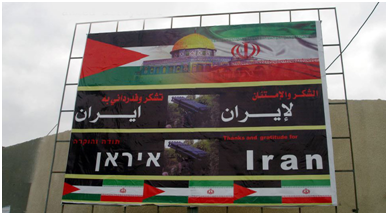 In addition to tactics, both militant groups deployed more advanced weapons. Palestinian Islamic Jihad employed Badr-3 missiles in attacks on Israeli cities, for which a group spokesman thanked "the Resistance Axis, headed by the Islamic Republic of Iran," for helping the group develop the missile. Hamas spokesmen have been more circumspect about the source of their improved capabilities. However, their arsenal in the round of fighting included a rocket dubbed the "Ayyash 250"—a rocket named after the group's late chief bomb engineer, Yahya Ayyash, who was dispatched in an operation by Shin Bet in January 1996. The rocket, as its name suggests, has a range of 250 km, and was fired by the group for the first time on May 13, 2021, in the direction of Ramon Airport, in Israel's southernmost city of Eilat. The rocket missed its target, but caused flights from the airport to be temporarily canceled. On May 13, Hamas' Qassam Brigades also deployed several loitering munitions, colloquially known as (including by the group), "suicide drones," dubbed the "Shihab."
Rocket and incendiary attacks from the Gaza Strip have occurred regularly since the May 2021 fighting. Starting in April 2022, Palestinian militant groups in the Gaza Strip accelerated their attacks against Israel, a trend that continues. UANI has identified over 20 separate rocket attacks from the Gaza Strip on civilian targets in Israel since April 2022. On August 5-6, 2022, Palestinian militant groups launched over 400 rockets into Israel, a significant escalation that underscored the growing size of the terrorist groups' arsenals and their readiness to use their rockets. Again on May 10, 2023, Palestinian militant groups launched over 500 rockets toward Israel, days after Israel carried out airstrikes against PIJ targets that killed three of its leaders. The increasingly large rocket salvos are designed to overwhelm Israel's air defense systems, but they were largely unsuccessful. The Iron Dome battery intercepted most of the rockets. Israel retaliated, striking over 150 PIJ targets in the Gaza Strip. On May 11, 2023, a rocket fire attributed to Palestinian Islamic Jihad in the central Israeli town of Rehovot caused one death and seven injuries. According to a source from PIJ, the Iranian-made Boraq 85 rocket, a relatively new weapon system fielded by PIJ, was the culprit.
Iran is looking to build up the lethal capabilities of its partners in the Gaza Strip, posing a direct threat to the Israeli homeland. The Quds Force has enhanced its focus on coordinating the activities of these partners with other actors in the "Axis of Resistance" in Lebanon and Syria. It intends to bolster the potential for a coordinated, multifront attack against Israel, especially if Israel strikes Iran's nuclear infrastructure. In April 2023, rocket attacks from the Gaza Strip, Syria, and Lebanon were coordinated against Israel. Quds Force commander Esmail Qaani met with senior leaders in Hamas, PIJ, and Hezbollah in Lebanon. In one meeting with Hamas leader Ismail Haniyeh and his deputy Saleh al-Arouri and Hezbollah Secretary-General Hassan Nasrallah, Qaani finalized a decision to launch rockets from southern Lebanon, culminating in the largest such attack since the 2006 war between Hezbollah and Israel.
Receive Iran News in Your Inbox.
Eye on Iran is a news summary from United Against Nuclear Iran (UANI), a section 501(c)(3) organization. Eye on Iran is available to subscribers on a daily basis or weekly basis.
Country Reports
Subversive Activities