Saudi Arabia
Since the 1979 Islamic Revolution, Saudi officials have feared growing Shia influence in their country and the region as the Iranian regime has sought to "export" its "Revolution" throughout the Gulf. An estimated 15% of Saudi Arabia's 25 million citizens are Shia Muslims.  The vast majority of these Shia are concentrated in Saudi Arabia's oil-rich Eastern Province. Shia are actually the majority in key towns such as Qatif, Dammam, and al-Hasa, "which are home to the largest oil fields and processing and refining facilities."
Consequently, Iran has often sought to stir unrest among the Shia population in these areas. The Islamic Revolution sparked significant unrest in Qatif, Saudi Arabia in November 1979. Emboldened by Ayatollah Khomeini's claims that hereditary monarchies were incompatible with Islam, Shias in Qatif mobilized against the Saudi regime.
 Ayatollah Khomeini's declaration that he was the leader of not only Iran, but also the entire Muslim world threatened the Saudis religious legitimacy as custodians of Islam's most holy sites. On July 31, 1987, Iranian Revolutionary Guard operatives provoked Iranian pilgrims to riot outside the Grand Mosque in Mecca during the Hajj pilgrimage. As 155,000 Iranian pilgrims chanted "death to America" and confronted Saudi riot police, a stampede ensued. As a result, over 400 people, including hundreds of Iranian pilgrims and Saudi policemen, died.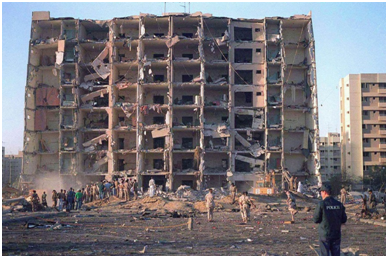 Shortly following these attacks, Iranian-backed Hezbollah continued Iran's interference in Saudi Arabia with attacks on the Saudi petrochemical industry, targeted assassinations of Saudi politicians worldwide, and a foiled plot involving explosives placed near Mecca's Grand Mosque.
On June 25, 1996, Saudi Hezbollah bombed the Khobar Towers housing compound in Dhahran where U.S. and allied forces supporting air operations in Iraq were housed. This attack killed 19 American servicemen and injured hundreds of others. Iran is also believed to be responsible for the August 2012 cyber attack on ARAMCO, Saudi Arabia's state-owned oil company. This attack disabled over 30,000 computers operated by ARAMCO, disrupting operations for nearly two weeks.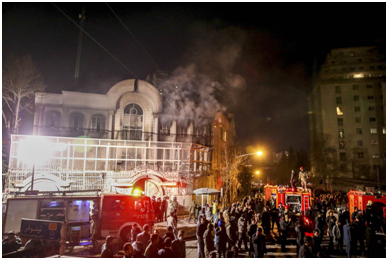 Saudi officials have viewed Iranian support for Shia unrest in allied Bahrain during the "Arab Spring" as a "fundamental risk" to Saudi national security. Consequently, Saudi Arabia sent 1,000 troops to Bahrain in 2011 in an effort to stabilize the country and prevent Iranian and Shia influence from spreading to the Saudi mainland. Similarly, Saudi Arabia has supported Yemeni government forces against the Iranian-backed Shia Houthi rebels. Iran's involvement in Yemen has led the Saudi Ambassador to the United States Adel al-Jubeir to conclude that the Saudi government must "deal with Iran's aggression in the region."  This Saudi determination resulted in the formation of a coalition with Bahrain, Kuwait, Qatar, and the UAE which began launching airstrikes against rebels in Yemen in March 2015. Saudi Prince Mohammed bin Nawaf harshly condemned Iran's support for the Houthis and its meddling in the affairs of Arab states: "Their interference has ignited instability, they have created havoc in our part of the world…"
Tensions between Iran and Saudi Arabia ratcheted up further in 2016 after an Iranian mob, chanting "Death to the Al Saud family," ransacked and set fire to the Saudi Embassy in Tehran the morning of January 3 after Saudi Arabia had executed outspoken Shia cleric Nimr al-Nimr. Iran's Supreme Leader proclaimed "the unjustly spilled blood of this oppressed martyr will no doubt soon show its effect and divine vengeance will befall Saudi politicians" describing the execution as a "political error."
Country Reports
Subversive Activities