Saudi Arabia
Iranian Meddling and Terrorism Within Saudi Arabia
Since the 1979 Islamic Revolution, Saudi officials have feared growing Shiite influence in their country and the region as the Iranian regime has sought to "export" the revolution throughout the Persian Gulf. An estimated 15 percent of Saudi Arabia's 25 million citizens are Shiite Muslims, the vast majority of whom are concentrated in Saudi Arabia's oil-rich Eastern Province. Shiites are the majority in key towns such as Qatif, Dammam, and al-Hasa, which, as the BBC notes, "are home to the largest oil fields and processing and refining facilities."
Consequently, Iran has often sought to stir unrest among the Shiite population in these areas. The Islamic Revolution sparked significant unrest in Qatif in November 1979. Emboldened by Ayatollah Khomeini's claims that hereditary monarchies were incompatible with Islam, Shiites in Qatif mobilized against the Saudi government.
Ayatollah Khomeini's declaration that he was the leader of not only Iran but the entire Muslim world threatened the Saudi monarchy's religious legitimacy as custodians of Islam's holiest sites. On July 31, 1987, Iranian Islamic Revolutionary Guard Corps operatives incited Iranian pilgrims to riot outside the Grand Mosque in Mecca during the annual hajj (pilgrimage) to Mecca. As 155,000 Iranian pilgrims chanted "Death to America!" and confronted Saudi riot police, a stampede ensued, resulting in the death over 400 people, including hundreds of Iranian pilgrims and Saudi policemen.
Shortly following these attacks, Tehran's proxy Hezbollah carried out Iranian interference in Saudi Arabia via attacks on the Saudi petrochemical industry, targeted assassinations of Saudi politicians worldwide, and a foiled plot involving explosives placed near Mecca's Grand Mosque.
On June 25, 1996, Saudi Hezbollah—directed and funded by Iran—bombed the Khobar Towers housing compound in Dhahran, Saudi Arabia, where U.S. and allied forces supporting air operations in Iraq were housed. The attack killed 19 American servicemen and one Saudi, and injured hundreds of others. Iran is also believed to be responsible for the August 2012 cyberattack on ARAMCO, Saudi Arabia's state-owned oil company. This attack disabled over 30,000 computers operated by ARAMCO, disrupting operations for nearly two weeks.
Tensions between Iran and Saudi Arabia ratcheted up further in 2016 after an Iranian mob, chanting "Death to the Al Saud family," ransacked and set fire to the Saudi embassy in Tehran and the Saudi consulate in Mashhad on January 3 after Saudi Arabia executed outspoken Shiite cleric Nimr al-Nimr. Riyadh accused al-Nimr of involvement in Iran-linked Shiite attacks on policemen and civilians in 2011. Iran's Supreme Leader proclaimed that "the unjustly spilled blood of this oppressed martyr will no doubt soon show its effect and divine vengeance will befall Saudi politicians" describing the execution as a "political error."
Al-Nimr's execution prompted unrest and anti-monarchy protests in Qatif, his home province. While most of the protests were peaceful, some skirmishes between Shiites and the Saudi security forces resulted in deaths or injuries. Further, in December 2016, Saudi Judge Mohammed al-Jirani was kidnapped in Qatif; his body was found one year later. Asharq al-Awsat reported that an Iranian cleric promulgated a fatwa ordering terrorists to kidnap and kill al-Jirani.
The Saudi government clamped down on Qatif and protests became more violent in 2017 and 2018, as Shiite fighters attacked and killed or wounded Saudi police and soldiers. The Saudi government blamed the violence on and prosecuted terrorists, including Saudis allegedly working for Iranian proxies like Hezbollah. Riyadh has pushed back against Hezbollah, joining the U.S. Department of Treasury and other Gulf states in sanctioning Hezbollah officials and entities in May 2018. 
On May 14, 2019, unmanned aircraft systems targeted two pumping stations on the East-West pipeline carrying crude oil from Dhahran to Yanbu. Yemen-based Iran-backed Houthi militants claimed responsibility, but the U.S. government later concluded the systems were launched from Iraq. On June 12, 2019, Saudi-led coalition senior officials reported a cross-border cruise missile attack at Abha International Airport, injuring 26 civilians. Yemen-based Iran-backed Houthi militants claimed responsibility for this attack. On August 17, 2019, Yemen's Iran-backed Houthi militants struck a natural gas liquids plant at Shaybah oilfield in the Kingdom's Empty Quarter with drones. The drone strike damaged the facility and caused a fire. No deaths or casualties were reported.
On September 14, 2019, Iranian attacks hit the Abqaiq and Khurais oil processing facilities in the Eastern province, initially taking 5.7 million barrels per day of crude oil production offline. Although Yemen's Iran-backed Houthi militants claimed responsibility for the attack, investigations led by Saudi Arabia and the United States concluded the Iranian government was behind the attack. Saudi Aramco resumed pre-attack production levels less than two weeks later, ahead of schedule.
In early 2021, Iraq-based members of Iran's Axis of Resistance claimed responsibility for targeting Riyadh with "missiles or drones." The incident was more serious than initial reports indicated—with the Saudi royal palace in Riyadh being targeted. There is an emerging pattern of using Iraqi militants in Iran's proxy network—as opposed to the Houthis in Yemen—to launch attacks on Saudi Arabia, following the May 2019 attack on the Saudi oil pipeline. The Houthis also claimed responsibility for a March 7 attack on Ras Tanura port, but there are some indications it originated elsewhere. In early 2021, there was an uptick in drone and missile attacks on Saudi Arabia after the Biden administration revoked the Houthis' terrorism designations.
Iranian Meddling and Terrorism Against Saudi Interests in the Region
Saudi officials have viewed Iranian support for Shiite unrest in allied Bahrain during the "Arab Spring" as a "fundamental risk" to Saudi national security. Consequently, Saudi Arabia sent 1,000 troops to Bahrain in 2011 in an effort to stabilize the country and prevent Iranian and Shiite influence from spreading to the Saudi mainland. Similarly, Saudi Arabia has supported Yemeni government forces against the Iranian-backed Shiite Houthi rebels. Iran's involvement in Yemen has led the Saudi ambassador to the United States, Adel al-Jubeir, to conclude that the Saudi government must "deal with Iran's aggression in the region." This Saudi determination resulted in the formation of a coalition with Bahrain, Kuwait, Qatar, and the United Arab Emirates which began launching airstrikes against the rebels in Yemen in March 2015. Saudi Prince Mohammed bin Nawaf harshly condemned Iran's support for the Houthis and its meddling in the affairs of Arab states: "Their interference has ignited instability, they have created havoc in our part of the world…"
Since 2015, the Houthis have used Yemeni territory under their control as launching pads to fire more than 100 missiles and drones at Saudi Arabia. Such strikes have landed on multiple cities, including Riyadh, the Saudi capital. Targeted locations include the king's official residence, military bases and encampments, oil refineries, the Riyadh international airport, and shopping malls. Further, as the Congressional Research Service notes, "Since 2016, the Houthis have periodically targeted commercial and military vessels transiting and patrolling the Red Sea using naval mines, rocket-propelled grenade launchers, anti-ship missiles, and waterborne improvised explosive devices (WBIEDs). Some of the weapons used reportedly have been supplied by Iran, including sea-skimming coastal defense cruise missiles."
Evidence indicates that Iran is arming and, in some cases, directing the Houthis in their missile campaign, contrary to Tehran's denials and in violation of an arms embargo imposed by the United Nations Security Council in April 2015. An independent U.N. monitoring panel stated in November 2017 that remnants from four ballistic missiles fired by the Houthis into Saudi Arabia likely came from the Iranian-made and designed Qiam-1 missile. In December 2017, U.S. Ambassador to the U.N. Nikki Haley and Pentagon officials displayed debris from missiles fired into Saudi Arabia, claiming that the markings on and designs of the missiles demonstrated that they were made by Iran.
The U.N.'s finding of Iranian origins in the Houthis' missiles continued well into 2018, with panel after panel affirming the Iranian connection. One U.N. report from January 2018 found that recently inspected missiles and drones "show characteristics similar to weapons systems known to be produced in the Islamic Republic of Iran," and, therefore, the panel "continues to believe" that Tehran is giving missiles and other arms to the Houthis. Indeed, Iran has recently bragged openly about their support for the Houthis, with an IRGC general telling IRGC-controlled media that the Guards had instructed the Houthis to attack two Saudi oil tankers in July 2018.
In January 2023, French special forces seized Iranian-supplied weapons and ammunition en route to the Houthi rebels in Yemen. The forces discovered and seized over 3,000 assault rifles, half a million rounds of ammunition, and 20 anti-tank guided missiles after conducting the operation in coordination with the U.S. military. Then in March 2023, the U.S. and U.K. interdicted a shipment of arms, including Iranian versions of Russian Kornet anti-tank guided missiles and medium-range ballistic missile components, en route to the Houthis in Yemen from Iran. These weapons interdictions occurred in the months and weeks preceding a China-brokered normalization agreement between Iran and Saudi Arabia. This saw Iran commit to halting attacks against Saudi Arabia, including via the Houthis in Yemen, and end its arms transfers to the Houthis.
The Biden Administration welcomed the agreement for its potential to deescalate regional tensions, downplaying accusations that China's diplomacy could undermine U.S. regional interests. Administration officials have noted that the U.S. remains Saudi Arabia's security guarantor and that China would be unable and probably unwilling to play that role. Of course, it remains to be seen whether this agreement will de-escalate tensions. Iran and Saudi Arabia had diplomatic relations in 2011 when the Quds Force tried and failed to assassinate the Saudi ambassador to the U.S.
Additionally, the agreement signals that Saudi Arabia will work more closely with China when it suits its interests. For example, Saudi Arabia could pursue weapons deals with China. China has already begun lending Saudi Arabia assistance in developing its ballistic missile program.
The normalization agreement could also negatively impact U.S. interests regarding Iran's isolation. The deal, along with upgrading diplomatic relations between Iran and Kuwait and Iran and the UAE, eases international pressure on the regime. The Gulf states could, therefore, undermine U.S.-led efforts to pressure Tehran, especially if they perceive the need to improve relations with Tehran because the U.S. cannot keep Tehran in check.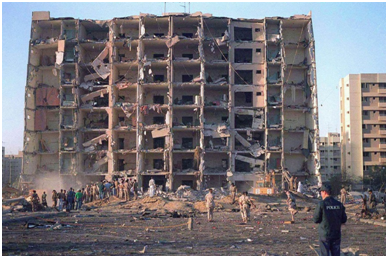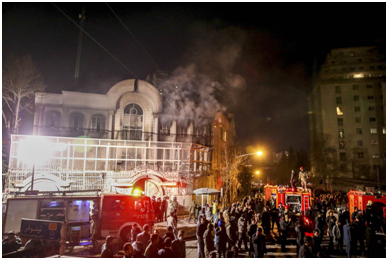 Receive Iran News in Your Inbox.
Eye on Iran is a news summary from United Against Nuclear Iran (UANI), a section 501(c)(3) organization. Eye on Iran is available to subscribers on a daily basis or weekly basis.
Country Reports
Subversive Activities