Stop the Hop II: The Ghost Armada Grows
​Updated: August 31, 2023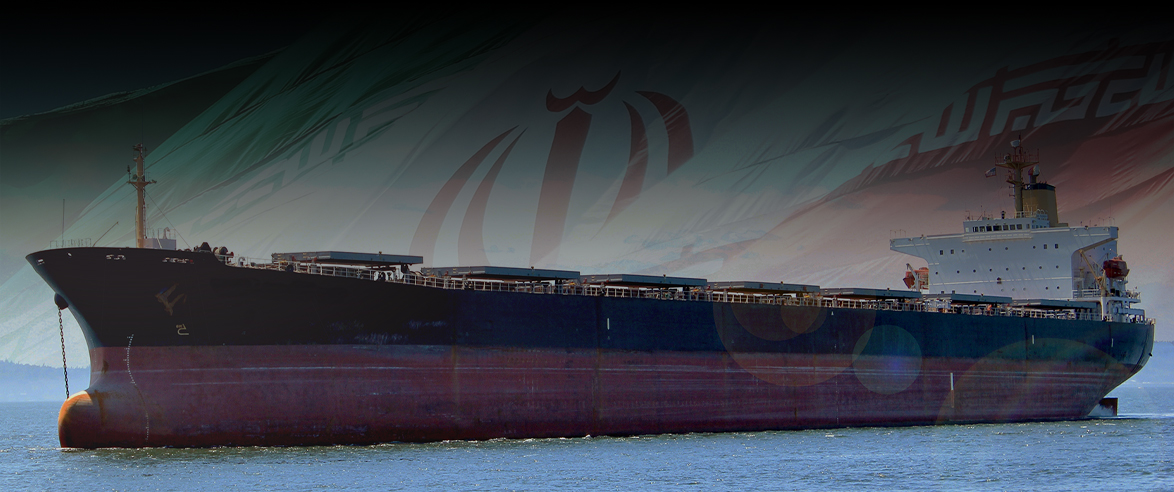 In November 2020, UANI identified 70 foreign vessels suspected of involvement in the illicit transfer of Iranian crude oil and/or petroleum products. Over two years later, the list has grown to 350. This suspected ghost armada, distinct from but complementing Iran's own NITC tanker fleet, has skirted U.S. sanctions and exploited regulatory loopholes to ship millions of barrels of Iranian oil.
One of the most frequently deployed tactics in evading oil sanctions is "flag hopping." This involves the repeated switching of a ship's "flag" – which permits legitimate global travel and docking rights – to different national registries. Often accompanied by the formation of new shell and front companies, ownership and name changes, and even alterations to ships' physical markings, flag-hopping is a blight on legitimate maritime commerce.
Certain vessel owners are intentionally exploiting flag registries, many of which do not have the capabilities to track the history of vessels or even perform what ought to be rudimentary compliance scans.  In fact, some registries are increasingly reliant on UANI for assistance in identifying the suspicious and often illicit behavior of vessels absent their own tracking capabilities and resources.
For example, in a Guardian report from March 23, 2021, the Cook Islands flag registry acknowledged to the journalist, "we just do what they [UANI] tell us."
In conveying our findings to the world's flag registries, a majority have taken appropriate measures and de-flagged these vessels. Others are less responsive, taking months to 'investigate' while allowing the vessels to engage in further illicit activity under their flag's registration.
The Panama Maritime Authority (AMP)
Of the 350 vessels listed below, 47% are currently flagged by the Panama Maritime Authority (AMP), the world's biggest and most famous flag registry.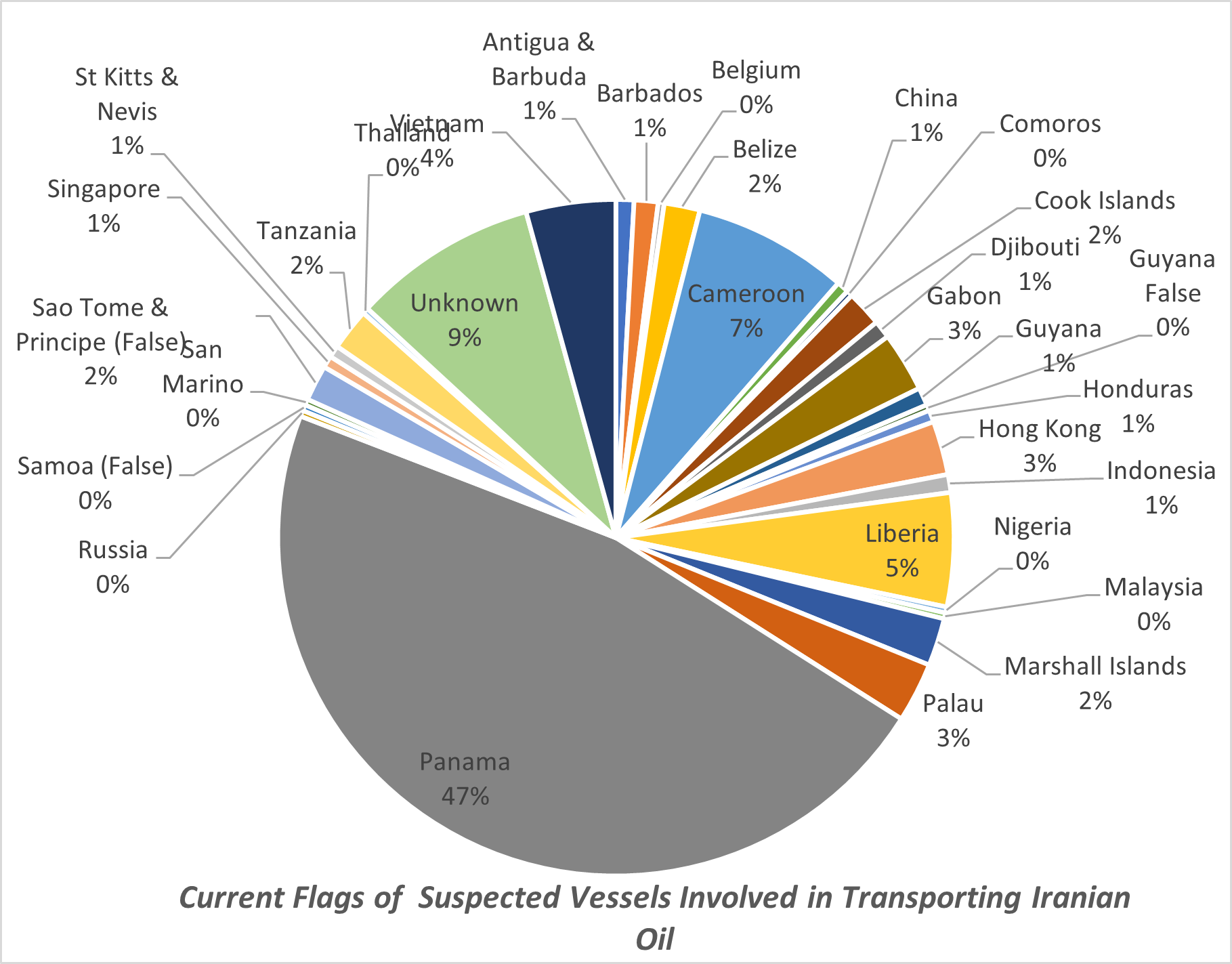 UANI first contacted AMP in August 2020.  As detailed in 50 letters since then, AMP has so far de-flagged a total of just 18 from over 164 vessels of concern.
AMP currently leads as the top flag state for 2020, with over 9,596 ships registered as of October 2020. Given this fact, it might be anticipated that AMP would be a leader in de-flagging vessels that breach sanctions or tamper with vessel-tracking systems. Indeed, AMP director-general Rafael Cigarruista has asserted that AMP is proactive on these issues. 
However, UANI has serious doubts regarding the seriousness of Panama's flag authority on these issues.
By way of illustration, we first alerted AMP to a suspected ship-to-ship ("STS") transfer of Iranian oil with the Panama-flagged vessel BRIGHT SONIA in October 2020. BRIGHT SONIA remains flagged by Panama today: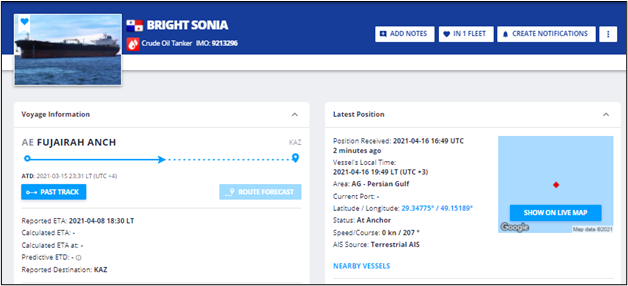 Ship Details: BRIGHT SONIA, flagged by Panama (Source: Marine Traffic)
Since October 2020, Bright Sonia is suspected to have engaged in numerous loadings of Iranian oil, transporting an estimated total of 6.8 million barrels of Iranian crude oil. Taking into account the substantial discount Iran offers for crude sales, we estimate this single vessel has filled regime coffers to the tune of $548 million.  A big chunk of these proceeds will end up being disbursed for regime terrorist funding, Iranian proxy wars, and Iran's malign intelligence activities. In neglecting to de-flag BRIGHT SONIA, AMP has seriously abrogated its responsibility.
Responsible Flaggers
On the other hand, there are many responsible authorities such as the St. Kitts and Nevis International Ship Registry (SkanReg), which have de-flagged all eight vessels identified by UANI. Other notable registries with a good track record include the Tanzania-Zanzibar International Register of Shipping, the Maritime Administration of Gabonese Republic, and the Tuvalu Ship Registry.
The Ghost Armada: The List
UANI has compiled a list of vessels suspected to have been involved in the transfer of Iranian crude oil and/or petroleum products, so that the entire community of flag registries may act in concert to "stop the hop."
In its reply to UANI the Tuvalu Ship Registry suggested: "it is our opinion that vessel registries should make public the information they have relating to vessels and owners that seek to support the Iranian / Syrian regime just as how TSR has done. This will save time and cut out the bureaucracy of signing agreements and surely result in a more effective way of stamping out "flag-hopping".
UANI agrees and we intend to update this list monthly. We encourage all flag states to routinely check this list to confirm whether vessels suspected of involvement in the illicit transfer of Iranian oil are seeking to register under their flags.
 

 

VESSEL NAME

Date Added

Current Flag

FORMER FLAG 1*

FORMER FLAG 2*

FORMER FLAG 3*

 

9405617

April 29, 2022

GABON

 

 

 

 

9281695

March 1, 2023

PANAMA

PALAU

 

 

 

9157765

November 12, 2020

VIETNAM

 
 
 

 

9283801

September 1, 2022

PANAMA

 

 

 

 

9194969

October 29, 2021

PANAMA

 
 
 

 

9304667

December 1, 2022

?

PANAMA

 

 

 

9410234

December 30, 2022

PANAMA

 

 

 

 

9142150

December 1, 2022

TANZANIA

 

 

 

 

9172583

April 16, 2021

ANTIGUA & BARBUDA

LIBERIA

 
 

 

9111644

April 16, 2021

?

PANAMA

 
 

 

9147447

June 30, 2023

TANZANIA

 

 

 

 

9213313

June 30, 2023

PANAMA

 

 

 

 

9271406

January 3, 2022

PANAMA

GABON

PANAMA

 

 

9244635

April 16, 2021

PANAMA

 
 
 

 

9200964

April 16, 2021

?

PANAMA

 
 

 

9246281

December 1, 2022

PANAMA

 

 

 

 

9354521

April 16, 2021

BELIZE

LIBERIA

 
 

 

9203253

November 12, 2020

?

CAMEROON

MICRONESIA

COOK ISLANDS

 

9304655

November 1, 2022

PANAMA

 

 

 

 

9253117

August 31, 2023

PANAMA

 

 

 

 

9281683

October 29, 2021

PANAMA

 

 

 

 

9004815

May 31, 2022

GABON

 

 

 

 

9268112

April 29, 2022

PANAMA

 

 

 

 

9464156

December 1, 2022

PALAU

 

 

 

 

9127033

November 12, 2020

PANAMA

TUVALU

 
 

 

9282106

November 1, 2022

PANAMA

 

 

 

 

9102241

December 30, 2022

HONDURAS

 

 

 

 

9150365

March 31, 2023

PANAMA

 

 

 

 

9288382

October 29, 2021

HONG KONG

 

 

 

 

9181194

November 12, 2020

?

CAMEROON

TANZANIA

ST KITTS & NEVIS

 

9162928

November 12, 2020

GABON

CAMEROON

 

 

 

9262754

April 28, 2023

CAMEROON

 

 

 

 

9257137

December 1, 2022

PANAMA

 

 

 

 

9123192

April 16, 2021

?

PANAMA

 
 

 

9280873

January 3, 2022

PANAMA

 

 

 

 

9294795

October 29, 2021

?

TANZANIA

GABON

 

 

9246279

November 12, 2020

?

CAMEROON

ST KITTS & NEVIS

TANZANIA

 

9365764

March 1, 2023

PANAMA

 

 

 

 

9256016

December 1, 2022

?

DJIBOUTI

 

 

 

9235244

April 16, 2021

CAMEROON

PANAMA

MARSHALL ISLANDS

 

 

9216559

November 12, 2020

PANAMA

LIBERIA

 

 

 

9262168

April 16, 2021

PANAMA

 
 
 

 

9371608

March 31, 2023

PANAMA

PALAU

 

 

 

9288265

May 31, 2023

PANAMA

 

 

 

 

9221657

December 1, 2022

?

DJIBOUTI

 

 

 

9267132

December 1, 2022

?

DJIBOUTI

 

 

 

9222699

November 1, 2022

PANAMA

 

 

 

 

9248497

February 1, 2022

PANAMA

 

 

 

 

9199127

BOREY G(EX: CATHAY STAR)

December 1, 2022

PANAMA

 

 

 

 

9166417

November 12, 2020

PANAMA

 

 

 

 

9232876

September 30, 2021

PANAMA

 

 

 

 

9582726

November 12, 2020

SINGAPORE

 
 
 

 

9259355

December 1, 2022

PANAMA

 

 

 

 

9213296

November 12, 2020

PANAMA

 
 
 

 

9282443

December 1, 2022

?

DJIBOUTI

 

 

 

9131101

November 1, 2022

ANTIGUA & BARBUDA

 

 

 

 

9002491

November 12, 2020

COMOROS

 
 
 

 

9008108

July 31, 2022

PANAMA

 

 

 

 

9240512

February 1, 2022

PANAMA

 

 

 

 

9294240

March 31, 2023

PANAMA

 

 

 

 

9249324

December 1, 2022

LIBERIA

 

 

 

 

9229439

April 16, 2021

SAO TOME & PRINCIPE (FALSE)

 
 
 

 

9171498

June 30, 2023

PANAMA

 

 

 

 

9257802

September 30, 2021

PANAMA

 

 

 

 

9255933

November 12, 2020

CAMEROON

TANZANIA

PANAMA

 

 

9102277

July 31, 2022

PANAMA

 

 

 

 

9282792

January 3, 2022

PALAU

PANAMA

 

 

 

9165542

November 12, 2020

COOK ISLANDS

TANZANIA

GABON

 

 

9247986

August 2, 2021

PANAMA

 

 

 

 

9236016

June 30, 2023

LIBERIA

 

 

 

 

9182318

December 1, 2022

THAILAND

 

 

 

 

9153513

April 16, 2021

PANAMA

MARSHALL ISLANDS

 

 

 

9133850

May 31, 2022

MARSHALL ISLANDS

 

 

 

 

9169691

September 30, 2021

MARSHALL ISLANDS

 

 

 

 

9158161

June 30, 2022

PALAU

 

 

 

 

9273052

DANICA (EX: AFRA CROWN (EX LAFIZA, GULF VOYAGER, DELOS VOYAGER)

April 16, 2021

GABON

LIBERA

GABON

PANAMA

 

9193721

November 12, 2020

PANAMA

 
 
 

 

9005065

November 12, 2020

PANAMA

THAILAND

 
 

 

9208215

May 31, 2023

PANAMA

 

 

 

 

9637650

November 12, 2020

MARSHALL ISLANDS

HONG KONG

 

 

 

9171357

DIVINE POWER (EX: DP 7)

March 31, 2023

PALAU

GABON

 

 

 

9255945

November 12, 2020

COOK ISLANDS

TANZANIA

GUYANA

PANAMA

 

9337195

June 30, 2023

PANAMA

 

 

 

 

9102198

December 30, 2022

PANAMA

 

 

 

 

9240885

November 12, 2020

HONG KONG

 

 

 

 

9134294

April 16, 2021

BELIZE

 
 
 

 

9615092

December 1, 2022

CAMEROON

TANZANIA

 

 

 

9249685

March 31, 2023

SAO TOME & PRINCIPE (False)

TUVALU

 

 

 

9277747

May 31, 2022

LIBERIA

CAMEROON

 

 

 

9418078

June 30, 2022

PANAMA

LIBERIA

 

 

 

9233234

April 16, 2021

PALAU

 

 

 

9256468

July 2, 2021

BELIZE

 

 

 

 

9196644

November 12, 2020

SAO TOME & PRINCIPE  (FALSE)

SAO TOME & PRINCIPE

GUYANA

SAMOA (FALSE)

 

9311270

August 31, 2023

LIBERIA

 

 

 

 

9212864

July 2, 2021

SINGAPORE

 

 

 

 

9189952

November 12, 2020

SAN MARINO

PALAU

PANAMA

 

 

9102265

January 3, 2022

?

COOK ISLANDS

 

 

 

9231224

April 16, 2021

?

PANAMA

 
 

 

9258870

September 2, 2021

PANAMA

MARSHALL ISLANDS

 

 

 

9251951

November 1, 2022

DJIBOUTI

PANAMA

 

 

 

9216547

November 1, 2022

?

TANZANIA

 

 

 

9260809

June 30, 2022

LIBERIA

 

 

 

 

9232448

September 1, 2022

PANAMA

 

 

 

 

9265744

November 12, 2020

?

CAMEROON

GABON

TOGO

 

9012886

April 16, 2021

PALAU

MARSHALL ISLANDS

 
 

 

9248473

April 16, 2021

PANAMA

 

 

 

 

9365752

March 1, 2023

PANAMA

 

 

 

 

9262766

April 28, 2023

PANAMA

 

 

 

 

9133070

November 12, 2020

MARSHALL ISLANDS

 

 

 

 

9136058

June 30, 2023

GABON

 

 

 

 

9113379

April 16, 2021

PANAMA

THAILAND

 
 

 

9257010

October 3, 2022

PANAMA

 

 

 

 

9159660

April 16, 2021

?

PANAMA

 
 

 

9166675

March 1, 2022

HONDURAS

 

 

 

 

9235725

September 30, 2021

PANAMA

 

 

 

 

9773301

March 31, 2023

HONG KONG

 

 

 

 

9131096

G JADES (EX: HAPPY BEAR,BRIGHT HONOR)

May 31, 2022

PANAMA

 

 

 

 

9040118

July 31, 2022

DJIBOUTI

 

 

 

 

9118393

April 16, 2021

ST KITTS & NEVIS

THAILAND

 

 

 

9247792

March 31, 2023

PANAMA

LIBERIA

 

 

 

9237632

February 1, 2023

PANAMA

 

 

 

 

9827944

July 31, 2022

LIBERIA

HONG KONG

 

 

 

9641091

April 16, 2021

INDONESIA

 
 
 

 

9250505

March 31, 2023

PANAMA

 

 

 

 

9172636

July 31, 2022

PANAMA

 

 

 

 

9240419

February 1, 2023

PANAMA

 

 

 

 

9108099

September 1, 2022

PANAMA

 

 

 

 

8818219

November 12, 2020

CAMEROON

SIERRA LEONE

SAO TOME & PRINCIPE (FALSE)

 

 

9290270

April 28, 2023

PANAMA

 

 

 

 

9114581

November 12, 2020

PANAMA

 

 

 

 

9307748

September 1, 2022

PANAMA

 

 

 

 

9115303

April 16, 2021

PANAMA

 

 

 

 

9135547

January 3, 2022

PANAMA

 

 

 

 

9337389

October 3, 2022

PANAMA

 

 

 

 

9002908

January 3, 2022

PANAMA

 

 

 

 

9290775

March 31, 2022

DJIBOUTI

 

 

 

 

9363833

April 29, 2022

VIETNAM

 

 

 

 

9325817

March 1, 2023

PANAMA

 

 

 

 

9246798

June 30, 2022

HONG KONG

 

 

 

 

9689031

April 29, 2022

LIBERIA

 

 

 

 

9041057

October 29, 2021

?

TANZANIA

 

 

 

9177583

March 1, 2022

LIBERIA

 

 

 

 

9246449

June 30, 2022

MARSHALL ISLANDS

 

 

 

 

9526693

March 31, 2023

GUYANA

HONG KONG

 

 

 

9237618

December 30, 2022

PANAMA

 

 

 

 

9199828

November 12, 2020

CAMEROON

GABON

TANZANIA

 

 

9398278

April 16, 2021

INDONESIA

 
 
 

 

9259599

May 31, 2022

LIBERIA

 

 

 

 

9162916

April 16, 2021

TANZANIA

SAMOA (FALSE)

GUYANA

GABON

 

9397030

February 1, 2023

COOK ISLANDS

 

 

 

 

9244623

June 30, 2022

PANAMA

 

 

 

 

9081837

November 12, 2020

?

COMOROS

 

 

 

9259185

June 21, 2021

PANAMA

 

 

 

 

9233753

September 30, 2021

PANAMA

 

 

 

 

9262584

April 29, 2022

HONG KONG

 

 

 

 

9326720

June 30, 2022

VIETNAM

 

 

 

 

9304356

HERA 1 (EX: HERA)

May 19, 2021

PANAMA

VANUATU

 

 

 

9252371

JULY 31, 2023

PANAMA

 

 

 

 

9183300

February 1, 2022

VANUATU

 

 

 

 

9197844

May 19, 2021

PANAMA

 

 

 

 

9171448

November 1, 2022

PANAMA

 

 

 

 

9256858

November 12, 2020

RUSSIA

 

 

 

 

9201592

November 12, 2020

?

PANAMA

SIERRA LEONE

 

 

9227443

October 29, 2021

VIETNAM

 

 

 

 

9144067

November 12, 2020

CAMEROON

 
 
 

 

9183271

October 29, 2021

CAMEROON

 

 

 

 

9254082

May 31, 2023

PANAMA

 

 

 

 

9180164

April 16, 2021

PANAMA

 

 

 

 

9337133

July 2, 2022

VIETNAM

 

 

 

 

9176761

April 16, 2021

INDONESIA

LIBERIA

PANAMA

 

 

9230098

March 31, 2023

VIETNAM

 

 

 

 

9259367

December 30, 2022

PANAMA

 

 

 

 

9143506

April 29, 2022

TANZANIA

PANAMA

 

 

 

9349095

March 31, 2023

CHINA

 

 

 

 

9198094

April 16, 2021

CAMEROON

RUSSIA

 

 

 

9236353

December 1, 2022

LIBERIA

 

 

 

 

9162502

April 29, 2022

HONG KONG

 

 

 

 

9293143

July 31, 2023

PANAMA

 

 

 

 

8818207

July 31, 2022

PANAMA

 

 

 

 

9174660

April 16, 2021

TANZANIA

PANAMA

 

 

 

9341512

November 12, 2020

LIBERIA

GABON

PALAU

SIERRA LEONE

 

9212759

September 1, 2022

PANAMA

 

 

 

 

9231767

December 1, 2022

LIBERIA

 

 

 

 

9258882

July 31, 2022

VIETNAM

 

 

 

 

9153525

October 29, 2021

CAMEROON

ST KITTS & NEVIS

PALAU

LIBERIA

 

9198771

April 16, 2021

PANAMA

PALAU

 
 

 

9289491

March 1, 2023

PANAMA

 

 

 

 

9284594

January 3, 2022

VIETNAM

 

 

 

 

9203277

November 12, 2020

?

CAMEROON

SAMOA (FALSE)

COMOROS

 

9292486

September 1, 2022

PANAMA

 

 

 

 

9365776

February 1, 2023

PANAMA

 

 

 

 

9266750

November 1, 2022

LIBERIA

PANAMA

 

 

 

9220938

April 29, 2022

COOK ISLANDS

PALAU

 

 

 

9254915

November 12, 2020

PANAMA

MALAYSIA

 
 

 

9191711

July 31, 2023

PANAMA

 

 

 

 

9189146

MEMPHIS (EX: METIS)

June 21, 2021

PANAMA

CYPRUS

 

 

 

9194139

November 12, 2020

ANTIGUA & BARBUDA

PALAU

 

 

 

9281891

March 1, 2022

PANAMA

LIBERIA

 

 

 

8806321

March 1, 2022

?

TANZANIA

ST KITTS & NEVIS

 

 

9257993

February 1, 2022

PANAMA

 

 

 

 

9209300

April 16, 2021

CAMEROON

KIRIBATI

PALAU

 

 

9292163

May 31, 2023

PANAMA

 

 

 

 

9410387

December 30, 2022

BARBADOS

LIBERIA

 

 

 

9150767

November 12, 2020

CAMEROON

 
 
 

 

9232931

June 30, 2023

PANAMA

 

 

 

 

9310147

June 30, 2023

PANAMA

 

 

 

 

9260366

November 12, 2020

VIETNAM

 

 

 

 

9203928

November 12, 2020

PANAMA

HONG KONG

 

 

 

9264881

July 31, 2022

PANAMA

 

 

 

 

9180152

July 31, 2023

PANAMA

 

 

 

 

9014456

November 12, 2020

PANAMA

 
 
 

 

9046784

November 12, 2020

PANAMA

 

 

 

 

9234666

November 1, 2022

PANAMA

LIBERIA

 

 

 

9189110

November 12, 2020

PANAMA

 

 

 

 

9179701

April 29, 2022

?

PANAMA

 

 

 

9439058

April 28, 2023

GABON

LIBERIA

 

 

 

9312896

November 1, 2022

LIBERIA

 

 

 

 

9307736

January 3, 2022

VIETNAM

 

 

 

 

9242120

November 12, 2020

PANAMA

TOGO

ST KITTS & NEVIS

 

 

9232369

November 1, 2022

LIBERIA

 

 

 

 

9286229

December 30, 2022

PANAMA

 

 

 

 

9105102

OCEAN RI (EX: MEADOWS (ex OCEAN RICH, ex CHANG HAI)†

April 16, 2021

PALAU

COOK ISLANDS

 

 

 

9246633

March 31, 2023

BELGIUM

 

 

 

 

9397080

November 1, 2022

PANAMA

 

 

 

 

9224295

OCTANS (EX: JUDY II,TIAN YING ZUO)

April 16, 2021

SAO TOME & PRINCIPE (FALSE)

 

 

 

 

9187227

July 31, 2023

CAMEROON

 

 

 

 

9234642

December 30, 2022

PANAMA

 

 

 

 

9622069

August 1, 2022

HONG KONG

 

 

 

 

9192260

OTARIA (EX: GALA (ex WINSOME, UMM HABAYEB, BLUE PEARL, JUBILANT) †

November 12, 2020

CAMEROON

ST KITTS & NEVIS

GUYANA

GABON

 

9223540

January 3, 2022

VIETNAM

 

 

 

 

9133587

November 12, 2020

GABON

TANZANIA

COOK ISLANDS

CAMEROON

 

9301524

September 2, 2021

VIETNAM

 

 

 

 

9284582

January 3, 2022

VIETNAM

 

 

 

 

9379703

July 31, 2022

PANAMA

 

 

 

 

9331244

March 31, 2022

PANAMA

 

 

 

 

9257503

November 12, 2020

BARBADOS

DJIBOUTI

GABON

 

 

8519966

April 16, 2021

PANAMA

THAILAND

 

 

 

9195494

February 1, 2023

PANAMA

 

 

 

 

9102239

April 16, 2021

?

TANZANIA (FALSE)

 
 

 

9241114

October 29, 2021

?

PANAMA

 

 

 

9255880

PHENIX VI (EX: ZEPHYR I)‡

December 1, 2022

GUYANA FALSE

PANAMA

 

 

 

9236248

April 16, 2021

PANAMA

 
 
 

 

9198317

May 31, 2023

PANAMA

 

 

 

 

9232620

March 1, 2022

PALAU

 

 

 

 

9235464

July 31, 2022

PANAMA

 

 

 

 

9193599

November 1, 2022

PANAMA

 

 

 

 

9213301

November 12, 2020

CAMEROON

TANZANIA

PANAMA

 

 

9288875

August 31, 2023

PANAMA

 

 

 

 

9282481

October 29, 2021

PANAMA

MARSHALL ISLANDS

 

 

 

9316701

March 31, 2022

PANAMA

 

 

 

 

9188788

May 31, 2022

PALAU

CAMEROON

 

 

 

9288277

November 12, 2020

VIETNAM

 
 
 

 

8614467

November 12, 2020

?

GUYANA

PANAMA

 

 

9233208

June 21, 2021

GUYANA

TANZANIA

COOK ISLANDS

PANAMA

 

9250907

April 16, 2021

PANAMA

 
 
 

 

9278519

April 29, 2022

HONG KONG

 

 

 

 

9247431

February 1, 2022

PANAMA

LIBERIA

 

 

 

9232450

June 30, 2023

PALAU

 

 

 

 

9219056

March 31, 2023

PANAMA

 

 

 

 

9237228

October 29, 2021

PANAMA

 

 

 

 

9160530

December 1, 2022

CAMEROON

ST KITTS & NEVIS

 

 

 

9229362

April 16, 2021

BARBADOS

DJIBOUTI

 

 

 

9240407

August 31, 2023

PANAMA

 

 

 

 

9182291

April 16, 2021

CAMEROON

COMOROS

PANAMA

 

 

9197909

November 30, 2021

CAMEROON

 

 

 

 

9230878

March 31, 2022

LIBERIA

SINGAPORE

 

 

 

9235268

March 1, 2023

LIBERIA

 

 

 

 

9233272

May 31, 2022

MARSHALL ISLANDS

 

 

 

 

9070149

April 16, 2021

PANAMA

 
 
 

 

9014432

March 31, 2022

?

CAMEROON

PANAMA

 

 

9436006

March 1, 2022

PANAMA

MARSHALL ISLANDS

 

 

 

9396725

March 1, 2023

LIBERIA

 

 

 

 

9308778

January 3, 2022

PANAMA

PALAU

MALAYSIA

 

 

9140451

July 31, 2022

PANAMA

GABON

 

 

 

9108104

July 31, 2022

GABON

 

 

 

 

9264893

July 31, 2022

PANAMA

 

 

 

 

9208057

November 12, 2020

PANAMA

 
 
 

 

9031519

February 1, 2023

PANAMA

 

 

 

 

9000883

April 16, 2021

CAMEROON

GUYANA

PANAMA

 

 

9270517

January 3, 2022

PANAMA

LIBERIA

 

 

 

9174220

April 28, 2023

PANAMA

 

 

 

 

9296810

August 31, 2023

PANAMA

 

 

 

 

9197832

November 1, 2022

PANAMA

 

 

 

 

9295593

August 31, 2023

PANAMA

 

 

 

 

9242118

April 16, 2021

MALAYSIA

PANAMA

 
 

 

9328716

August 31, 2023

PANAMA

 

 

 

 

9149251

November 12, 2020

PANAMA

 

 

 

 

8617055

November 12, 2020

SAMOA (FALSE)

TANZANIA

 
 

 

9226011

June 30, 2023

PANAMA

KIRIBATI

 

 

 

9259733

November 1, 2022

PANAMA

 

 

 

 

9005053

November 12, 2020

PANAMA

 

 

 

 

9263643

September 30, 2021

COOK ISLANDS

PALAU

 

 

 

9253064

November 30, 2021

?

VIETNAM

 

 

 

9185530

December 1, 2022

PANAMA

 

 

 

 

9224271

April 16, 2021

MARSHALL ISLANDS

 

 

 

 

9014420

April 16, 2021

PANAMA

 

 

 

 

8818843

November 12, 2020

PANAMA

 

 

 

 

8902993

April 16, 2021

?

PANAMA

 
 

 

9194127

December 1, 2022

GUYANA

BARBADOS

DJIBOUTI

 

 

9524475

March 1, 2022

MARSHALL ISLANDS

 

 

 

 

9235476

July 31, 2022

PANAMA

 

 

 

 

9088536

November 12, 2020

PANAMA

 

 

 

 

9529645

July 31, 2022

PANAMA

 

 

 

 

9342786

March 31, 2023

VIETNAM

 

 

 

 

9277761

May 31, 2022

PANAMA

 

 

 

 

9204805

SYRMA (EX: SUMMER 5)

September 2, 2021

TANZANIA

PANAMA

 

 

 

9248813

March 1, 2022

PANAMA

 

 

 

 

9246138

November 12, 2020

ST KITTS & NEVIS

CAMEROON

COMOROS

GABON

 

9222443

December 1, 2022

CAMEROON

ST KITTS & NEVIS

 

 

 

9273337

November 12, 2020

?

CAMEROON

ST KITTS & NEVIS

TANZANIA

 

9230880

April 16, 2021

PANAMA

PALAU

LIBERIA

 

 

9293741

November 12, 2020

?

CAMEROON

COOK ISLANDS

 

 

9218181

November 12, 2020

PALAU

LIBERIA

 
 

 

9127667

TONDA SOURCE (EX: EXUBERANT STAR)

November 1, 2022

PANAMA