Iraq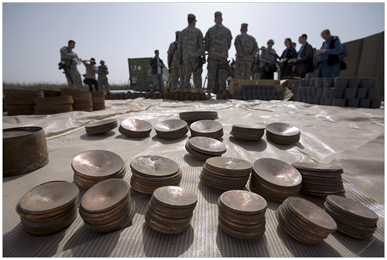 Since the fall of Saddam Hussein's regime in 2003, Iran has sought to significantly increase its influence in Iraq. In order to achieve this goal, Iran aims to keep Iraq weak and dependent on Tehran for its security. Iran controls a vast network of Shia militant groups in Iraq, and uses these proxies to "stoke sectarian tensions" and to foment political violence… thereby ensuring for itself a role as mediator in Iraq." This "two-faced" strategy has enabled Iran to establish itself as the "key power broker" in Iraq.
During the Iraq War, Iran supported, trained, and funded Shia militias and Shia insurgents in order to "work toward a humiliating defeat for the United States." Iran supplied these groups with weapons such as IEDs, which were "top killer of U.S. troops" in Iraq. In order to move these weapons into Iraq, Iran controlled a number of arms smuggling rings. By 2006 the Quds Force, the extraterritorial military arm of Iran's Islamic Revolutionary Guard Corps (IRGC), had developed "a widespread network for transferring and distributing arms from Iran into Iraq through the Islam region in western Iran." The sectarian violence Iran helped unleash claimed the lives of  tens of thousands of Iraqi civilians in the years following the invasion.
Iran has also used the war against the Sunni jihadist group ISIS as a pretext to embed IRGC officials in Iraq and increase support for Shia militant groups loyal to Ayatollah Khamenei. Quds Force commanders such as General Qassem Soleimani have been organizing Iraqi forces and "have become the de facto leaders of the Iraqi Shiite militias that are the backbone of the fight" against ISIS. Reports on the number of IRGC soldiers killed fighting in Iraq further demonstrate Iran's intense interventions in the area. Iran has supplied Iraq with $10 billion worth of weaponry, likely including T-72S tanks, Safir jeeps, and Sayyad sniper rifles.
As a result of these interventions against ISIS, Iranian influence in Iraq has reached an "unprecedented level." According to Ali Younusi, an adviser to Iranian Supreme Leader Khamenei, "Iran is an empire once again at last, and its capital is Baghdad." A member of the Iranian parliament made a similar claim, declaring that Baghdad has "fallen into Iran's hands and belongs to the Iranian Islamic Revolution." Soleimani also echoed these sentiments boasting, "We are witnessing the export of the Islamic Revolution throughout the region… From Bahrain and Iraq to Syria, Yemen and North Africa."
It's this Shia militia infrastructure that provides Iran a vehicle to threaten U.S. interests in the aftermath of the U.S. withdrawal from the Iran nuclear deal. Reuters reported in August 2018 that Iran had recently transferred short-range ballistic missiles to its allies in Iraq. These kinds of missiles include the Zelzal, Fateh-110, and Zolfaqar, which can all travel from 200-700 km. This range places U.S. allies—Israel and Saudi Arabia—within reach. Indeed, the U.S. government was forced to shutter its consulate in Basra in September 2018 after Iranian-supported militias fired rockets at the compound.
The kinetic power of these militias buys influence in Iraqi politics. The Iranian embassy in Baghdad is a hub of the mullahs' machinations in Iraq—specifically because Iran's Ambassador to Iraq Iraj Masjedi is himself a former general in the Quds Force and has served as a top advisor to Quds Force Commander Qassem Soleimani. It's from this platform that Tehran wields powerful influence over the direction of Iraqi politics. After the May 2018 parliamentary elections, which saw the Iran-backed Fatah alliance finish second in the vote tally, Iran and its allies were intimately involved in the negotiations over government formation. For example, Muqtada al-Sadr, whose nationalist Sairoon coalition came in first in the elections, traveled to Lebanon in September 2018 where he was hosted by Hezbollah's Secretary-General Hassan Nasrallah and Qassem Soleimani to forge a consensus on who would become the next prime minister of Iraq. The trio settled on Adel Abdul Mahdi, a former oil minister and vice president of Iraq. While Mahdi has been described as an independent-minded technocrat, since he's taken office, Iran has been given preferential access to his inner circle. In October 2018, only 24 hours after announcing he would not meet with delegations from foreign embassies as his cabinet was in the process of being formed—out of fear of an appearance of impropriety in the decision-making process—he hosted the Iranian Ambassador Iraj Masjedi for a discussion.
Beyond the orbit of the prime minister, even the new Sunni speaker of Iraq's parliament, Muhammad al-Halbusi, secured his job after crucial backing from the pro-Iran Fatah alliance. His first positions upon taking office have been payback for Fatah's support—specifically criticizing renewed U.S. sanctions on Iran.
Outside the political realm, Iran also maintains economic leverage over Iraq. According to Ambassador Masjedi, Iran's second-largest export market is Iraq, with bilateral trade set to reach $8.5 billion in 2018, with Iran hoping to increase the trade volume to $22 billion annually. Indeed, the United States had to grant Iraq a 45-day waiver from U.S. sanctions on Iran, which the U.S. government reimposed on Iran following its withdrawal from the Iran nuclear deal.
Country Reports
Subversive Activities