Afghanistan
Iranian influence in Afghanistan has deep-seated roots reaching back to the 15th century when the Afghan city of Herat was the capital of the Persian Empire. Iran also shares ties with various groups of Afghanistan, particularly the Persian-speaking Tajiks and the Shia Hazara. During the Soviet occupation of Afghanistan, Iran supported Shia resistance efforts and opened its borders to Afghan refugees. With the rise of the radical Sunni Taliban, Iran advocated strong support for the rival Shia-dominated group called the Northern Alliance.
While ideologically at odds with the Taliban, Iran has been heavily involved in Afghanistan through support of the Taliban in an effort to repel U.S. influence following the U.S. invasion in 2001. Beginning in 2006, the IRGC-Quds Force began "training the Taliban in Afghanistan on small unit tactics, small arms, explosives, and indirect fire weapons" in addition to providing armaments "including small arms and associated ammunition, rocket propelled grenades, mortar rounds, 107mm rockets, and plastic explosives." Although Iran often supports Tajik and Shia groups that are opposed to the Taliban, "[Iran's] enmity with the United States and tensions over the nuclear program have led it to provide measured support to the Taliban" in order to maximize its ability to disrupt the U.S.'s Afghan strategy. Iran, for instance, has permitted the Taliban free movement of foreign fighters through Iranian territory to support its insurgency in Afghanistan.
In 2014, the U.S. Department of Treasury added three Iranian IRGC Quds Force operatives and one "associate" to its list of global terrorists for their efforts to "plan and execute attacks in Afghanistan" including providing "logistical support" in order to advance Iran's interests in the region. The Treasury Department has stated that these designations "[underscore] Tehran's use of terrorism and intelligence operations as tools of influence against the Government of the Islamic Republic of Afghanistan."
In 2018, the U.S. Department of the Treasury sanctioned additional individuals who spearheaded cooperation between the Taliban and Tehran. They included Mohammad Ebrahim Owhadi, a Quds Force operative, who, according to the U.S. government, provided the Taliban Shadow Governor of Herat Province "with military and financial assistance" in exchange for Taliban forces launching attacks against the Afghan government, and Esma'il Razavi, who ran a training camp for Taliban forces in Birjand, Iran, which, according to the U.S. government, "provided training, intelligence, and weapons to Taliban forces in Farah, Ghor, Badhis, and Helmand Provinces." News reports indicate that Iran directly supported the Taliban offensive against Farah Province in May 2018.
Brigadier General Esmail Ghaani became the head of the IRGC Quds Force, following the death of Qassem Soleimani in January 2020. Ghaani has deep contacts and experience in Afghanistan—dating back to the 1980s. After Soleimani's demise, Iranian media began circulating unconfirmed reports that high-ranking Central Intelligence Agency officials perished in a plane crash in Taliban-controlled territory of a Bombardier E-11A electronic surveillance plane, and that one of those officials was involved in the death of Soleimani. Days later, the U.S. government announced only two U.S. Air Force pilots were killed in the incident, and there was no indication of hostile action in the downing of the jet. There has been speculation that the circulation of this story was part of an Iranian propaganda campaign. Such allegations also come on the heels of an increasingly close relationship between Tehran and the Taliban, with Iranian media repeatedly interviewing its officials.  
Days after the plane crash, the head of U.S. Central Command warned of a "worrisome trend" in intelligence pointing to an uptick of Iran's malign behavior in Afghanistan. This could be evidence of the new Quds Force commander seeking to deploy his existing network inside Afghanistan against U.S. forces.
Tehran has also dramatically expanded its economic ties with Afghanistan to buy influence in the country. According to the Afghanistan Chamber of Commerce, Iran surpassed Pakistan as Afghanistan's largest trading partner from March 2017-2018—with Iran exporting goods worth $1.98 billion. While foreign investment supports Afghanistan's development, Iranian investment seeks to undermine NATO and the Afghan regime's efforts to stabilize the country. In 2010, Afghan President Hamid Karzai admitted that Iran was paying his government $2 million annually, but U.S. officials believe that this is just the "tip of the iceberg" in a multitude of Iranian cash inflows to Afghan groups and officials.
Iran's economic influence in Afghanistan is best illustrated by its development of the western city of Herat, where Iran has developed the electrical grid, invested heavily in the mining industry, and invested over $150 million to build a school, mosque, residential apartments, a seven-mile road, and even stocked store shelves with Iranian goods. According to the head of Herat's provincial council, Nazir Ahmad Haidar, "Iran has influence in every sphere: economic, social, political and daily life. When someone gives so much money, people fall into their way of thinking. It's not just a matter of being neighborly."
Furthermore, Iranian influence in Afghanistan extends past its economy and into Afghan culture and religion. Coordinated by an official under the office of Supreme Leader Ayatollah Khamenei, Iran has funded the development of Shia organizations, schools, and media outlets in order to expand Iranian influence in Afghanistan. Mohammad Omar Daudzai, Afghanistan's former Ambassador to Iran, has stated that "thousands of Afghan religious leaders are on the Iranian payroll."
Recently, Iran has bridged its international regional influence by creating the IRGC-backed Fatemiyoun Brigade, a group of Afghan Shi'a fighting in support of the al-Assad regime of Syria. Often recruiting Shia refugees, the IRGC offers a $500/month stipend and Iranian residency in return for joining pro-Assad militias.
Lastly, Iran has even weaponized Afghanistan's environment. For example, the governor of Helmand Province accused the IRGC in 2017 of giving the Taliban weapons to attack Afghanistan's water infrastructure so that Iran could receive a larger portion of water from the Helmand River.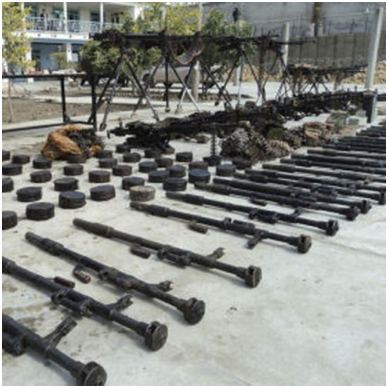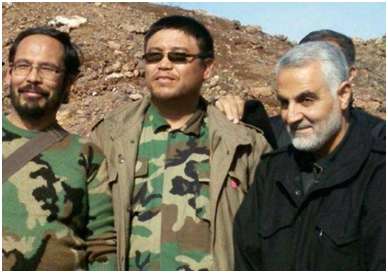 .
Country Reports
Subversive Activities