Kuwait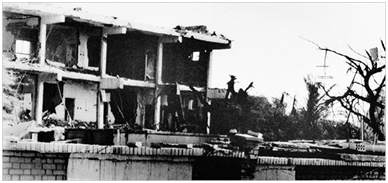 Iran has long attempted to increase its influence over Kuwait due to the latter's sizeable Shiite minority (approximately 30 percent of its population), extensive oil reserves, proximity to the Gulf, and importance to American and Saudi Arabian security.
The strained relationship between Kuwait and Iran intensified during the Iran-Iraq War in the 1980s. In response to Kuwait shipping Iraqi oil, Iran began attacking Kuwaiti ships and refineries and engaging in terrorist attacks on Kuwaiti soil. In 1983, operatives of Iranian-backed Hezbollah and Al Da'wa targeted, as one analyst noted, "the American and French embassies, the Kuwait airport, the grounds of the Raytheon Corporation, a Kuwait National Petroleum Company oil rig, and a government-owned power station" in coordinated suicide bombings which killed six people and wounded another ninety. Consequently, Kuwait imprisoned 17 people for their involvement in these attacks, including several members of Hezbollah.
In order to pressure Kuwait to release these 17 prisoners, known as the "Kuwait 17," Iran directed Hezbollah to engage in a campaign of terrorism and kidnappings throughout the Middle East. In 1984, Kuwait Airways Flight 221 was hijacked on its way to Pakistan and diverted to Tehran. Although Iran eventually arrested the hijackers, the perpetrators murdered two employees of USAID, were never tried in Iranian court, and were permitted to leave the country. The next year, Hezbollah attempted to assassinate the Emir of Kuwait by driving a bomb-laden vehicle into the leader's motorcade.
More recently, Kuwait has uncovered Iranian covert operations designed to undermine American-Kuwaiti military cooperation and inflame sectarian tensions among Kuwait's Shiite minority. In April 2011, the Kuwaiti foreign minister reported the discovery of an Iranian spy cell that had operated in Kuwait since the U.S. invaded Iraq in 2003. The cell "monitored the U.S. military presence and possessed explosives to bomb 'strategic' facilities" in addition to lists of "names of officers" and "extremely sensitive information." This announcement followed the March sentencing of two Iranians and one Kuwaiti for spying on behalf of Iran and coincided with the expulsion of several Iranian diplomats from Kuwait.
In August 2015, Kuwaiti officials foiled a plot by Hezbollah to carry out attacks in the country, planned by 25 of its own nationals and one Iranian. Authorities seized a huge arms cache that they said was smuggled from Iraq and hidden underneath houses close to the Kuwaiti-Iraqi border. In Kuwait's Al-Abdali area, they discovered a total of 42,000 lbs. of ammunition, 144 kg of explosives—including C4—68 weapons, and 204 grenades. The cell was charged with plotting with Iran and Hezbollah to destabilize Kuwait's national security. Subsequently, the Kuwaiti government closed Iran's cultural mission and expelled some Iranian diplomats.
In June 2017, Kuwait's Supreme Court upheld the convictions of 21 members of the al-Abdali terrorist cell, noting the group's intention to carry out terror attacks around the country. Kuwait protested to Lebanon that Hezbollah, which is part of the Lebanese government, played an active role in training the members of the terror cell.
In March 2016, Kuwait expelled over 70 Lebanese nationals with permanent residency status for alleged links to Hezbollah. The move came shortly after the GCC declared Hezbollah a terrorist organization.  
In May 2018, Kuwait joined the U.S. and other Gulf states in sanctioning 9 Hezbollah-affiliated persons and entities, but did not join the other governments in designating Hezbollah Secretary-General Hassan Nasrallah as well.
In July 2020, Kuwaiti authorities broke up a money laundering cell with alleged ties to Hezbollah. The cell, whose mastermind was an Iranian resident of Kuwait, was reportedly active for five years. The members reportedly laundered over 3 million dinars ($9.8 million USD) through online auctions of luxury goods using a Gulf bank in their operations, with the money subsequently being sent to an unnamed regional state.
Despite Iran's meddling and support for terrorism in Kuwait, Kuwait has sought to cultivate good relations with Tehran, placing it at odds with other GCC nations. Kuwait opted to maintain diplomatic ties with Iran following the 2016 attacks on Saudi diplomatic missions in Iran, which led to Saudi Arabia and Bahrain severing relations with Iran. Kuwait has also sought to serve as a mediator in the dispute between Qatar and Saudi Arabia, the UAE, and Bahrain; a dispute which centers in part on Qatar's links to Tehran.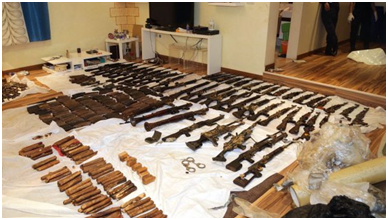 Country Reports
Subversive Activities