Kuwait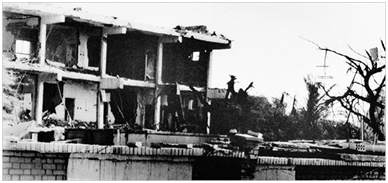 Iran has long attempted to increase its influence over Kuwait due to the latter's sizeable Shiite minority (approximately 30 percent of its population), extensive oil reserves, its strategic geographical location between Iran and Iraq at the mouth of the Gulf, and its importance to American and Saudi Arabian security. Kuwait enjoys popular participation in contested parliamentary elections, including by its Shi'a minority. Some believe that Kuwait's citizenry is the most politically active of all countries in the Gulf. In 2006, the National Assembly approved the crown prince, Sheikh Nawaf al-Amed al-Sabah, who became the country's leader in 2020 after the death of his half-brother, then Kuwait's Emir. Kuwait's vibrant and apparently inclusive political system is an obstacle to Iran's pursuit of influence in the Gulf. 
The relationship between Kuwait and Iran was strained during the Iran-Iraq War in the 1980s, because Kuwait, like the other Gulf Arab states, sided with Saddam Hussein of Iraq, hoping to prevent Iran's revolutionary zeal from engulfing the region. Kuwait extended billions of dollars-worth of loans to Iraq to help it finance its war against Iran. Consequently, major terrorist attacks tracing back to Iran were committed in Kuwait. These attacks leveraged a network of Shi'a radicals formed by Mohammed Mahdi al-Shirazi, a Shiite who moved to Kuwait from Lebanon after being exiled from the holy Iraqi city of Najaf by Saddam Hussein in 1971. His network extended throughout the Gulf, and became one of the earliest manifestations of Iran's outward transnational Shiite activism once he moved to Iran after the 1979 Revolution. During the Iran-Iraq War, Iran also attacked Kuwaiti ships and refineries, because Kuwait was shipping Iraqi oil.
Not long after the Iran-Iraq War, Saddam Hussein attempted to annex Kuwait in 1990; and the United States mobilized a massive international coalition which quickly repelled him. The war was over by 1991; however, the U.S. troop buildup in the region was not completely drawn down. To this day, large numbers of U.S. troops remain in the Gulf region, at the invitation of the host countries, to maintain regional security; according to one estimate, there were between 60,000 to 80,000 troops deployed to the U.S. military's Central Command area of operations as of January 2020. In the Gulf, they are located in Bahrain, Qatar, Saudi Arabia, Kuwait and the UAE, indicating the strategic value of this region of the Middle East. Iran staunchly opposes the U.S. military presence in the region, and foreseeing such as the result of a U.S. troop buildup in the run up to the Persian Gulf War (1990-1991), it remained neutral in that war. Part of the reason Iran meddles and supports terrorism in Kuwait is because of the country's alignment with the west.
In April 2011, Kuwait uncovered Iranian covert operations designed to undermine American-Kuwaiti military cooperation and inflame sectarian tensions among Kuwait's Shiite minority. The Kuwaiti foreign minister reported the discovery of an Iranian spy cell that had operated in Kuwait since the US invaded Iraq in 2003. The cell "monitored the U.S. military presence and possessed explosives to bomb 'strategic' facilities" in addition to lists of "names of officers" and "extremely sensitive information." This announcement followed the March sentencing of two Iranians and one Kuwaiti for spying on behalf of Iran and coincided with the expulsion of several Iranian diplomats from Kuwait.
Iran seeks to expand its influence in Kuwait by coopting Shi'a groups. The IRGC "exploits the space for religious freedom that exists in Kuwait to expand its foothold in Kuwaiti society," said a retired Kuwaiti political officer. Since some religious centers, including Shi'a mosques, are not subject to oversight by government institutions, Tehran is given an opening to project its revolutionary message to Shi'a people in Bahrain. Portraits of IRGC commanders and Ali Khamenei and flags of Hezbollah reportedly show up in private religious institutions.
Hezbollah in Kuwait
Since its creation in 1982, Hezbollah has carried out operations in Kuwait at the behest of Iran. As early as 1983, Hezbollah operatives, along with Iraqi Da'wa Party members, targeted, as one analyst noted, "the American and French embassies, the Kuwait airport, the grounds of the Raytheon Corporation, a Kuwait National Petroleum Company oil rig, and a government-owned power station" in coordinated suicide bombings which killed six people and wounded another ninety. Kuwait imprisoned 17 people for their involvement in these attacks, including several members of Hezbollah.
In order to pressure Kuwait to release these 17 prisoners, known as the "Kuwait 17," Iran directed Hezbollah to engage in a campaign of terrorism and kidnappings throughout the Middle East. In 1984, Kuwait Airways Flight 221 was hijacked on its way to Pakistan and diverted to Tehran. Although Iran eventually arrested the hijackers, the perpetrators, who murdered two employees of USAID, were never tried in Iranian court and were permitted to leave the country. The next year, an individual who later claimed to be part of a group known as Islamic Jihad, drove a bomb-laden vehicle into the Kuwaiti Emir's motorcade in an attempted assassination. Given the Iranian opposition to Kuwait at this time, the suicide car-bomber had suspected links to Iran and Hezbollah.
Since the end of the Iran-Iraq War, sectarian violence in Kuwait has declined; it began to ease when Kuwaiti Shiites affirmed their loyalty to the defense of the state in the Gulf War. The current lack of sectarian tensions makes the country less susceptible to Iranian destabilizing activities; for example, it cannot as easily stir up and foment fear and animosity against rival Sunni groups. As was seen in the above-section on Syria and elsewhere, such rivalries, which can devolve into vicious cycles of violence, serve as breeding grounds for Iran-sponsored terrorism. While Kuwait is not the tinder box that it once was during the Iran-Iraq War, it is still vulnerable to volatility and radicalism, particularly when spurred on by Iran and other external actors like Hezbollah.
The Abdali affair is the most striking example of this vulnerability. In August 2015, Kuwaiti officials foiled a plot by Hezbollah to carry out attacks in the country's al-Abdali area. The Hezbollah offshoot responsible for planning the attack was made up of 25 Bahraini nationals and one Iranian. Authorities seized a huge arms cache that they said was smuggled from Iraq and hidden underneath houses close to the Kuwaiti-Iraqi border. In Kuwait's Al-Abdali area, they discovered a total of 42,000 lbs. of ammunition, 144 kg of explosives—including C4—68 weapons, and 204 grenades. Members of the Abdali cell were charged with plotting with Iran and Hezbollah to destabilize Kuwait's national security.
In June 2017, Kuwait's Supreme Court upheld the convictions of 21 members of the al-Abdali terrorist cell, noting the group's intention to carry out terror attacks around the country. Kuwait protested to Lebanon that Hezbollah, which is part of the Lebanese government, played an active role in training the members of the terror cell. Subsequently, the Kuwaiti government closed Iran's cultural mission and expelled some Iranian diplomats. A year later, shortly after the Gulf Cooperation Council (GCC) declared Hezbollah a terrorist organization, Kuwait expelled over 70 Lebanese nationals who had permanent residency status for alleged links to Hezbollah. Moreover, in May 2018, Kuwait joined the U.S. and other Gulf states in sanctioning 9 Hezbollah-affiliated persons and entities, but did not join the other governments in designating Hezbollah Secretary-General Hassan Nasrallah as well.
In July 2020, Kuwaiti authorities broke up a money laundering cell with alleged ties to Hezbollah. The cell, whose mastermind was an Iranian resident of Kuwait, was reportedly active for five years. The members reportedly laundered over 3 million dinars ($9.8 million USD) through online auctions of luxury goods using a Gulf bank, with the money subsequently being sent to an unnamed regional state. These incidents continued in 2021 as well. That November, news reports circulated that Kuwaiti prosecutors detained 18 people suspected of financing Hezbollah. In September 2021, the U.S. Department of the Treasury designated Talib Husayn 'Ali Jarak Ismai'l for coordinating the transfer of millions of dollars to Hizballah from Kuwait through Jamal Husayn 'Abd 'Ali 'Abd-al-Rahim al-Shatti. Al-Shatti is the brother of former Kuwaiti lawmaker Khaled al-Shatti.
Kuwait tried to mediate between Lebanon and Gulf Arab states amid a diplomatic row that began when the Lebanese minister of information criticized Saudi Arabia's role in the war in Yemen. In January 2022, the Kuwaiti foreign minister traveled to Lebanon and presented a set of "trust-building" proposals, one of which was the disarmament of Hezbollah, who in recent years has increased its influence in Lebanon.
In return for its cooperation, the Gulf state said that it would help facilitate a World Bank project to help deal with Lebanon's severe economic crisis. Hezbollah, in line with its frequent critiques of Gulf Arab states for serving the interests of the U.S. and other Western powers, staunchly opposed the Western-backed Kuwaiti offering. Later in January, Lebanon's foreign minister traveled to Kuwait and explained that the disarmament of Hezbollah was not in the offing. Hezbollah's Secretary-General Hassan Nasrallah blasted the Kuwaiti proposal for improvement in ties between Lebanon and Gulf Arab states, calling them "dictates." This shows the continued tensions between Iran's proxies and partners and the Kuwaiti leadership.
Although it is clear that Iran seeks to establish influence in the country, given the large population of Shi'a people, and necessary for the Kuwaiti government to remain vigilant, extreme measures to confront the Iranian national security threat could be counterproductive. Such actions could empower radical elements and lead to the mobilization of new Hezbollah cells in Kuwait. On the other hand, if the Kuwaiti government promotes the political inclusion of moderate Shi'a parties and compromises with the majority Sunni population, it may be able to develop a culture of pragmatism among its Shi'a parties to counter Iran.
The National Islamic Alliance (NIA) is Kuwait's main Shi'a Islamist political bloc. While Sunni-Shi'a tensions ran high in 2008, when thousands of Shi'a people gathered to mourn the death of a top Hezbollah commander widely hated by the Sunni community for his alleged role in terrorist attacks in Kuwait during the Iran-Iraq war, they have since declined, as the NIA has taken a pragmatic, rather than an ideological, approach to politics. It should also be noted that, according to an expert at the Washington Institute for Near East Policy, "the Kuwaiti public, including [the] Shi'a minority, [are] still anti-Iran."
Iran-Kuwait Diplomatic Relations
Despite Iran's meddling and support for terrorism in Kuwait, Kuwait has sought to cultivate good relations with Tehran, placing it at odds with other GCC nations. For the first time since the 1979 Iranian Revolution, in June 2014, the Kuwaiti Emir, Shiekh Sabah al-Ahmad al Sabah, led a high-level delegation to Iran. As a result of this visit, Kuwait and Iran agreed to a memorandum of understanding, saying that the two countries would coordinate their security efforts. Unlike Saudi Arabia and Bahrain, Kuwait initially opted to maintain diplomatic ties with Iran even after Iranians attacked the Saudi diplomatic missions in Iran in 2016 in response to Saudi Arabia's execution of the prominent Shi'a cleric Nimr al-Nimr. However, Kuwait would later cut diplomatic ties with Tehran out of solidarity with Saudi Arabia. More recently, Kuwait has also sought to serve as a mediator in the dispute between Qatar and Saudi Arabia, the UAE, and Bahrain, which centers in part on Qatar's links to Tehran.
In August 2022, Kuwait sent its first ambassador to Tehran since downgrading ties in 2016. The resumption of diplomatic relations between Kuwait and Iran flew under the radar of most Western media outlets. Ongoing talks between Saudi Arabia and Iran overshadowed it. Still, the improvement in relations between Iran and Kuwait was significant because it shows that Iran has been able to counter international efforts to isolate and pressure it. Despite its ongoing efforts to destabilize the region and promote terrorism, and despite the rapid advances in its nuclear program, which also threaten regional security, Tehran has been able to normalize relations with Kuwait, the UAE, and Saudi Arabia. Tehran is also reportedly seeking to improve ties with Bahrain as well. These developments risk normalizing Tehran's malign behavior and threat to regional security while undermining the U.S.'s efforts to isolate Tehran.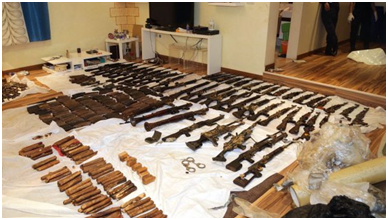 Receive Iran News in Your Inbox.
Eye on Iran is a news summary from United Against Nuclear Iran (UANI), a section 501(c)(3) organization. Eye on Iran is available to subscribers on a daily basis or weekly basis.
Country Reports
Subversive Activities