Ballistic Missile Program
Nature of Iran's Ballistic Missile Program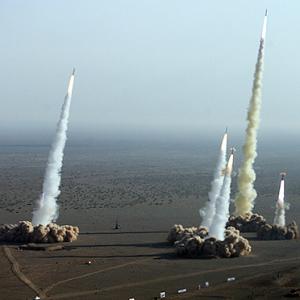 Iran has been developing ballistic missile capabilities based on Russia, North Korean, and Chinese technology or weapons systems since the early 1980s. During its prolonged war against Iraq in the 1980s, Iran reportedly launched more than 600 ballistic missiles. According to the 2016 Worldwide Threat Assessment of the U.S. Intelligence Community, Iran's ballistic missiles are inherently capable of delivering weapons of mass destruction, and Tehran has the largest inventory of ballistic missiles in the Middle East.
According to Abdullah Toukan, a senior associate at the Center for Strategic and International Studies (CSIS), Iran sees its "missile capabilities as a way to compensate for its shortcomings in conventional forces, as well as a means to strike at high value targets with little warning, such as population centers, and Western-backed troops in the region, including U.S. bases in the Gulf. As such, ballistic missiles play an integral role in Iran's asymmetric warfare doctrine." Given the emphasis Iran places on its missile program, it is clear that Iran considers its ballistic missile arsenal among its most significant assets as both a deterrent and leverage over other regional players.
Iran's Ballistic Missiles and Iran's Nuclear Program
Ballistic missiles are a critical component of all countries nuclear weapons arsenal. A nuclear weapon requires three components: enriched fissile material (uranium in Iran's case), a delivery vehicle (usually some sort of missile—whether fired from land, sea or air), and a warhead that integrates the two. For this reason, ballistic missiles cannot be separated from the nuclear issue because they are the primary launch platform for any nuclear, chemical or biological warhead. Therefore, all countries that have developed or sought nuclear weapons also developed long-range ballistic missiles. It is clear that the only reason for Iran to have advanced ballistic missiles is to deliver a nuclear bomb, "no other weapon justifies the cost of developing a missile."
Speaking to the Senate Select Committee on Intelligence in 2011, Director of National Intelligence James Clapper made clear that "ballistic missiles would be Iran's likely preferred method of delivering nuclear weapons..." The Nuclear Threat Initiative has concluded that "Tehran indisputably possess formidable weapons delivery capability, and its ongoing missile program poses serious challenges to regional stability."
North Korean Assistance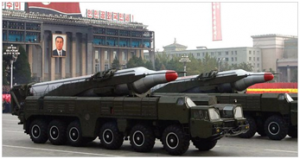 Iran's Ballistic Missiles and the JCPOA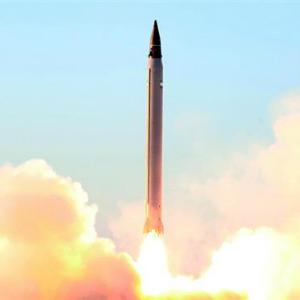 The terms of the JCPOA and the new UN resolution maintain limitations on Iran's ballistic missile program. The extension of the arms embargo and missile ban came in UN Security Council Resolution 2231 that was unanimously adopted on July 20, 2015.
The new resolution endorses the nuclear deal and implements certain aspects of the agreement, but contains language that is much weaker than the language in six previous Security Council resolutions that it replaced. According to the text of the resolution, Iran is "called upon not to undertake any activity related to ballistic missiles designed to be capable of delivering nuclear weapons, including launches using such ballistic missile technology. The previous U.N. resolutions had stated that "Iran shall not undertake any activity related to ballistic missiles capable of delivering nuclear weapons." The softening in the language degrades the ban on ballistic missile testing and related activities from a legal obligation to a non-legally binding appeal. Further, the new resolution refers to missiles "designed to be capable of delivering nuclear weapons," rather than "capable" of such delivery. Iran rigorously lobbied for the revised phrasing since it now simply contends that its missiles are not "designed" for such capability.
Multiple Tests Since the JCPOA
Since the Iran nuclear agreement was signed, the Islamic Republic has increased the frequency of its ballistic missile testing, test-launching at least 16 ballistic missiles.
On August 22, 2015, Iran claimed to have test-fired the Fateh 313, a precision-guided ballistic missile with a range of 310 miles.
On October 10, 2015, Iran test-fired "a new guided long-range ballistic missile" named "Emad." The missile is an improvement from Iran's Shahab-3 missiles because it can reportedly be guided toward its target. Then on October 14, "Iranian state television broadcast unprecedented footage…of a deep underground tunnel packed with missiles and launcher units."
Evidence of another missile test emerged on December 7 when Fox News reported that on November 21 Iran carried out a medium-range ballistic missile test. The missile, known as a Ghadr-110, has a range of 1,800 – 2,000 km and is capable of carrying a nuclear warhead.
On March 8, 2016, Iran announced that short, medium, and long-range precision guided missiles were fired from several sites. Pictures of the launches were broadcast, and reports said the armaments used had ranges of 300 kilometers, 500 km, 800 km, and 2,000 km. The missiles, capable of striking Israel and U.S. bases in the Middle East, had a statement in Hebrew inscribed on them reading "Israel must be wiped off the Earth."
On April 20, 2016, Iran test-launched a new rocket, the Simorgh space launch vehicle, a key step in the development of Iran's long-range ballistic missile program. On July 27, 2017, Iran tested the Simorgh again, this time successfully.
On May 9, 2016, Iran announced that it tested another two ballistic missiles with ranges of 1,250 miles.
On July 11, days before the one-year anniversary of the signing of the nuclear agreement, the Islamic Republic attempted to launch a new type of ballistic missile using North Korean technology. The test was reportedly the first time Iran tried to launch a version of the North Korean BM-25 Musudan ballistic missile, which has a maximum range of nearly 2,500 miles.
On September 25, 2016, Iran's Defense Ministry released a video of the regime's latest ballistic missile, Zolfaqar, being launched and hitting a target. The missile runs on soild fuel and can reportedly hit targets with pin-point accuracy at a range of 750 kilometers. According to Tasnim News Agency, the missile, which is capable of evading jamming signals in electronic warfare, will come into service by March 2017.
On January 29, 2017, Iran reportedly conducted a ballistic missile test outside Semnan, firing its medium-range Khorramshahr missile 600 miles.
On March 6, 2017, U.S. defense officials claimed that Iran test-fired a pair of Fateh-110 short-range ballistic missiles. One of the missiles reportedly successfully destroyed a floating barge approximately 155 miles away.
Iran's Position on Ballistic Missile Development and Test Launches
Despite the implementation of the JCPOA, Iran has continued to pursue its ballistic missile program and Supreme Leader Ayatollah Ali Khamenei has said that the U.S. cannot "do a damn thing" about it. This underscores the importance Tehran attaches to its missile arsenal. Iran made clear in accepting the JCPOA that it would not halt its ballistic missile development. In March 2016, Khamenei stated that missile power is key to the country's security and strength: "those who believe only diplomacy is the key to Iran's future are acting out of 'ignorance or treason.'" Iran's foreign minister added that Iran's missile program and is "not negotiable."
The West's Views of Missile Tests as UN Violation
On October 16, 2015, U.S. Ambassador to the UN Samantha Power said Iran's October 10, 2015, ballistic missile test was "a clear violation" of UN sanctions given that the missile launched was "inherently capable of delivering a nuclear weapon." A confidential report by a UN panel of experts subsequently confirmed that Iran had violated a UN Security Council resolution. On March 30, 2016, the U.S. and the EU allies said in a joint letter that the recent missile tests by Iran were "in defiance of" the UN Security Council resolution that endorsed the JCPOA.
Commenting on Iran's continued ballistic missile testing, Undersecretary of State for Political Affairs Thomas Shannon said, "from our point of view, U.N. Security Council Resolution 2231 prohibits Iran from launching ballistic missiles." Shannon continued, "I believe that Iran violated the intent of 2231."
For his part, President Obama said on April 1 at the Nuclear Security Summit in Washington, "Iran, by testing ballistic missiles, was undermining the 'spirit' of the nuclear deal." UN Chief Ban Ki-moon said in a July 2016 report on the JCPOA, "Iran's ballistic missile launches are inconsistent with the spirit of a nuclear deal…I call upon the Islamic Republic of Iran to refrain from conducting such launches, given that they have the poteintal to increase tensions in the region."
Regional Threat
Iranian Threats to U.S. Assets in the Gulf & Middle East
Iran has threatened U.S. assets in the Gulf region on multiple occasions. On May 10, 2016, the IRGC commander warned his "forces would drown American warships should they pose the slightest territorial threat to the country, wherever the Americans look in the Persian Gulf, they will see us. The IRGC has underground facilities housing surface-to-sea missiles and vessels."
Commander of the IRGC Aerospace Force Brigadier General Amir Ali Hajizadeh has also threatened that "all U.S. military bases in the Middle East are within the range of the IRGC's missiles." There are key U.S. military installations in the region including a large naval base in Bahrain.
Iran's Arab Neighbors
Iran's arsenal of ballistic missiles poses a threat to its Arab neighbors in the Persian Gulf. According to the Heritage Foundation, "Iran's ballistic missiles pose a major threat to U.S. bases and allies from Turkey, Israel, and Egypt in the west, to Saudi Arabia and the other Gulf States to the south, to Afghanistan and Pakistan to the east."
Iran has escalated its threats against Arab neighbors in the Persian Gulf since the JCPOA was negotiated. The confined geography of the Gulf, in combination with Iran's massive arsenal of short- and medium-range ballistic missiles, presents a unique set of defense challenges. Iran's short-range ballistic missiles and rockets can reach their target in six minutes or less, leaving little time to detect, track, and intercept them.
Douglas Barrie, a military aerospace expert at the International Institute for Strategic Studies (IISS), said the Gulf states are deeply concerned by Iran's missiles. "If you're sitting in London perhaps it doesn't seem too rational, but if you're sitting in Bahrain or Saudi Arabia then it looks very rational indeed," he said. In reaction to this missile threat, the Gulf states are investing billions of dollars in advanced missile defense systems designed to protect their cities against attack from Iran. From Kuwait in the Gulf's northern waters to the United Arab Emirates on the Strait of Hormuz, five GCC countries are installing or upgrading US-supplied missile defenses.
Israel
According to the Heritage Foundation, Israel is most at risk from an Iranian attack. Iran's GPS-guided missiles "can degrade the [Israeli military's] ground capabilities…can paralyze Israel's war economy, and inflict massive casualities." Iranian state TV has gone so far as running a documentary showing Iran's drones and missiles bombing multiple targets in Israel as well as the USS Abraham Lincoln "in a hypothetical retaliation for an Israeli or American strike on Iran."
Iran even inscribed the words "Israel must be wiped off the Earth" on Iranian missiles tested in March 2016. Iranian Major General Rahim Safavi has also threatened Israeli cities with destruction, saying that "the Zionists and the US are aware of the power of Iran and Hezbollah, and they know that over 80,000 (Iranian) missiles are ready to rain down on Tel Aviv and Haifa." In addition, Brigadier General Amirali Hajizadeh warned that, "the Zionist regime is our biggest target…we do not need missiles with a range of over 2,000 kilometers. The longest range required for [Iran's] missiles is the [Israeli] occupied lands."
Moreover, all of Israel can be hit with the thousands of shorter-range rockets that Iran has supplied to Hezbollah in Lebanon and Hamas and Palestinian Islamic Jihad in Gaza. On July 1, 2016, General Hossein Salami, Lieutenant Commander of the IRGC said, "more than 100,000 missiles are ready to fly from Lebanon…tens of thousands of destructive long-range missiles are ready across the Islamic regions to hit Israel in case of any more wrong move by the Zionists."
Threat to the American Homeland and Europe
Iran's Space Launch Capability and ICBMs
With Iran continuing to perfect its ballistic technology and extend its missile range, the serious threat to the U.S. homeland and our NATO and Middle Eastern allies of an Iran armed with nuclear-tipped ballistic missiles remains. Coupled with Iran's ongoing illegal procurement of nuclear and missile-related equipment, global and regional fears of Iran's aggression and nuclear ambitions have been reinforced.
While there is an ongoing dispute whether Iran is directly violating the JCPOA with its ballistic missile tests, the fact remains that such missiles would be Iran's only viable method for launching nuclear weapons. The surrounding nations feel sufficiently threatened that they have pursued costly missile defense systems to protect themselves.