Iran's Recent Destabilizing Regional Activities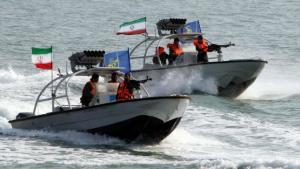 The Islamic Republic of Iran's principal foreign policy objectives center on exporting its Islamic Revolution and supplanting the United States as the dominant power in the Persian Gulf and broader Middle East. Iran has employed terrorist proxies and fomented unrest among Shi'a minority populations in pursuing its hegemonic ambitions, which have inflamed sectarian tensions and destabilized the region. Tehran now wields significant influence over four Arab capitals – Damascus, Baghdad, Beirut and Sanaa – but in the process has contributed to a global refugee crisis.
Iran's hand can be clearly seen in all of the region's conflict zones, as it has exploited the region's popular uprisings and civil wars in its desire to establish a "Shi'a crescent" of influence. The Gulf nations have largely weathered the Iran-fueled breakdown of the regional order, while viewing the carnage and increased sectarian tensions as a threat to their own regimes' survival. The GCC's member states' military spending dwarf's Iran's, yet Iran has been able to increase its regional influence through effective, low-cost methods such as anchoring loyal terrorist proxies in neighboring countries – which it has done in Lebanon, Syria, Iraq, Yemen and Gaza – and subversive outreach to Shi'a populations throughout the region.
Saudi Arabia's historically fraught relationship with Iran reached new lows during the last few years. After Saudi Arabia executed an outspoken Shi'a cleric with ties to Iran, an Iranian mob chanting "Death to the Al Saud family," ransacked and set fire to the Saudi Embassy in Tehran. The incident led Saudi Arabia, Qatar and Bahrain to recall their ambassadors from Tehran, and the UAE to downgrade its diplomatic relations with Iran. In May 2017, Saudi Defense Minister Mohammed bin Salman stated that Iran's extremist theology precludes the GCC states and Iran from reaching an accommodation. "How do you have a dialogue with a regime built on an extremist ideology … which [says] they must control the land of Muslims and spread their Twelver Jaafari sect in the Muslim world?" asked bin Salman.
Iran's revolutionary regime's meddling in Bahrain, which Iranian officials have referred to as Iran's "14th province," dates as far back as 1981, when an Iranian and IRGC-supported proxy movement attempted a failed coup attempt. Since that time, Tehran has pursued a patient strategy of infiltrating the Bahraini opposition. This strategy has become more operational in recent years, as Tehran has instigated and sought to exploit anti-monarchy protests in Bahrain for sectarian purposes and to undermine the Al Khalifa rulers. Iran's role in opposition protests prompted Bahrain to request the deployment of the GCC's Peninsula Shield Force to ensure the nation's integrity and territorial borders.
On April 22, 2013, Bahraini authorities arrested eight of its citizens for plotting with an Iranian Revolutionary Guard member to assassinate Bahraini officials and target government buildings and the international airport. Later that same year, on December 30, the Bahraini Coast Guard intercepted an Iranian shipment of more than 220 pounds of C4 explosives, 50 hand grenades, land mines, and detonators labeled "made in Syria" that were en route to Shia opposition groups in Bahrain.
In March 2017, Bahraini authorities broke up an IRGC-linked terror cell, which they accused of plotting to assassinate government officials and attack police and U.S. military targets. In February, a senior member of the Iranian parliament's National Security and Foreign Policy Commission and former IRGC official warned that Iran would respond to the slightest aggression from Washington by razing to the ground the U.S. military base in Bahrain. In January, Bahrain caught another cell backed by the IRGC and Hezbollah which was in the midst of plotting a series of bombings. In June 2016, two men alleged to have "received training in weapons and explosives from Iran's Revolutionary Guards" planted a bomb that killed a Bahraini woman. In September 2015, Bahrain uncovered an illicit Iranian weapons factory aimed at supplying militant elements within the opposition with heavy weaponry to fuel unrest in the kingdom. Citing the increasing sophistication and firepower of the weaponry that has made its way into Bahrain, Western analysts have concluded that Iran is behind the proliferation of heavily armed cells and militant attacks that have plagued Bahrain in the past three years.
Kuwait, meanwhile, has uncovered Iranian covert operations designed to undermine American-Kuwaiti military cooperation and inflame sectarian tensions among Kuwait's Shia minority. In April 2011, the Kuwaiti Foreign Minister reported the discovery of an Iranian spy cell which had operated in Kuwait since the U.S. invaded Iraq in 2003. The cell "monitored the U.S. military presence and possessed explosives to bomb 'strategic' facilities" in addition to possessing lists of "names of officers" and "extremely sensitive information." This announcement followed the March sentencing of two Iranians and one Kuwaiti for spying on behalf of Iran and coincided with the expulsion of several Iranian diplomats from Kuwait.
At present, the GCC states are engaged throughout the Middle East to counter Iran's destabilizing activities. Iran's notorious involvement in countries such as Iraq, Syria and Yemen has expanded its regional influence while turning those states into incubators for extremist groups which threaten the GCC. In response, Saudi Arabia and the United Arab Emirates (UAE) are leading the Arab military coalition, and Bahrain, Qatar and Kuwait have supplied fighter jets, in the conflict restore the internationally recognized government of Abd-Rabbu Mansour Hadi against Iranian-backed Houthi rebels in Yemen. Saudi Arabia has also been a key financier of rebels in Syria battling the brutal Assad regime, who is backed by Hezbollah, and Shi'a militias from around the region ordered there by Iran, and has backed forces within Lebanon opposing Iran and Hezbollah's efforts to subvert Lebanese sovereignty.