President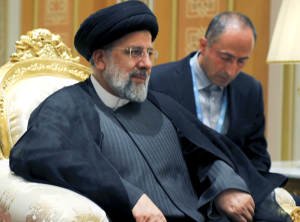 With Raisi's election as president in 2021, he became the first chief justice to assume the presidency since the inception of the Islamic Republic. His ascension represented Iran's deep state—dominated by the supreme leader and his appointees—overtaking the elected state. As president, a revolving door has emerged between his new office, the judiciary, the Office of the Supreme Leader, and Astan-e Quds Razavi, which Raisi previously headed. Many of his appointments and nominations—like his chief of staff and vice president for executive affairs—have either judicial or foundational experience at Astan-e Quds Razavi. This is not to mention his First Vice President Mohammad Mokhber, who previously headed the Execution of Imam Khomeini's Order (EIKO), an economic conglomerate directly controlled by the Office of Iran's Supreme Leader. This shows the degree of the Raisi administration's closeness to deep state entities.
In addition to these personnel trends, Raisi's administration is taking shape as the most sanctioned and wanted presidency in the history of the Islamic Republic. Raisi himself, his chief of staff, vice president for executive affairs, vice president for parliamentary affairs, vice president for economic affairs, vice president and head of the Atomic Energy Organization, and ministers of defense, interior, oil, roads, and tourism have all been sanctioned. This is not to mention that Interpol has issued Red Notices for two members of his administration: Interior Minister Ahmad Vahidi and Vice President for Economic Affairs Mohsen Rezaei, who are wanted for their roles in the bombing of the AMIA Building in Buenos Aires in 1994.
Thus far, while in office, Raisi has been more mobile than his predecessor Hassan Rouhani. Rouhani, for the duration of the coronavirus pandemic, was confined to his office in Tehran. Raisi, in contrast, has undertaken extensive provincial travel. Raisi was also able to showcase a diplomatic achievement at the beginning of his presidency, when the Shanghai Cooperation Organization approved Iran's accession as a member. But this really was not the result of Raisi's personal efforts, as the groundwork had been laid for years prior to that moment. Raisi was merely the beneficiary of this development.
Two months into his tenure, Raisi enjoyed higher approval ratings than Rouhani. An October 2021 survey by the University of Maryland revealed that 75% of Iranians viewed Raisi "positively," while a similar number viewed Rouhani "negatively." President Raisi's first year in office, though, has been marked by dismal economic performance. Post-election enthusiasm for the president faded as it became clear that he and his administration have been ill-prepared and unable to confront the pressing structural economic challenges.
The Raisi administration is made up of unqualified individuals. Fars Province MP Moslem Salehi said that "according to surveys, more than 50 percent of [Raisi's] appointments lack acceptable logic and explanation… [and] executive experience." Many of them were selected based on loyalty, friendship, and/or familial ties, and some of Raisi's appointees, in turn, adopted this criterion to make appointments of their own.
For example, Raisi's Minister of Petroleum Javad Oji—designated by the U.S. Treasury Department under the Trump administration in November 2020 for being a senior executive officer of a key oil exporting holding company controlled by the IRGC—was exposed in a leaked audiotape ordering his ministry's human resource department to hire the daughter of a parliamentary deputy close to Raisi. His minister of labor appointed his own wife's brother as an advisor. And there are countless other known cases of nepotism.
The administration is nepotistic and has rewarded several former members of the IRGC—a U.S.-designated terrorist organization—with positions. There are at least five former IRGC members in the cabinet: the Minister of Intelligence Seyed Esmail Khatib, Minister of Roads and Urban Development Rostam Qassemi, Minister of Interior Ahmad Vahidi, Minister of Tourism and Cultural Heritage Ezzatollah Zarghami, and Vice President for Economic Affairs Mohsen Rezaee. Additionally, Foreign Minister Hossein Amir-Abdollahian reportedly has close ties to the IRGC, with stints as a foreign service officer in Iraq. In some cases, such as that of Mohsen Rezaee, stature within the IRGC trumped lack of qualification. Given the prevalence of former IRGC members, the current administration is poised to increase the potency of the IRGC, and the IRGC will, in turn, serve as a critical part of its support base.
The only one of these five figures that the U.S. has not sanctioned is the intelligence minister. The U.S. government sanctioned Qassemi—a former Minister of Petroleum, and former senior IRGC Quds Force official—in 2019 for overseeing a vast oil smuggling network. Raisi's Interior Minister, who is responsible for repressing protests at home, was sanctioned back in 2010, when he was Minister of Defense in then-President Ahmadinejad's administration. He is also the subject of an INTERPOL Red Notice for his involvement in the bombing of the AMIA building in Argentina when he was commander of the IRGC's Quds Force.
IRGC operations against the U.S.—both on U.S. soil and in Iraq and Syria, where U.S. troops are based—have picked up steam since Raisi took office. On August 10, 2022, the U.S. Department of Justice charged an Iranian national and member of the IRGC for plotting to assassinate former U.S. National Security Advisor and UANI board member John Bolton on behalf of the Quds Force. The operative in charge of the plot allegedly told his recruit that the order to carry out the assassination was sent down through a chain of command. Two days later, a knife attack was perpetrated against Salman Rushdie by a lone wolf in direct contact with the IRGC via social media, according to press reports.
Other former U.S. government officials, including former Secretary of State Mike Pompeo, former Defense Secretary Mark Esper, and former Special Representative for Iran Brian Hook, as well as the think-tank community, are also targets. Our organization, United Against Nuclear Iran (UANI), is at the center of Iran's campaign against think-tanks. Meanwhile, proxy attacks on U.S. forces in Iraq and Syria have drastically increased in recent months. And Iran has sought to assassinate Israeli citizens in Turkey. All of this has occurred under Raisi's watch, who, though not the chief decision-maker in Iran, chairs the SNSC as president.
Since President Raisi took office, Iran's foreign policy has sought to boost ties with Russia and China, improve economic and political relations with its Middle East neighbors, and promote cooperation with Central Asian nations, such as Tajikistan and Turkmenistan. According to the University of Maryland poll mentioned above, a majority of Iranians view Russia and China "positively," and the U.S. and Saudi Arabia "negatively." It appears, then, that the Raisi administration has the domestic support for a more adversarial approach to the U.S.
The sitting president has prioritized relations with Russia, unlike his predecessor, who was focused on striking a nuclear deal with the P5+1 and building ties with the West. Raisi has already met with President Putin of Russia on three separate occasions: once in Russia before the invasion of Ukraine; once at a summit in Turkmenistan; and then during a visit to Tehran.
The first meeting occurred in January 2022, as tensions between the U.S. and Russia escalated in the run-up to the war in Ukraine. President Raisi was given the honor of addressing Russia's lower house of parliament, and he took the opportunity of his state visit to voice tacit support for a war in Ukraine, saying it was time to confront "the power of the Americans with an increased synergy between our two countries." At this meeting, the two presidents agreed to a "framework" for increased economic and military cooperation, modeled on the $400 billion investment deal signed between Iran and China during the Rouhani administration. The proposed 20-year plan between Iran and Russia would see technology transfer from Russia to Iran, Iranian purchases of Russian military equipment, and Russian investment in Iran's energy sector and infrastructure.
On February 25, 2022, the day after Russia invaded Ukraine, Raisi called Putin on the phone to express his opposition to NATO, but still fell short of officially fully endorsing the war. "The continued expansion of NATO is a serious threat against the stability and security of independent countries in various regions of the world," he reportedly told Vladimir Putin on the call.
Then, as western sanctions against Russia ratcheted up, Iran and Russia's leader met in Turkmenistan. The two countries may have invited and would welcome Turkmenistan's participation in a sanctions-evasion scheme, hoping the Central Asian country is willing to flout the western sanctions regime. Raisi met with Putin on the summit's sidelines and proposed that the financial exchanges between Iran and Russia should be expanded independently of the western financial exchange system. The two isolated countries—both heavily sanctioned—are deepening their long-fraught relationship on the basis of mutual opposition to the U.S.
When Putin visited Iran in July 2022, he received a declaration of support for his war in Ukraine from Supreme Leader Ayatollah Ali Khamenei. The supreme leader explicitly stated that the war is justified, because if "[Russia] had not taken the helm, the other side would have done so and initiated a war." This statement went further than President Raisi had in the past—and further than China's cautious neutrality. Moreover, the "framework" to which the two countries' leaders agreed back in January was formalized with respect to the energy sector, as Russia's state-owned oil and gas giant Gazprom and Iran's state-owned National Iranian Oil Company (NIOC) signed a $40 billion deal focusing on the development of oil and gas fields in Iran. The military dimension of the proposal also began to take shape around this time, but rather than Iran purchasing military equipment from Russia as originally planned, Russia was going to purchase drones and receive training in how to use them from Iran for use in Ukraine.
Turkey's President Erdogan also attended this trilateral summit in Tehran. The NATO member-state has thus far remained neutral on the war in Ukraine, proposing to facilitate dialogue between the west and Russia. However, Turkey had its own motivations behind ostensibly acting as a mediator. Erdogan threatened to use Turkey's veto power within NATO to "freeze" Finland and Sweden's accession to the military alliance to extract concessions from Washington on the sale of F-16 fighter jets to Turkey.
On his trip to Tehran, Erdogan pledged to increase gas and oil imports from Iran and referred to Putin as his "dear friend." His main objective in attending the summit was not to promote Russia or Iran's diplomatic engagement with the west but to seek the approval of Moscow and Tehran for an incursion into northern Syria. Khamenei and Putin opposed a Turkish incursion. Iran's supreme leader warned Erdogan against military operations in Syria—where his country, along with Russia, have invested significant resources to prop up the brutal Assad regime.
The other critical piece of Iran's foreign policy is the burgeoning superpower, China. Iran, Russia, and China share an anti-Western outlook against the U.S. and its allies. In January 2022, these three countries held joint naval exercises in the northern Indian Ocean. But China is more crucial to the survival of the Iranian regime than Russia, simply given its superior military, economic, and political clout on the global stage.
Iran's sale of oil to China provides a vital source of revenue to its depleted government coffers. UANI calculated that during President Biden's first year in office, Iran exported more oil to China than it did prior to the Trump administration's "maximum pressure" sanctions campaign—at a clip of 939,000 barrels per day. Iran's economy minister reported a 580% increase in income on oil and gas condensate sales between March 2022 and July 2022, compared to that period last year. This revenue keeps the Iranian regime liquid, relieving pressure from western sanctions and diminishing incentives to negotiate a nuclear deal on reasonable terms. Without this revenue, Iran's government would be hard-pressed to fund its terrorist proxies, global terror operations, and nuclear and ballistic missile programs—each a threat to U.S. national security.
Closer to home, Iran is attempting to improve economic and political relations with its Middle East neighbors, as relations between Arab states and Israel show potential based on the Trump administration's Abraham Accords. Seeing that closer ties between Saudi Arabia and Israel would further isolate Iran, the Raisi administration continues to extend an olive branch to Saudi Arabia. The two countries have been engaged in Iraq-mediated talks, with reportedly more enthusiasm on Iran's side than on Saudi Arabia's. Diplomatic relations between the two countries were severed in 2016 after the Saudis executed a prominent Shia cleric, Nimr Baker al-Nimr. And they remain fraught, as the Saudis executed 41 Shia Muslims in March 2022, and Iran continues to support Houthi rebels in Yemen in their war against Saudi Arabia.
Iran's diplomatic outreach extends to other Gulf Arab states. In February 2022, President Raisi met with Qatari Emir Tamim bin Hamad al-Thani in Qatar—the first visit to Qatar by an Iranian president in eleven years. The high-level talks yielded several agreements, including plans to cooperate on constructing an underwater tunnel between Iran and Qatar. The implementation of these agreements, though, may be contingent upon the revival of a nuclear deal between Iran and the U.S., partly because Qatar is a U.S. ally. Qatar, according to some reports, might be mediating between the U.S. and Iran in the nuclear negotiations, hoping to leverage its relations with both countries to broaden its influence in the region.
Furthermore, the U.A.E.'s senior national security advisor invited President Raisi to his country during a meeting with Raisi in December 2021. A month later, the Houthi rebels launched drone and missile attacks on Abu Dhabi, the capital of the U.A.E. Nonetheless, a Qatari newspaper reported in May 2022 that Raisi would travel to the U.A.E., but Iran has not made an announcement; Iran's Foreign Ministry said that the Iranian president would be visiting a Gulf Arab state and the U.A.E. dispatched an ambassador to Iran in August 2022 for the first time since 2016. This was meant to keep open a channel of communication for de-escalation. However, relations between the two countries remain tense, given that the U.A.E. is part of the Saudi-led coalition fighting the Iran-backed Houthi rebels in Yemen, and is threatened by Iran's pursuit of regional dominance.
Iran's hegemonic ambitions overshadow the Raisi administration's diplomatic overtures with its Middle East neighbors. On the one hand, Raisi has signaled Iran's interest in regional partnerships. On the other, he is a prominent leader of Iran's military expansionism and proxy warfare.
Iran's military and proxy campaigns are most visible in the Levant. By leading an "Axis of Resistance"—an informal alliance between Iran, Syria, and Iran-backed proxies, such as Kataib Hezbollah and Asaib Ahl al-Hak in Iraq, and Hezbollah in Lebanon—Iran has sought to destabilize the region and confront Israel. Iran has built military bases in Syria to support a weapons storage and transport network, training programs, and housing for Iranian troops. It has exported weapons production capabilities to Syria. And its proxies, along with IRGC commanders and Syrian regime forces, control strategic locations in Syria, including the area west of the Euphrates River in the Deir Ezzor province. This border area allows Iran to continue to funnel money, arms, and personnel into Syria, and to its terrorist proxy Hezbollah in Lebanon.
On Assad's visit to Tehran, the supreme leader blasted the Abraham Accords—the pact with Israel signed by the U.A.E. and other Arab countries—and signaled Iran's intention to retain Syria's allegiance to the Iran-led "Axis of Resistance." The choreography of the meeting between the supreme leader and Assad, which included President Raisi and his foreign minister, Hossein Amir-Abdollahian, suggested Raisi is closer to the Axis of Resistance than his predecessor. By contrast, when Assad traveled to Iran in 2019, neither former President Rouhani, nor his foreign minister, Javad Zarif, attended the meeting between Assad and the supreme leader. Qassem Soleimani featured prominently in the footage from 2019, unlike Esmail Ghaani in 2022.
Iran's hegemonic ambitions are also manifest in its pursuit of a nuclear weapons capability—an imminent threat to all actors in the region and the U.S. Despite pledges to support diplomacy to revive the 2015 nuclear deal—from which the Trump administration withdrew in 2018—Khamenei and Raisi are more intent upon pressuring the U.S. and stalling for time. Having appointed an outspoken opponent of the nuclear deal, Ali Bagheri Kani, to lead Iran's negotiating team, Raisi revealed his intention to drive a hardline with the Americans. Indeed, Iranian negotiators are not even willing to meet directly with their American counterparts. Tehran shut down IAEA cameras monitoring Iranian nuclear facilities, unveiled plans to move new enrichment facilities further underground to protect against aerial strikes, and continues to accelerate the enrichment of uranium to near-weapons grade. In Vienna, the Iranian negotiators walked back arrangements made in former rounds of talks, and turned to excessive demands—many of which go beyond the scope of the original deal.
Meanwhile, Raisi is taking a hands-off approach to the nuclear file at home. Whereas former President Rouhani met with the IAEA's director-general when he traveled to Tehran, President Raisi did not; instead, his first vice president and foreign minister handled this contact. Likewise, whereas Rouhani met with the former European Union (E.U.)'s High Representative for Foreign Affairs and Security Policy on his travel to Tehran, the current one did not meet with Raisi on his trip; the highest-ranking Iranian official he met with was the Secretary of the Supreme National Security Council (SNSC) Ali Shamkhani.
Despite resuming negotiations with the P5+1 over the nuclear deal, Tehran has been signaling since Raisi's election that rejoining the nuclear deal will not define the Raisi presidency, in contrast to the amount of time Rouhani and his foreign minister spent on the accord. This has been evident in the delay in the nuclear negotiations following Raisi's election victory—a tactic that has also been geared towards increasing Tehran's leverage at the negotiating table. While deprioritizing the nuclear deal, Raisi's focus has been increasing economic partnerships in the region, and deepening ties with China and Russia, in part to neutralize western sanctions.
President Raisi surrounded himself with "Islamic economists"—thoroughly opposed to liberal democracy and market economy—to advise him on how to institutionalize Khamenei's vision of a "resistance economy." The Iranian system has opposed any limits on Iran's ballistic missile program, or its support for terrorist proxy groups, dashing western hopes for a longer, stronger, and broader deal. The hardline cleric will likely not be asked to implement any process of integration with the West, especially as Russia and China become increasingly willing partners—and more of a security threat to the U.S. On the contrary, the supreme leader's strategic vision entails a rejection of Western values and influence in the world, the export of Iran's revolutionary ideals and its theocratic form of government, and the pursuit of a nuclear weapon—each in the service of its hegemonic aspirations.
President Raisi has a limited say on the direction of Iran's foreign policy. However, he has more say on domestic policy—the main goal of which is to ensure the preservation of the oppressive clerical regime. Raisi's populist campaign made several optimistic promises in the run-up to the election—all of which he has not delivered on thus far. For example, he claimed he would create one million jobs, slow down inflation, and achieve 8% GDP growth. Yet, according to a report by Iran's Ministry of Labor published almost one year into his presidency, approximately 60% of Iranians do not have enough income and suitable jobs. Inflation hit record highs, with Iranians paying almost 50% more for the same products compared to the spring of 2021. And the International Monetary Fund (IMF) projects a GDP growth rate of 3% in 2022, and even lower in 2023.
Raisi also insisted that his administration would weed out corruption, which is endemic in the Iranian system. As a former chief justice, he has long nurtured the idea that he would expose and punish corrupt dealings in the government. He once said that he would "not only cut off the fingers, but chop off the arms of the corrupt." Yet, as noted above, corruption is rife inside his administration. His Agricultural Ministry stands accused of paying a private company to import wheat and barley, though the company never did.
Raisi supports state-led economic development, with purported charities, foundations, and the IRGC at the top of domestic priorities. The state-led model, however, breeds corruption and ensures the regime's control over the distribution of resources. Rich and prominent bonyads—such as Astan Quds Razavi, which Raisi previously headed—as well as the IRGC, monopolize key industries in Iran's economy, including pharmaceutical, transportation, construction, and energy, and serve to enrich a network of regime loyalists. Regime insiders are appointed to lucrative positions within bonyads or political office, while the average Iranian struggles to cope with a devastated economy.
Given Raisi's record on the economy and corruption, criticism against him and his administration has been mounting. An Iranian economist charged that "the economy is hostage to domestic and particularly foreign policy," citing the heavy cost of confrontation with the U.S. Some politicians have voiced concerns that Raisi is incompetent—one once saying that his "six literacy classes" did not qualify him to manage the economy.
Some figures within his own conservative camp have also begun to take a critical view, including Speaker of the Parliament Mohammed Bagher Ghalibaf, who blamed the Raisi administration for failing to contingency plan as wheat prices rose—a failure that set off protests across the country. A former staunch supporter of Raisi in parliament called for a shake-up of Raisi's economic team. Even a renowned Qom Seminary cleric refused to meet with Raisi when he traveled to Qom in July, noting his discontent with the manipulation of the election, which saw his ally and former Speaker of Parliament Ali Larijani disqualified by the Guardian Council.
While a lack of competency has been the focus of many MPs' criticism of the administration, corruption has featured prominently in the minds of the Iranian people—particularly since the collapse of the Metropol building in May 2022. 50% of Iranian people ascribed the country's economic woes to corruption and mismanagement in October of last year. The country was thus primed for wide-scale protests.
Indeed, protests broke out as a result of the Raisi administration's decision to cut food subsidies amid the skyrocketing price of basic foods; and further cuts are possible, as the government budget is projected to rise to $21 billion. The cuts in food subsidies—on which millions of Iranian people depend—caused prices for some flour-based staples to increase by an additional 300%. The regime responded to the protests with force, killing several people, and arresting countless others, in a fashion reminiscent of the 2019-2020 protests in which the regime killed up to 1,500 people. It shut down the internet, and the media provided no coverage of the situation.
Then, the Metropol building collapsed, exacerbating the government's problems. Thousands of people across the country demonstrated when it became clear that well-connected individuals bypassed industry regulations when constructing the building. Although the building was built long before Raisi came to office, its collapse, along with an inept response, symbolized deeper rot within the Iranian system. Instead of sending supplies to the site—the IRGC reportedly failed to provide the necessary cargo planes—the government sent riot police and security forces. The calls for change were directed at the very top of the Iranian system, with some protestors chanting "death to Khamenei" and other anti-regime slogans.