Saeed Jalili
Saeed Jalili
2nd Tier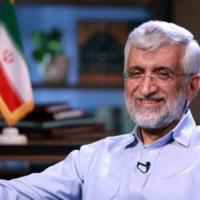 The 55-year old self-proclaimed revolutionary Saeed Jalili is making his second bid for the presidency after a failed run in 2013. Known as a rigid ideologue and true believer in the founding principles of the Islamic Republic, his official campaign slogan this year is "great jihad for Iran's leap." He has a political science doctorate from Imam Sadeq University.
His positions since his last run include the Representative of the Supreme Leader to the Supreme National Security Council (SNSC), member of the Expediency Council, and member of the Foreign Relations Strategic Council. Under former President Mahmoud Ahmadinejad, he served as chief nuclear negotiator and the Secretary of the SNSC between 2007 and 2013. He was infamous for his unyielding stance against compromise over Iran's nuclear program, forestalling any chance at a diplomatic breakthrough during his tenure. His positions before that include deputy Foreign Minister for Europe and America. Jalili fought in the Iran-Iraq War, where he sustained injury and lost his right leg.
Relations with Supreme Leader
Jalili has been the Supreme Leader's Representative to the SNSC for a number of years, indicating that he continues to be in Khamenei's good graces.
Electoral Prospects
Frustrated by the failures of his diplomatic rigidity to deliver sanctions relief, voters strongly rebuked Jalili in 2013, handing him a third-place finish garnering about 11% in the official results. In May, Tasnim News, affiliated with the Islamic Revolutionary Guard Corps (IRGC), reported that Jalili would withdraw if Raisi ran, as most Principlist candidates have done. He has been unable to receive the endorsements of other Principlists, and his own faction, the Steadfastness Front, has declared its support of Raisi. He faces an even bigger uphill battle with the rest of the Iranian population. Some critics believe that Jalili is a component of the attack team for Raisi. He will probably face increasing pressure from Principlists to withdraw following the debates, but it is unclear he would.  
Receive Iran News in Your Inbox.
Eye on Iran is a news summary from United Against Nuclear Iran (UANI), a section 501(c)(3) organization. Eye on Iran is available to subscribers on a daily basis or weekly basis.