Assad Makes a Surprise Visit to Tehran
On Sunday, Syria's President Bashar al-Assad made a surprise visit to Iran—his first trip there since February 2019. Much has changed since that last jaunt to see his patrons. The late Islamic Revolutionary Guard Corps' (IRGC) Quds Force Commander Qassem Soleimani is dead, Ebrahim Raisi has assumed the Iranian presidency, and the Abraham Accords have changed the architecture of the region. Assad's journey to Tehran is significant in two respects: it signals Tehran's attempts to ensure he remains a part of its Axis of Resistance and it once again showcases the Iranian system's positioning of Raisi as a future leader of this network.
Ensuring Assad Remains a Member of Iran's Axis of Resistance
Since the beginning of Syria's war in 2011, Assad has made only two trips to Iran which have been publicly reported—in February 2019 and this most recent one in May 2022. But within that time span, Israel has normalized relations with Gulf Arab states, namely the United Arab Emirates (UAE) and Bahrain. Also occurring during that gap was Assad's visit to the UAE in March 2022—his first official trip to an Arab country since 2011. This followed the reopening of the Emirati embassy in Damascus in 2018 as well as the visit of the UAE's foreign minister to Syria in 2021—the first such visit since 2011.
Through these efforts at rapprochement, the Gulf Arab states have been trying to counter Iranian influence in Syria as the war winds down, especially with Assad, despite his bloodstained record, appearing firmly in place as president. This dynamic manifested itself as reports swirled last year, around the time of the Emirati foreign minister's visit to Syria, that the commander of the IRGC's forces in Syria, Javad Ghaffari, had been removed from his post at the request of Assad. But some observers, including this author, have been skeptical of the efficacy of these initiatives given how dependent Assad's government is on Tehran.
Thus, just as the UAE was trying to reduce Iranian influence in Syria, Assad ventured back to Tehran. These efforts evidently did not go unnoticed by Iran's Supreme Leader Ayatollah Ali Khamenei, who stated very clearly on Sunday that "the heads of some neighboring countries meet with the heads of the Zionist regime and have coffee with them. But the people of those same countries fill the streets on Quds Day to chant anti-Zionist slogans. This is the reality of the region today." Khamenei further warned that "the bond and the relationship between Iran and Syria are vital to both countries, and we should not let these relations weaken. Rather, we should strengthen them as much as possible." Therefore, ensuring that Assad remains firmly ensconced as a member of Tehran's Axis of Resistance was a primary objective of this gathering.
Raisi As a Burgeoning Axis of Resistance Leader
Separately, the Iranian choreography of this meeting with Assad was important. When Assad visited Tehran in 2019, Iran's then Foreign Minister Javad Zarif was out of the loop and offered his resignation over the episode, which was then rejected. During that trip, Assad also met with Iran's supreme leader. But on that occasion, it was Assad seated with Khamenei, Soleimani, and other members of the Office of the Supreme Leader, particularly his chief of staff Mohammad Mohammadi Golpayegani; executive deputy Vahid Haghanian; foreign policy advisor Ali Akbar Velayati; and others. Iran's then President Hassan Rouhani and Foreign Minister Javad Zarif were nowhere to be found in the meeting, although Rouhani met with Assad separately.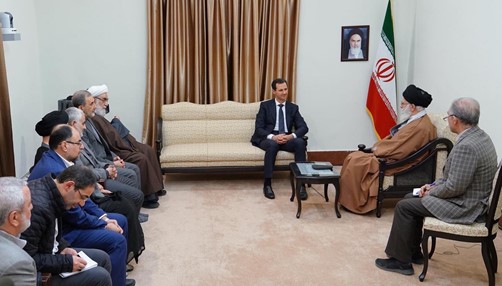 This stands in contrast to the Iranian reception for Assad in 2022. In this meeting, both Khamenei and Raisi met with Assad, with members of Raisi's administration, including Iran's Foreign Minister Hossein Amir-Abdollahian, participating in the gathering. In his remarks, Khamenei praised Raisi as "really vibrant." Also at this conference was Quds Force Commander Esmail Ghaani, although, unlike Soleimani in 2019, he was cut out of most of the footage, with only the back of his head visible in some photos.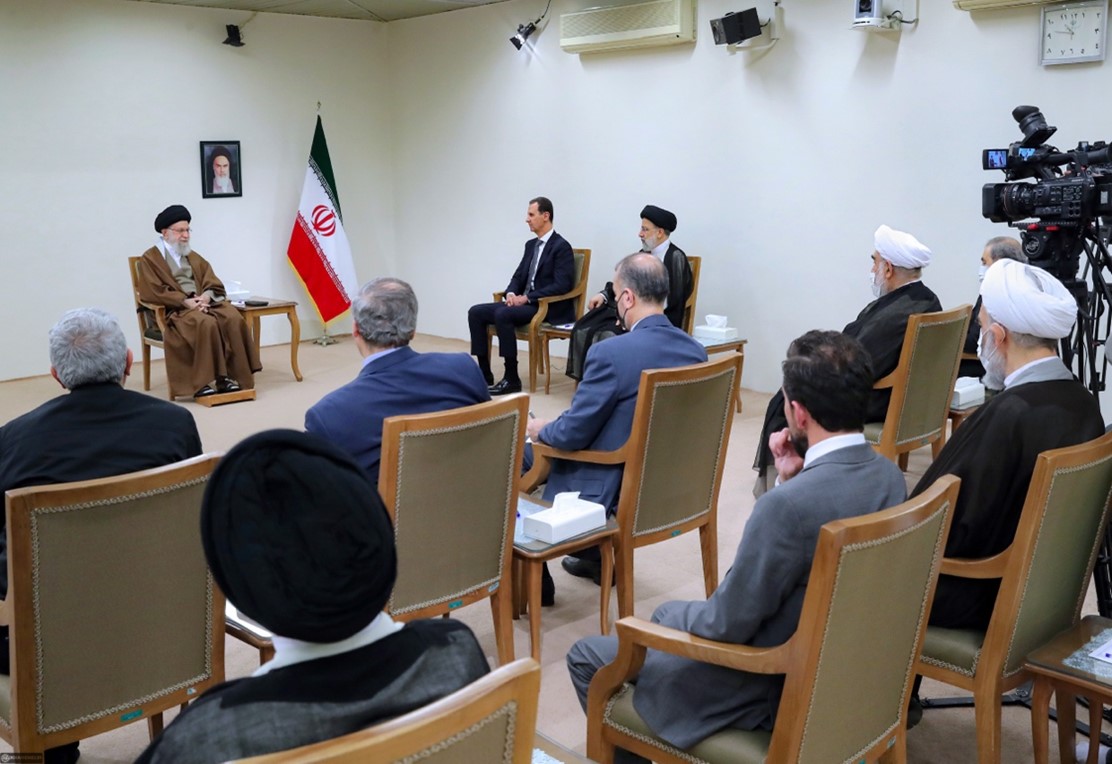 This was an important optic as rather than emphasizing Ghaani as the leader of the Axis of Resistance—as Soleimani was considered during the 2019 meeting with Rouhani notably absent—Raisi was front and center. While it is true that presidents traditionally join Khamenei in his meetings with foreign officials—Rouhani did plenty of times—this difference as it relates to Assad from the Rouhani to the Raisi era was particularly noteworthy. There have been elements of the Iranian system which have been grooming Raisi as a natural successor to Khamenei, who just turned 83. Raisi has also gone out of his way to use the presidency as a platform for leadership over the Axis of Resistance, after some of its leaders had prominent seats during his inauguration last year, sitting in front of the deputy secretary general of the EU's External Action Service. This was in contrast to Western leaders receiving the best seats in the house when Rouhani was inaugurated in 2017. In fact, in Raisi's separate second meeting with Assad on Sunday, he proclaimed, "like your father, you are one of the figures of the Resistance Front" and that "what determines the future of the region and Palestine is not negotiation table and pacts like Oslo, Camp David, and the Deal of the Century, but the resistance of nations is the determining factor of the new regional order." Raisi is clearly branding himself as a leader of this network, and prioritizing its maintenance.
In the end, Assad's visit was an effort to maintain Syria's role in the Axis of Resistance while showcasing an emerging potential order in the Iranian system for a post-Khamenei era. If any Gulf Arab states believed that Assad could easily be pried away from Tehran, this visit should help dispel that notion.
Jason M. Brodsky is the policy director of United Against Nuclear Iran. He is on Twitter @JasonMBrodsky.
Receive Iran News in Your Inbox.
Eye on Iran is a news summary from United Against Nuclear Iran (UANI), a section 501(c)(3) organization. Eye on Iran is available to subscribers on a daily basis or weekly basis.