Overview
Held annually on the last Friday of Ramadan, Quds Day is a day of protest organized by the Iranian government against Israel. Established by Ayatollah Khomeini months after assuming power in 1979, Khomeini envisioned Quds Day as part of a "long-term pragmatic strategy in a bid to launch a justice-based peace in the region and reclaim the rights of the oppressed Palestinian nation," which entails the elimination of "Zionist" control over Israel and the return of Israel to the Palestinians. Iran and its surrogates around the world stage ceremonies which typically feature calls for hostilities against Israel and the elimination of the "Zionist regime." "Death to Israel" is a common chant at the rallies, often accompanied by "Death to America," and flag burning of Iran's chief adversaries are a staple of the events.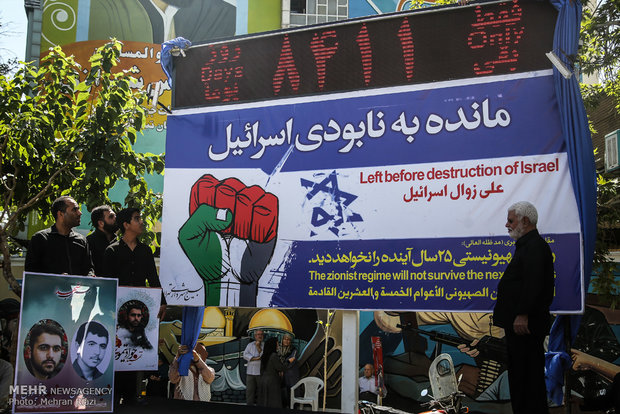 Iranian politicians abidingly attend Quds Day rallies and deliver anti-Israel diatribes to showcase their steadfast commitment to the regime's opposition to Israel. Tehran's May 2019 Quds Day festivities were centered around Iran's rejection of the Trump administration's forthcoming Israeli-Palestinian peace plan, branded as "the deal of the century." The procession featured numerous examples of incitement, including demonstrators burning American and Israeli flags and effigies of President Trump and Prime Minister Benjamin Netanyahu. In remarks to reporters, then-President Hassan Rouhani declared, "Palestinians will definitely emerge victorious in confrontation with the Zionist aggressors. … The issue of Deal of the Century will undoubtedly turn into the bankruptcy of the century and will certainly not yield results."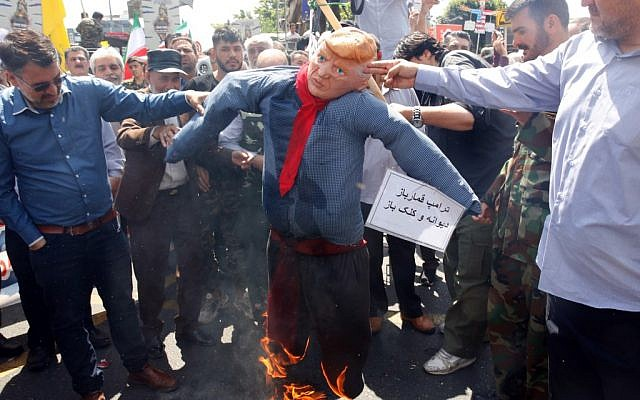 Past Quds Days have featured myriad examples of incitement. For instance, in 2017, the IRGC showcased several ballistic missiles capable of striking Israeli territory, and the regime debuted a huge digital countdown display ticking down 8411 days until the demise of Israel, a reference to a 2015 statement by Supreme Leader Khamenei predicting that Israel would cease to exist within 25 years.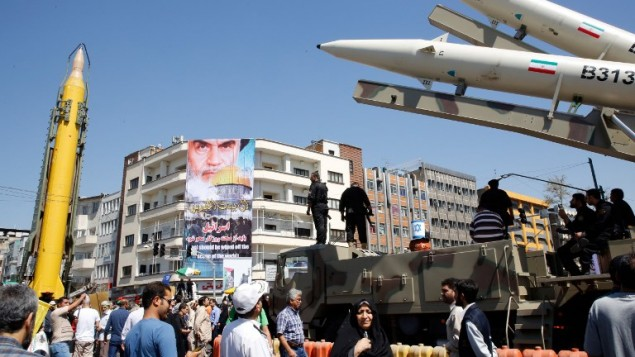 Quds Day in 2020 is scheduled for Friday, May 22. Iran, which has been especially hard hit by the coronavirus, weighed canceling this year's demonstrations or moving them online. Ultimately, Iran has decided to mark Quds Day with a vehicle procession, placing the Islamic Revolutionary Guard Corps in charge of planning the parade routes and encouraging demonstrators to chant slogans and wave flags from their cars. The decision to put on a modified Quds Day underscores that even a pandemic will not deter the Iranian regime from holding its annual display of demonization of Israel.
Ahead of the 2020 Quds Day, the Office of Iran's Supreme Leader also released an anti-Semitic poster calling for "the final solution: resistance until referendum," evoking Nazi-era rhetoric. The poster depicted Jerusalem following a Muslim reconquest with a poster of slain former IRGC-Quds Force commander Qassem Soleimani prominently displayed on the city's walls.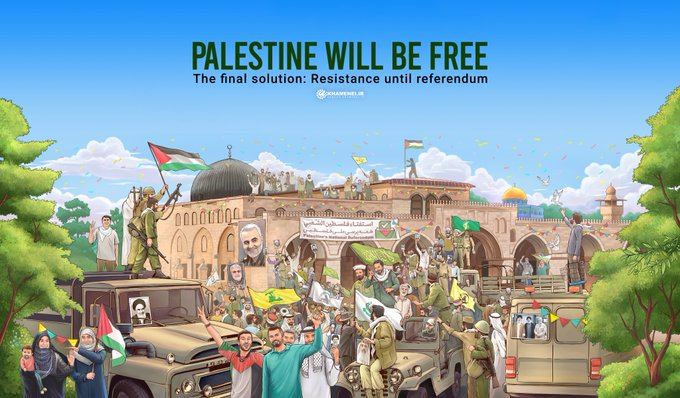 Ahead of Quds Day 2022, on Holocaust Remembrance Day, a state-controlled Iranian newspaper ran an article titled "Maybe Without War" by Mohammad Hadi Sahraei, head of the Kermanshah Basij Media Organization. In this vile article, which must have had the approval of the Kayhan newspaper's editor, Hossein Shariatmadari, an appointee of the Supreme Leader of Iran, Sahraei declared that "with expelling these [Jewish] people from Germany… Hitler showed he is smarter than all the current leaders of Europe and he is braver in expressing himself." The article also promotes anti-Jewish conspiracy theories and Holocaust denial. Finally, this hate-filled piece ended with threats against Israel and musings on the day that Iran will take control of Jerusalem "without war." This culminating line is meant to be a commentary on World War II, with parallels drawn between the Holocaust and the Iranian leadership's fantasy of expelling the Jews from Israel.
Quds Day fits into Khomeini's revolutionary paradigm as a show of resistance in support of "oppressed peoples" against "arrogant, oppressive powers," and Khomeini went so far as to issue a fatwa declaring the elimination of the "Zionist entity" as a religious duty incumbent on Muslims. While ostensibly Quds Day's primary focus is on the Israeli-Palestinian conflict, Iran sees this localized struggle as part of a broader regional initiative. By hosting Quds Day celebrations around the world, Iran seeks to frame the Palestinian struggle as a pan pan-Islamic cause, and to claim the leadership mantle as the preeminent defender of the Palestinians.
Quds Day is thus part and parcel of Iran's hegemonic project to export its revolutionary ethos and bolster its cultural and ideological influence throughout the Islamic world. Tehran's rhetoric at Quds Day events has sought to make inroads among Muslim societies, Arab nations in particular, by excoriating their leaders for not doing enough on behalf of the Palestinians and for their willingness to negotiate or make peace with Israel under American pressure, against popular sentiment. By virtue of its implacable opposition to Israel's existence and backing of the most recalcitrant elements of Palestinian society, including terrorist organizations such as Hamas and Palestinian Islamic Jihad, Iran's bid to hijack the Palestinian national movement serves to undermine efforts for a peaceable, negotiated solution to the Israeli-Palestinian conflict.
Revolutionary Activities Abroad
Iranian-affiliated agents and entities have helped grow Quds Day internationally, organizing events in over 80 countries annually. In addition to shows of support for the Palestinians and denunciations of Israel, displays of support for Iran and Hezbollah—including flags, and posters depicting Ayatollah Khomeini, Supreme Leader Ali Khamenei, and Hezbollah's Secretary-General Hassan Nasrallah—are a staple at Quds Day events worldwide.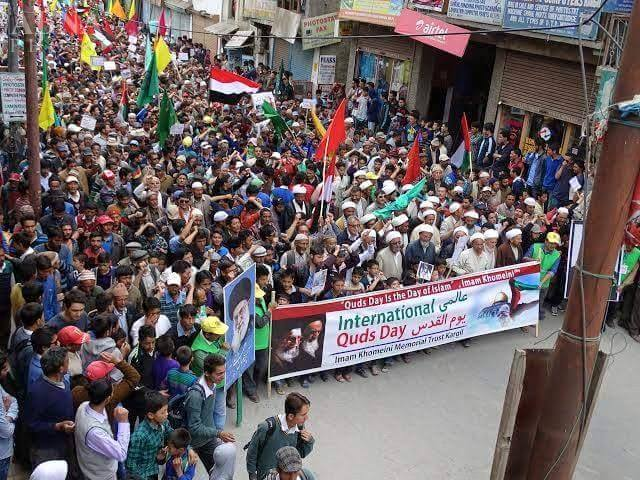 Although Hezbollah itself draws no distinction between its military and political wings, the European Union has designated only the military wing of Hezbollah as terrorist organization, allowing the group to overtly organize, demonstrate, and carry out fundraising activities throughout the continent. The Iranian terrorist proxy has therefore played a prominent role at Quds Day rallies in European capitals such as London and Berlin.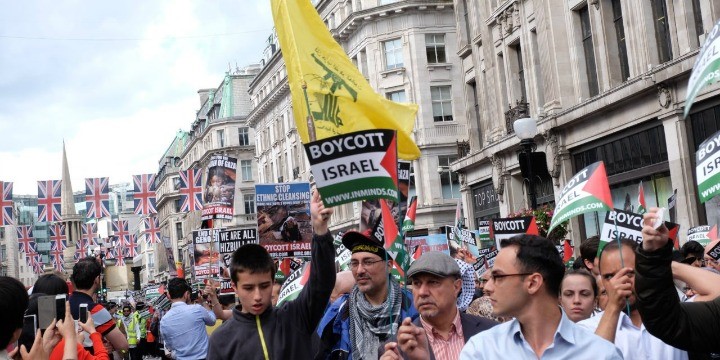 In London, the primary organizer of the annual Quds Day march is the Islamic Human Rights Commission (IHRC), a British Khomeinist organization that is strongly supportive of Hezbollah. IHRC cooperates with several other Iranian-linked organizations (Ahlulbayt Islamic Mission, InMinds) to stage the event, and these groups have joined forces with organizations linked to the Boycott, Divestment and Sanctions movement (BDS), groups with Islamist leanings, far-left/socialist movements, and fringe anti-Zionist Jewish groups  to stage Quds  Day rallies.  In 2017, the IHRC  issued an  encouraging advisory ahead of  the  rally informing attendees that "you can bring a Hezbollah flag to show support for the political wing of Hezbollah … because the political wing of Hezbollah is not a proscribed organization." Notably, Hezbollah has only one flag for its military and political wings—which prominently features an assault rifle—casting suspicion on IHRC's disclaimer that its promotion of Hezbollah flags at Quds Day events in no way demonstrates support for Hezbollah's proscribed military wing.
Quds Day events in Berlin, held annually since 1996, have also courted controversy due to calls for the destruction of Israel and Hezbollah participation. At the 2017 Quds Day rally, "Mayor Michael Müller permitted nearly 600 Hezbollah supporters and members—and pro-Iranian regime activists—to march in the heart of the German capital." Hezbollah flags, as well as posters featuring Ayatollah Khomeini, Supreme Leader Ali Khamenei, Hezbollah Secretary-General Hassan Nasrallah, and Syrian President Bashar al-Assad, the leading lights of the Iranian-led "resistance axis," have featured prominently at Quds Day events in recent years. The Iranian-regime owned Islamic Center of Hamburg is the key organizer of Berlin's Quds Day, and reportedly "buses pro-Hezbollah and pro-Iranian regime members and activists to the annual event, which also serves as a gathering for the BDS campaign against Israel." Berlin canceled its 2020 Quds Day after the German government banned all Hezbollah activities in the country, including those of the groups "political" wing.
Quds Day events in areas with intra-Muslim sectarian tensions, such as India's Hyderabad, have sought to unite Shi'a and Sunni communities against Israel. The head of a local Iran-linked organization in Hyderabad, Tanzeem e-Jafferi, "addressed the 2017 Quds Day rally stating Palestine is the symbol of all oppressed people in the world and Israel is the main cause of terrorism in the whole world," before attendees concluded the rally by burning the Israeli flag. Quds Day events in conflict zones, such as Yemen, Iraq, Lebanon and Kashmir, have sought to tie in local liberation movements with the Palestinian cause, and have cast the U.S., U.K., ISIS, Saudi Arabia, and Hindu Brahmans as Zionist agents of imperialism.
The Iranian regime frequently issues inflammatory rhetoric and instigates violence on Quds Day, exacerbating tensions between Israelis and Palestinians that tend to already be running high. On Quds Day in 2021, Khamenei reiterated his support for a referendum that would include only the "main inhabitants of Palestine" to determine the political system of Palestine, return "displaced Palestinians," and decide upon the fate of the "foreigners inhabiting [Israel]." The tensions boiled over into an overt conflict, with Hamas and Palestinian Islamic Jihad launching rockets into Israeli population centers and Israel responding with airstrikes. As the conflict heated up, Iranian leaders like President Ebrahim Raisi, who was Iran's chief justice at the time, continued to make statements promoting Palestinian aggression, which he dubbed as "heroic resistance."
In the lead up to Quds Day in 2022, Gaza militants again fired rockets into Israeli territory, however this time no group claimed responsibility for the attacks. It was reported that Ali Akbar Velayati, foreign policy advisor of Iran's Supreme Leader, spoke via phone with Hamas political bureau chief Ismail Haniyeh and Secretary General of the Palestinian Islamic Jihad Movement Ziyad al-Nakhalah. Separately, Iran's foreign minister, Hossein Amir Abdollahian, engaged in phone calls with the leadership of Hamas and Palestinian Islamic Jihad. Furthermore, the Commander-in-Chief of Iran's IRGC, Hossein Salami, addressed Gaza via live video link from Tehran, an act which Axis of Resistance media hailed as the first time the IRGC commander-in-chief had done so. For Quds Day in 2022, Kayhan also featured a guest editorial where the author openly praised Nazi Fuhrer Adolf Hitler, arguing he was "smarter and more courageous" than current European leaders for expelling Jews.