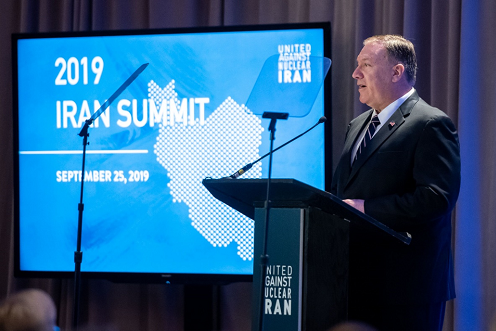 The Hon. Michael R. Pompeo, U.S. Secretary of State, addresses the Iran Summit on September 25, 2019
(New York, NY) – Last month, United Against Nuclear Iran (UANI) hosted its annual Iran Summit at the Lotte New York Palace in New York City.  Global leaders working to compel Iran to abandon its illegal nuclear weapons program, support for terrorism and human rights violations joined this historic gathering, which was keynoted by the Honorable Michael R. Pompeo, Secretary of State of the United States.  It was the second consecutive year that Secretary Pompeo chose the UANI Iran Summit during the UN General Assembly to outline the latest in the Trump Administration's "maximum pressure" strategy and sound the alarm against Iran's malign behavior.
Iran announced plans to designate UANI as a terrorist organization a day prior to the Summit.  This blatant attempt at intimidation will not deter UANI's efforts to isolate Iran until it changes its behaviors and no longer threatens the U.S. and its allies.
Featured speakers welcomed by U.S. Senator Joseph I. Lieberman, UANI Chairman, and Ambassador Mark D. Wallace, UANI CEO, at the Iran Summit included:
Saudi Minister of State for Foreign Affairs Adel al-Jubeir

U.S. Undersecretary of the Treasury for Terrorism & Financial Intelligence Sigal Mandelker

U.S. Principal Deputy Special Presidential Envoy for Hostage Affairs Hugh Dugan

U.S. Ambassador Richard Grenell

Bahraini Ambassador Shaikh Abdullah bin Rashed bin Abdullah Al Khalifa

Israeli Ambassador Ron Dermer

Nizar Zakka, Former Hostage in Iran

Radek Sikorski, Member of the European Parliament & Former Minister of Foreign Affairs of Poland

Michael Singh, Lane-Swig Senior Fellow & Managing Director of The Washington Institute for Near East Policy
Additional photos of the UANI Iran Summit are available for download here.
News Coverage of the 2019 Iran Summit
Associated Press: Iran President Warns Of A Region 'On The Edge Of Collapse'
"Iran's president warned world leaders Wednesday that security in the energy-rich Persian Gulf could collapse quickly with a "single blunder," and he accused the United States of engaging in "merciless economic terrorism" against his country. On the same day as President Hassan Rouhani spoke, the U.S. ramped up oil-related sanctions on Iran, imposing penalties on six Chinese companies and their chief executives for continuing to transport Iranian crude. … U.S. Secretary of State Mike Pompeo and the Treasury Department announced the latest sanctions, which freeze any assets the firms may have in U.S. jurisdictions and bar Americans from doing business with them, "We're telling China and all nations, know that we will sanction every violation of sanctionable activity," Pompeo said at an event for United Against a Nuclear Iran, a lobby group opposed to the nuclear deal."
Reuters: U.S. Slaps New Sanctions On Chinese Entities Over Iran Oil
"The United States is imposing new sanctions on certain Chinese entities and people who it accuses of knowingly transferring oil from Iran in violation of Washington's curbs on Tehran, U.S. Secretary of State Mike Pompeo said on Wednesday. The U.S. Treasury Department announced that it placing sanctions on five Chinese nationals and six entities, including two Cosco Shipping Corporation subsidiaries. …The U.S. Treasury Department announced that it placing sanctions on five Chinese nationals and six entities, including two Cosco Shipping Corporation subsidiaries. "And we are telling China, and all nations: know that we will sanction every violation," Pompeo said at a conference on the sidelines of the United Nations General Assembly in New York."
CNN: Pompeo Announces New Iran-Related Sanctions Targeting Chinese Companies
"We're telling China and all nations, know that we will sanction every violation of sanctionable activity," Pompeo said at a conference organized by the group United Against Nuclear Iran."
The New York Times: New U.S. Sanctions Bite Iran, Just As Its President Considers Meeting Trump
"The new economic sanctions were announced by Mr. Pompeo at a conference sponsored by United Against Nuclear Iran, an advocacy group that Tehran this week said it was considering declaring a terrorist organization."
The Wall Street Journal: Iranian President Spurns Talks As Long As U.S. Sanctions Are In Place
"Speaking before Mr. Rouhani's U.N. address to a summit hosted by United Against Nuclear Iran, a U.S. advocacy group, Mr. Pompeo said Mr. Rouhani and Iranian Foreign Minister Javad Zarif couldn't be trusted. "Too many people listen to Rouhani and Zarif and take their words as relevant, or important, or material or accurate," he said."
Reuters: Saudi Arabia Consults Allies On Oil Attack, Awaits Result Of Investigation – Official
"Saudi Arabia is in consultation "with friends and allies about the next steps to take" after a Sept. 14 attack on its oil facilities, but is waiting for the findings of an investigation, Saudi Arabia's Minister of State for Foreign Affairs Adel al-Jubeir told reporters on Wednesday. "This cannot go unanswered, there has to be consequences for Iran for what they did," Jubeir told a United Against Nuclear Iran conference."
Axios: Pompeo Doubles Down On Claim Of Iranian "Act Of War" In Saudi Arabia
"Speaking today at an event hosted by United Against a Nuclear Iran on the sidelines of the UN General Assembly, Pompeo said the Europeans had "joined reality" in blaming Iran for the attacks and calling for new nuclear negotiations."
NPR: Iran's Rouhani Touts Gulf Peace Plan, Says It Would Start With U.S. Troops Leaving
"Speaking in New York at an event held by United Against Nuclear Iran, Pompeo defended the Trump administration's decision to abandon the international nuclear deal, saying the country maintained its support for Hezbollah, Hamas and Shiite militias. "Iran has rampaged for four decades — and sadly, with too few consequences," Pompeo said."
Al Arabiya: Al-Jubeir: We Are Committed To Working Together With Yemen On Reconstruction
"We are committed to working together with Yemen on reconstruction, said on Wednesday the Saudi Minister of State for Foreign Affairs Adel al-Jubeir…US Secretary of State Mike Pompeo earlier addressed the United Against Nuclear Iran's Iran Summit, where he said that "the enforcement of sanctions [on Iran] has been, and will continue to be, relentless," adding that sanctions have forced the regime into "panicked aggression."
Arutz Sheva: Dermer: Israeli Leaders United In Opposing Iran Deal
"Israel's Ambassador to the US Ron Dermer suggested on Wednesday that Israeli political and defense leaders are now united in opposing the terms of the 2015 Iranian nuclear deal. Dermer made the comments in a conversation with Ambassador Dennis Ross at the United Against Nuclear Iran annual summit in New York."
The National: Mike Pompeo Announces New Iran Sanctions, Hails European 'Progress'
"US Secretary of State Mike Pompeo on Wednesday announced new Iran-related sanctions targeting Chinese entities that trade in oil with Tehran, as hopes for a meeting in New York between Donald Trump and Hassan Rouhani began to fade. "We're imposing sanctions on certain Chinese entities for knowingly transporting oil from Iran contrary to United States sanctions," Mr Pompeo said at a conference hosted by the pressure group United Against Nuclear Iran."
Al-Arabiya: Saudi Officials To Speak At United Against Nuclear Iran's Iran Summit
"…We have a team in Saudi Arabia that's investigating the attack. We know, we are certain that the equipment used were Iranian-made. That's why we hold Iran responsible," said al-Jubeir in a conversation with former US national intelligence manager for Iran, Norman Roule…The event is hosted by United Against Nuclear Iran, a nonprofit, bipartisan, advocacy group that "seeks to prevent Iran from fulfilling its ambition to obtain nuclear weapons."
The Jerusalem Post: State Secretary Mike Pompeo: Iran Is The Aggressor Not The Aggrieved
"The Trump administration sanctioned Chinese individuals and entities for their involvement in transferring oil to Iran in violation of US sanctions, US Secretary of State Mike Pompeo said Wednesday. "Today we are imposing sanctions on certain Chinese entities for knowingly transporting oil from Iran, contrary to United States sanctions," Pompeo said as he spoke in New York at the United Against Nuclear Iran conference held on the sidelines of the opening of the 74th session of the UN General Assembly."
Al-Arabiya: Bahrain Amb. To US: Confrontation Is The Way To Deal With A Country Like Iran
"Bahrain's Ambassador to the US Abdulla R. Al-Khalifa said on Wednesday that the only way to deal with a country like Iran is "to confront it," in remarks at an event on the sidelines of the UN General Assembly. "If you have a country within the region with hegemonic ambitions that aren't going to change, that really is a problem. The only way to deal with it is to confront it," said Al-Khalifa at the United Against Nuclear Iran summit."
Al-Monitor: US And World Powers Continue To Talk Past Each Other On Iran At UN
"Keynoting the annual conference of the hawkish United Against Nuclear Iran, Pompeo said the United States would "intensify" efforts to "educate countries and companies of the risk of doing business with [Islamic Revolutionary Guard Corps] entities" and "punish" offenders. He also announced new sanctions against Chinese entities for "knowingly transporting oil from Iran, contrary to United States sanctions."