Fariba Adelkhah
Fariba Adelkhah
French-Iranian Academic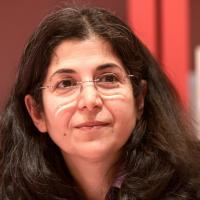 Biography
Fariba Adelkhah is a French-Iranian anthropologist who works as a researcher at the university SciencesPo in Paris. She has published a study of Islamic women in Iran and more recently has focused on Shiite clerics' movements between Iran, Iraq, and Afghanistan.
Arrest
Adelkhah was arrested in June of 2019 in Iran, where she was conducting research and visiting her mother. Her SciencesPo colleague Roland Marchal, who had flown to Tehran to spend the Eid holiday with her, was also arrested. 
Treatment in Prison
Adelkhah and Marchal are being held in Tehran's notoriously brutal Evin Prison. Unlike Marchal, Adelkhah has not been allowed to meet with French consular officials because Iran does not recognize dual nationality. SciencesPo has stated that the two are in good health.
Charges
Multiple reports claimed that Adelkhah was arrested for espionage, but the judiciary has not made any charges public. 
International Outcry
In July of 2019, French President Emmanuel Macron personally asked Iranian President Hassan Rouhani to explain the reason for Adelkhah's arrest. France's foreign ministry also insisted on consular access to her "without delay," to no avail. In October 2019, the ministry outright demandedAdelkhah's release.
SciencesPo has claimed that it is taking several steps to help Adelkhah and Marchal, working closely with the French Ministry of Europe and Foreign Affairs and the French National Centre for Scientific Research. The university specifically mentioned that it had made sure that the two hostages had a very experienced attorney who is on the Iranian regime's approved list. In July of 2019, the SciencesPo faculty issued a message expressing their "warmest support" for Adekhah and her family and their "strong hope" for her speedy release. The International Sociological Association endorsedthat message.
Also in July of 2019, the president of the Middle East Studies Association (MESA) and the chair of its Committee on Academic Freedom sent a letter in support of Adelkhah to Ayatollah Ali Khamenei, Iran's supreme leader and Major General Hossein Salami, the IRGC's commander-in-chief. The MESA officials objected to the regime's increasing imprisonment of academics and urged the recipients to free Adelkhah immediately and make sure she returned to France safely.