Export of Iran's Drone Program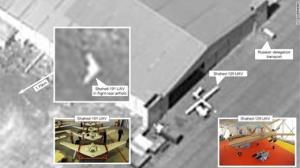 Tajikistan: In May 2022, Iran inaugurated a drone factory in Tajikistan. Located in Dushanbe, the manufacturing facility is slated to produce the Ababil 2 drone. Despite the long provision of drones to its proxies and partners and the requisite technical know-how, the facility represented the first formal military drone production line Iran has employed abroad.
Belarus: Following President of Belarus Lukashenko's trip to Iran in March 2022, Iran and Belarus established a direct flight between Tehran and Minsk to be serviced by Mahan Air. The ostensibly civilian airliner is known for transporting IRGC personnel and weaponry, raising concerns that these flights could facilitate deepening defense cooperation between the two nations that could benefit Russia. While the two leaders purportedly focused on economic cooperation, the anti-Western rhetoric that emerged from the state visit pointed to a mutual interest in Russia's victory in the war in Ukraine. The stage was thus set for further defense cooperation between Iran and Belarus, which appeared to come in May 2023, when Ukrainian intelligence uncovered plans to convert a factory in Gomel, Belarus, into a Shahed series production facility. Russia's premier intelligence agency, the FSB, organized travel for a working group of Iranian engineers to visit the site and discuss plans for its conversion. These plans likely gained traction when, in late July 2023, Iran's defense minister, Brigadier General Mohammad Reza Ashtiani, met his Belarusian counterpart, Defense Minister Lieutenant General Viktor Khrenin, in Tehran to sign a defense memorandum of understanding (MOU). As defense minister, Ashtiani is responsible for negotiating weapons deals. Drone production in Belarus could help Russia overcome logistical challenges associated with importing Iranian drones from the Middle East.
Russia: In July 2022, in the aftermath of Russia's invasion of Ukraine, U.S. National Security Advisor Jake Sullivan revealed that "our information indicates that the Iranian government is preparing to provide Russia with up to several hundred UAVs, including weapons capable UAVs on an expedited timeline." Some reports indicated that the Kremlin is would receive as many as 300 UAVs. Senior members of the IRGC, such as Khalil Mohammadzadeh, Suleiman Hamidi, and the former secretary of Iran's Supreme National Security Council, Ali Shamkhani, have coordinated Iranian drone exports to Russia.
In July 2022, in the aftermath of Russia's invasion of Ukraine, the U.S. National Security Advisor Jake Sullivan revealed that "our information indicates that the Iranian government is preparing to provide Russia with up to several hundred UAVs, including weapons capable UAVs on an expedited timeline." Some reports indicate that the Kremlin is scheduled to provide as many as 300 UAVs.
The U.S. government later revealed that a Russian delegation on June 8, 2022, and July 5, 2022, viewed a showcase of Iranian drones at the Kashan Airbase—specifically the Shahed-129 and Shahed-191, models which this report discusses in previous sections. The Shahed-129 has been used by the Iran-backed Houthis in Yemen, according to the Arab Coalition, and a U.S. F-15 fighter jet downed the Shahed-129 after it fired on U.S.-led Coalition forces in southern Syria in 2017. Israel's defense minister has also accused the Kashan Airbase of serving as a drone training ground for the IRGC's proxies and partners like Hezbollah and the Houthis.
Russian losses in Ukraine likely inspired these transfers, but Moscow has long had its eye on Iran's drone program, with the director of Iran's Aviation Industries Organization claiming back in 2019 that Russia had expressed interest in purchasing Iranian drones. The expiration of the U.N. arms embargo on Iran under U.N. Security Council Resolution 2231 likely emboldened these developments in helping to provide drone importing countries, such as Tajikistan and Russia, with legal cover for these moves.
In late August 2022, Iran is believed to have begun shipping drones to Russia. However, the shipments might have begun earlier, as Haaretz reported that month that there had been 42 IRGC-linked cargo flights that landed in Russia since the war in Ukraine began in February. Iran and Russia deny the drone imports, with Iran admitting that it transferred drones to Russia before the war in Ukraine. At least since August, Iranian boats, state-owned airliners, and Russian transport planes have delivered the drones to Russia. Some drones were transported from an Iranian base on the Caspian Sea to Russian navy boats to the north. In Russia, Iranian technical experts have managed drone assembly, and Iranian drone operators have trained Russian operators in both Iran and Russia. In September 2022, the U.S. sanctioned Tehran-based Safiran Airport Services for coordinating Russian military flights transporting Iranian UAVs, personnel, and related equipment from Iran to Russia.
The war in Ukraine is useful to Iran to test its drones' utility on the battlefield and find ways to improve them. Moscow has also provided Iran with weapons seized on the battlefield, allowing Tehran to reverse engineer them. Additionally, Iran is using the war in Ukraine to advertise its drones worldwide, including to regimes in Venezuela, Bolivia, Ethiopia, Sudan, and China. An Iranian official noted that China has entered a queue of nations intent on acquiring drones from Iran.
As of October 2022, Russia had launched over 300 Iranian drones against Ukrainian military targets, power plants, and other civilian infrastructure, including in the capital, Kyiv. The U.S. Defense Intelligence Agency (DIA) published a report in October 2022 providing photographic evidence of Russia's use of the Shahed-131, Shahed-136, and Mohajer-6. The same drones have been used to attack U.S. forces in the Middle East.
In November 2022, a Russian delegation visited Iran to view and select Iranian drones. They selected six Mohajer-6 and 12 Shahed-191 and Shahed-129 drones, each with air-to-ground strike capabilities. The 18 drones were reportedly delivered to Russia. The above-mentioned DIA report from the previous month did not reveal evidence of the Shahed-191 or Shahed-129 in Ukraine.
In early January 2023, Brig. Gen. Abdollah Mehrabi, head of the IRGC's Aerospace Force Research and Self-Sufficiency Jihad Organization, and Ghassem Damavandian, the chief executive of Iran's Quds Aviation Industry, led a delegation to tour a planned site for a drone manufacturing facility in Russia. Later that month, a Russian delegation of engineers and project managers was visiting Iran reportedly to discuss the plans, when Israel's Mossad struck a facility in Isfahan at which the Mohajer-6 and, Shahed-191, and Shahed-129 are produced. U.S. officials, though, have said that Israel launched the attack out of its own security interests, rather than a concern about transfers to Russia.
Former CIA operations officer Bernard Hudson estimated that Iran can produce approximately 100 drones a month. Russia, however, expects to produce 6,000 drones in two years at the $1 billion drone manufacturing facility Iran is assisting it to build. The Alabuga Special Economic Zone facility, about 500 miles east of Moscow, runs at least a month behind schedule. Still, as researchers at the Institute for Science and International Security (ISIS) concluded based on leaked documents provided by the Washington Post, Moscow has assembled Iranian drones and produced around 300 drone bodies at the facility as of August 2023. The researchers do not find that production goals will be met by the summer of 2025.
The Shahed-136 reportedly costs about $20,000 less than cruise and ballistic missiles. Russia's widely-used Kalibr cruise missiles cost $1 million each. Another advantage to the Shahed-136 is that they are more expensive to shoot down than produce. Ukraine has expended around $28 million worth of anti-air munitions to shoot down $800,000 worth of Shahed-136s.
Moscow aims to mass produce the Shahed-136 domestically to avoid sanctions and interdictions. The drone components are easier to acquire on international markets than missile components. Based on an investigation of a downed Iranian drone, Ukraine has assessed that almost all of the components were American-made. For example, Texas Instrument microcontrollers, voltage regulators, and digital signal controllers were found, along with Hemisphere GNSS GPS modules and NXP USA Inc. microprocessors.
China has also supplied Iran with the parts it needs to produce drones. For instance, a voltage converter made in China in mid-January 2023 was found in the navigation system of a Shahed-136 used in Ukraine in April, revealing how quickly Iran can produce these drones.
Venezuela: Iran began shipping drone technology to Venezuela in the early 2000s. By 2013, the Venezuelan Air Force possessed over a dozen Iranian-made Mohajer-2 surveillance drones. Some of them were reportedly produced in Venezuela and armed with bombs. After the UN arms embargo against Iran expired in October 2020, Iranian media reported that Iran had shipped the Mohajer-6 to Venezuela. The next month, Venezuela unveiled the P071A-007 drone, a copy of the Mohajer-6. Israel's former Defense Minister Benny Gantz alleged that Iran also provided Venezuela with precision-guided missiles for the Mohajer-6, and he presented a photo of Venezuelan President Nicolas Maduro with a model of the Mohajer-6. While Iran at first supplied surveillance drones, which Venezuela ostensibly sought to monitor drug trafficking and illegal border crossings, over time, Venezuela has obtained unmanned combat aerial vehicles from Iran or with Iran's assistance. Therefore, Iran's provision of surveillance drones to other countries should raise red flags in Western capitals, as such security cooperation lays the groundwork for more advanced transfers.
Bolivia: On July 16, 2023, Bolivia's defense minister, Edmundo Novillo, met with his counterpart in Tehran, Defense Minister Brig. Gen. Mohammad Ashtiani, regarding security cooperation. According to Iranian media, the two officials signed a defense memorandum of understanding (MOU), though its terms were not immediately clear. This led Argentina and opposition figures in Bolivia to seek clarification. Novillo, then, expressed his country's interest in acquiring Iranian drones for surveillance purposes, claiming that the drones are needed to monitor smuggling and drug trafficking. Argentina, the victim of an Iran-sponsored terrorist attack against a Jewish community center in Buenos Aires in 1994, is rightfully concerned about the MOU's details, especially considering Iran's intention to export its drones worldwide.
Ethiopia: In August 2021, reports surfaced of Iranian drone deliveries to Ethiopia for their use against the Tigrayan rebels. In October 2021, the underreported story was confirmed by the U.S. Department of State, which said that the Iranian drone transfers had violated UN Security Council Resolution 2231. Specifically, the department's spokesperson confirmed that Iran had delivered the Mohajer-6 in the summer of 2021 to Ethiopia. Later in October, the U.S. Department of the Treasury issued a sanctions press release noting that Iran had provided drones to Ethiopia, though it provided no further details. Since August, numerous IRGC-linked cargo airliners have landed in Ethiopia.
Sudan: In 2008, the Sudanese government told UN peacekeepers that the drones they had observed in Sudan were the Iran-made Adabil-3. The Adabil-3 was allegedly deployed against the Sudan People's Liberation Movement and rebels in Darfur primarily for surveillance and precision targeting purposes. According to one report, Sudan also acquired the Mohajer-2 in 2008, the Mohajer-4 in 2011, and the Mohajer-6 in 2016.