September 2022 Iran Tanker Tracking
At a press briefing on September 26, State Department Spokesperson Ned Price was asked three times whether the U.S. was "OK" with giving the Iranian regime billions of dollars in sanctions relief to further repress their own people, for the sake of a new nuclear deal.  "It's not like they're going to be using that money to plant flowers in downtown Tehran," noted AP reporter Matt Lee, while Iranian authorities are presently brutalizing thousands of anti-regime protesters in the wake of the murder of Mahsa (Jina) Amini for "incorrect hijab." 
As well as immediate sanctions relief, Mr. Lee also noted that a deal would bring in additional billions by "allowing them to sell their oil on the open market…"  Even on the black market, as UANI has documented since 2018, Iran has been doing an excellent job of selling its oil and gas, mainly to China. Since January 2021, Iran has received $38 billion in oil revenues – a now widely reported figure - despite  the technical existence of U.S. sanctions that prohibit all Iran oil trade.
While State Department Spokesperson Ned Price sought to downplay such eye-watering numbers as subject to a "margin of error" (the Department's own estimate was not divulged), it is clear that the Administration is at least increasingly appreciative of the issue's significance.  One day later, on September 29, the State Department announced new sanctions on ten oil trade facilitators including a Chinese crude-oil storage operator, Zhonggu Storage and Transportation Co Ltd. "as the Biden administration looks for ways to sever [this] financial lifeline…"  As the New York Times noted in its report citing UANI data, "[t]he sanctions against Chinese companies could also presage a tense confrontation with Beijing over its substantial purchases of Iranian oil, which have provided Iran's government with a badly needed windfall, to the frustration of the Biden administration…"  Since "quiet diplomacy" with Beijing has clearly not succeeded in this arena, perhaps a more assertive approach is indeed required.
For those concerned with the regime's ability to further brutalize its own people, it is also worth noting that with Russian supplies offline for the foreseeable future, Iranian oil exports would conceivably jump in time to 2 million bpd should a new deal be reached. Moreover, open market sales would end the current necessity to provide big discounts, giving an extra boost to both the regime's coffers and its oppressive bandwidth.
During September, while confronting uprisings in more than 80 locations in almost every one of Iran's 31 provinces, Iran again had little problem selling more than 1 million barrels of oil per day (bpd) through subterfuge, and ongoing ship-to-ship (STS) transfers (often in Indonesian, Malaysian and Singaporean waters, as we describe below). 
| | | | |
| --- | --- | --- | --- |
| Country of Destination | September 2022 – Barrels Per Day (bpd)* | August 2022 – Barrels Per day (bpd)* | July 2022 – Barrels Per Day (bpd)* |
| China | 507,037 | 847,298 | 708,377 |
| Syria | 123,322 | 94,243 | 35,785 |
| UAE | 32,890 | 16,632 | 22,374 |
| Venezuela | 0 | 66,163 | 0 |
| Unknown | 367,045 | 219,256 | 323,279 |
| SPRING Total | 1,030,284 | 1,234,592 | 1,089,815 |
Increase in STS Transfers East of Singapore, Malaysia, and Indonesia
An STS transfer switches crude oil, petroleum products, liquid bulk chemicals, and liquefied gas between tankers while at sea, without the vessel having to call at a port or other facility. Many STS transfers are legitimate. However, many are not, and it is a useful method of conveyance for those seeking to evade sanctions. Often STS transfers can help to falsify the origin of oil cargo, for instance, by conducting the operation in waters close to the transfer location – but not the actual origin.
According to SKULD, "[s]ome states, for example, Malaysia, require specific permission for anchoring and for conducting STS. There are several examples of the Indonesian Coast Guard detaining and expelling vessels due to unlawful STS operations and lack of required permits, causing arrest of vessels and lengthy delays. A counterparty vessel involved in sanctions breaches may purposefully seek to evade such rules as they increase attention from local authorities."
However, despite Malaysia and Indonesia cracking down on some previous instances of unlawful STS operations, there has been a significant increase in this activity over the last two years. Using satellite imagery, UANI has identified 280 STS transfers in waters east of Singapore, Malaysia, and Indonesia since January 2021. Some of these transfers also involved Venezuelan and Russian oil, but the majority have been Iranian oil transfers.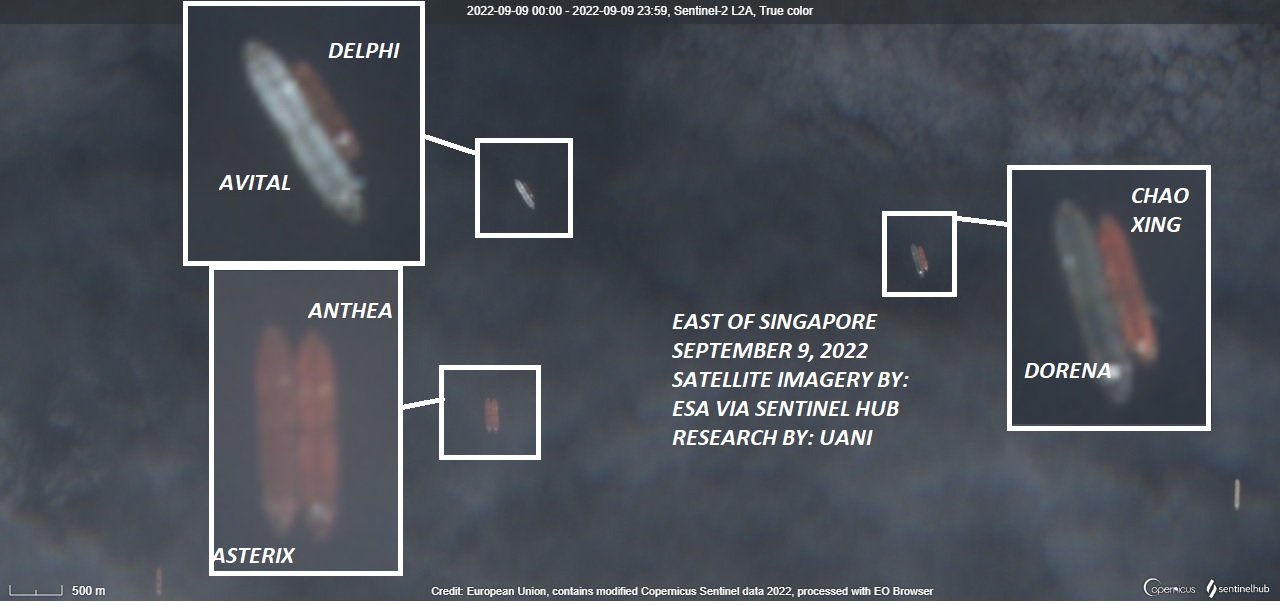 Notably, of the 280 STS transfers tracked by UANI, 95 of them occurred in 2021, with 185 occurring in 2022 through September. The facilitators of this trade clearly understand the ongoing absence of sanctions enforcement today: the rewards are high, the risks non-existent. The inevitable result: a more than doubling in the number of Iranian oil STS transfers through the first nine months of 2022 compared to all of 2021 (see below chart).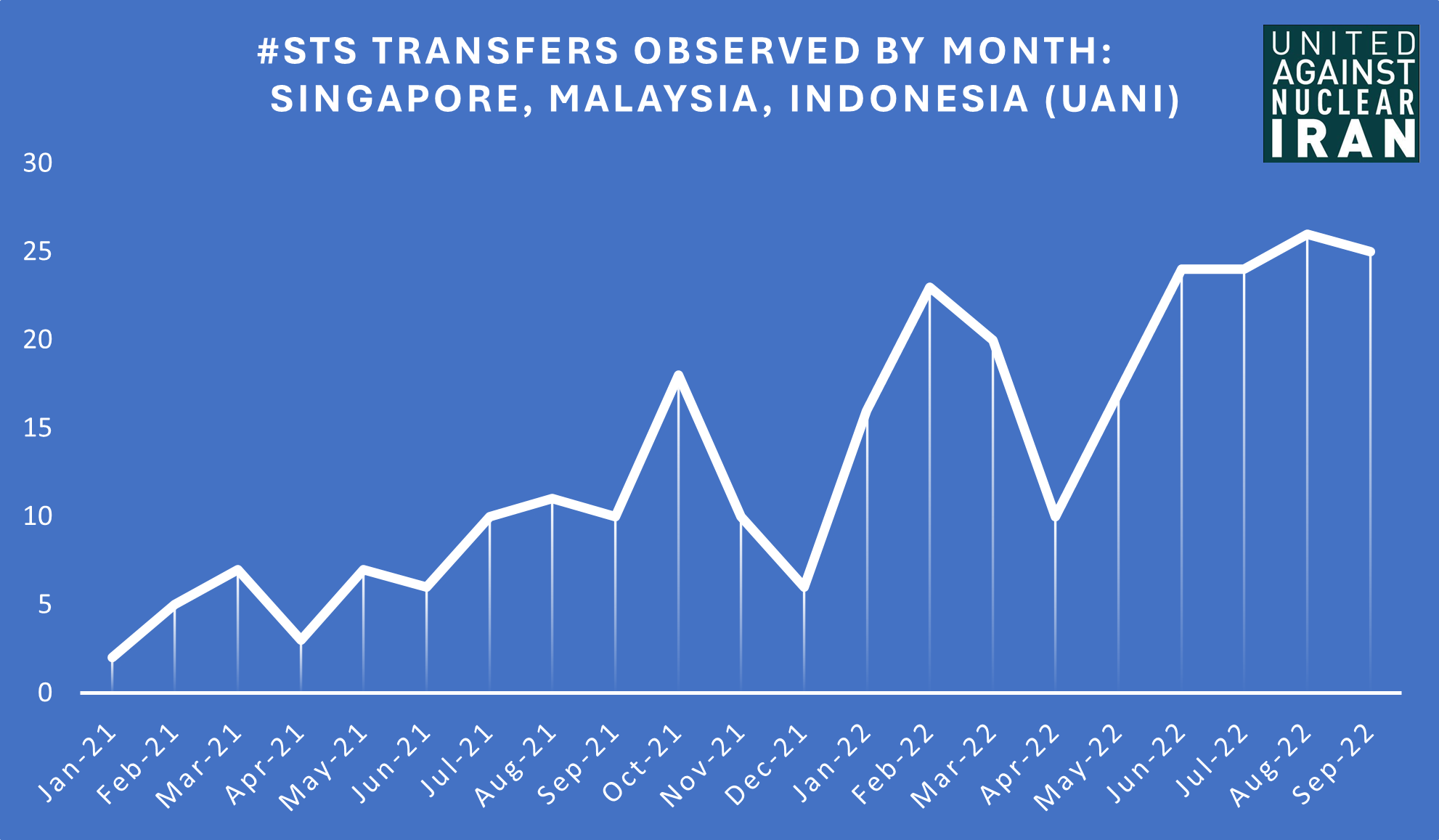 In most instances, the vessels engaged in these STS transfers have used AIS manipulation to hide the activity. Some of the vessels disable their AIS transponders before and during the STS transfers, while others spoof their locations to appear as if they are not located where the transfer occurred. As a result, it is doubtful that the vessels are authorized by Malaysia or Indonesia to conduct such transfers.
The vessels most notorious for engaging in STS transfers of Iranian oil in these waters are listed below. UANI strongly encourages the Malaysia Maritime Enforcement Agency (MMEA), the Directorate General of Sea Transportation in Indonesian (DGST), and the Maritime and Port Authority of Singapore (MPA) to monitor these vessels and, when appropriate, arrest and detain these vessels for engaging in this activity. UANI encourages the U.S. Administration to also take steps to sanction these vessels for their involvement in the transport of Iranian oil.

Receive Iran News in Your Inbox.
Eye on Iran is a news summary from United Against Nuclear Iran (UANI), a section 501(c)(3) organization. Eye on Iran is available to subscribers on a daily basis or weekly basis.