Four Years of UANI's Tanker Tracker - Chinese Imports of Iranian Oil – Barrels Per Day
April marks the fourth anniversary of UANI's Tanker Tracker. It draws on deep wells of HUMINT, satellite imagery, Automatic Identification System (AIS) data, cargo datasets, port documentation analysis, vessel identification, and other data triangulation.  Now regularly cited in specialist maritime and mainstream outlets, UANI provides the most accurate accounting of Iran's oil exports. Our comprehensive engagement with the maritime community has led to hundreds of insurance revocations, flag withdrawals, classification cancellations.  Our focus on the facilitators has generated a publicly accessible list of almost 200 foreign-owned and foreign-flagged vessels involved in Iran's oil trade. And our timely monitoring has physically stopped multiple clandestine ship-to-ship (STS) transfers of Iranian oil mid-stream. All this has cost the regime many millions that would otherwise be spent on boosting its terrorist, nuclear, missiles and drones projects.
Now, with four years' worth of statistics, there are several clearly expressed trends worth highlighting. In the first of a series examining the data, we take a brief look at Iran's biggest economic lifeline.
China
On April 29, 2019  President Trump announced the end of the grace period that allowed some jurisdictions to keep importing Iranian oil.  While it was evident that China would continue regardless, the below chart shows that the "oil waivers" expiry did significantly impact Beijing's calculus. From May 2019 to November 2020 – the eighteen months of the most intense "maximum pressure" – China imported an average of 314,000 barrels per day (bdp). By contrast, in the 17 months after President Biden was elected, China imported an average of 838,000 bpd – well over double (2.6 times) the broadly equivalent preceding period.
The twelve months prior to the April 2019 announcement is also instructive. From April 2018 to April 2019, China imported 605,000 bpd. Immediately, then, China slashed imports in half once oil waivers ended.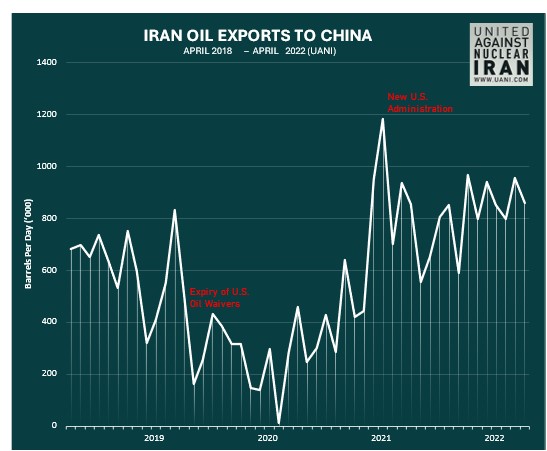 The big jump from the start of the Biden Administration is not due to any change in U.S. policy change: U.S. sanctions remain on Iranian oil and "waivers" to certain countries have not been restored. But what has changed is the signaling and the willingness to enforce those sanctions. When occasionally asked about Chinese imports, senior Administration officials including Secretary of State Blinken have obliquely referred to a preference for 'quiet diplomacy.' In terms of the narrow aim of reducing Iranian oil revenues, this strategy has failed spectacularly. Perhaps more importantly, it has also shrunk any incentive for Tehran to make concessions in the White House's laudable goal to achieve a better ("longer, stronger") Iran deal. Its current ultimatum to have the Foreign Terrorist Organization (FTO) designation lifted from the IRGC is only the latest absurd demand that would otherwise never have been in play had Iran not succeeded in exporting $22 billion worth of oil to China since the start of 2021 – with no end to this trade in sight.
Receive Iran News in Your Inbox.
Eye on Iran is a news summary from United Against Nuclear Iran (UANI), a section 501(c)(3) organization. Eye on Iran is available to subscribers on a daily basis or weekly basis.