May 2021 Iran Tanker Tracking
Preliminary data suggests that Iran's exports of crude oil and gas condensates dropped from 1.2 million to 900,000 barrels of oil per day (bpd) in May.  Maritime entities appear to have played their part. In the wake of UANI's Stop the Hop 2.0 blog on April 16, which highlighted a fleet of 100+ suspect tankers, numerous flag, insurance and classification authorities have stepped up and taken action on many of these identified vessels.
Additionally, as a fifth-round of multilateral negotiations takes place, intended to revive the 2015 nuclear deal, it seems that many would-be purchasers are willing to sit tight for another few weeks for a potential lifting of U.S. oil sanctions.  The likely end-date for a deal wrap-up is just over two weeks away, on June 18, when Iran will hold its Presidential election. 
Indeed, satellite imagery indicates that many of Iran's shuttle tankers are still waiting for partner-ships to receive oil and gas in the South China Sea, where the products will be eventually offloaded onto the China southeast mainland.
UANI's figures for May correspond closely with TankerTrackers.com's preliminary Crude Exports Report estimate of 900,000 bpd.
| | | | | | | |
| --- | --- | --- | --- | --- | --- | --- |
| Country | May 2021 - Barrels Per Day (bpd) | April 2021 - Barrels Per Day (bpd) | March 2021 - Barrels Per Day (bpd) | Feb 2021 - Barrels Per Day (bpd) | Jan 2021 - Barrels Per Day (bpd)  | Dec 2020 - Barrels Per Day (bpd) |
| China | 353,586 | 554,432 | 1,025,857 | 542,852 | 839,700 | 682,778 |
| Syria | 33,871 | 55,118 | 130, 645 | 0 | 78,900 | 64,516 |
| UAE | 22,000 | 22,733 | 47,068 | 46,429 | 45,929 | 0 |
| Others | 0 | 0 | 0 | 0 | 0 | 11,290 |
| Unknown | 489.357 | 600,000 | 464,194 | 894,643 | 682,258 | 214,516 |
| Total | 898,813 | 1,232,283 | 1,667,764 | 1,486, 038 | 1,646,787 | 973,100 |
Maritime Authorities Step Up
In May 2021, several maritime authorities and private firms have taken action on vessels that have been suspected by UANI of carrying Iranian oil.
On May 27, 2021, the Zanzibar Maritime Authority confirmed the vessel PHOENIX (IMO: 9181194) was de-registered from its registry. UANI estimates that PHOENIX has transported over 6,000,000 barrels of Iranian oil since May 2019.
Earlier, on May 18, 2021, the Republic of Gabon deleted the vessel UMM HABAYEB (IMO: 9192260) from its registry after UANI noted the vessel was spoofing its AIS transponder to appear as if it was in the Persian Gulf when it was actually at an Iranian port. This vessel, formerly known as BLUE PEARL, was also de-flagged by the Panama Maritime Authority (AMP) in February 2021. 
Panama Maritime Authority (AMP) also stepped up its game in May, revoking the flag for the crude oil tanker ORABELLA (IMO: 9174660). The vessel ORABELLA, operated by an Indian company, has been transporting crude oil from Iran's Kharg Island and transferring the oil via STS in Iraqi waters. ORABELLA has had its AIS transponder turned off since January 18, 2021, after completing an STS with the Panama flagged crude oil tanker FREESIA I (IMO: 9159660). After notifying the AMP of this, the Panama-flagged vessel FREESIA I was broken up in Chattogram, Bangladesh, and the insurance for the vessel from the West of England P&I club was also withdrawn.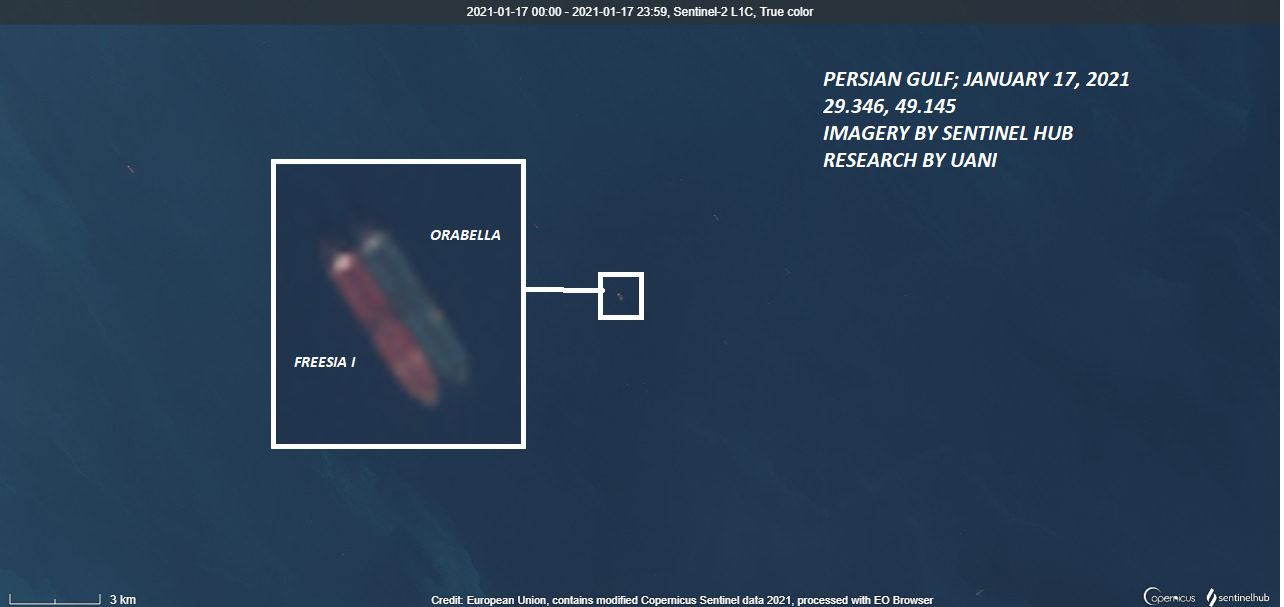 (Source: Sentinel Hub)
Furthermore, the Russian P&I club Ingosstrakh Insurance Company revoked the insurance coverage for five vessels that UANI flagged for its review.  One of these vessels, the Russian-flagged crude oil tanker, LADY D (IMO: 9256858) engaged in its eighth transfer of Iranian crude oil on May 17, 2021. It is currently engaged in an ship-to-ship transfer of that same cargo of crude with the Thai-flagged floating storage tanker ENERGY STAR (IMO: 9118393).  While we are encouraged to see some maritime authorities stepping up their action, the contemporaneous STS between LADY D and ENERGY STAR shows how there is still more work to be done.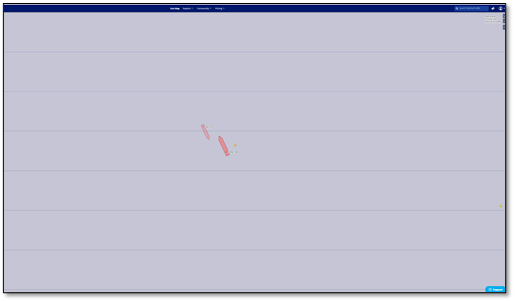 (Source: Marine Traffic)
ENERGY STAR itself has engaged in the STS of Iranian crude oil on at least four occasions since March 2021. ENERGY STAR serves as a middle-man by receiving the Iranian crude oil from vessels such as LADY D and then passing the crude oil off to vessels that continue to deliver the oil to China. Tankertrackers.com noted that the vessel has been doing the same with Venezuelan oil.
Finally, Indonesia confirmed the "conditional release" of two Captains of the Iran-flagged crude oil tanker HORSE (IMO: 9362061)  and the Panama-flagged crude oil tanker FREYA (IMO: 9180164).  The Indonesian Maritime Security Agency said the Captains "cannot commit the same violation in the next two years."  The vessels had been detained by Jakarta for illegally transferring oil in Indonesian waters.
We continue to encourage maritime authorities and port authorities which have jurisdiction over the territorial waters in which STS transfers are taking place to continue taking action to enforce their own rules against illicit Iranian oil trading.