July 2021 Iran Tanker Tracking
For the month of July, UANI estimates Iran's exports of crude oil and gas condensates at 843,233 barrels of oil per day (bpd), with China again the single biggest importer and "destinations unknown" still accounting for more than half of the total. However, as vessel transponders are turned back on and destinations are updated, UANI's export figures are revised accordingly.
| | | | |
| --- | --- | --- | --- |
| Country | July 2021 - Barrels Per Day (bpd) | June 2021 - Barrels Per Day (bpd) | May 2021 - Barrels Per Day (bpd) |
| China | 366,021 | 577,110 | 386,578 |
| Syria | 0 | 146,573 | 54,752 |
| UAE | 0 | 31,681 | 22,000 |
| Unknown | 477,212 | 450,916 | 370,968 |
| Total | 843,233 | 1,215,280 | 834,297 |
Getting Tough on China?
In July 2021, Reuters and the Wall Street Journal reported that the Biden Administration was "considering" getting tough on the ongoing Chinese import of Iranian oil, due to concerns that Tehran might not return to the Iran Nuclear Deal (JCPOA). This is welcome, yet cracking down on this trade should be a priority regardless of whether the JCPOA survives.  Absent Chinese oil purchases, the Iranian regime would have billions of dollars fewer to disburse to its terrorist proxies around the world and in pursuit of its nuclear, ballistic missile, and (increasingly) drone programs.
Since President Biden took office in January 2021, Iranian oil sales to China have surged. Despite occasional reports from the State Department expressing U.S. concern, overall, the administration has failed badly to stem this crucial lifeline.  According to UANI's Iran Tanker Tracker, in 2020, Iran exported 114 million barrels of oil to China. In the seven months from January to July 2021, however,  Iran has already shipped 139 million barrels, surpassing by a distance the figure for the whole of the previous year. This has benefited Iran to the tune of approximately $8.5 billion.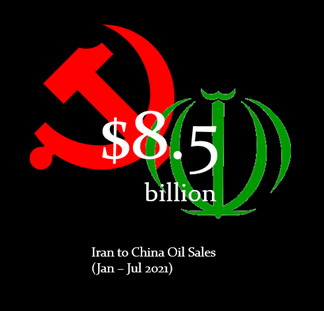 Since May 2019, the seven other jurisdictions granted oil purchase waivers  (Greece, India, Italy, Japan, South Korea, Turkey and the UAE) have all respected expiration of their temporary purchase exemptions granted by the U.S.  Despite additional oil-related sanctions, notably in September 2020 and October 2020 – the latter adding counter-terrorism sanctions on Iran's Ministry of Petroleum and Minister of Petroleum, the National Iranian Oil Company, the National Iranian Tanker Company, and 21 other individuals, entities, and vessels – Beijing has continued to snub any and all U.S. directives, having completely ignored the ban for more than two years.
Oil Sales Will Boost Iranian Military
With the extra billions that Beijing is filling Iranian coffers and the recent expiry of the UN's arms embargo, Tehran looks likely to grab the chance to massively expand its armed forces. According to the Defense Intelligence Agency (DIA) annual report on the military power of Iran for 2019, Iran is particularly keen to purchase military hardware from  Russia: the Sukhoi Su-30 jet fighter, Yakovlev Yak-130 advanced jet trainer, and T-90 Main Battle Tank (MBT) are all on the menu.  Iran has signaled its desire to augment its outdated air force for many years: Iran's Defense Minister announced Iran's intention to buy Su-30 jets as far back as February 2016. With an extra $8.5 billion that it should not have had come in the first seven months of 2021 alone, Tehran could purchase 180 of Russia's elite Su-30s, each one costing around $47 million. Iran's aging main battle tanks could likewise be supplemented with several hundred T-90s at $7 million apiece.
Ongoing Use of Spoofing and Manipulation of AIS Transponders
              For the month of June, we documented Iran using 14 different foreign-flagged tankers for oil exports.  This month we documented Iran using eight different foreign-flagged tankers, all of which are destined for China.  Of the seven different foreign-flagged vessels that loaded crude oil from Iran in July, all seven loaded from Kharg Island, Iran, and all spoofed their AIS transponders to appear as if they loaded in a different location. On July 10, for example, the Crude Oil tanker ANAHI (formerly known as AMFITRITI) (IMO: 9273337), appeared at Kharg Island, Iran, while spoofing its AIS transponder.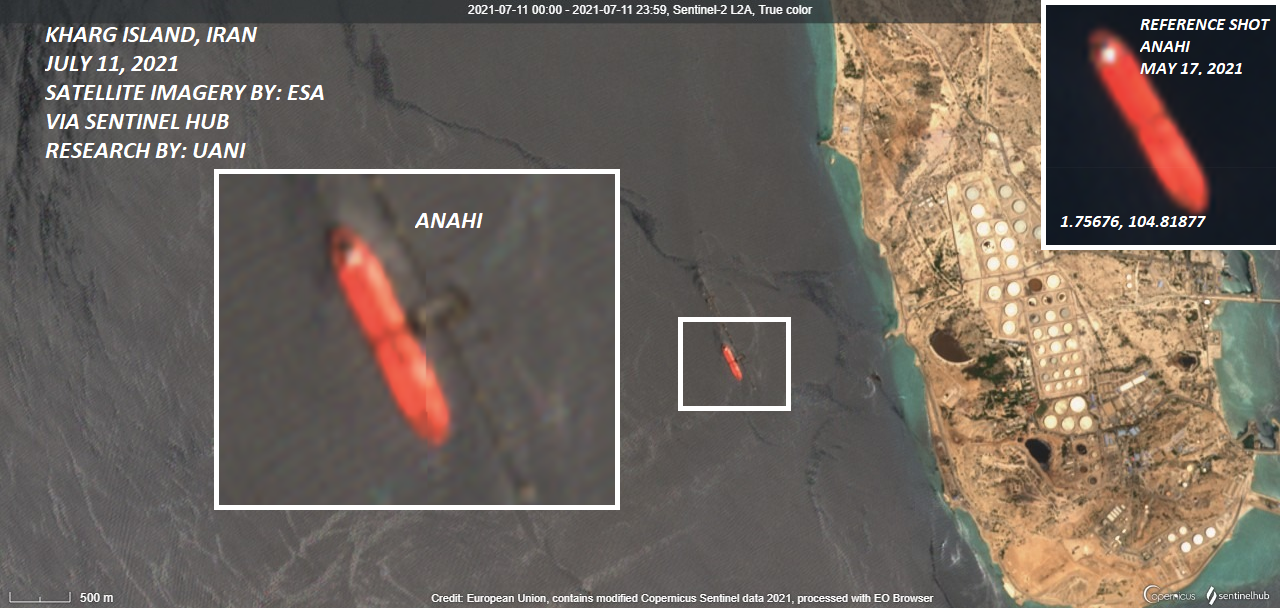 (Satellite Imagery By: ESA Via Sentinel Hub)
These operations are increasing. Once vessels like ANAHI leave Kharg Island, they travel to Iraqi or Omani waters and forge the vessel's bills of lading (a document detailing the cargo and its destination) to claim loading at ports within Iraq and Oman. Charterers, vessel owners, and operators need to pay closer attention: clearly, it is not enough to simply take as gospel what the bills of lading are saying.  Those involved within the maritime industry must look at the full history of a vessel. The vessel's past voyages should be reviewed, along with its ownership and flag changes. UANI will continue to inform all relevant parties within the maritime industry of our findings but charterers, owners, and operators must do their part.
Receive Iran News in Your Inbox.
Eye on Iran is a news summary from United Against Nuclear Iran (UANI), a section 501(c)(3) organization. Eye on Iran is available to subscribers on a daily basis or weekly basis.