August 2021 Iran Tanker Tracking
As the Iran nuclear talks remain in a state of inertia, Iranian crude exports held steady for August, totaling just above 1,000,000 barrels of oil per day (bpd), with China again the number one destination and Syria number two.  Destination "unknown" meanwhile increased its share by 22,210 barrels to almost 250,000 from July. 
| | | | |
| --- | --- | --- | --- |
| Country | August 2021 - Barrels Per Day (bpd) | July 2021 - Barrels Per Day (bpd) | June 2021 - Barrels Per Day (bpd) |
| China | 613,332 | 685,845 | 680,333 |
| Syria | 112,232 | 0 | 146,573 |
| UAE | 43,097 | 0 | 31,681 |
| Unknown | 248,016 | 225,806 | 216,667 |
| Total | 1,016,677 | 911,652 | 1,069,921 |
Are Ship-managers Deceiving Maritime Authorities?
Responding to our inquiries and claims about vessels carrying Iranian oil, some shipping registries, classification societies, and P&I clubs have relayed to us information supplied by ship-managers (companies designated by the ship owner or charterer to be responsible for the day-to-day commercial running of the ship), purporting to show oil loaded from Oman or Iraq -- not Iran.  UANI strongly believes this information is false and appears to indicate that ship-managers are stooping to fraud to deceive authorities.
UANI's long correspondence with the Palau International Ship Registry (PISR) is instructive.  On November 9, 2020, UANI first relayed our concerns to PISR regarding the Palau-flagged vessel DOMINAR (IMO: 9194139) and its suspected involvement in the transfer of Iranian crude oil.  
UANI tracked DOMINAR engaged in a ship-to-ship (STS) transfer with a sanctioned National Iranian Tanker Company (NITC) vessel on October 30, 2020.  When DOMINAR repeated the operation on January 25, 2021, with another NITC tanker, identified as ARGO I (IMO: 9187667), UANI again informed PISR.
During this second STS with ARGO, DOMINAR 'spoofed' its automatic identification system (AIS) transponder to appear as if it were anchored in the Persian Gulf, at coordinates 29.64538° N, 48.72447° E. 
However, on February 19, 2021, PISR informed UANI that, according to the ship-managers Tin Hau Shipping Ltd., DOMINAR had engaged in an STS, not with ARGO I but another vessel named AVGENIA/EVGENIA I, a claim apparently supported by a signed 'Declaration of Security.'  The oil on board, Tin Hau claimed, originated from Iraq.
The operator of AVGENIA/EVGENIA I is the Republic of Iraq Ministry of Oil, Oil Marketing Company (SOMO). UANI, therefore, followed up with SOMO, which replied:
… MT Dominar [] did not load any Iraqi product (crude oil or any petroleum product), moreover th[e] vessel[is] not listed to have been berthed at Basrah Oil Terminal and/or Khor Al-Zubair Terminal during said period. In case there are documents including but not limited to Bill of Lading, shipping documents and etc., which may show that their cargos of an Iraqi origin, such documents are illegal and considered as forged.
UANI provided SOMO's response to PISR.  During PISR's subsequent investigation, DOMINAR continued to transport Iranian oil. Since our first letter to PISR in November 2020, we believe DOMINAR has made 13 more visits to Iran and has transported over 8 million barrels of Iranian oil. On June 10, 2021, UANI informed PISR again of DOMINAR's suspected involvement in Iran.  At this time, the vessel was moored at Iran's Lavan Island: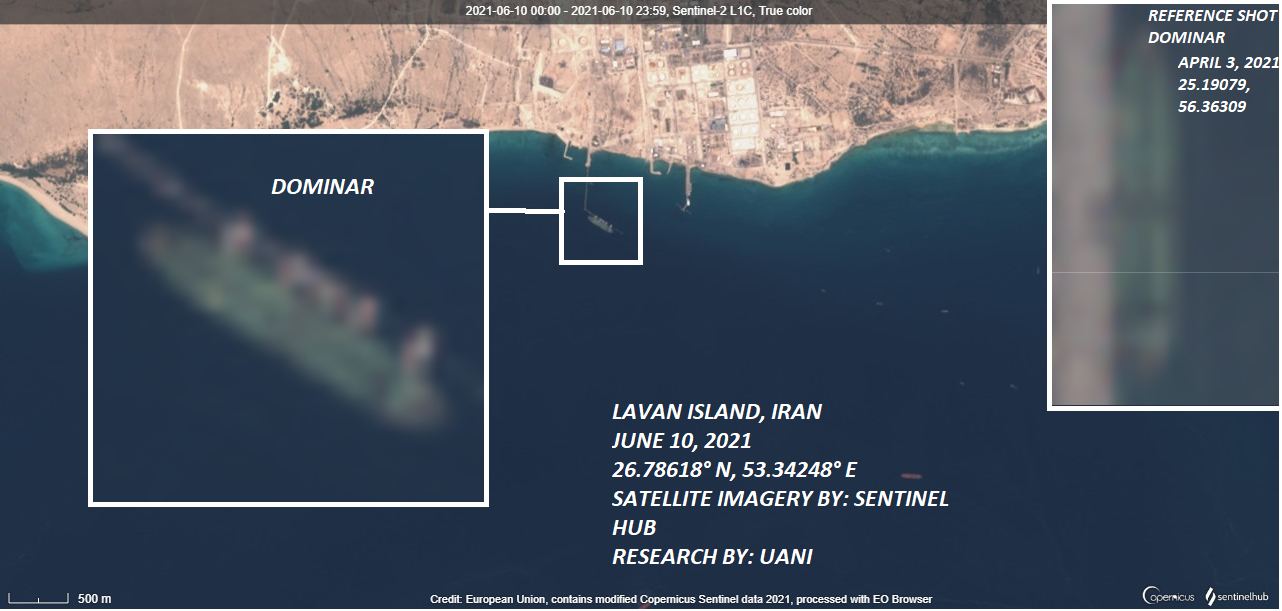 UANI further corroborated this claim with the discovery of a photograph posted on social media by an employee at Iran's Offshore Oil Company (IOOC), showing the vessel DOMINAR at Lavan Island on June 9, 2021.
Despite an abundance of compelling evidence that calls into serious doubt the claims made by DOMINAR's ship-managers, the assurances from Tin Hau Shipping have so far prevailed.  We continue to hope that PISR, an otherwise highly responsible shipping registry which has taken decisive past action, will look again at this case and review the evidence once more.
UANI has repeatedly written how vessels carrying Iranian oil turn to AIS spoofing to obscure their activities and deceive authorities. The U.S. Treasury confirmed this phenomenon on August 13, 2021, when it sanctioned the Omani National Mahmood Rashid Amur Al Habsi.  Treasury noted that Al Habsi had "tampered with the automated identification systems that are onboard vessels, forged shipping documents, and paid bribes, circumventing restrictions related to Iran."
The previous year, Treasury issued  guidance noting, "'[m]align actors constantly seek novel ways to exploit global supply chains for their benefit."  The advisory urged all those involved in maritime trade to carry out rigorous due diligence and activity monitoring of vessels.  Some authorities are risking exposure to U.S. sanctions for "knowingly facilitating significant transactions or for providing certain material support to Iranian persons on the SDN list, such as the National Iranian Oil Company (NIOC), the National Iranian Tanker Company (NITC), and the Islamic Republic of Iran Shipping Lines (IRISL)."
Clearly, claims by ship-managers that oil cargos originate from Iraq and Oman – when evidence shows otherwise – must be fully investigated, even when bills of lading and other apparently supporting evidence are presented. Shipping registries must look at the full history of a vessel and conduct proper tracking. 
Timeline of Events: UANI and the Palau International Shipping Registry
Receive Iran News in Your Inbox.
Eye on Iran is a news summary from United Against Nuclear Iran (UANI), a section 501(c)(3) organization. Eye on Iran is available to subscribers on a daily basis or weekly basis.