OCBC And UOB Must Disclose Any Business Relationship With Iranian Regime
(New York, N.Y.) — As United Against Nuclear Iran (UANI) continues to seek clarification from financial institutions in Europe, Asia, and the Middle East regarding their suspected participation in an Iranian system of sanctions evasion worth billions of dollars detailed by the Wall Street Journal in March 2022, UANI is seeking clarification from two banks in Singapore regarding their suspected ties with Tehran. Both the Overseas-Chinese Banking Corporation (OCBC) and United Overseas Bank Limited Singapore (UOB) have been reported to maintain accounts for U.S.-sanctioned Iranian entities through shell companies "that were basically proxy companies for Iranian companies that were set up overseas [by the Iranian government]…"
The accounts of these shell companies have been found to be ultimately controlled by Shahr Bank (a.k.a. Bank-e-Shahr), which was sanction-designated by the U.S. Department of Treasury in October 2020 for its role as "an additional avenue that funds the Iranian government's malign activities." Then U.S. Treasury Secretary Steven Mnuchin affirmed that sanctions on Shahr Bank and other Iranian financial institutions "will continue until Iran stops its support of terrorist activities and ends its nuclear programs," directly implicating the bank for its role in furthering Iran's international terrorist agenda.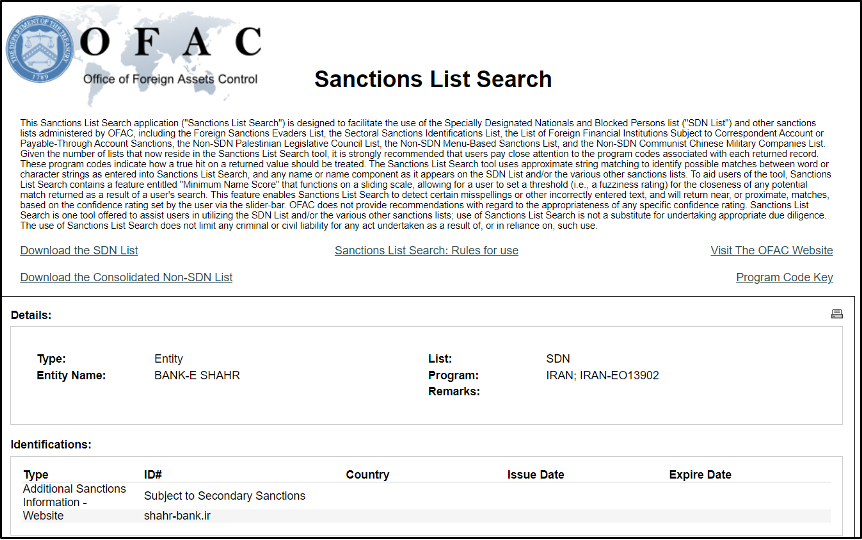 Neither of the Singaporean banks have responded despite the potentially serious implications on their U.S. business interests. OCBC has operated in New York since 1981, under the supervision of the New York State Department of Financial Services and the Federal Reserve Bank of New York, and in Los Angeles since 1987, operating under the auspices of the California Department of Business Oversight and the Federal Reserve Bank of San Francisco.
UOB has similarly had a presence in New York since 1973 and also reports a presence in California. UOB additionally makes specific claims pertaining to U.S. sanctions on Iran that its "entities do not open accounts, continue customer relationships, provide products or services, execute or facilitate transactions (directly or indirectly) or engage in any activity involving sanctioned individuals, entities, countries or territories, subject to the extent permissible by sanctions laws." The allegations do not comport with these assurances.  
Previously, UANI has made formal inquiries with Turkish and Chinese banks similarly suspected of Iran's sanctions evasion scheme. So far, only China's Zhejiang Mintai Commercial Bank Co. Ltd. has responded with a denial that it has ever sought to "do any business in Iran." 
"The allegations made against these banks, both of which operate in more than a dozen countries, are serious and credible," stated UANI CEO Ambassador Mark D. Wallace. "If true, their due diligence measures have failed spectacularly. These banks should launch an investigation immediately, offer full transparency on how the investigation is being conducted, and publicly disclose their findings. Any and all ties to the Iranian regime must be completely severed and those responsible for helping Tehran launder money must be held fully accountable. Other financial institutions should likewise take note and adopt enhanced due diligence measures immediately."
To read UANI's resource Business Risk Matrix, please click here.