(New York, N.Y.) – Istanbul-based ASB Group, a giant energy conglomerate with locations in 14 countries, has developed into "the key infrastructure and leading front for oil export by the [IRGC] Quds Force, and it constitutes the largest financial infrastructure for the Quds Force outside Iran" according to a series of damning exposes published by Wikiran.
ASB Group's ties to the Islamic Republic are long-established, and the group acknowledges its trade in Iranian crude and petroleum products since its founding in 1990. Back in 2012, ASB Group subsidiary Som Petrol Ticaret A.S. (Som Petrol) – which features in the Iran divestment lists of the States of New Jersey, New York, and Tennessee – was awarded the contract for an Iran-Turkey gas pipeline that ultimately did not materialize.
But it is the vast trove of documentation leaked in past weeks that indicates ASB Group's support to the regime appears to have swollen to grand proportions in recent years – through multiple front companies and subsidiaries helping to export Iranian oil and gas. Email correspondence, contracts, and letters of intent (LOI) show ASB Group entities dealing with a variety of key Iranian U.S.-sanctioned energy firms – including National Iranian Oil Company (NIOC), Persian Gulf Petrochemical Industry Commercial Company (PGPICC), and Petrochemical Commercial Company (PCC) – and via other intermediaries in China, Greece and elsewhere.
In January 2019, ASB Group officials discussed how to continue doing business with Iran under a potential oil sanctions waiver for Turkey, noting that "We have started negotiations with NIOC":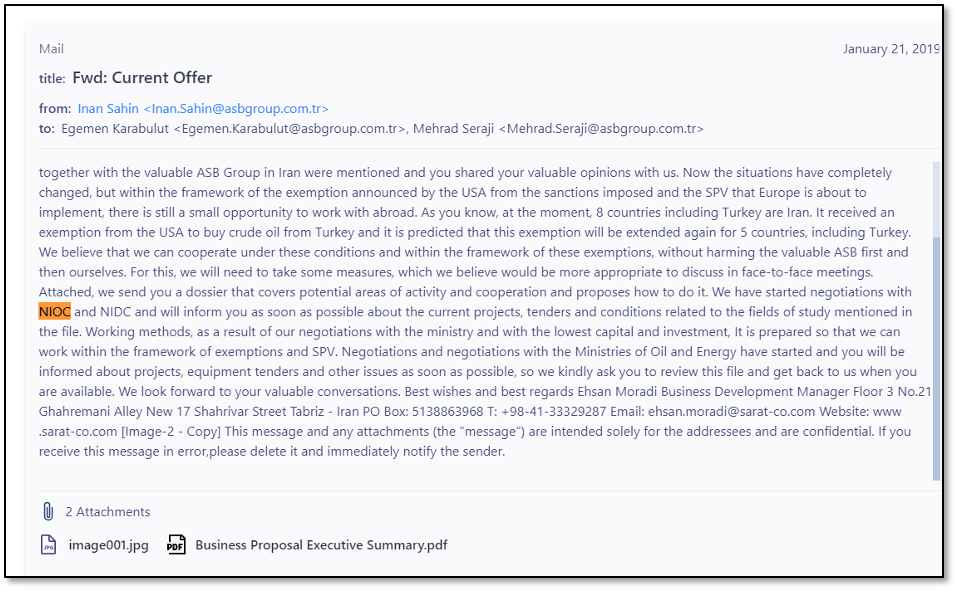 But ASB Group appears to have continued working with Iran well beyond the waivers and beyond limiting itself to Turkey. ASB Group is specifically charged with knowingly colluding to export falsely labeled Iranian crude to refineries on the Chinese mainland. One email purportedly sent as recently as August 31, 2022, from an ASB Group employee to a Greek shipping firm specifically requests that "the NIOC part" be deleted in a revised LOI, in an email titled "Re: LOI very confidential." In that message, the ASB Group official requests that the addressee be changed to "our company" Baslam Nakliyat Ve Dis Ticaret Limited Sirketi (Baslam). The preceding email from the Greek firm appears to clarify to Baslam that "the Chinese deal through us" (exclusively) while explaining, "we are ready to do the business very quiet there."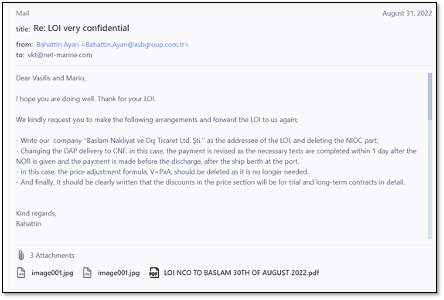 Emails purportedly between ASB Group Subsidiary or Front Company Baslam and Greek Shipping Firm, August 31, 2022 (Wikiran)
Another message circulated among ASB Group employees in September 2020 discusses instructions from the owners of the vessel OMAN PRIDE, requesting a ship-to-ship (STS) transfer of oil. As documented by UANI at the time, OMAN PRIDE was found to be illicitly transporting Iranian oil and was ultimately sanctioned by the U.S. Department of the Treasury on August 13, 2021. Through Baslam and a recurring middleman identified only as "Roger," ASB Group was reportedly instrumental in this banned trade which helped transport approximately 60 million barrels of oil per year to China by Wikiran's estimate.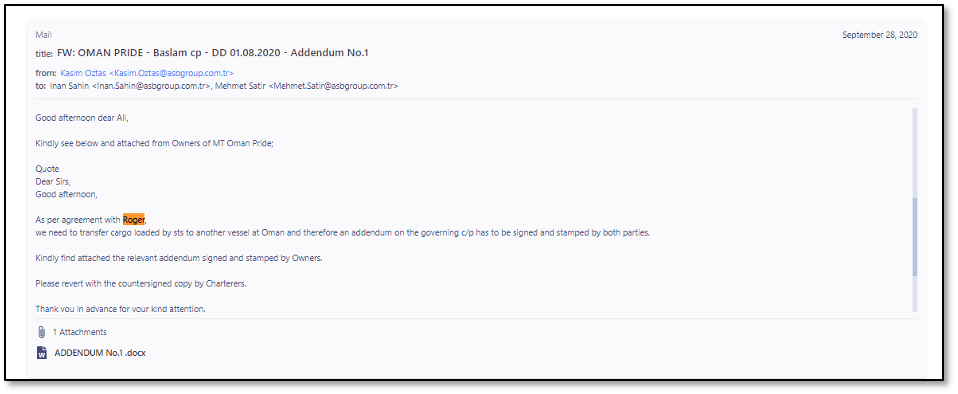 Email between ASB Group employees discussing STS transfer request from owners of OMAN PRIDE, later sanctioned by the U.S. Department of the Treasury (Wikiran)
Other implicated ASB Group entities include Anka Enerji Ur.San.Tic.A.S. (Anka) and Turang Transit Tasimacilik A.S. (Turang Transit).
United Against Nuclear Iran (UANI) contacted ASB Group on October 28 seeking information about the company's relationship with the Iranian regime and asking for a response to the WikiIran files. The company has so far failed to respond.
"The allegations against ASB Group and its affiliated entities are colossal and perhaps unprecedented," said UANI Research Director Daniel Roth. "Prudent companies should have realized many years ago that business opportunities of this nature are never worth the gargantuan risk. While it may already be too late to salvage its reputation, we would strongly urge ASB Group terminate all of its alleged Iranian business ventures with immediate effect."
###