(New York, N.Y.) — United Against Nuclear Iran's (UANI) Virtual Summit today featured keynote speeches from Prime Minister of Israel Naftali Bennett and Bahrain's Ambassador to the U.S. Shaikh Abdullah Bin Rashid Al-Khalifa, as well as a series of fireside conversations with U.S. Ambassadors John Bolton and Nikki Haley.
Playback of these sessions, and each session at its conclusion, are available on the UANI Summit website. To register for UANI Summit and access each portion of the program, please click here.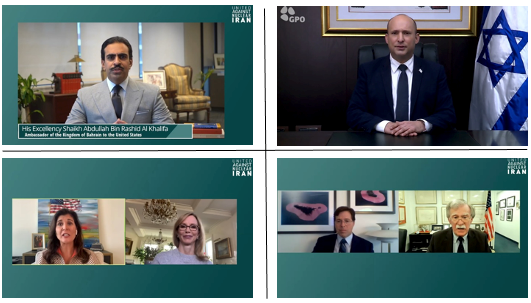 UANI Summit continues this afternoon with panel discussions and additional keynote remarks from Senators Ben Cardin, Lindsey Graham, and Robert Menendez as well as former Iranian hostages and leading experts from the U.S. and around the world on the Iranian regime and its malign behavior.
The remainder of today's live schedule is below. All times are Eastern.
11:05 AM-12:05 PM
Panel Discussion | Iranian Foreign Policy Under Ebrahim Raisi: How Should the West Respond?
Alex Vatanka
Senior Fellow and Director of the Iran Program, Middle East Institute (MEI)
Radoslaw Sikorski
Former Foreign Minister of Poland & Member of European Parliament
Mark Dubowitz  
Chief Executive, Foundation for Defense of Democracies (FDD)
Moderated by:
Norman Roule
Former National Intelligence Manager for Iran at the Office of the Director of National Intelligence
12:05-12:50 PM
Panel Discussion | The Future of the JCPOA
Michael Singh
Managing Director, Washington Institute for Near East Policy
Sima Shine
Head of Iran Program, Institute for National Security Studies (INSS)
Ilan Goldenberg
Director of the Middle East Security Program, Center for a New American Security
Moderated by:
Senator Joseph I. Lieberman
UANI Chairman, Former U.S. Senator (CT)
12:50-1:15 PM
Break
1:15-2:15 PM
Panel Discussion | Hezbollah and Iran's Axis of Resistance
Mitchell Silber
Visiting Lecturer, Columbia University's School of International and Public Affairs
David Daoud
Research Analyst on Hezbollah and Lebanon at UANI & Non-Resident Fellow at Atlantic Council
Alexander Ritzmann
Senior Advisor, Counter Extremism Project
Matthew Levitt
Fromer-Wexler Fellow, Washington Institute for Near East Policy
Moderated by:
Dr. Michael Makovsky
President and CEO, Jewish Institute for National Security of America
2:15-2:30 PM
Break
2:30-3:30 PM
Keynote Address & Panel Discussion | Iran's Policy of Hostage Taking: The Human Cost and How to Respond
Keynote Address:
Senator Ben Cardin
U.S. Senator for Maryland
Panel Discussion:
Barry Rosen
Survivor of the Iran Hostage Crisis (1979-1981) & UANI Senior Advisor
Michael White
U.S. Navy Veteran & Former Iranian Hostage
Nizar Zakka
President, Hostage Aid Worldwide
Moderated by:
Ambassador Mark D. Wallace
UANI CEO, Former U.S. Ambassador to the UN for Management and Reform
3:30-4:30 PM
Panel Discussion | A Bipartisan View on Iran
Senator Lindsey Graham
U.S. Senator for South Carolina
Senator Robert Menendez
U.S. Senator for New Jersey
Moderated by:
Ambassador Dennis Ross
Counselor & William Davidson Distinguished Fellow, Washington Institute for Near East Policy & Co-Founder of UANI
4:30-4:45 PM
Concluding Remarks
Ambassador Mark D. Wallace
UANI CEO, Former U.S. Ambassador to the UN for Management and Reform