(New York, N.Y.) — Secretary of State Antony Blinken is in Qatar this week for the first U.S.-Qatar Strategic Dialogue in Doha since President Biden designated Qatar a major non-NATO ally in March 2022. His meetings with the Qataris are taking place against concerns that dissident journalists are at risk of being kidnapped by Iran's Islamic Revolutionary Guard Corps (IRGC) while in Qatar for the World Cup. Doha maintains strong relations with the IRGC and other elements of the Iranian regime, as evidenced by the IRGC's presence at Qatar's premier defense show alongside American defense companies just weeks after President Biden elevated bilateral ties.
This is not to mention that in October 2022, the Emir of Qatar hosted Iran's Vice President for Economic Affairs, Mohsen Rezaei. Rezaei is the subject of an INTERPOL Red Notice and wanted for the bombing of the Asociación Mutual Israelita Argentina (AMIA) Jewish Community Center in Buenos Aires in 1994. The attack killed 85 people.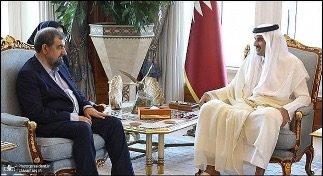 Iran's Vice President for Economic Affairs, Mohsen Rezaei, and the Emir of Qatar in October 2022
The IRGC is to blame for the deaths of over 600 U.S. servicemembers, attacks against civilian vessels in international waters, and the training and arming of proxy forces that have repeatedly attacked U.S. and allied personnel, civilians, and critical infrastructure in the United Arab Emirates and Saudi Arabia. Domestically, the IRGC's Basij militia has been instrumental in the Iranian regime's recent crackdown on protesters, adding to its distinguished record of gross human rights abuses against the Iranian people.
Despite Tehran's behavior, Qatar's position on Iran remains unchanged, threatening the security of the United States and its allies and undermining President Biden's commitment to stand with the Iranian people. The U.S. should revoke Qatar's major non-NATO ally status until Doha demonstrates that its commitment to counterterrorism extends beyond mere words.  
To read UANI's resource Qatar: An Impediment To Unity On Iran, please click here. 
###