(New York, N.Y.) — On Monday, the EU and the U.K. announced additional sanctions on Iranian human rights abusers. However, these actions were uncoordinated and were not accompanied by the designation as a terrorist organization of the Islamic Revolutionary Guard Corps (IRGC), a U.S.-designated Foreign Terrorist Organization, since 2019. According to The Telegraph, parts of the Biden administration have been working to dissuade the U.K. from designating the group.  
The EU designated two organizations, lawmakers, the culture and education ministers, and intelligence officials, while the U.K. designated three members of Iran's judiciary, three members of the IRGC, and two regional governors. While important, these limited actions have a limited impact. Western governments can more strongly influence Iranian behavior by harmonizing human rights sanctions across Europe and with the U.S. and Canada.
United Against Nuclear Iran (UANI) maintains a comprehensive, searchable, and sortable database of current and former Iranian regime officials sanctioned by the U.S., EU, U.K., and Canada for human rights abuses.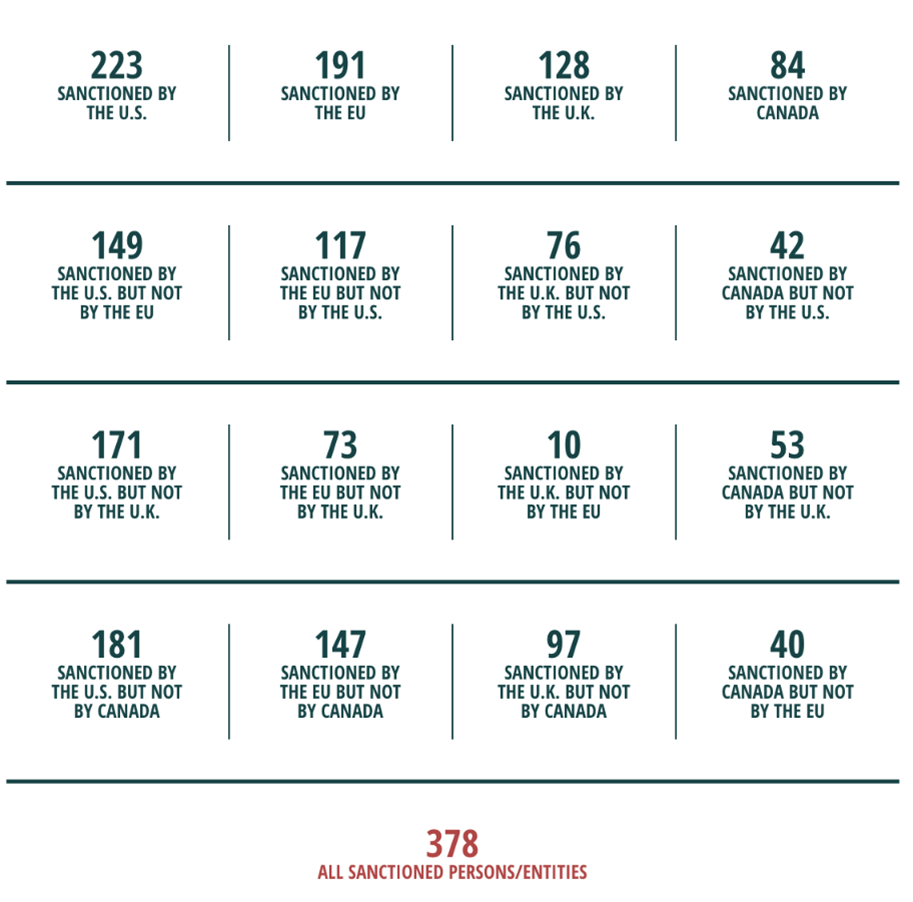 In addition to harmonizing human rights sanctions, the U.S. "should not be content to shrug its shoulders at European inaction," and President Biden should demand that European allies designate the IRGC as a terrorist organization, as UANI CEO Ambassador Mark D. Wallace and Policy Director Jason Brodsky argued earlier this month in The Hill. Since the start of the most recent protests in September 2022, the IRGC has been chiefly responsible for the beatings, rape, torture, and murder of hundreds of Iranian civilians, including children.
Globally, the IRGC and Quds Force have been accused of supporting militants and carrying out terrorism around the world. This includes being directly responsible for the death of over 600 U.S. servicemembers and their allies and for an "act of terrorism" against 55 Canadian citizens, and 30 permanent residents of Canada killed aboard Flight PS752.
To read UANI's resource Iran Human Rights Sanctions Tracker, please click here.
To read UANI's resource What The EU and U.K. Should Do Now to Hold Iran Accountable, please click here.
###