(New York, N.Y.) — On Monday, Iranian-American businessman Siamak Namazi, who has been held hostage by the Iranian regime since 2015, started a week-long hunger strike from Evin Prison. His effort is reminiscent of the five-day hunger strike that United Against Nuclear Iran (UANI) Senior Advisor and Iran Hostage Crisis survivor Barry Rosen launched one year ago today in Vienna to protest Iran's hostage diplomacy and demand the release of all hostages as a precondition to any sanctions relief for Iran.
Currently, Iran is inflicting significant mental, emotional, and physical trauma on nearly two dozen publicly identified foreign and dual-national hostages, some of whom are threatened with execution.
Rosen and 51 other Americans were released by Tehran on January 20, 1981, after being held hostage for 444 days. Since then, Iran has continued its strategy of using American and other Western hostages as bargaining chips for political and economic concessions despite the illegality of hostage taking under international law. UANI has consistently and repeatedly called for the United States, U.K., and EU to commit to maintaining and increasing the regime's isolation until Tehran ends this heinous practice and releases all hostages.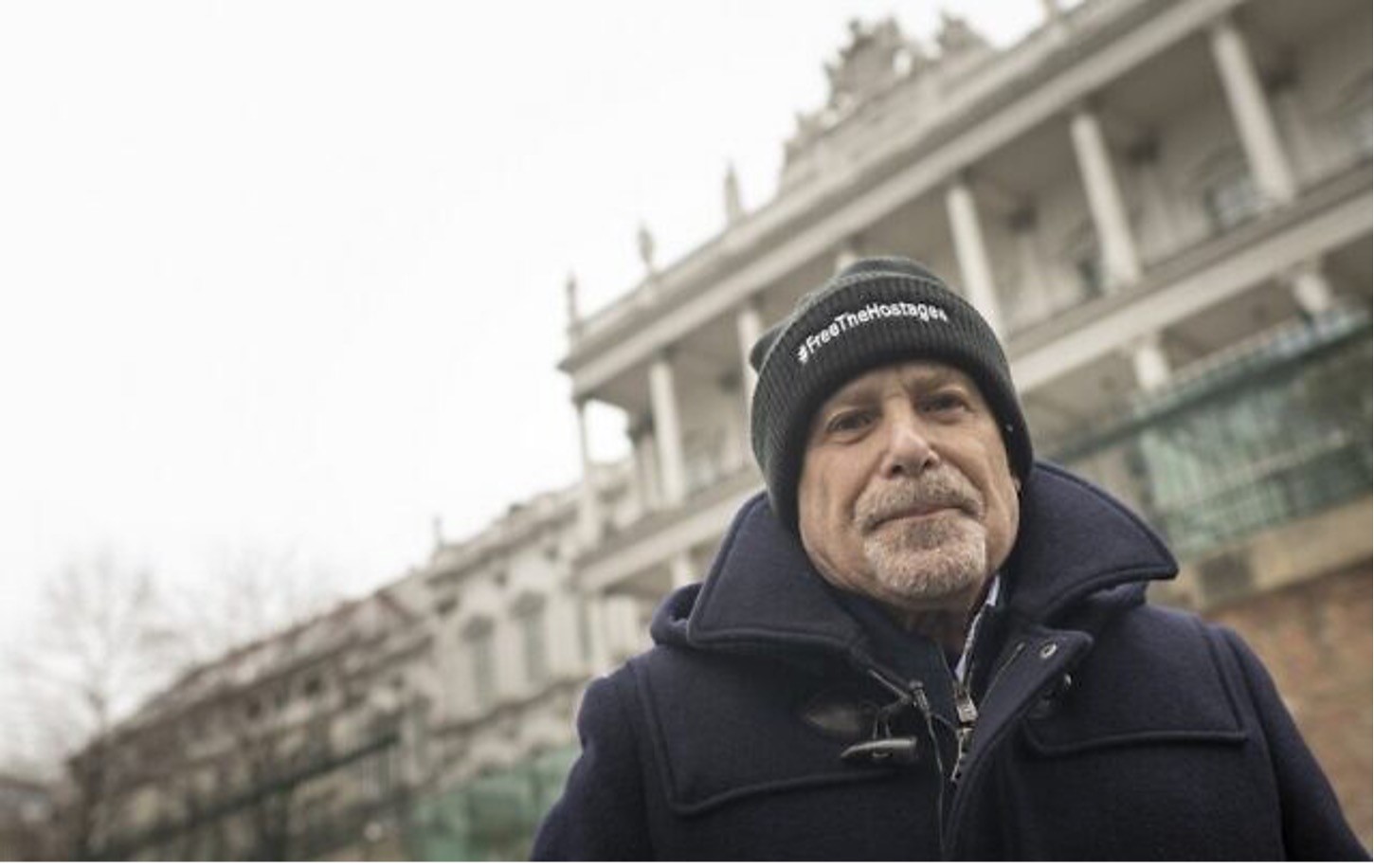 Barry Rosen during his 2021 hunger strike in Vienna, Austria
Ironically, many of the children and family members of regime leaders are living safe and secure lives in the U.S., Canada, and Europe, including leaders with direct contact with or responsibility for hostages. In 2015 it was reported by Radio Free Europe that the son of Massumeh Ebtekar—the spokesperson for the hostage takers from 1979-1981—had been granted a visa by the Obama Administration to study and work in California, where he reportedly remains today. More recently, NBC News reported that Ali Larijani and Hassan Rouhani have a daughter and nephew, respectively, living in the U.S. In August 2022, the Islamic Revolutionary Guard Corps (IRGC) reported that there are 4,000 children of Iranian officials living in the U.S., Canada, and Europe. In December, bipartisan legislation was introduced in the U.S. House of Representatives that would direct Secretary of State Antony Blinken to review and revoke visas issued—contrary to U.S. law—to certain Iranian officials, military or IRGC officers, or their immediate relatives.
Rosen and Michael White, a U.S. Navy veteran held hostage in Iran from 2018 until 2020, have further recommended that the Biden administration ban travel on U.S. passports to Iran. Writing in Newsweek, Rosen and White argued: "There is precedent for such action. The Biden administration has upheld the Trump-era ban against the use of U.S. passports to travel to North Korea that was imposed after the kidnapping, detention, and death of American student Otto Warmbier."
To read UANI's resource Hostages in Iran, please click here.
To read Barry Rosen's Op-ed I was a hostage of Iran in 1979, and they're still seizing people. Here's how to stop them, please click here.
###