(New York, N.Y.) — Media outlets controlled by the Iranian regime have crudely celebrated the attempted murder of British-American author Salman Rushdie on Friday in New York. While the Iranian interests section in Washington told reporters that it was "not getting involved in this," state media in Tehran was taking a decidedly different approach.
Jam-e Jam, run by the state-controlled Islamic Republic of Iran Broadcasting (IRIB), which is overseen by the Office of the Supreme Leader, featured a headline reading "Devil's Eye Blinded" beside a cartoon of Rushdie with his eye gouged out and neck cut. Kayhan, whose director is appointed by Iran's Supreme Leader Ayatollah Ali Khamenei, offered its congratulations to the "courageous and duty-conscious man who attacked the apostate and depraved Salman Rushdie in New York." The newspaper called for another attack that would leave the author beheaded. It also threatened that former President Donald Trump and former Secretary of State Mike Pompeo would be the regime's next targets.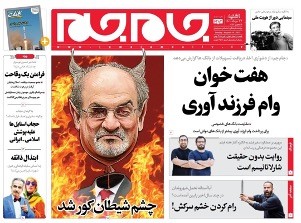 Iran's Foreign Ministry and an advisor to Iran's nuclear negotiators, too, spoke up after the attack on Rushdie to blame the author and to suggest that the attack was justified. The ministry spokesman said in a press conference that "we do not consider anyone other than Salman Rushdie and his supporters worthy of blame and even condemnation." The advisor, Mohammad Marandi, wrote on Twitter that Rushdie "spouts endless hatred & contempt for Muslims & Islam. A pawn of empire who poses as a Postcolonial novelist."
The founder of the Islamic Republic, Ayatollah Ruhollah Khomeini, issued a fatwa against Rushdie in 1989 calling for the author's death and offered a multi-million-dollar bounty. In 2017, the Office of Iran's Supreme Leader posted an entry on its website, affirming that the fatwa remains in place.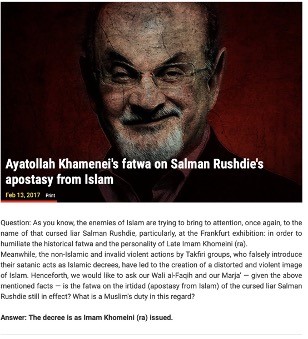 As recently as 2019, Ayatollah Ali Khamenei, on Twitter, confirmed the fatwa was still in place and worked to incite an attack. His account was later temporarily limited, but it remains active to this day.