(New York, N.Y.) — This past weekend, the top diplomats of the G7 nations met for a critical ministerial meeting dominated by concern over the growing economic and military threats posed by China and Russia. The allies discussed what British Foreign Secretary Liz Truss called "the coercive economic policies of China," as well as ongoing U.S. and European tensions with both China and Iran—issues that are closely intertwined. China is the world's largest importer of oil and natural gas smuggled by the Iranian regime. Its activities violate U.S. sanctions. The U.S., however, has failed thus far to impose a cost on Beijing for its wanton illicit trade. 
Prior to the G7 ministerial, U.S. Secretary of State Antony Blinken acknowledged that Iran "does not seem to be serious about doing what's necessary to return to compliance" with the 2015 Joint Comprehensive Plan of Action (JCPOA). The Biden Administration, by ending its practice of providing Iran with de facto sanctions relief through lax sanctions enforcement, would enhance the pressure on Tehran to meet U.S. demands and protect the validity of U.S. sanctions. Actual enforcement must take place. 
Using commercial Automatic Identification System (AIS) tracking, satellite imagery, vessel comparison, tanker classification, and cargo datasets, United Against Nuclear Iran (UANI) estimates that since the Biden Administration came into office, China has imported an average of 786,733 barrels per day of sanctioned Iranian oil. November's imports were under average at an estimated 718,239 barrels per day. This translates into significant revenue for the Iranian regime that can be used to advance its nuclear program, strengthen its capability to strike the U.S. and allied forces in the region, and fund terrorist proxy forces. 
In comments made in November during UANI's 2021 Iran Summit, UANI Advisory Board Member and Former Homeland Security Advisor Frances Townsend stated:
"While sanctions remain on the books, sanctions are only as good as the U.S. government's enforcement. And today we are seeing Iran engaging in prohibited transactions with China, Venezuela and others. Beijing's life support to the Iranian regime is one of the reasons the P5+1 remains at an impasse with Iran over resumption of the nuclear talks." 
Watch "2021 Iran Summit Speakers On China" in its entirety by clicking here.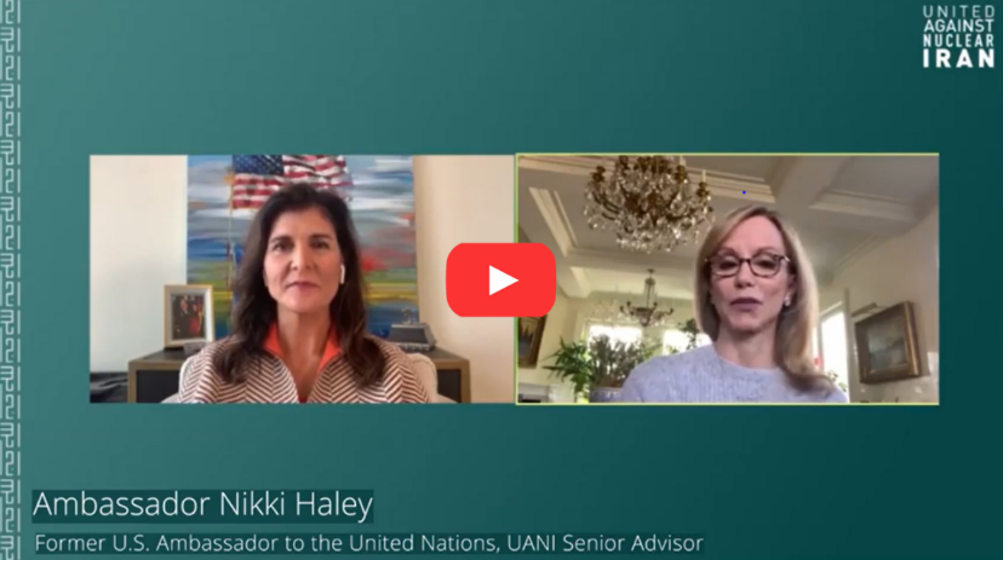 In October, UANI Research Director Daniel Roth and Chief of Staff Claire Jungman outlined in The Hill how the U.S. could close loopholes in existing sanctions to make it more difficult for Iran to smuggle oil. That same month, UANI Senior Advisor and Former UN Ambassador Nikki Haley wrote in The Washington Post that the U.S. Congress should "enact sanctions on the People's Bank of China and other Chinese banks that deal with the Central Bank of Iran" and tie potential sanctions relief to China "to compliance with U.S. sanctions against Iran. Lawmakers can also place sanctions on Chinese entities that store Iranian oil or help operate, maintain, register or insure vessels that transport it. The United States has imposed similar sanctions on North Korea, to great success."
Also speaking at UANI's Iran Summit, UANI Advisory Board Member and Former UN Ambassador John Bolton posited that "we need to deal with the problem of China, which is the biggest threat to the utility of the sanctions regime."
To watch a compilation of remarks on China from former U.S. officials and leading subject matter experts at UANI's Iran Summit, please click here.
###