A protest movement is sweeping Iran in the aftermath of the killing of Mahsa Amini at the hands of the so-called "morality police." UANI's Eye on Iran's Protests is a daily news and events round-up to increase awareness of this movement and the regime's brutal response. Now is the time to support the Iranian people.
Iran: 133 People Killed In Anti-hijab Protests After Mahsa Amini's Death | The Independent
Iran Human Rights, a Norway-based organization, reported that 133 people have been killed since the start of protests in Iran, with more than 40 killed in a brutal crackdown on Friday in Zahedan. 
Eyewitnesses Describe Sharif University Siege | Iran Wire
Regime security forces targeted students participating in a sit-in at Iran's prestigious Sharif University of Technology last night. Eyewitnesses reported that the security forces beat students and fired on them with shotguns. 
Iranian Students Defy Security Forces After Violence At University | The Guardian
Twelve students were allegedly shot, and countless others arrested, at Iran's Sharif University of Technology. Students have stepped up protests in defiance of this crackdown. A teachers union called for a nationwide strike by students and teachers in protest of the violence. Meanwhile, cyberattacks on government institutions, including Iran's judiciary, continued. 
'It Was A Warzone.' Iranian Security Forces Beat, Shot And Detained Students Of Elite Tehran University, Witnesses Say, As Crackdown Escalates | CNN
Iran's Islamic Revolutionary Guard Corps trapped students in a garage at Iran's Sharif University of technology. Security forces used guns, paintball guns, batons, and internationally-banned gases to disperse the protesters. "It was a warzone…there was blood everywhere," said one student. "We are not scared… We are not going to stop." 
Iranian Universities Brace For 'Purges' As Protests Spread | Times Higher Education
Iran analysts predicted that the regime would crack down on protests at universities in Iran by "purging" faculty and students. The Center for Human Rights in Iran reported that over 200 Iranian universities had gone on strike. 
Iran's Supreme Leader Breaks Silence On Protests, Blames US | Associated Press
Supreme Leader Khamenei responded publicly to the ongoing protests in Iran. He claimed he was "heartbroken" by the death of Mahsa Amini, and then condemned the protests as a foreign plot. "These riots and insecurities were designed by America and the Zionist regime," he said in an address to police students in Tehran. 
Pro-regime thugs severely beat a protester.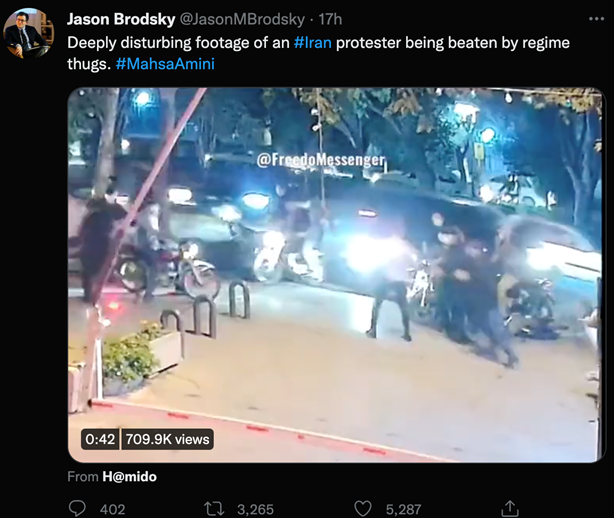 High school girls sang Shervin Hajipour's song without their hijab.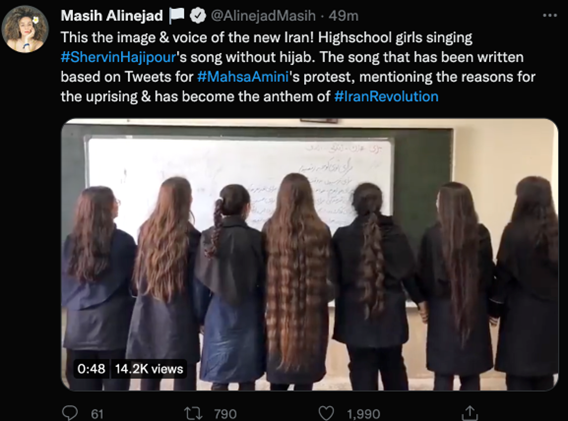 Iranian school girls heckle a conservative school official in Karaj.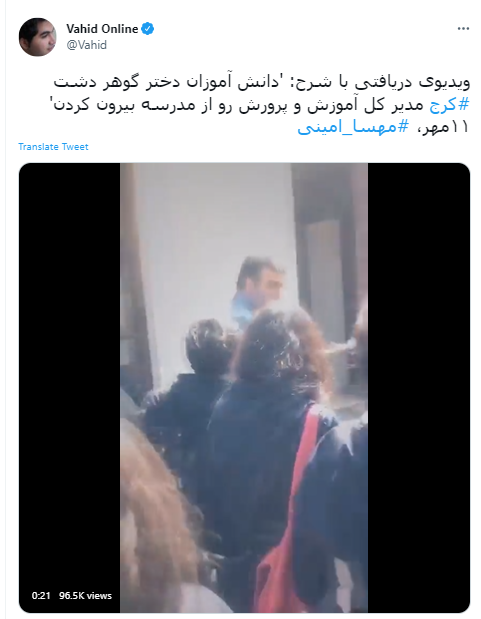 Germany, Others In EU Plan Iran Sanctions Over Protests Clampdown | Reuters
Several European countries submitted 16 proposals to the European Union for sanctions against individuals and institutions responsible for the government crackdown against protesters in Iran. Since 2013, the E.U. has levied only two rounds of sanctions on Iran – in 2019 and 2021. 
Canada Imposes Sanctions On Iran For Systematic Human Rights Violations | Global Affairs Canada
The government of Canada levied sanctions against 25 individuals and 9 entities in Iran in response to human rights violations, "including [the] systematic persecution of women and in particular, the egregious actions committed by Iran's so-called 'Morality Police,' which led to the death of Mahsa Amini while under their custody." 
Internet Freedom Activists Scramble To Help Iranians Evade Tehran's Digital Crackdown | NBC News
Activists have begun sending tools and advise to Iran's protesters to help them circumvent Iran's internet restrictions on messaging aps and social media. 
Iranian Protesters Struggle To Activate Starlink And Circumvent Internet Restrictions | Wall Street Journal
Activists and government officials described the logistical challenges of using Elon Musk's satellite internet provider Starlink in the closed-off country: Starlink kits have to be smuggled into the country and gotten into the hands of tech-savvy activists; a satellite link would have to be established and a network of users built out.