A protest movement is sweeping Iran in the aftermath of the killing of Mahsa Amini at the hands of the so-called "morality police." UANI's Eye on Iran's Protests is a daily news and events round-up to increase awareness of this movement and the regime's brutal response. Now is the time to support the Iranian people.
At Least 92 Killed In Iran Protests Over Mahsa Amini's Death — Rights Group | Agence France-Presse
Norway-based Iran Human Rights said today that 92 people have been killed in protests in Iran.
Iran Riot Police Clash With Students Protesting Young Woman's Death | Reuters
Activist Twitter account 1500tasvir, which has more than 160,000 followers, posted a video of protesters calling for a nationwide strike. 
Protesters chanted "we don't want the Islamic Republic" in the hometown of Iran's supreme leader and president, Mashhad.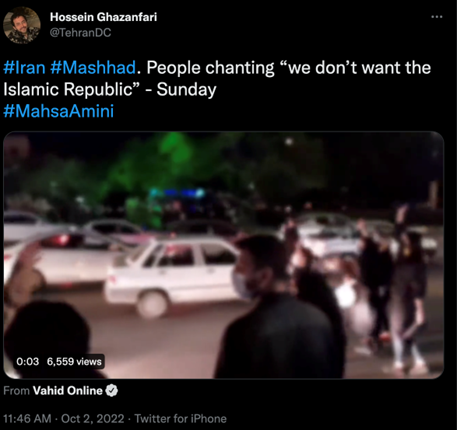 Protesters at Azad University in Najafabad chanted "women, life, freedom." 
Iran Wire reported that security forces surrounded student protesters at Sharif University, and have been using shotguns to make them surrender.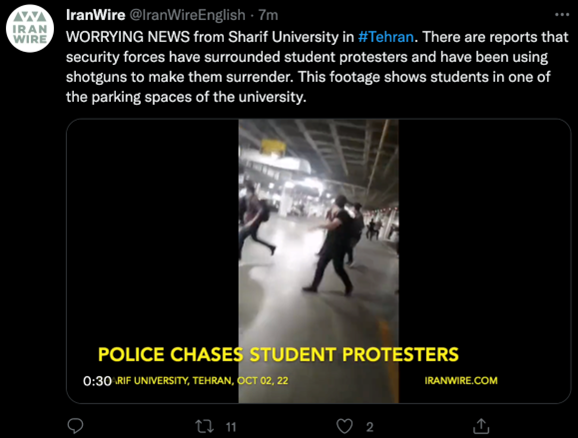 Tens of thousands of people gathered in Los Angeles yesterday to show support for the ongoing protests in Iran.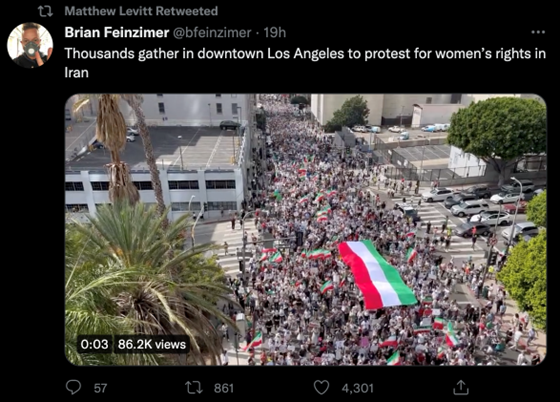 Tens of thousands of people demonstrated in Canada yesterday in solidarity with protesters in Iran.
Huge crowds gathered in Paris today to demonstrate their support for the Iranian people's uprising against the Islamic Republic.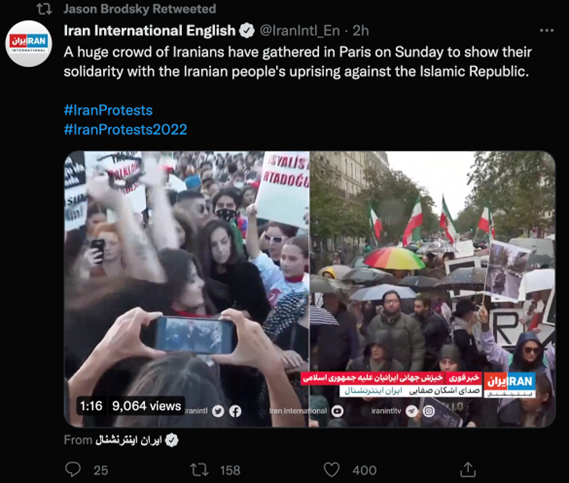 Top Iran Official Warns Against Protests Amid Serious Unrest | Associated Press
Iran's speaker of the parliament Mohammad Bagher Qalibaf acknowledged that, unlike previous protests, the current protests aim to overthrow the Islamic Republic. He also said in his address to lawmakers that the "chaos in the streets will weaken social integrity, jeopardizing the economy while increasing pressure and sanctions by the enemy."  
Protest-hit Iran's Raisi Says Enemy 'Conspiracy' Has Failed | Agence France-Presse
Iran's president Ebrahim Raisi said today that a "conspiracy" by the countries' enemies had "failed," though protests show no sign of letting up as they continue into their third week.
Iran Protesters Circumvent Internet Disruptions | Wall Street Journal
Iran's protesters are finding ways to spread their message despite the internet blackout. Paper leaflets, graffiti, and satellite broadcasts from outside Iran are each being used to disseminate information, such as when and where planned demonstrations will take place. 
'Out-of-Reach Dreams' In A Sickly Economy Provoke The Rage In Iran | New York Times
"Economic despair is one factor unifying the government's opponents and supporters," The New York Times reported.