A protest movement is sweeping Iran in the aftermath of the killing of Mahsa Amini at the hands of the so-called "morality police." UANI's Eye on Iran's Protests is a daily news and events round-up to increase awareness of this movement and the regime's brutal response. Now is the time to support the Iranian people.
According to a human rights NGO, there have been a total of 319 deaths, including 50 children, since protests began in Iran on September 17, 2022. Over 14,000 people have been arrested, but under 2,000 of those who were detained have been identified.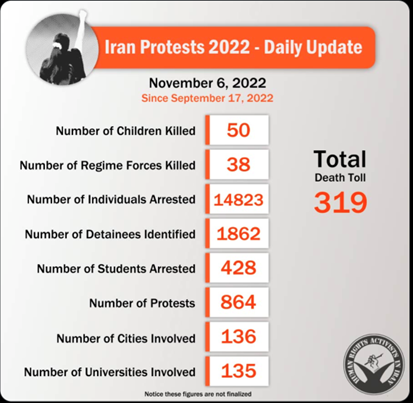 Female university students chanted "I am a free woman!" and defiantly waved their compulsory hijab in the air.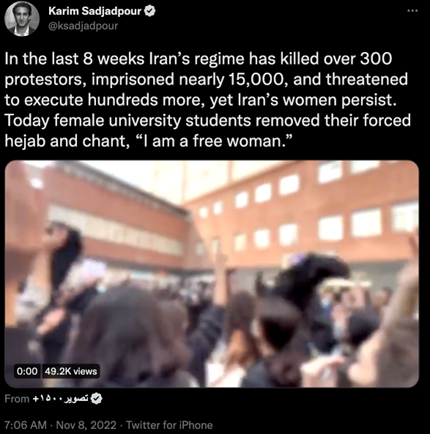 According to a map published by Reuters, protests have most frequently occurred in Tehran, Isfahan, Sanandaj, Karaj, Mashhad, and Shiraz. There have been 44 days of protests in Tehran, with over 1,000 indictments in the Tehran province as of today.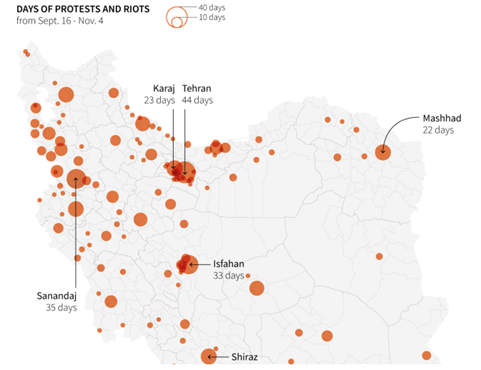 One of Iran's top Sunni clerics, Molavi Abdolhamid, acknowledged in front of female university students in Zahedan that women and minority groups have suffered from discrimination from the outset of the Islamic Republic in 1979.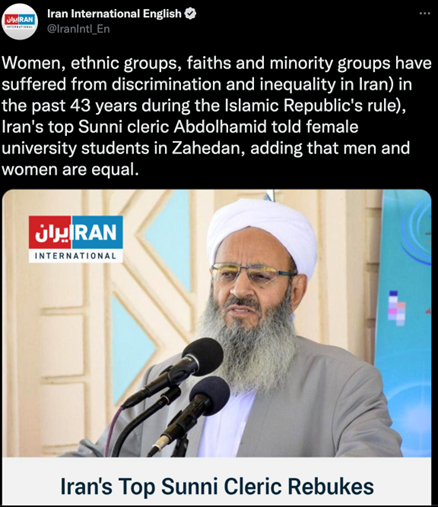 The protest slogan "Women, Life, Freedom" sounded loudly from a large crowd of Sharif University students.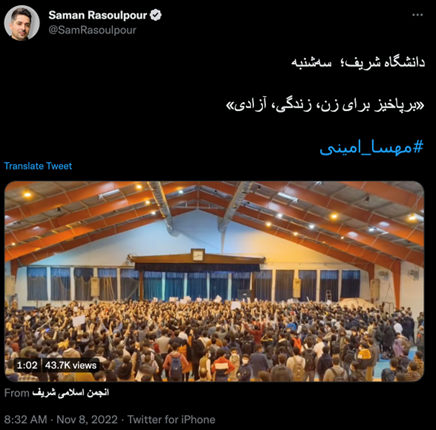 Iran Revolutionary Guards Arrest Top Lawyer: Sister | Agence France-Presse
Iran's Revolutionary Guards are targeting prominent lawyers amid the crackdown on protesters. Revolutionary Guard intelligence agents arrested and detained Mostafa Nili last night. She was one of more than a dozen lawyers recently rounded up by security forces.
Iran: Two Female Journalists Who Reported About Mahsa Amini's Death Accused Of Spying | International Federation Of Journalists 
Iran's two main intelligence bodies – the Ministry of Intelligence (MOIS) and the Revolutionary Guard's Intelligence Organization – are targeting journalists. Two journalists – Niloofar Hamedi and Elahe Mohammadi – who reported on the killing of Mahsa Amini are believed to be in custody after being arrested last week for allegedly cooperating with foreign intelligence services.
Two fearless, young girls walked through a marketplace in Tehran, their hair flowing freely.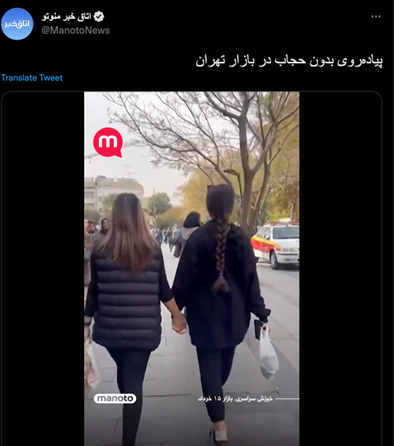 A young women cut her hair in front of a crowd of people chanting "Freedom!" at the burial site of Nasrin Ghaderi, who was killed at the hands of regime security forces.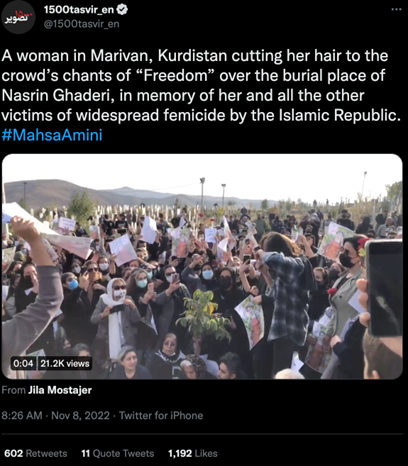 Iran Denounces Skater For Competing Abroad Without A Veil | Agence France-Presse 
Crowds gathered in Tehran to greet professional Iranian ice skater, Niloufar Mardani, as her plane landed down on its return flight from a competition in Turkey, where she had won first place and taken to the award podium without her hijab on. The crowds reportedly believed that she had done so intentionally in support of the protest movement. She later explained that it was an accident.