Eye on Iran's Protests - November 22, 2022
November 22, 2022
Women in Iran bear the brunt of the severe enforcement of Islamic laws by the state, though those laws have led to the repression of freedom for both men and women. Extraordinary young women continue to disobey those laws in pursuit of freedom and dignity, chipping away at the edifice of the Islamic Republic and inspiring millions of people around the world and inside Iran. But they are paying a price. The regime is cracking down against them, using any means at their disposal no matter how brutal. This round-up shines light on their leadership of a movement that everyday reveals its potential to topple the dictatorship in Iran.
Acts of civil disobedience are the new norm in Iran, as fearless women frequently appear in public without their hijab in direct violation of the Islamic Republic's laws.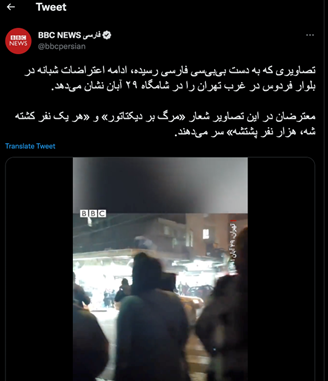 Bold and courageous, a youth female basketball team posed for a photo, each player without a hijab.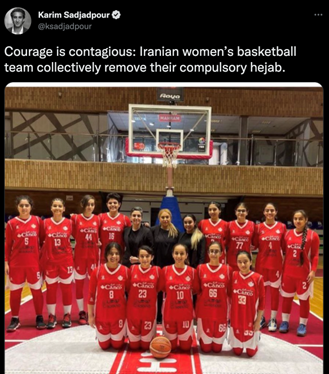 How Iran's Security Forces Use Rape To Quell Protests | CNN
Gunning down protesters and raiding households is a daily routine of the regime's suppression program. Recent reporting by CNN sheds light on another tactic: sexual assault and rape. Social media footage has shown the prevalence of sexual assault against women on the streets, but until now this utterly unconscionable behavior by regime security forces inside prisons has not been extensively covered. On one occasion, a young boy was reportedly raped; in others, rape scenes were filmed to be used as blackmail against the victims. Doctors reported that they have seen patients who showed signs of brutal sexual assault.
Shops shuttered in Chabahar, as shopkeepers and workers seek to show their resolve.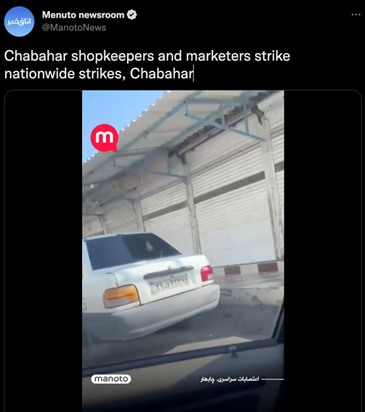 Protesters surrounded a massive fire billowing smoke into the air.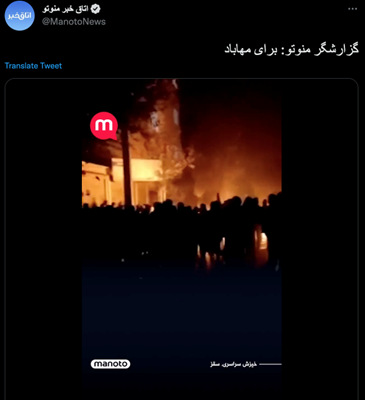 Crowds of people coalesced around a young woman standing atop a car without her hijab.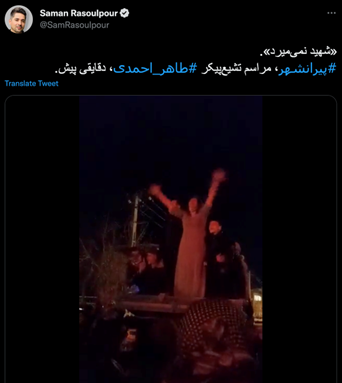 Tech-Savvy Iranian Activists Reveal Islamic Republic's Abuses | Telegraph 
Created in 2019 to document regime abuses and the murder of protesters during the "Bloody November" protests, 1500Tasvir is a popular social media profile on Instagram and Twitter that continues to circumvent tight internet restrictions in Iran, and publish footage of the regime's violence directed at peaceful protesters. Run by mostly young people inside Iran, 1500Tasvir—whose name comes from the 1,500 protesters that the group identified as being killed by the regime in November 2019—aims to "harm" and "destroy" the regime, a member of the group said via a secure messaging app.  
Iran Intensifies Crackdown In Kurdish Area; Rights Group Says Four Killed | Reuters 
The Kurdish region of Iran, where some of the most intense and persistent anti-regime protests and pro-regime crackdowns have occurred since Mahsa Amini was killed in September, was again the site of a bloody confrontation between heavily-armed regime forces—thought to include the Revolutionary Guards—and protesters. The Revolutionary Guards reportedly flew in on military helicopters to the Sunni-dominated Kurdish city of Mahabad. A human rights organization said that four people were killed, including a 16-year-old boy. In total, over 400 protesters have been killed since the beginning of the protests, including over 50 minors.  
"How Many Children Need To Die To Get The World's Attention?" Thousands Rally In Times Square To Shine Spotlight On Unrest In Iran | CBS News
New York City's Times Square was the site of a large rally over the weekend, with thousands of demonstrators calling for regime change in Iran, just as thousands of the Iranian protesters are doing inside Iran. Signs with the names and faces of those killed by the regime were lifted high.
A regime operative in Iran shouted that they "will kill children, too." Statements like these can and should be used in future crimes against humanity tribunals.
Iran Attacks Kurdish Groups In Iraq That It Blames For Unrest | Wall Street Journal 
For the second time this week, Iran's Islamic Revolutionary Guard Corps launched missiles and drones into neighboring Iraq's Kurdish military bases in Erbil and Sulaimaniya, alleging that the factions there were fomenting the unrest inside Iran. The Kurdish Democratic Party of Iran alleged that the IRGC targeted a civilian hospital with surface-to-surface missiles. Tehran uses these strikes in an attempt to divert the public's eye from its responsibility for the unrest.
Iran's national soccer team uniformly declined to take part in the singing of the national anthem ahead of the FIFA World Cup match against England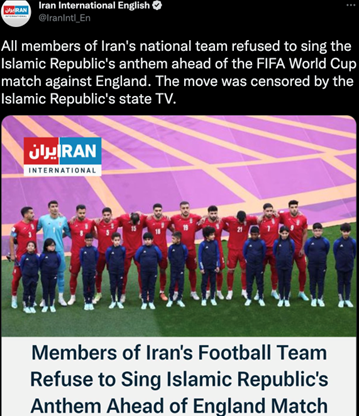 Determined protesters flooded the streets in the city of Piranshahr, Iranian Kurdistan.
Receive Iran News in Your Inbox.
Eye on Iran is a news summary from United Against Nuclear Iran (UANI), a section 501(c)(3) organization. Eye on Iran is available to subscribers on a daily basis or weekly basis.