Eye on Iran's Protests - November 18, 2022
November 18, 2022
As revolutionaries upped the intensity of their actions against the supreme leader and the system he leads, his enforcers have cracked down with savage brutality, even killing nine and fourteen-year-old boys on Wednesday. This news and social media round-up intends to amplify the voice of the valiant youth leaders opposing their government of over 40 years, mobilize their supporters around the world, and convey the view that this regime's days are numbered.
Revolutionaries are silhouetted against flames on the street.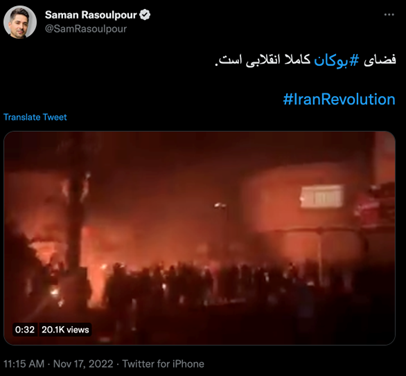 Iran Hand's Out More Death Sentences To Anti-Government Protesters | BBC
Iran's judicial system sentenced four more revolutionaries to death for allegedly killing a police officer, carrying weapons, and blocking traffic—crimes which the Revolutionary Court called "enmity against God." Amnesty International said that these four detainees—likely subject to interrogation without a lawyer, mental and physical torture, which sometimes leads to false confessions—were among over twenty others charged with offenses punishable by death under the Islamic Republic of Iran's Sharia law.  
Iran Protests: Two Boys Shot Dead By Security Forces, Family Sources Say | BBC 
Security forces shot dead two boys—nine-year-old Kian Pirfalak and fourteen-year-old Sepehr Maghsoudi—during anti-government protests in southwest Iran on Wednesday. This crime against humanity was accompanied by an uptick in reported deaths across the country, as security forces look to quell the recent escalation in revolutionary actions.
Flaming objects obstructed a road cluttered in debris in Sanandaj.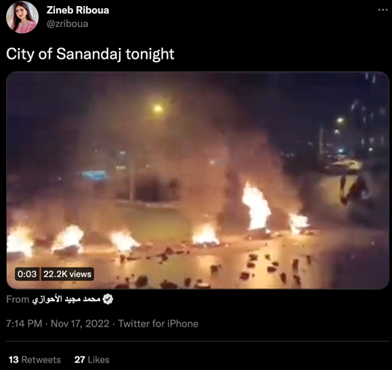 Molotov cocktails exploded at the base of a Soleimani statue. Revered by some, the former Quds Force commander, in charge of forming militias and directing terrorist acts around the world on behalf of the Islamic Republic of Iran, is hated by many others.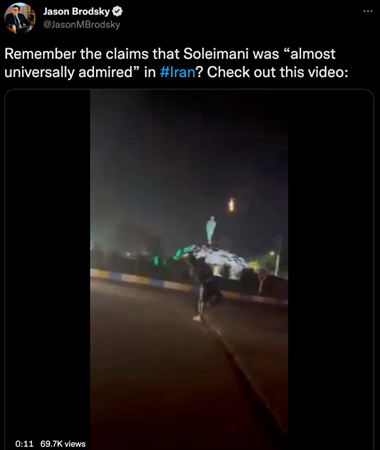 Large explosions went off at the former Supreme Leader Ayatollah Khomeini's house—now a museum—in the town of Khomein; flames burst into the air behind a crowd of revolutionaries lining the street.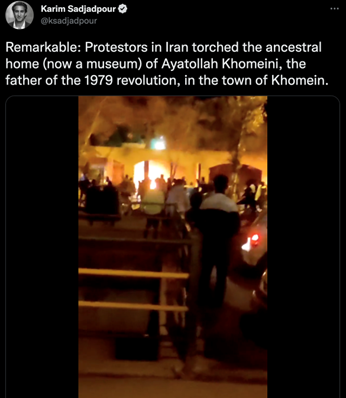 Flames drew crowds in Bandar Abbas last night.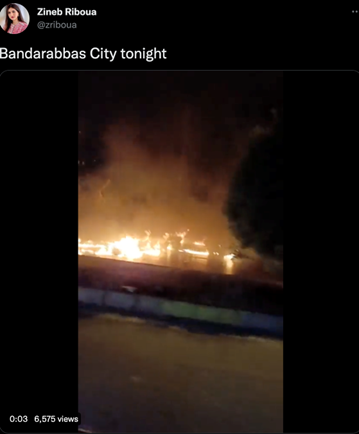 Iran Targets Iranian Journalists Abroad As It Faces Uprisings At Home | Washington Post 
The Islamic Republic of Iran's use of violence to deter behaviors it deems unacceptable to the stability of their rule is not limited to the borders of Iran. The government has already used its Revolutionary Guards to fire on Kurdish opposition groups in Iraq in an effort to divert blame for the unrest; now it has been reported that they are targeting journalists in Europe via their intelligence agencies—though which agency was not clear. The head of U.K.'s MI5 described the targets of these "reckless actions" as regime opponents: two of the ten people targeted were London-based journalists. The Islamic Republic's effort to export repression to Europe and beyond seems to indicate a high level of threat perception connected to anti-government activities abroad.
At the heart of Shia religion in Iran, revolutionaries purportedly attacked Qom Seminary with Molotov cocktails.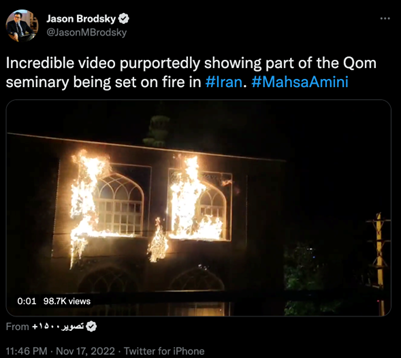 Warning: graphic content. A woman struggled desperately for her freedom as fully-geared riot police tried to beat her into submission with their batons.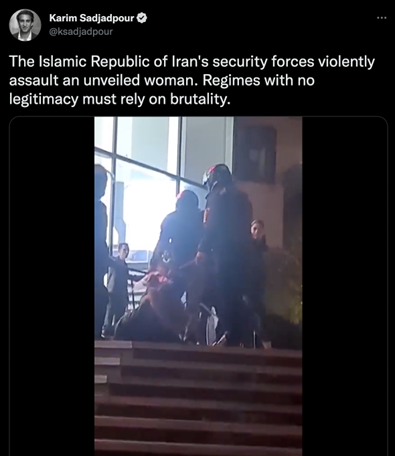 Revolutionaries chanted "Death to the Dictator" in Khomein, the birthplace of the founder of the Islamic Republic.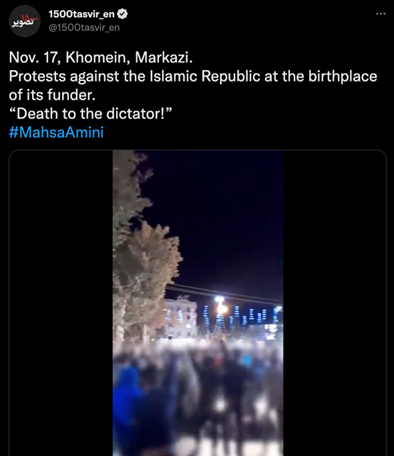 Exclusive: Document Suggests Iran's Army Worried About Loyalty Of Troops | Iran International
A commander in the Islamic Republic of Iran's Army (known in Persian as Artesh)—a separate institution from the IRGC; less powerful, but larger in size—issued a letter demanding reports on the arrest of army personnel and their family members accused of showing sympathy for the popular anti-government protest movement.  This letter could suggest that this commander is concerned about dissent in his ranks and the possibility of "subversive action."