Freedom protests are picking up steam in Iran. Brave protesters are using their actions and words to express their hatred for the ruling clerics and hardliners installed in every branch of government. In response, law enforcement units and plainclothes volunteers arrest, detain, beat, and shoot women, children, journalists, lawyers, teachers, celebrities—people from all segments of society joining the movement. This news and social media round-up intends to amplify their voices and promote global mobilization against Iranian dictatorship and tyranny.
A "Red Status Alert" making waves in Iran underscores that the Islamic Republic's reign of terror will continue to spread unhinged in neighborhoods and homes unless people unite and take action against it.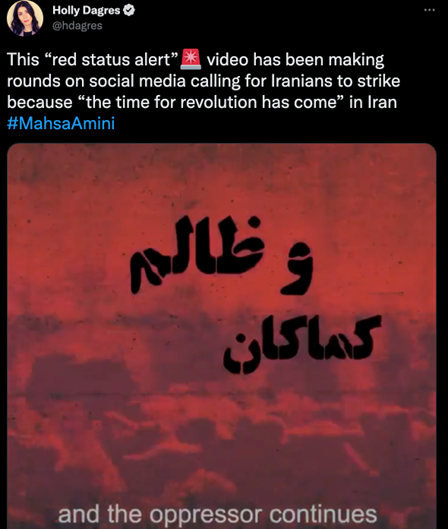 The New York Times has recorded and published photos of some of the regime's victims.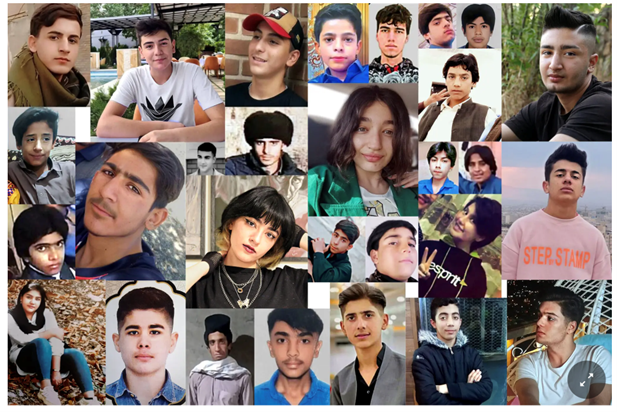 Human Rights Council To Hold Special Session On The Islamic Republic Of Iran On 24 November | UN
The U.N will hold an emergency session to discuss "the deteriorating human rights situation in the Islamic Republic of Iran" on November 24. It can be followed on Twitter at @UNWebTV. 
French Leader Wants "New Framework" For Iran Nuclear Talks | Iran International 
Days after meeting with leaders of the protest movement from the Iranian diaspora, such as Masih Alinejad, in Paris, French President Emmanuel Macron expressed his hope for a "new framework" involving regional powers, including Iran, suggesting that it was needed given that he believes a revival of the 2015 nuclear deal is unlikely. To stay true to his comments on Saturday that France "stands by" the Iranian protesters in their "revolution"—according to Alinejad he is the first world leader to have called the movement a revolution—any such framework should be based on unrelenting economic pressure and diplomatic isolation.
Iran Protests: Tehran Court Sentences First Person To Death Over Unrest | BBC 
In an effort to provide a veil of legitimacy—however thin—to the regime's campaign to violently compel protesters to end their anti-government activity, the regime's court system has begun to weigh in, handing down its first judgment yesterday against a defendant who had allegedly set fire to a government facility. The Revolutionary Court convicted him of "enmity against God," and sentenced him to death. This conviction underscores how the regime equates threats to its survival with offenses against God.
Iran: E.U. Adopts Additional Sanctions Against Perpetrators Of Serious Human Rights Violations | European Council 
The E.U. levied a new round of sanctions against Iranian officials and entities responsible for the arrest and brutal murder of Mahsa Amini and those directing the bloody crackdown on the protests that followed, including Minister of the Interior Ahmad Vahidi, who is in charge of the Law Enforcement Forces, and the operational commander of the IRGC's Sarallah Headquarters Hossein Nejat, whose area of responsibility is Tehran.
A young, unveiled protester daringly escaped a swarm of the fearful enforcers of arbitrary rule and continued to stand against them.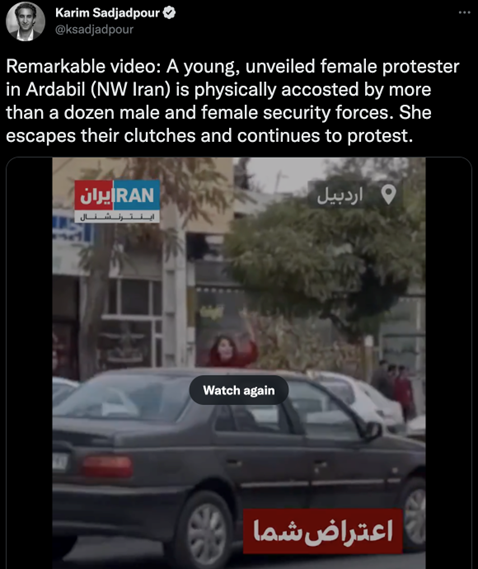 A former reformist president Mohammad Khatami spinelessly spoke out against the undeniable, irrepressible goal of the protests: regime-change. That is "neither possible nor desirable," he said, standing against all Iranians risking their lives calling for freedom.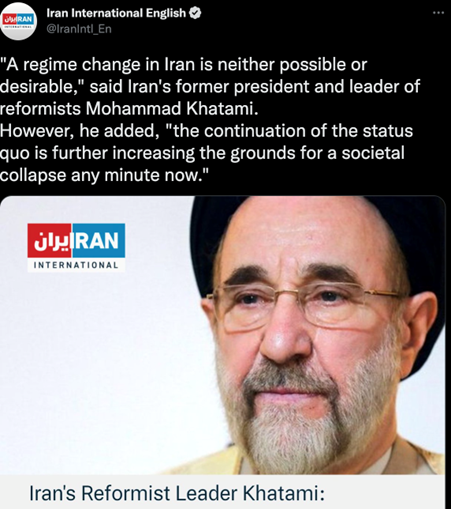 Security forces opened indiscriminate fire in a subway station on civilians though there was no sign of their participation in protests, sowing fear to deter outbursts of simmering anger and resentment against clerical rule.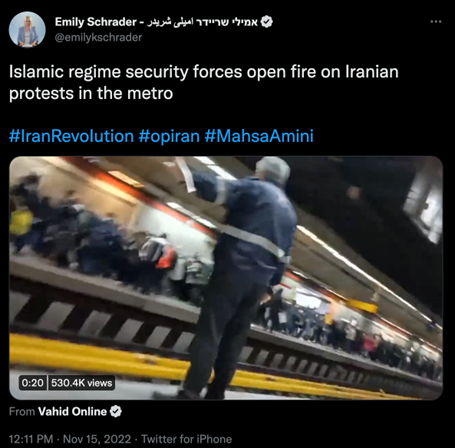 Shop workers on strike shuttered businesses in Mashhad in solidarity with the protest movement. These workers, like the thousands of other protesters taking to the street on a daily basis, show their willingness to sacrifice in the pursuit of freedom.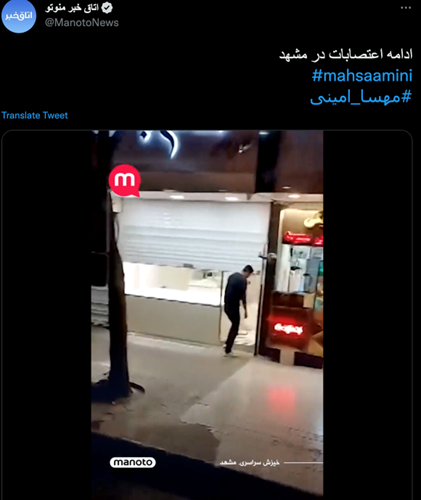 A revolutionary in Yazd hurled multiple Molotov cocktails at an office representing the supreme leader; the exterior of the building was engulfed in flames.