With the freedom protests in Iran now entering their eighth week, Iranian protesters show no sign of letting up on their calls for regime-change. Calls for "Women, Life, Freedom," and Supreme Leader Khamenei's execution, still echo from rooftops, down street corridors, and across campus hallways. These brave protesters continue to defy and disobey the rules of the Islamic Republic, expressing their hatred for the ruling clerics and the hardliners installed in every branch of government not only in their words, but in their actions. This news and social media round-up is aimed at amplifying their voices and their plight to promote global support and mobilization against Iranian dictatorship and tyranny.
Iranian professional archer Parmida Qasemi removed her hijab on the award podium, following in the footsteps of Iranian climber Elnaz Rekabi and skater Niloufar Mardani, who had both made the same move during and after competitions abroad, in direct violation of the regime's religious precepts.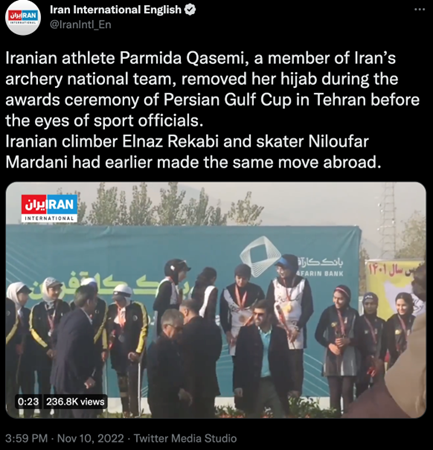 Iranians Protest In Southeast Flashpoint, Mark "Bloody Friday" | Reuters
Supreme Leader Ali Khamenei's dictatorship faced renewed calls for its downfall from a restive populace in the southeast of the country, gathering to mark the September 30th massacre, known to them as "Bloody Friday," in which dozens of peaceful protesters were killed as they left a Mosque after Friday prayer. Security forces indiscriminately fired live rounds at them and shot at them from rooftops. Amnesty International reported 60 killed that day alone in Zahedan, the capital of the Sistan-Baluchistan province.
U.N. Rights Body To Hold Urgent Session On Iran Amid Crackdown | Associated Press 
The U.N. Human Rights Council will hold an emergency session on Iran, given its bloody crackdown on protesters, journalists, lawyers, students, teachers, athletes, artists, and musicians. The security forces have even targeted middle-class families that played no role in the protests. The council is preparing to hold the session on the week of November 21 at the request of Germany and Iceland. Germany's letter announcing the call for this session suggests that it likely has already gathered the support it needs—one-third of the 47 member states on the council—to hold the session.   
Iran Activists Call For Mass Protest Over Bloody 2019 Crackdown | Agence France-Presse 
Iranian activists in the protest movement are calling for scaled-up demonstrations next week to mark "Bloody November," the murder of thousands of protesters at the hands of security forces in November 2019. At the time, Supreme Leader Ali Khamenei ordered his Revolutionary Guards to put down the protests, which were a reaction to a jump in fuel prices; and it obliged, deploying armored vehicles, tanks, and spraying machine gun fire into crowds.
As female youth protesters tossed their hijabs onto other flaming hijabs, large crowds gathered and thronged in the background. Protesters cheered and encircled the burning symbols of oppression.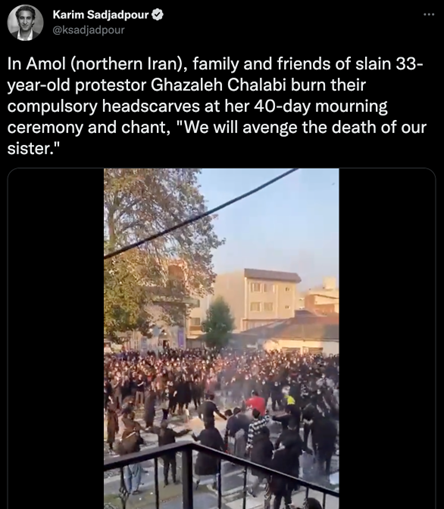 In the main lobby of Tehran University's College of Social Sciences, students inaugurated a new protest anthem, "The Girl from the Land of the Sun," singing and stomping their feet.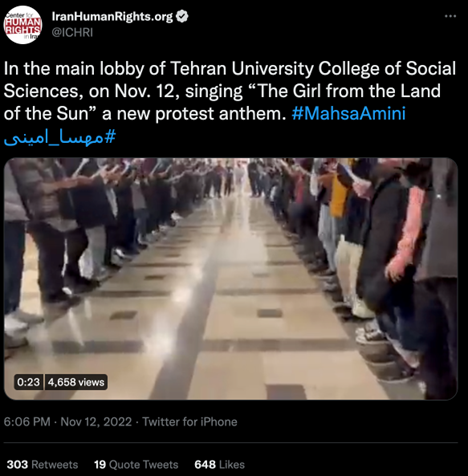 Renowned Iranian filmmakers incarcerated with activist Hossein Ronaghi at Iran's notorious Evin Prison have spoken out to express their concern that Ronaghi could soon succumb to cardiac arrest. He reportedly had his legs broken from brutal beatings by prison guards.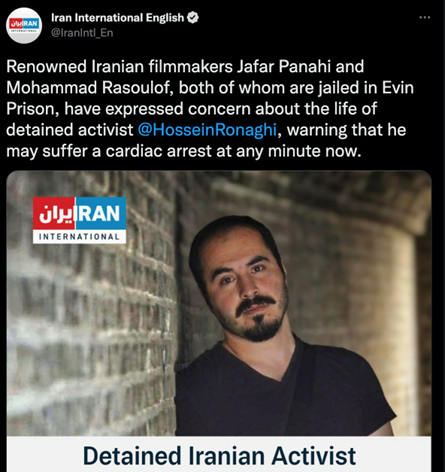 Rapper Who Protested Over Death Of Mahsa Amini Faces Execution In Iran | The Guardian
Iranian courts are poised to hand down a ruling on Kurdish rapper and artist Saman Yasin. Along with thousands of other detainees, he faces the death penalty. Last week, Iran's parliament overwhelmingly voted in support of harsh punishments for the protesters—yet another indication of the ascendance of hardliners. Each branch of Iran's government—the presidency, the judiciary, and the parliament—is dominated by regime loyalists.
French President Emmanuel Macron met with freedom activists in the Élysée in Paris, calling their movement in Iran a "revolution," and saying that France "stands by" them. These signals of support are welcome, but must be backed up by action. France can do more by way of economic and diplomatic pressure on the terrorist regime in Tehran.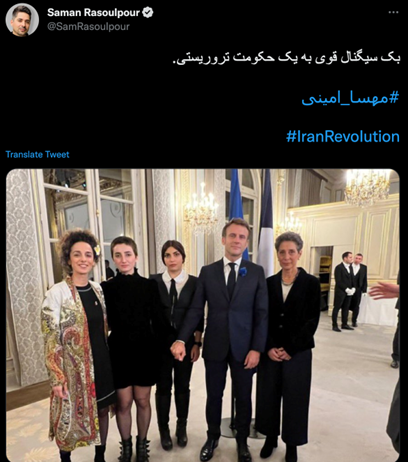 A mural of the revered, slain former Quds Force commander Qassem Soleimani, marked with dripping red paint, seems to symbolize the blood spilled at his hands. He drove the growth of militant and terrorist organizations in the Levant that continue to sow fear, death, and destruction to this day.