Eye on Iran's Protests - May 11, 2023
May 11, 2023
The Islamic Republic intensified its crackdown over the past week, as it tries to create an atmosphere of fear and intimidation. More than 500 people, including 71 children, have been killed in connection with the Women, Life, Freedom revolution. Thousands have been arrested and detained; many are subjected to brutal torture. The death toll will likely further increase in response to ongoing protest gatherings and regular acts of civil disobedience.
This map depicts the location of protest gatherings over the past week.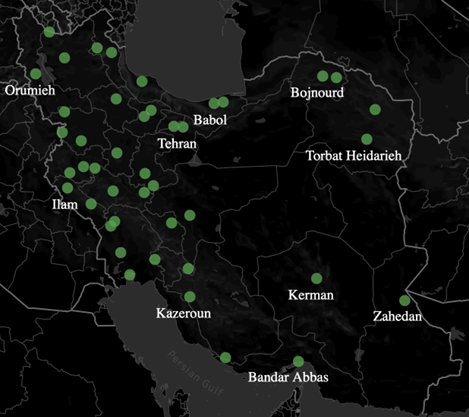 This map depicts the location of arrests over the past week.
Countless Iranians have shared photos on social media after being blinded in one eye during anti-state protests.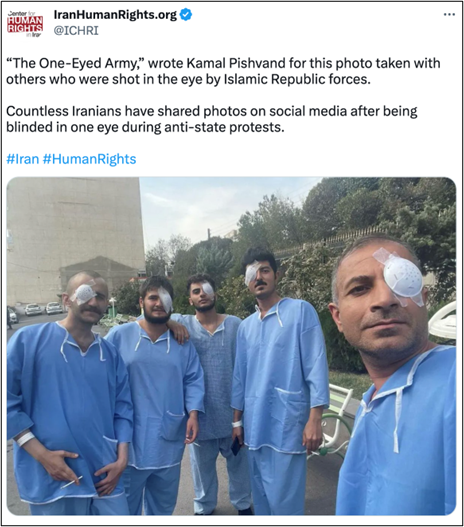 Massive demonstrations again broke out in Zahedan last Friday.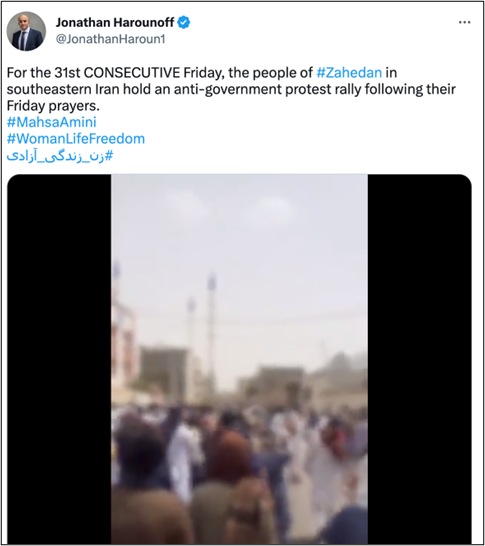 In Isfahan, the police asked those holding a music concert in the street to stop playing and leave, but the people in the area did not pay attention to the request and instead forced the police to leave.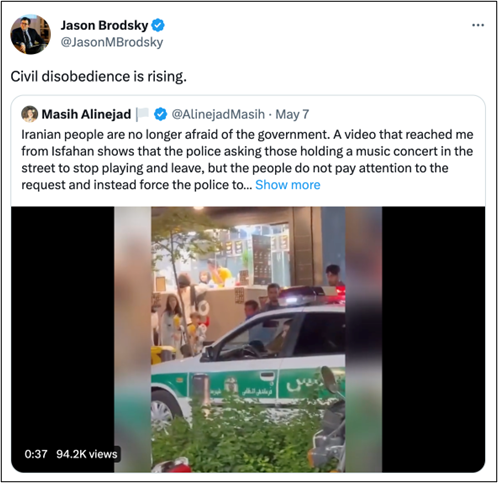 Iran's regime has been executing people at a rate of one person every six hours.
On May 9, Iranian teachers rallied in several cities nationwide before the Ministry of Education. In Sanandaj, police interference reportedly turned the peaceful rally violent.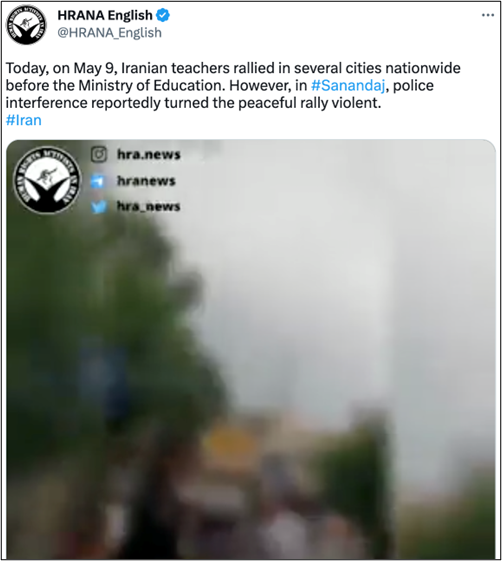 Crowds gathered on the streets in Dezful.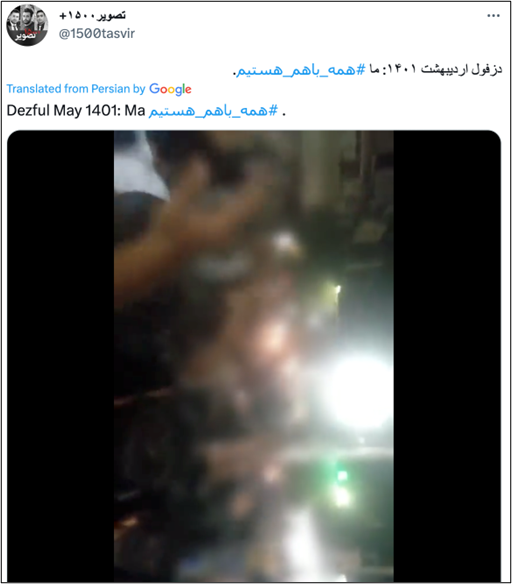 Seen on a wall in Tehran's Ekbatan town: "Iran is drowning in revolution."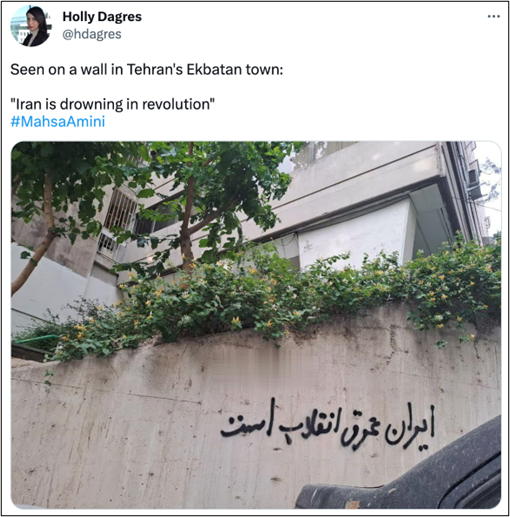 A woman in Iran spraypainted on a wall to raise awareness of the recent horrific wave of executions which took place at dawn before the call to prayer: "The morning call to prayer is our anthem of death."
Activist Vahid Beheshti was hospitalized due to his hunger strike. From the hospital bed, he continued to call on the United Kingdom to designate the IRGC as a terrorist organization.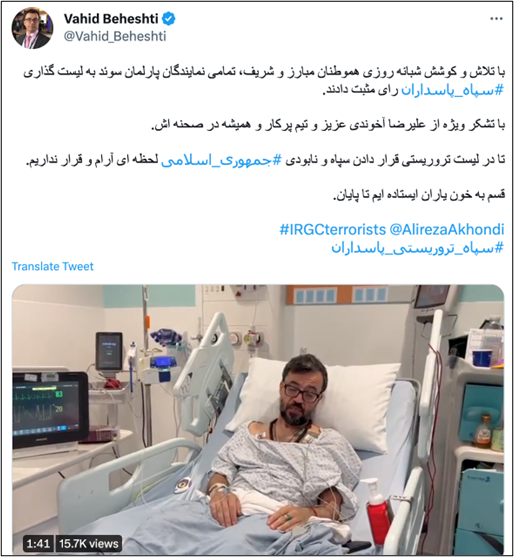 Pro-regime billboards were burned across Iran.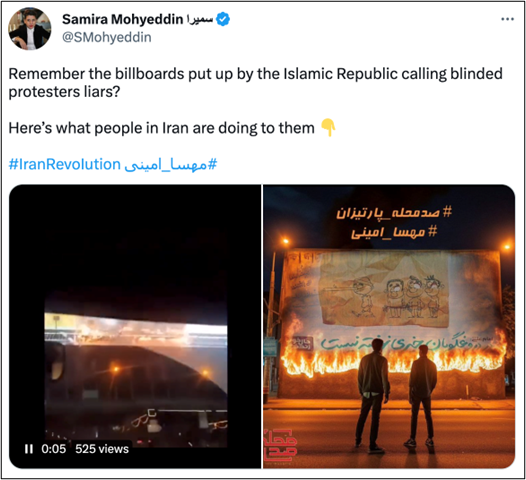 The Swedish Parliament voted in favor of designating the Islamic Revolutionary Guard Corps (IRGC) as a terrorist organization on Wednesday following Iran's execution of Swedish-Iranian national Habib Chaab.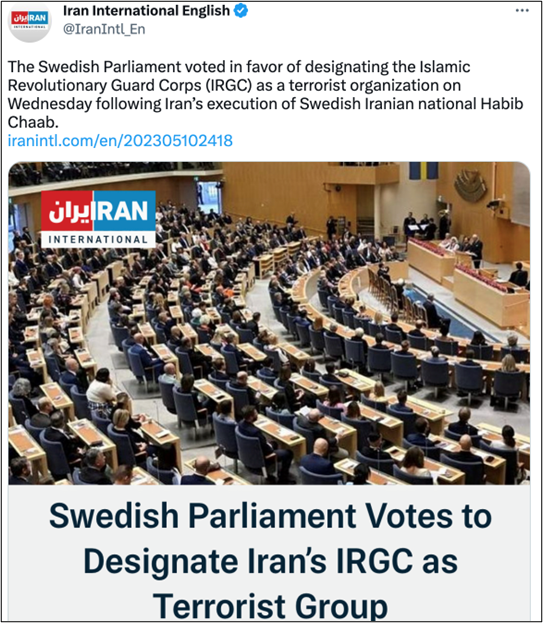 On Piers Morgan's show, activist Masih Alinejad said, "You can take our life, you can take our eyes, you can take our bodies, but not our hope. We're here to end this regime."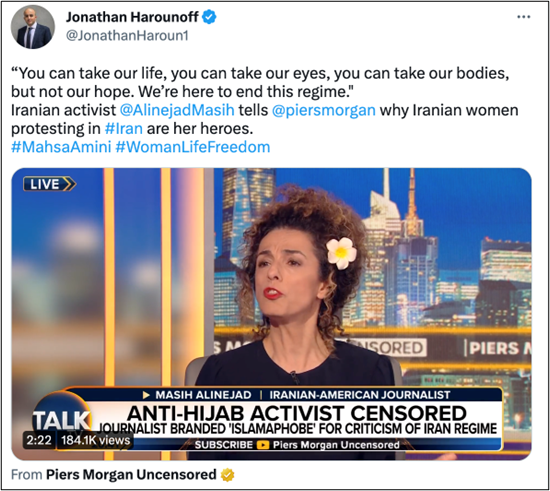 Women dined at a restaurant in the Iranian countryside with their hair uncovered.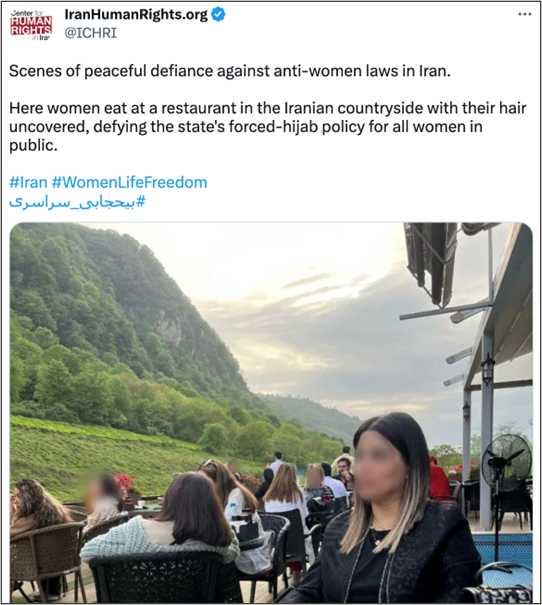 The Islamic Republic of Iran was appointed to Chair of the U.N. Human Rights Council Social Forum.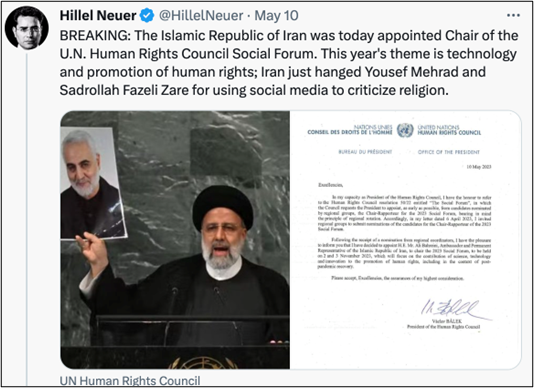 Freedom House presented its 2023 Freedom Award to the women of Iran. Actress and rights activist Nazanin Boniadi and Aida Ghajar of Iran Wire accepted the recognition on behalf of the women of Iran.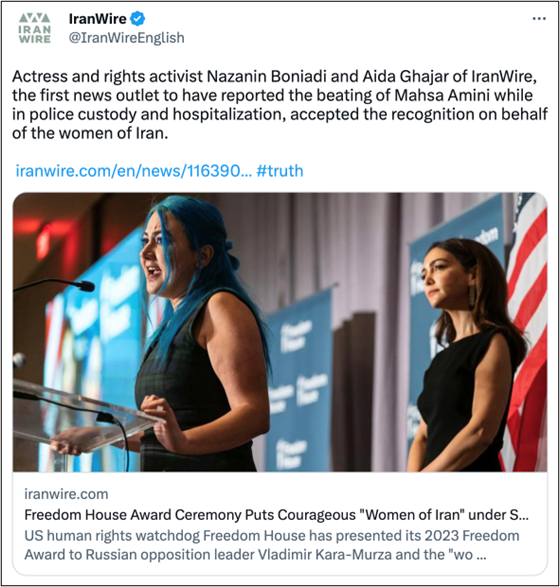 Millions of schoolgirls remain at risk of poisoning.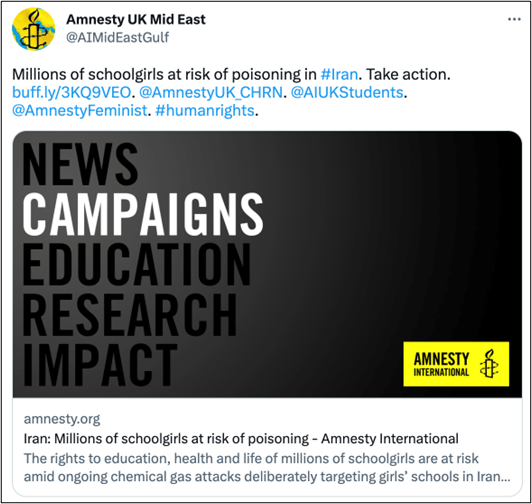 A rally is scheduled to take place in London on May 14, calling for the release of political prisoners in Iran.
Receive Iran News in Your Inbox.
Eye on Iran is a news summary from United Against Nuclear Iran (UANI), a section 501(c)(3) organization. Eye on Iran is available to subscribers on a daily basis or weekly basis.