Eye on Iran's Protests - March 23, 2023
March 23, 2023
In the 188 days since the "Women, Life, Freedom" movement struck Iran, security forces have deployed lethal force against peaceful anti-regime protesters, killing over 500 people and wounding countless others. Thousands have been subjected to cruel and inhuman punishment after they were unjustly arrested and detained. During an E.U. Council meeting on March 23, the diaspora movement descended on Brussels in solidarity with the Iranian freedom revolution, demanding an IRGC terrorist designation.
On day 188 of the revolution, there were over 18 protest-related events (movements, protest gatherings, strikes, arrests, and deaths) across Iran.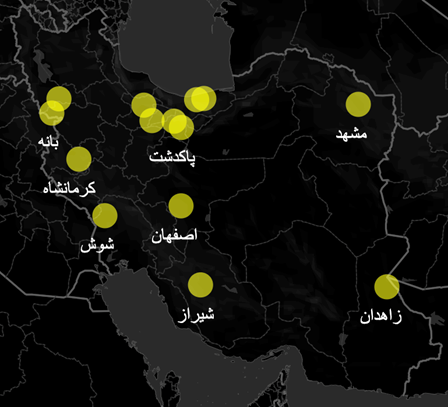 United Nations Special Rapporteur on the situation of human rights in the Islamic Republic of Iran, Javaid Rehman, told the Human Rights Council that: "The scale and gravity of the violations committed by Iranian authorities, especially since the death of Mahsa Amini, points to international crimes, notably crimes against humanity."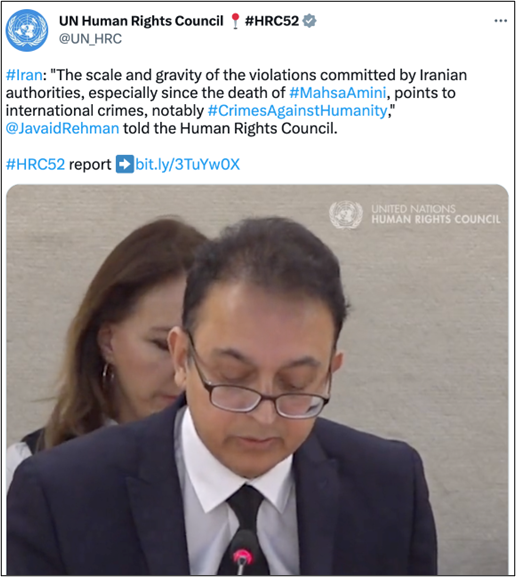 Every Friday since the start of the "Women, Life, Freedom" movement in Iran, thousands of protesters have stormed the streets in Zahedan, demanding regime-change. Last Friday was no exception.
IRGC forces fired on a young resident of Kurdistan, claiming his life.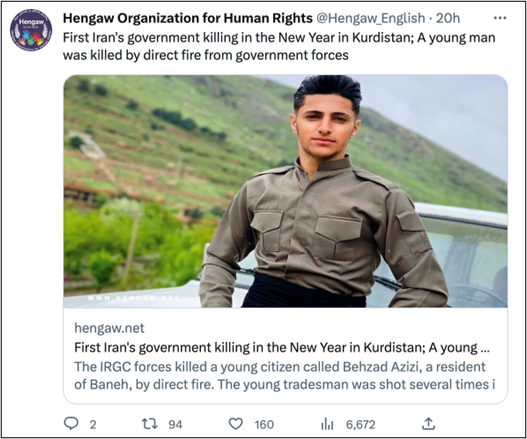 Fireworks erupted on Nowruz evening—the Iranian New Year—with chants of "Death to the Dictator!"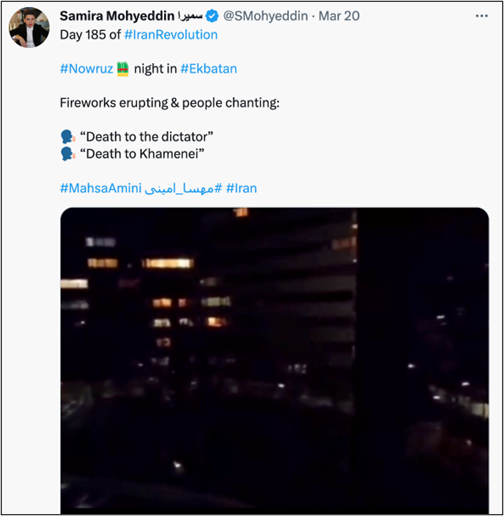 Six young men are in danger of execution for protesting against the alleged rape of a young girl by a police officer in Iran's Sistan and Baluchestan provinces in August 2022.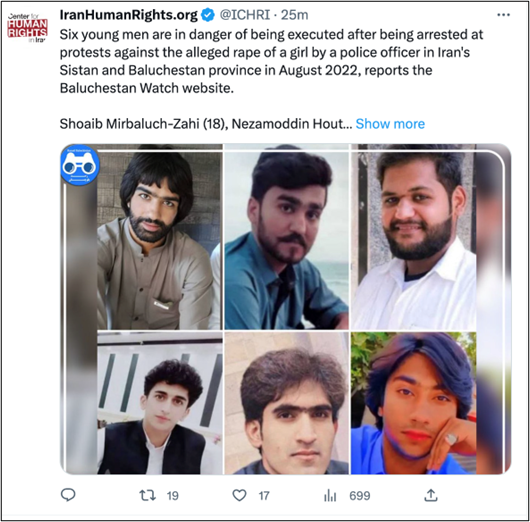 Hunger strikers in the U.K. called on the U.K. to designate the IRGC as a terrorist organization. The IRGC is responsible for gross violations of human rights in the context of the Mahsa Amini protest movement.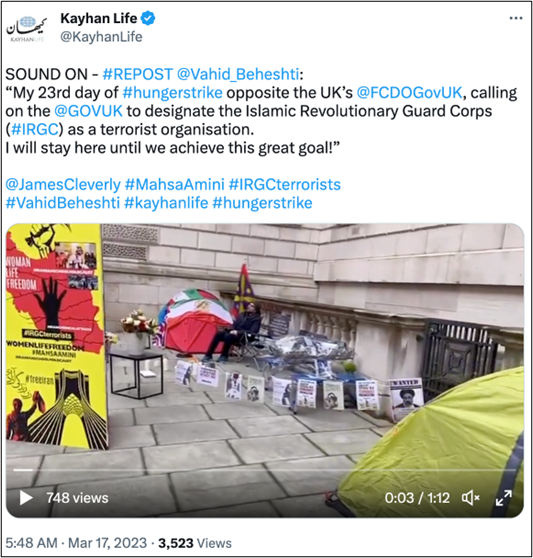 Activists called on Josep Borrell, the E.U.'s top diplomat, to take the initiative to designate the IRGC as a terrorist organization, arguing that there is a legal basis.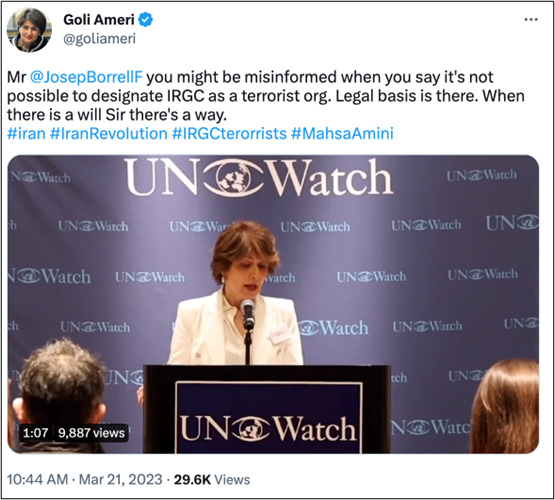 Last week's viral video of dancing Iranian girls without a hijab was a direct shot at the outmoded ideology of the clerical regime.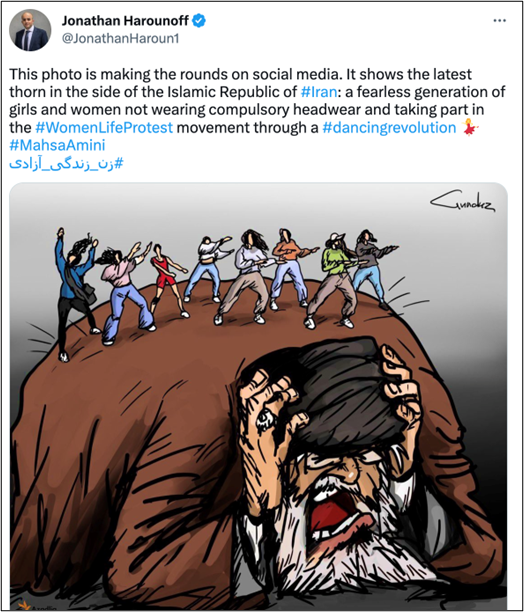 The Los Angeles Clippers celebrated Nowruz and Women's History Month by having Iranian and Afghani women wearing "Woman, Life, Freedom" shirts bring out the American flag for the national anthem.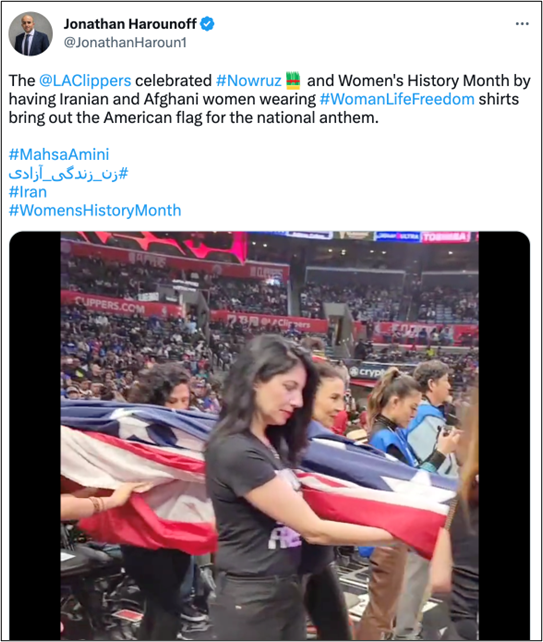 Celebrating Nowruz, Mahsa Amini's father and fellow citizens of Iran's Kurdistan province sang and danced together, saying, "we are [not] broken, we will fight to the end."