Eye on Iran's Protests - March 16, 2023
March 16, 2023
In the six months since the "Women, Life, Freedom" movement in Iran began, the regime has killed 530 people, including 71 children. There was an uptick in protest activity on March 14—the Persian holiday Chaharshanbe Soori. Females continue flouting the hijab mandate, defying their subjugation. The regime continues to arrest, detain, blind, and brutally torture dissidents, including children as young as 12 years old.
The following map highlights the locations where protest-related incidents (gatherings, strikes, arrests, and deaths) took place on March 14.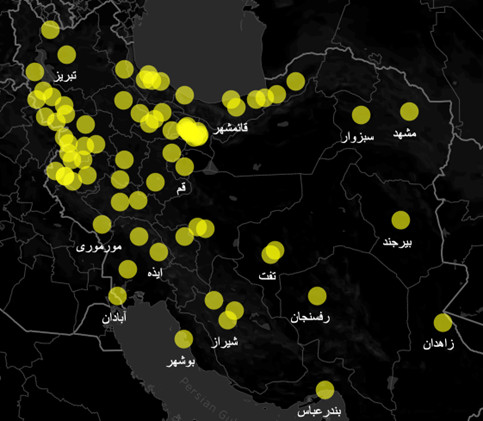 According to data collected by HRANA, the serial poison attacks have targeted 224 girls' schools, 18 boys' schools, and four mixed schools out of the 246 cases in which the gender of the students was determined.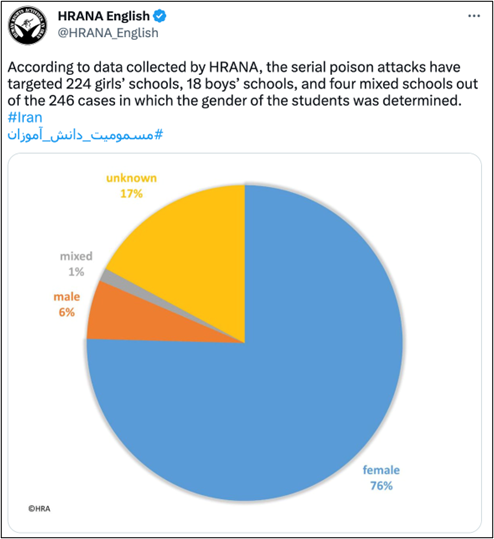 Iran's Revolutionary Guards, Ministry of Intelligence, Basij, Public Security Police, and other security and intelligence forces have used torture against child protesters in custody to punish and humiliate them, and to extract forced "confessions."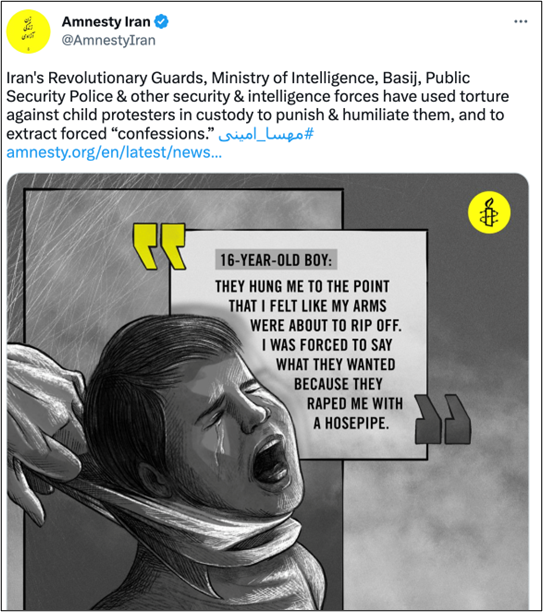 Five young Iranian women filmed themselves dancing without headscarves in a viral video on International Women's Day. They are believed to have been arrested and forced into confessing.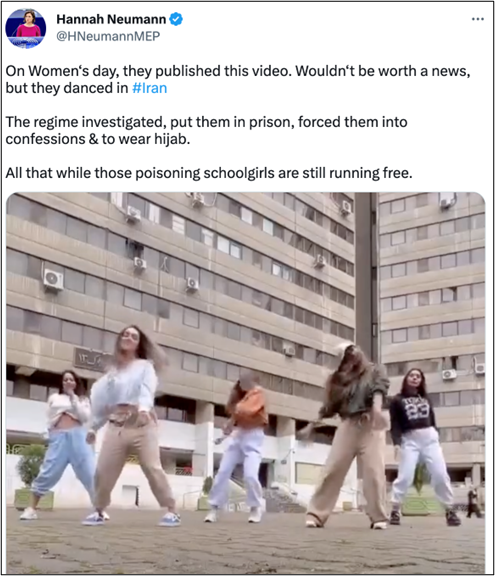 After four years and seven months in Evin prison, political activist Sepideh Gholian was released from prison where she was tortured. Outside the prison, without a hijab, she screamed "Khamenei we will bring you down!" Soon after being released, she was re-arrested.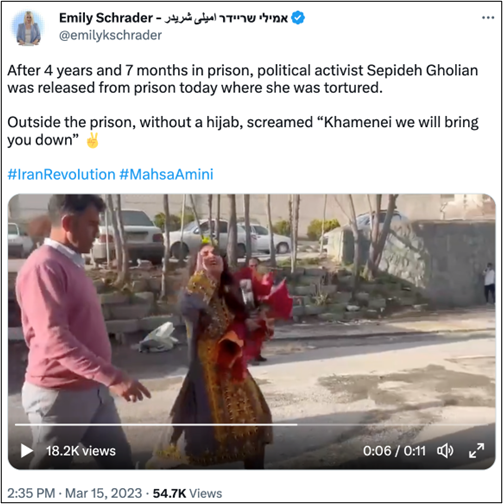 While the Islamic Republic tries to distract itself with news of the China-brokered agreement with Saudi Arabia, freedom fighters in Iran aren't fooled and are calling for protests on March 13-15. Here is a banner above the Hakim expressway in Tehran.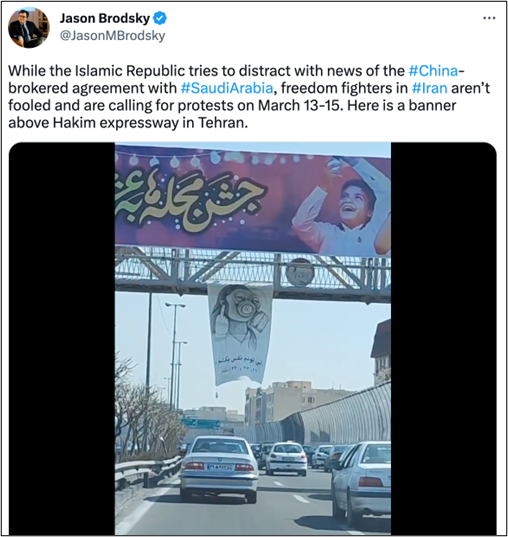 Iranians took to the streets, chanting "Death to Khamenei" and "Freedom!"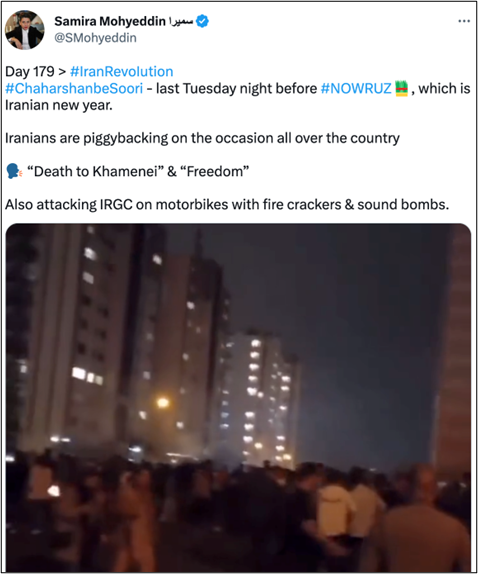 Large crowds shouted "Death to Khamenei" and "Curse be upon Khomeini" in Tehran.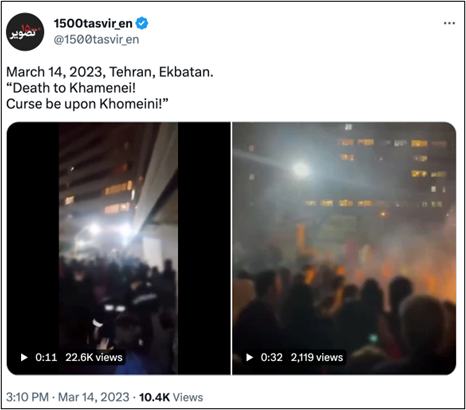 This was the scene today in Rasht, northern Iran. Protesters called for an end to the theocratic regime and shouted: "Woman, Life, Freedom" and "Death to Khamenei!"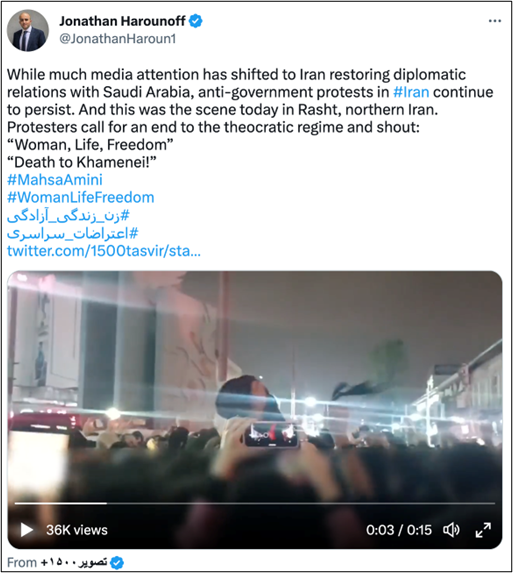 Women tossed their hijabs into street fires on the occasion of Chaharshanbe Soori, which falls on the last Wednesday of the Persian year and is commonly celebrated by large gatherings and fire dances.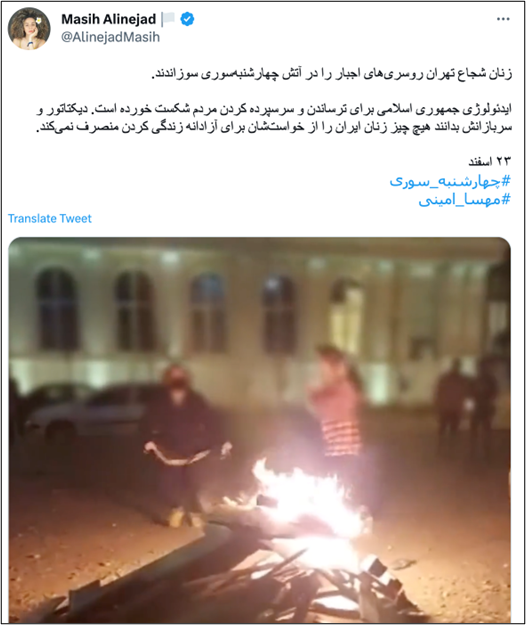 The Alliance for Democracy and Freedom in Iran, composed of six major opposition leaders 
(Masih Alinejad, Nazanin Boniadi, Shirin Ebadi, Hamed Esmaeilion, Abdullah Mohtadi, and Reza Pahlavi), released the "Mahsa Charter" as a framework for the non-violent overthrow of the regime in Tehran.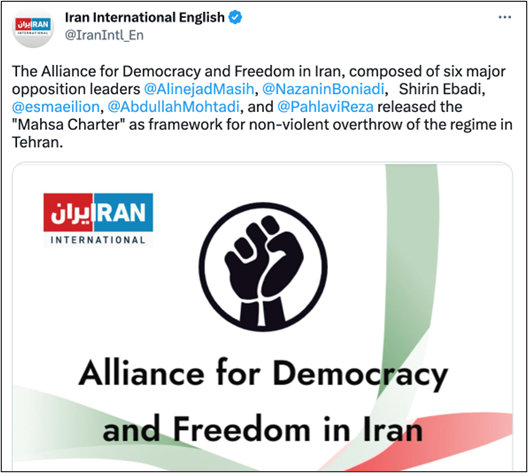 Opposition leader Masih Alinejad met with Dutch Prime Minister Mark Rutte.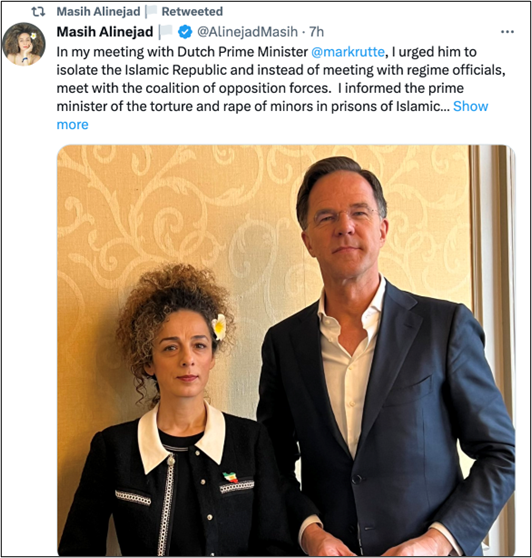 Another large protest is planned to take place in Brussels on March 23 as the European Council meets to demand the EU sanction the IRGC as a terrorist organization.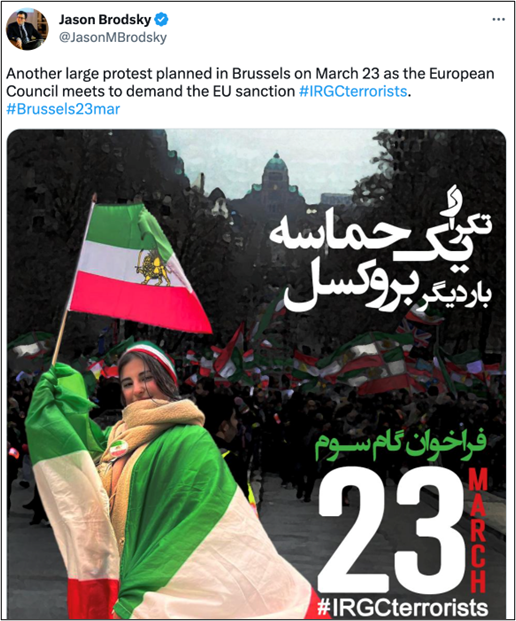 Congressional representatives called on Secretary of State Antony Blinken and Secretary of the Treasury Janet Yellen to sanction members of Iran's parliament and their family members.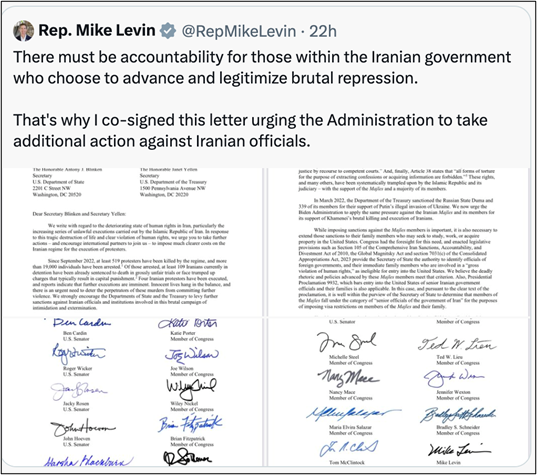 Receive Iran News in Your Inbox.
Eye on Iran is a news summary from United Against Nuclear Iran (UANI), a section 501(c)(3) organization. Eye on Iran is available to subscribers on a daily basis or weekly basis.