Thousands of members of the Iranian diaspora community gathered outside the European Parliament building in France yesterday to demand that it take a more forceful position in support of the Iranian protesters. For policy recommendations, see see UANI's resource "What Governments Should Do Now to Hold Iran Accountable."
Alireza Fili, a 17-year-old who tore Khamenei's picture in school, was found dead by his father in his shop, hanging with all his clothes torn up. Iranians believe Iran's regime staged this as a suicide.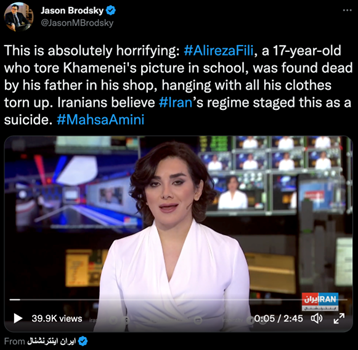 A Ph.D. student Elahe Tavakolian was shot by regime forces and lost an eye.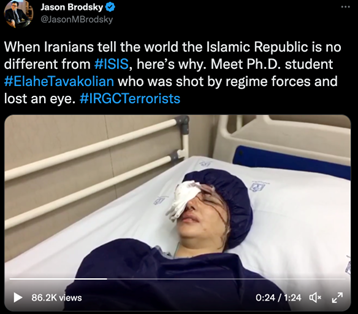 Mourners gathered at a memorial in Hassanabad village near Sanandaj, Kurdistan Province, where Hooman Abdollahi was killed 40 days ago by Islamic Republic forces. They chanted, "No king, no [religious] leader… Democracy! Equality!"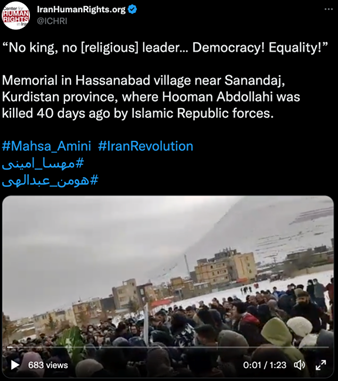 Yesterday, thousands of people rallied outside the European Parliament building in Strasbourg, France, in solidarity with the Iranian protest movement, chanting, "Death to the misogynist regime!" The protesters also demanded that the European Union add the IRGC to its foreign terrorist list.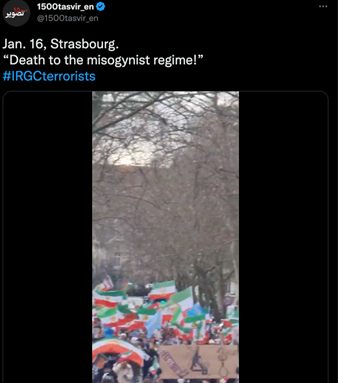 European Parliament President Roberta Metsola spoke before a crowd at the rally in Strasbourg and called for a more forceful response to the terror unleashed by the Iranian regime.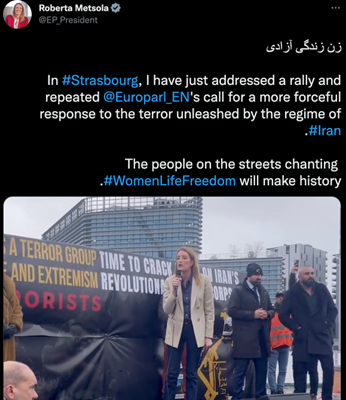 "Women, Life, Freedom" illuminated the Eiffel Tower in Paris amid the solidarity rallies opposed to the Islamic Republic.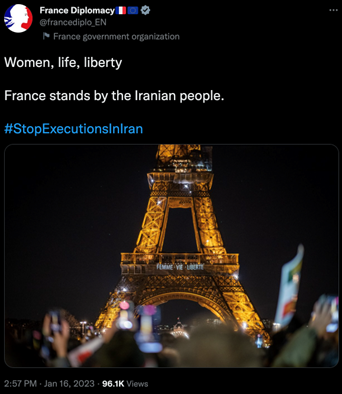 Protesters took to the streets in Torbat-e Jam, Khorasan, Iran, following gas outages.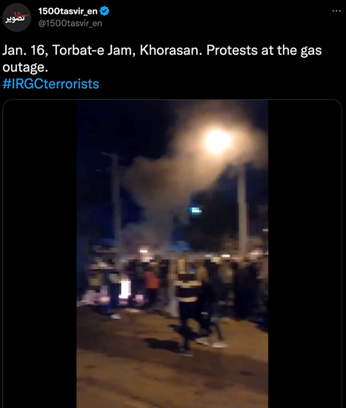 Workers in oil and gas refineries in Ahwaz and other cities went on strike today.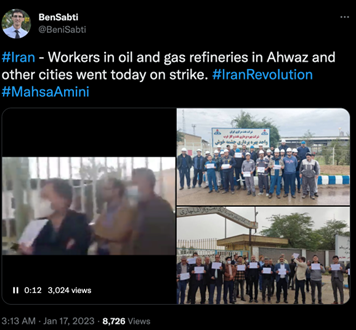 United Kingdom Bureau Chief at Al Arabiya News spoke with Iranian opposition leaders Masih Alinejad and Nazanin Boniadi and Human Rights Watch's Interim Executive Director Tirana Hassan at the World Economic Forum in Davos.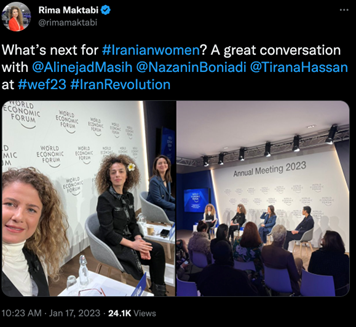 DAVOS 2023: EU's Von der Leyen Backs Listing Iran's Guards As Terrorist Group | Reuters
European Commission President Ursula von der Leyen said on Tuesday she backed listing Iran's Revolutionary Guards (IRGC) as a terrorist organization to respond to the "trampling" of "fundamental human rights" in the country. "The reaction of Iran's regime is atrocious and horrible and they are trampling over fundamental human rights," she told reporters on the sidelines of the World Economic Forum in the Swiss ski resort of Davos.
Khamenei Says Recent "Riots" Failed To Weaken Iran As Protests Continue | Al Monitor 
During a speech in the religious city of Qom on Monday, Iran's Supreme Leader Ayatollah Ali Khamenei doubled down on his country's response to protests over the last four months. Speaking on the anniversary of the protests against the Shah of Iran in 1978 that ushered in the Islamic Revolution, Khamenei accused the United States of fomenting chaos in Iran 40 years later. It "tried any tool, especially propaganda, to reach their goal" of "overthrowing the Islamic Republic." "But just like in these riots it became clear that they failed," he added, according to Tasnim news agency.