As Iranians continue to fill the streets, there is more the international community can and should be doing to support their protests. For a list of suggestions, see UANI's resource "What Governments Should Do Now to Hold Iran Accountable."
The Islamic Republic has executed Mohsen Shekari, 23; Majid Reza Rahnavard, 23; Mohammad Hosseini, 39; and Mohammad Karami, 22. Dozens of other Iranian protesters are at imminent risk of court-ordered execution.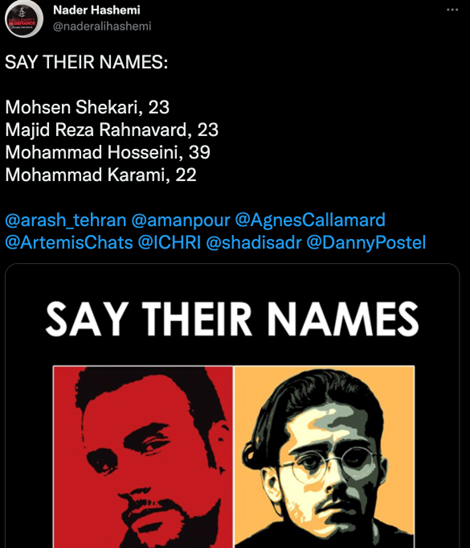 Iranians protested all night in front of Rajaee Shahr prison to prevent the executions of Mohammad Ghobadlou and Mohammad Boroughani.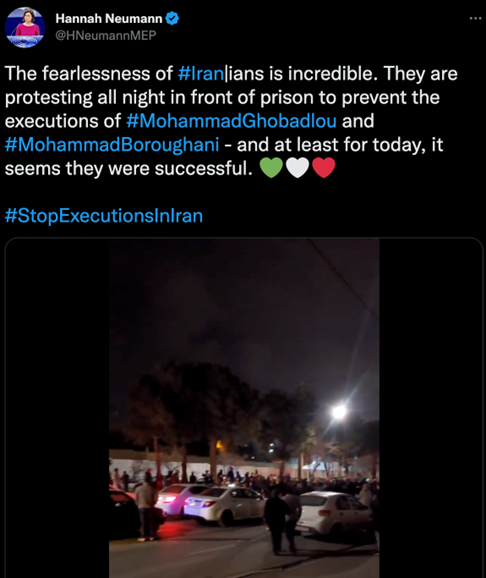 The father of 22-year-old Mohammad Mehdi Karami cried at his son's grave. Karami was an innocent demonstrator hanged over the weekend.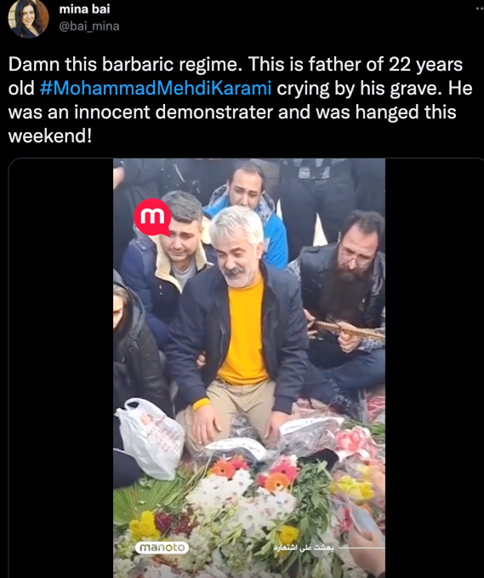 Mass demonstrations inundated the streets of Vancouver, Canada in remembrance of the third anniversary of the Islamic Revolutionary Guard Corps' destruction of Ukraine flight PS752.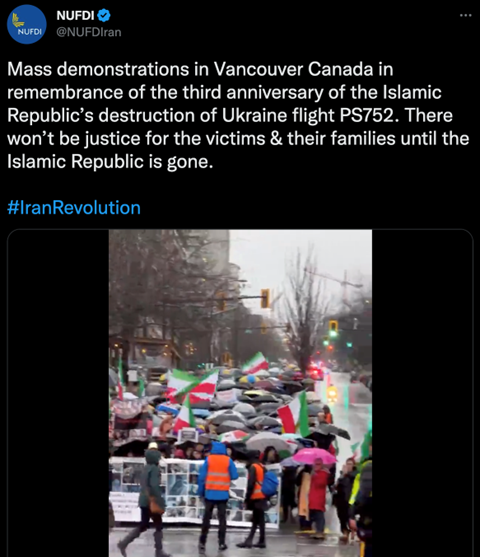 Iranians are concerned about Hassan Firouzi, 34, who faces the death penalty in Iran. His baby daughter was only 18 days old when he was arrested and in a recent phone call, Hassan asked to see her "before they do anything to me."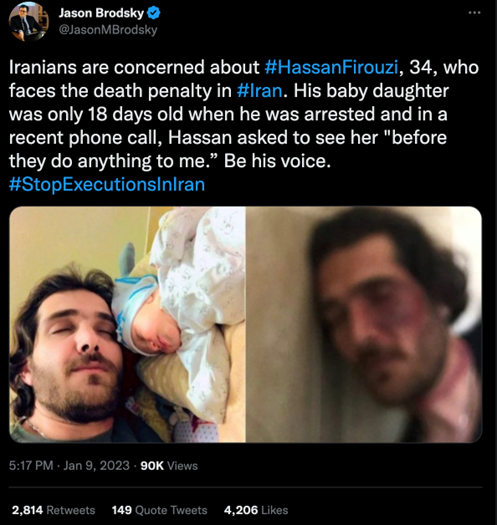 Rallies took place in Washington D.C. in solidarity with the revolutionary movement in Iran.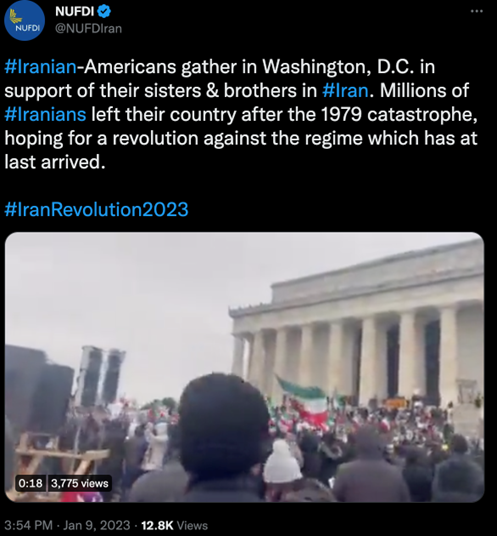 Meta's Oversight Board Tells Company To Allow "Death to Khamenei" Posts | Reuters
 Meta's Oversight Board on Monday overturned the company's decision to remove a Facebook post that used the slogan "death to Khamenei" to criticize the Iranian leader, saying it did not violate a rule barring violent threats. The board said in a ruling that the phrase is often used to mean "down with Khamenei" in referring to Iran's Supreme Leader Ayatollah Ali Khamenei, who has been leading a violent crackdown on nationwide protests in recent months.
 Iran To "Firmly Punish" People Who Violate Hijab Law: Report | Al Arabiya News
 Iran's judiciary has ordered police to "firmly punish" people who violate the country's hijab law, a news agency reported Tuesday, after nearly four months of deadly protests against the measures. Mehr news agency reported that the prosecutor general had issued a directive in which "police were ordered to firmly punish any hijab violations." "Courts must sentence the violators, as well as fine them, to additional penalties such as exile, bans on practicing certain professions and closing workplaces," it quoted the judiciary as saying.
 House Unites In Support For Iranian Protesters | Washington Free Beacon
 The Republican-controlled House is rallying around a resolution that expresses solidarity and support for Iranian protesters who are risking their lives to demonstrate against the hardline regime. As one of its first legislative efforts on Tuesday, the House is poised to pass the resolution, which commends the "bravery, courage, and resolve of the women and men of Iran demonstrating in more than 133 cities and risking their safety to speak out against the Iranian regime's human rights abuses," according to a copy of the measure obtained by the Washington Free Beacon. Led by Rep. Claudia Tenney (R., N.Y.), the resolution has the initial backing of 34 members, including 22 Democrats.