Eye on Iran's Protests - February 2, 2023
February 2, 2023
Iran's security forces have killed 527 protesters, including 71 children, in the 140 days since protests began in September. Protests in Iran continue despite the regime's brutal violence, and the Iranian diaspora community continues to organize around the world to put pressure on governments to take action in support of the Iranian protesters. 
Protest gatherings took place in multiple cities across Iran yesterday (shown in the following map). There were approximately 28 documented gatherings in Tehran.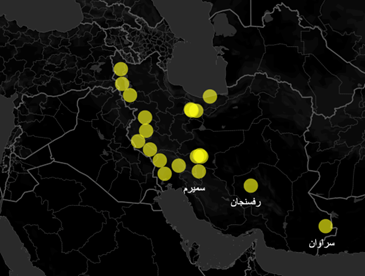 There is a glaring disconnect between what we're seeing on the ground and some news outlets reporting that the protests in Iran are fading. Far from it. Iranians inside Iran and abroad seem as determined as ever to bring about regime change.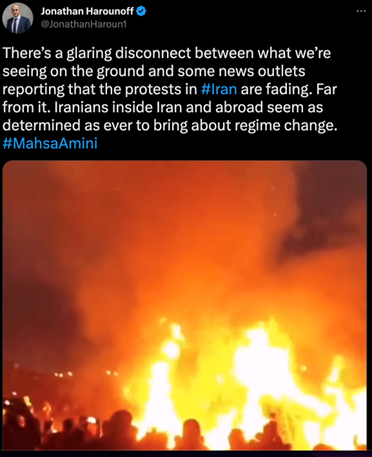 Crowds gathered in Abadan to protest against the Iranian regime.
Youth gathered in the street and chanted "Death to the Dictator!"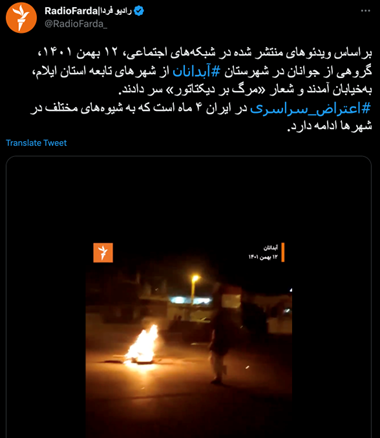 Iranians marked an ancient tradition and protested against the government concurrent with the Sadeh festivities, an ancient Persian Zoroastrian gala always frowned upon by the Islamic regime.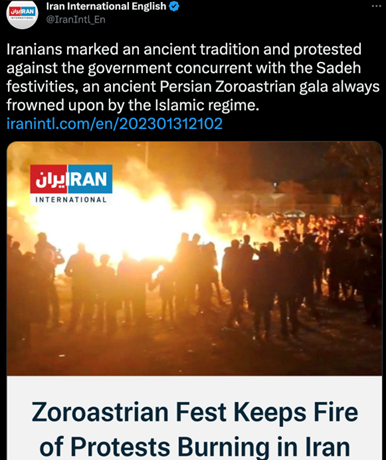 As the Islamic Republic commemorates the anniversary of the Islamic Revolution this week, Iran's revolutionaries have other plans in mind, setting fire to a government billboard in Mashhad.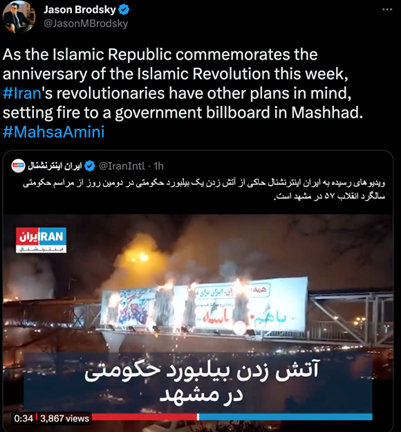 Protesters tore down a Basij statue in Abadan.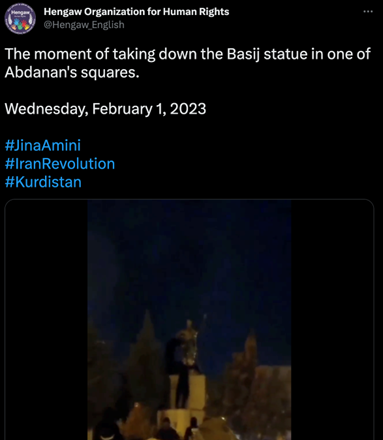 A protester sprayed "Death to Khamenei" on a highway billboard in Mashhad.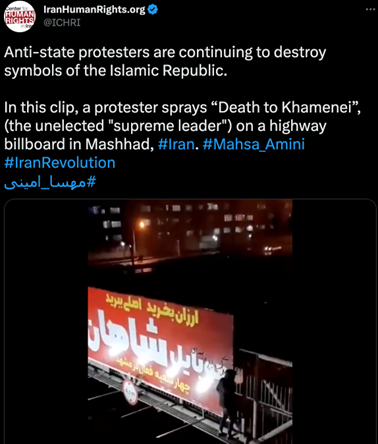 Three doctors in Iran—Yaser Rahmani, Homayun Eftekhariannia and Dr. Behnam Ohadi—who had gone to the city of Mahabad to help injured street protesters (who were afraid to go to hospitals), were tortured in Mahabad prison.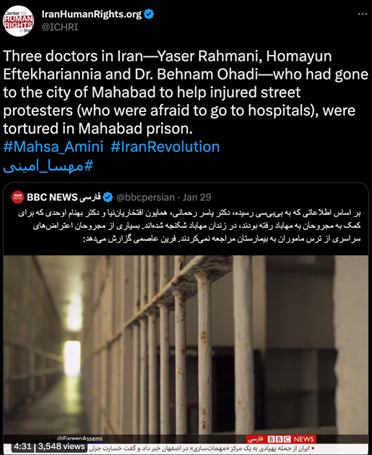 Amnesty International reported that 3 young protesters, sentenced to death, suffered gruesome torture, including floggings, electric shocks, suspension, and death threats. Revolutionary Guards raped one, and sexually tortured another by placing ice on his testicles.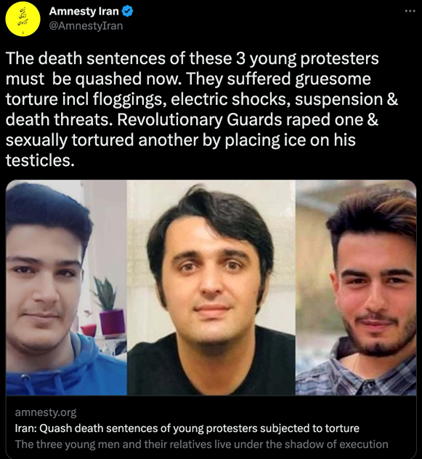 Ashkan Baluch was arrested in October for participating in protests in Tehran, and was sentenced to 5 years in prison. He committed suicide in prison, cutting his wrist artery. He was transferred to Loghman Hospital in critical condition. No one has any news of him after that.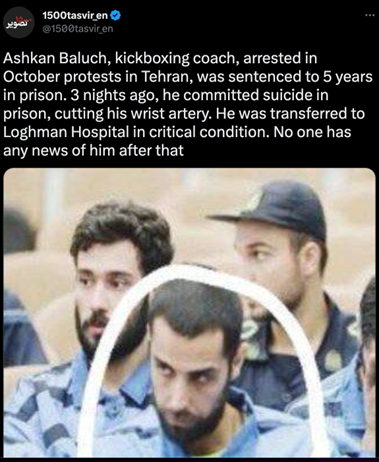 Two young Iranians, Astiyazh Haghighi and Amir Mohammad Ahmadi, were sentenced to ten and a half years in prison for dancing next to Azadi Tower in support of the revolutionary protests in Iran.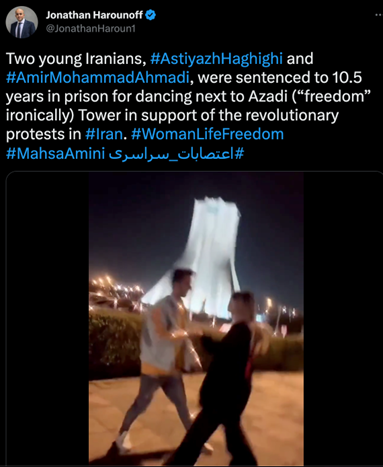 A solidarity rally in support of the protest movement in Iran is set to take place on February 11th in Los Angeles, at 200 N. Spring St. at 12:00 PM.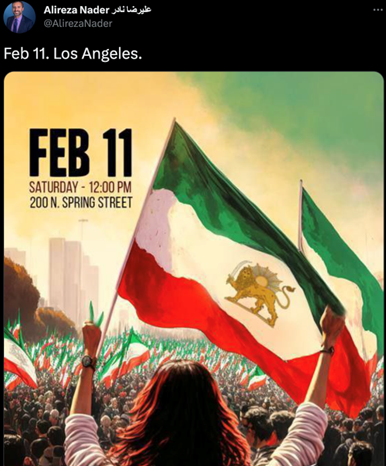 "A mural of solidarity with Iranian people demanding regime change" has been unveiled in Israel's largest Arab city Nazareth, Israeli journalist Emily K. Schrader said, adding that the move shows both Israeli Arabs and Jews are proud to stand with Iranians against the Islamic regime.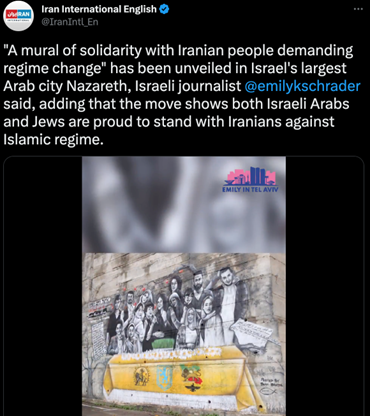 Iranian Protest Song Dominates Submissions In New Grammy Special Award | Bloomberg
An Iranian protest song in response to the death of a Kurdish woman in police custody is flooding the submission box for the Grammys' newest special award category. A campaign on TikTok urged users to nominate the anthem, Baraye, for one of the Recording Academy's new special merit awards, which honors a song dedicated to social change. It's received 95,000, or over 83%, of the 115,000 total submissions for the award, the Recording Academy said. The social media campaign aims to raise awareness of the uprisings in Iran and the song itself. Iranian musician Shervin Hajipour composed the song from tweets and other social-media posts from protestors commemorating Mahsa Amini  
The Iranian Struggle For Freedom: A Call For Global Solidarity | The Bulwark 
[The protest movement's] victory would mean deliverance from a regime that denies free elections, free speech, due process of law, and personal autonomy in matters as simple as the choice of clothing. Victory would mean even more than that. The end of the Islamic Republic's system of misogyny would constitute a global landmark in the long march toward a world in which women are treated equally. The triumph of freedom in Iran could renew the global tide of democratization that was so strong in the latter twentieth century but has ebbed in the face of authoritarian counterattack. The Azadi movement addresses no demands to the regime, which it regards as fundamentally illegitimate and beyond reform.  
Iranian Exile Wounded In Demonstrations Against Regime Speaks Out | ABC News 
Saman, [a protester] who fled the country after losing an eye due to a paintball gun when he was shot during protests, shared his story with ABC News and said that many are fed up with the oppressive show of force by the Iranian government in the last few months. "Every protester who goes to the rallies in the street knows that he could be killed by a bullet…and even his body could go missing…but still everybody attends the protests just with this hope in their heart that they could send the Islamic Republic out of our country," Saman, who asked ABC News to use only his first name for his protection, said.
Receive Iran News in Your Inbox.
Eye on Iran is a news summary from United Against Nuclear Iran (UANI), a section 501(c)(3) organization. Eye on Iran is available to subscribers on a daily basis or weekly basis.