Olivier Vandecasteele
Olivier Vandecasteele
Belgian Aid Worker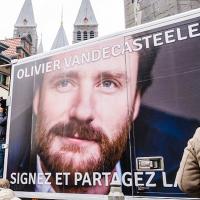 Biography
Olivier Vandecasteele is a Belgian humanitarian aid worker. He has worked for several international aid organizations for about 17 years, including Relief International (RI), Norwegian Relief Council (NRC), and Médecins du Monde. He has worked in Afghanistan, India, Mali, and Iran. Vandecasteele headed the NRC's Iran office starting in 2015 and did the same for RI from 2020 to 2021, returning to Europe thereafter. He distributed humanitarian assistance in Iran during the COVID pandemic.
According to Iran International, RI replaced Vandecasteele because of internal organizational issues. However, an "informed source" told that outlet that RI may have let Vandecasteele go due to pressures by Iran's interior ministry's foreign citizens' bureau.
Vandecasteele holds a bachelor's degree in economics and management from the Université Saint-Louis—Bruxelles, a master's degree in management sciences from the Louvain School of Management in Belgium's University of Louvain, and a postgraduate degree in international relations and conflict resolution from Katholieke Universiteit Leuven in Belgium.
Arrest
Iran's Islamic Revolutionary Guard Corps (IRGC) arrested and imprisoned Vandecasteele—purportedly for espionage— on February 24, 2022. He had returned to Iran that month—against the Belgian government's recommendation—to vacate his Tehran apartment, according to his close friend Olivier Van Steirtegem. "We need to put ourselves in his shoes: he was living there for five or six years—his life was there," said Van Steirtegem. "He had to go back." Van Steirtegem added that Vandecasteele is "purely humanitarian, not political… an innocent guy in jail."
Treatment in Captivity
The IRGC jailed Vandecasteele in Tehran's notoriously brutal Evin Prison, where he is in solitary confinmement. According to Van Steirtegam, Vandecasteele has been permitted two brief meetings with Belgium's ambassador to Iran. The hostage's cell contains no bed or other furniture and his health has declined. "He's eating nothing but potatoes, lentils and sugar," said Van Steirtegam. "He's lost 15 kg and has an infection. The Iranians said he'd seen a doctor but the doctor couldn't speak English."
Announcement of Arrest
Belgian Justice Minister Vincent Van Quickenborne announced on July 5, 2022, that Iran had arrested a Belgian man on February 24 for "espionage" and had "illegally" detained him since then. Vandecasteele's family and Belgian members of parliament said publicly that he was the detained Belgian.
Prisoner-Swap Treaty
On March 11, 2022, just 15 days after Vandecasteele's arrest, the Belgian government signed a treaty with Iran allowing Belgium to send Iranian nationals convicted of crimes in Belgium back to Iran to finish out their sentences, and vice versa. The agreement also permits each country to grant amnesty to their returned nationals.
Several Belgian and American lawmakers and human rights groups, former senior U.S. national security officials, and as Iranian exiles, opposed the treaty. They claimed, among other things, that the accord "institutionalized" Iranian hostage-taking and would result in Belgium sending back Assadollah Assadi, an Iranian diplomat convicted in Belgium of masterminding a plan to bomb a rally in France by an Iranian opposition group. Assadi is serving a 20-year prison sentence.
Belgian MP Darya Safai, who was born in Iran, said the treaty did not exclude those convicted of terrorism and therefore could endanger Iranians abroad. "My life and that of my husband, children, and so many others are in danger."
Green Party MP Wouter De Vriendtalso criticized the treaty, asking, "Are we going to voluntarily release the handcuffs of a convicted terrorist and give them to Iran as a gift with a big bow around it?"
Van Quickenborne said during parliamentary debate on the treat that after Assadi's arrest, the threat to Belgium from Iran had increased. "From day one, we have felt pressure from Iran and the security situation of our interests has deteriorated systematically," he said. He warned that each of the 200 Belgians still in Iran "could be next to be locked up" and that Belgium's intelligence community believes that the threat from Iran would increase if parliament voted down the treaty.
Belgian Prime Minister Alexander DeCroo, responding to criticism from opposition legislators, said, angrily replied, "What do you tell his family, that we are going to let him rot in his cell? Belgium does not abandon its citizens." Newly appointed Belgian Foreign Minister Hadja Lahbib, appointed last week, said the government had exhausted its diplomatic options to get Vandecasteele released. "We could raise our voices more, but we'd be screaming into the desert," she stated.
Court Orders Blocking Assadi's Return to Iran and Suspending the Treaty
On July 22, 2-22, the Brussels Court of Appeal temporarily blocked the Belgian government from returning Assadi to Iran. The court ruled that the rights of Iranian expats seeking to block the transfer "could be irreparably violated" if Assadi was transferred to Iran before an adversarial court hearing took place to adjudicate the matter.
In December 2022, Belgium's Constitutional Court suspended the prisoner-trade treaty, claiming it could cause "serious harm."
Possible Extradition Request
The U.S. government may request that Belgium extradite Assadi, according to a Brussels Times report on July 25, 2022.
Hunger Strike
Vandecasteele's family said on November 29, 2022, that he had begun a hunger strike in opposition to his "inhumane" treatment in detention, which, the relatives said, "amount to the equivalent of torture."
Conviction
Belgian diplomats were given consular access to Vandecasteele at the end of November 2022 for the first time in almost two months. The BBC reported that "[h]e told them that he had appeared before a court without the knowledge of Belgian diplomats or his Iranian lawyers, and that he was convicted of all charges brought against him without being told what he was alleged to have done."
Sentencing
In December 2022, one day after Belgium's Constitutional Court suspended the prisoner-swap treaty, Vandecasteele was sentenced to 28 years in prison. In January 2023, the Iranian judiciary's official news portal reported that Vandecasteele's sentence had been increased to 40 years in prison, 74 lashes, and a fine. The charges he was sentenced for were "espionage, cooperating with the US against the Islamic Republic, money laundering and smuggling $500,000 out of Iran."
Request for Prisoner Exchange
Belgian Prime Minister Alexander De Croo said on April 27, 2023, that his government was considering Tehran's request to swap Vandecasteele for Assadi.
Release
Vandecasteele was released on May 26, 2023, in an Oman-brokered exchange for Assadi.
International Reaction
Vandecasteele's family said that Belgium's prime minister told them in December 2022 that the hostage's only chance for release was through a prisoner swap.
In response to the report of Vandecasteele's sentencing, Belgian Foreign Minister Hadja Lahbib stated on January 10, 2023, that "Iran has provided no official regarding the charges against Olivier Vandecasteele or his trial. We will summon the Iranian ambassador today, given the information circulating in the press. Belgium continues to condemn this arbitrary detention and is doing everything possible to put an end to it and to improve the conditions of his detention."