Morad Tahbaz
Morad Tahbaz
Iranian-American-British Environmentalist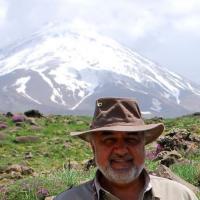 Biography
Morad Tahbaz (born October 1, 1955) is an environmentalist and a citizen of the United States, United Kingdom, and Iran. The Tahbaz family was reportedly wealthy, and his father once owned the preeminent newspaper Kayhan before the 1979 Islamic Revolution.
Tahbaz's passion for wildlife and nature began in his youth, according to an online biography. He co-founded the Persian Wildlife Heritage Foundation (PWHF), a wildlife-conservation organization that regularly gave to international conservation groups.
Tahbaz received a bachelor's degree from Colgate University in 1977 and a master of business administration from Columbia in 1983. As of July 2020, his Facebook profile lists his home as Weston, Connecticut.
Arrest
Tahbaz and eight of his PWHF colleagues were arrested in January 2018. They had been using camera traps to monitor endangered species, including the Persian leopard and Asiatic cheetah. Iran's Islamic Revolutionary Guard Corps (IRGC) said the environmentalists were committing espionage by photographing Iranian military installations.
Tehran Prosecutor Abbas Jafari Dolatabadi stated that the detainees had worked for the CIA and the Mossad for "infiltrating the scientific community, and collecting information from the country's sensitive and vital centers, including missile bases."  However, an Iranian opposition-run news website, Kalame, claimed the environmentalists were seized because they "had resisted the IRGC's excessive demands to encroach on environmentally protected regions for the installation of missile sites."
Treatment in Captivity
With one exception, the environmentalists, including Tahbaz, are being held in Tehran's notoriously brutal Evin Prison. They are in Ward 2-A, controlled by the Islamic Revolutionary Guard Corps (IRGC).
Reports claim Tahbaz suffers from cancer and was in critical condition, as of March of 2019, because his jailors denied him medication and other treatment and did not transfer him to a hospital.
The jailed environmentalists reportedly have been psychologically tortured in prison, including through: months of solitary confinement; threats of death; threats of the arrest and killing of their family members; and threats of injection with hallucinogens. Their jailors have denied them access to legal counsel and permitted only a few meetings with family. Sources claim some of the detainees were beaten.
Charges, Trial, and Sentencing
Tahbaz and his fellow prisoners were initially accused of espionage. However, in October 2018, nine months after their arrest, Tahbaz and three others were formally charged with "sowing corruption on earth"—a crime that carries the death penalty.  The regime refused to provide any evidence of wrongdoing to the defendants' attorneys before trial and did not allow the accused to see the full indictments and evidence before being convicted and sentenced.
The environmentalists' trial began in January of 2019 in Branch 15 of the Revolutionary Court in Tehran. Prosecutors reportedly relied mostly on confessions extracted by torture and later retracted.  The presiding judge was Abolghassem Salavati, nicknamed "the Hanging Judge" or "the Judge of Death" for imposing harsh sentences, including capital punishment, in political cases. Salavati refused to let the defendants choose any lawyers except those on a judiciary-approved list.
The trial was suspended in March of 2019 before the Iranian new year. In May, a committee comprised of the intelligence, interior, and justice ministers and the president's legal deputy examined the environmentalists' case and stated that there was no evidence of espionage. Several senior Iranian government officials also urged that the prisoners be released.
Nonetheless, the trial resumed in August of 2019. However, in October, a judiciary spokesman announced that the capital crime of "sowing corruption on earth" had been dropped. The defendants remain accused of other offenses, including "assembly and collusion against national security" and "cooperation with the U.S. enemy government and [Israel] against the Islamic Republic of Iran for the purpose of spying for the CIA and Mossad." According to a lawyer for one of the accused, Tahbaz was tried on October 12, 2019.
On November 20, 2019, the authorities reportedly told Tahbaz and the other defendants—without legal counsel present—that they had been sentenced to prison sentences of varying lengths, with Tahbaz receiving ten years. In February 2020, Iran's judiciary upheld the prison sentences on appeal, including Tahbaz's.
International Reaction
The British government has publicly urged Iran to free all UK-national hostages. The Trump administration publicly called for Tahbaz's release, including in a State Department video posted on social media on World Environment Day, June 6, 2019. On June 9, Brian Hook, U.S. special envoy for Iran, said he had been negotiating with Tehran to free Tahbaz and other American nationals, trying to build on recent prisoner swaps that had freed U.S. citizens, Xiyue Wang and Michael White.
The United Nations Environment Programme has urged that the environmentalists be "guaranteed a fair, transparent and independent trial." Several human rights organizations have also spoken out against the environmentalists' imprisonment. Human Rights Watch has demanded that they receive adequate access to medical treatment, be released instead of being detained arbitrarily without being charged, and that a fair and transparent investigation be launched into allegations that they have been tortured. Amnesty International has also called for the environmentalists to be released and the charges against them to be dropped.  Conservationist groups, including the Environmental Conservation Society and the World Wildlife Fund, have also issued statements supporting the hostages, as did famous anthropologist and primatologist Jane Goodall. Actor Leonardo DiCaprio also expressed support for the environmentalists on social media.
Relatives of the jailed environmentalists have written to Ayatollah Ali Khamenei, Iran's supreme leader, and Ebrahim Raisi, the head of Iran's judiciary, seeking their loved ones' immediate release.
Possible Intimidation of Journalists
Two Iranian environmental journalists who publicly panned the treatment of Rahbaz and his imprisoned colleagues later conspicuously backtracked, apologizing for their initial comments and expressing support for the Revolutionary Court's verdict. These recantations likely resulted from coercion by the regime, since Iran is one of the world's worst persecutors of journalists and has previously pressured members of the press to retract or correct pieces critical of the government.