Morad Tahbaz
Morad Tahbaz
Iranian-American-British Environmentalist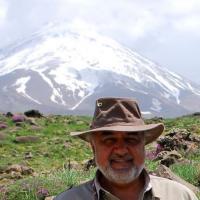 Morad Tahbaz (born October 1, 1955) is an environmentalist and a citizen of the United States, United Kingdom, and Iran. The Tahbaz family was reportedly wealthy, and his father once owned the preeminent newspaper Kayhan before the 1979 Islamic Revolution.
Tahbaz's passion for wildlife and nature began in his youth, according to an online biography. He co-founded the Persian Wildlife Heritage Foundation (PWHF), a wildlife-conservation organization that regularly gave to international conservation groups.
Tahbaz received a bachelor's degree from Colgate University in 1977 and a master of business administration from Columbia in 1983. As of August 2022, his Facebook profile lists his home as Weston, Connecticut.
Arrest
Tahbaz and eight of his PWHF colleagues were arrested in January 2018. They had been using camera traps to monitor endangered species, including the Persian leopard and Asiatic cheetah. Iran's Islamic Revolutionary Guard Corps (IRGC) said the environmentalists were committing espionage by photographing Iranian military installations.
Tehran Prosecutor Abbas Jafari Dolatabadi stated that the detainees had worked for the CIA and the Mossad, with the goal of "infiltrating the scientific community, and collecting information from the country's sensitive and vital centers, including missile bases."  However, an Iranian opposition-run news website, Kalame, claimed the environmentalists were seized because they "had resisted the IRGC's excessive demands to encroach on environmentally protected regions for the installation of missile sites."
Tahbaz's wife, Vida, went to Iran after Morad's arrest, and the regime is prohibiting her from leaving.
Treatment in Captivity
With one exception, the environmentalists, including Tahbaz, are being held in Tehran's notoriously brutal Evin Prison. They are in Ward 2-A, controlled by the Islamic Revolutionary Guard Corps (IRGC).
Reports claim Tahbaz suffers from cancer and was in critical condition, as of March 2019, because his jailors denied him medication and other treatment and did not transfer him to a hospital.
The jailed environmentalists reportedly have been psychologically tortured in prison, including through solitary confinement for months, threats of death, threats of the arrest and killing of their family members, and threats of injection with hallucinogens. Their jailors have denied them access to legal counsel and permitted only a few meetings with the family. Sources claim some of the detainees were beaten.
Roxanne Tahbaz, Morad's eldest daughter, said "he tries not to talk about" his conditions in prison. "I think he's so conscious of the fact that he's still our dad," she said. "He gets a chance to call for about two minutes, very infrequently. And then he's always like, 'I love you. I miss you. Tell me what's happening in your life? What's going on at work? Can I give you any advice?' He's always been that kind of dad. My mum was always the light of the room. And my father was always very collected, calm."
Charges, Trial, and Sentencing
Tahbaz and his fellow prisoners were initially accused of espionage. However, in October 2018, nine months after their arrest, Tahbaz and three others were formally charged with "sowing corruption on earth"—a crime that carries the death penalty.  The regime refused to provide any evidence of wrongdoing to the defendants' attorneys before trial and did not allow the accused to see the full indictments and evidence before being convicted and sentenced.
The environmentalists' trial began in January 2019 in Branch 15 of the Revolutionary Court in Tehran. Prosecutors reportedly relied mostly on confessions extracted by torture and later retracted.  The presiding judge was Abolghassem Salavati, nicknamed "the Hanging Judge" or "the Judge of Death" for imposing harsh sentences, including capital punishment, in political cases. Salavati refused to let the defendants choose any lawyers except those on a judiciary-approved list.
The trial was suspended in March 2019, before the Iranian new year. In May, a committee comprised of the intelligence, interior, and justice ministers and the president's legal deputy examined the environmentalists' case and stated that there was no evidence of espionage. Several senior Iranian government officials also urged that the prisoners be released.
Nonetheless, the trial resumed in August 2019. However, in October, a judiciary spokesman announced that the capital crime of "sowing corruption on earth" had been dropped. The defendants remain accused of other offenses, including "assembly and collusion against national security" and "cooperation with the U.S. enemy government and [Israel] against the Islamic Republic of Iran for the purpose of spying for the CIA and Mossad." According to a lawyer for one of the accused, Tahbaz was tried on October 12, 2019.
On November 20, 2019, the authorities reportedly told Tahbaz and the other defendants—without legal counsel present—that they had been sentenced to prison sentences of varying lengths, with Tahbaz receiving ten years. In February 2020, Iran's judiciary upheld the prison sentences on appeal, including Tahbaz's.
First Furlough
On March 16, 2022, British Foreign Secretary Liz Truss announced that Tahbaz had been furloughed from prison, simultaneously with Iran's full release of British hostages Nazanin Zaghari-Ratcliffe and Anoosheh Ashoori and their return to the U.K. The furlough and releases happened after the U.K. paid Iran $530 million to erase a debt dating back to the 1970s. The shah's government had purchased military vehicles from the British, but the vehicles were not delivered due to the intervening overthrow of the shah and the establishment of the Islamic Republic in its place.
Truss said that development was "the result of tenacious and creative British diplomacy… years of hard work and dedication by our brilliant diplomats, and intensive efforts over the past 6 months." She added, "We have the deepest admiration for the resolve, courage and determination Nazanin, Anoosheh and Morad [Tahbaz, another British hostage who was simultaneously briefly furloughed from prison], and their families, have shown. They have faced hardship that no family should ever experience and this is a moment of great relief." She also thanked the government of Oman for its help in getting the hostages freed. Truss added that the money the U.K. paid to Iran "will be ring-fenced solely for the purchase of humanitarian goods."
Tahbaz's family was "distraught" that the U.K. government hadn't secured Tahbaz's return home. Tarane Ahbaz, Morad's sister, said, "We were in touch with [Tahbaz, Zaghari-Ratcliffe, and Ashoori] right up until two days before when they told us there was great hope that all three were coming together. There was this build-up and then suddenly silence. The big conundrum now is that they have paid this debt and where does that leave my brother? What card do they have to play? You get a feeling after all this that he is a pawn."
British Minister of State for Europe and North America James Cleverly claimed that the Iranian regime said that Tahbaz's American nationality complicated his case. "But we don't stop, we have never stopped and we will continue working to get his full permanent release and his return home to his family," Cleverly asserted.
The Times of London cited an anonymous "informed source" who said that Tahbaz was not permitted to leave Iran because he was also a U.S. citizen, and the Iranians demanded that the U.S. also pay them, not just the U.K. "The deal was done, but at the end the Americans said no," the source said.
Tahbaz's relatives said that during his furlough, he "remain[ed] under guard in a two-bedroom flat with his wife. [She] "has also had her passport confiscated by the Iranian regime" and the couple had "no liberty to speak to the outside world."
However, Iran re-imprisoned Tahbaz just two days later, Friday, March 18, 2022, reportedly taking him "from the family home in Tehran in a black car under armed guard, while his wife looked on in tears." Tahbaz's family announced his re-imprisonment in a statement. "We the family are distraught at this moment," they said. "We were confident and assured that the UK government had taken on responsibility to secure his release... After the euphoria of Nazanin and Anoosheh's homecoming, there's a worrying sense that the UK government hasn't pressed the Iranian authorities for Morad's freedom in the same way." A Tahbaz family member said Tahbaz was "shattered and in disbelief. He did not think that the U.K government would abandon him. He was born in the U.K."
The British Foreign, Commonwealth, and Development Office (FCDO) said the Iranian regime had told them that Tahbaz had been taken back to Evin Prison to have an ankle tag fitted, which should have been done before he was released. "We hope to see him returned to his home in the coming hours," said the FCDO. "Morad Tahbaz is a tri-national and we are working closely with the United States to secure Morad's permanent release." However, Tahbaz's attorney said he "was not informed about any ankle tag." He added, "Unfortunately, we have no idea if or when he is going to be released. He is back in Evin for the time being."
A U.S. Department of State spokesperson said that nothing less than an immediate furlough for Tahbaz would contravene Iran's pledges to the U.K.  "We are not a party to this arrangement," the spokesperson stated, "but would join the UK in considering anything short of Morad's immediate furlough a violation of Iran's commitment. We are urgently consulting with the UK on appropriate responses. We continue to work night and day to secure the release of our wrongfully detained citizens, including U.S.-UK citizen Morad Tahbaz."
However, the Iranian regime kept Tahbaz in Evin Prison over the weekend before taking him to, reportedly, a hotel in Tehran. Roxanne Tahbaz said that the authorities brought Morad back to prison 24 hours later. An FCDO spokesperson criticized Iran's action. "Iran has failed to honour their committed to releasing Morad from prison on indefinite furlough," the spokesperson said. "Continuing his horrendous ordeal sends a clear message to the international community that Iran does not honour its commitments. We continue to urge the Iranian authorities, at every opportunity, to release him immediately."
After Iran took Tahbaz back to prison from the hotel, Tahbaz went on hunger strike for nine days, ending it due to his family's pleas. "He wanted the UK to know that he was still there and suffering and that he felt betrayed and abandoned," Roxanne Tahbaz said.
Roxanne also said that in the past, the British government had twice proposed to the Tahbaz family that at the same time that Zaghari-Ratcliffe and Ashoori were released and returned home, Tahbaz could be freed from prison but kept in Iran. "We vehemently disagreed with that approach," Roxanne said. "We were quite certain that if they did that, as soon as the others were back home, they'd put him back in prison. And that's exactly what happened."
Reports of Looming Release
In April 2022, three Iranian pro-regime media outlets reported that Iran and the U.S. had agreed to a deal in which Iran would release Tahbaz and two other American hostages, Baquer and Siamak Namazi. In exchange, the U.S. would release frozen Iranian funds "several times" more than the $530 million the U.K. paid Iran.
A State Department spokesperson appeared to deny the reports, however. "Reports that Iranian funds held in restricted accounts in third countries will be transferred are false," the spokesperson said. "…[The U.S. has] two separate negotiations underway with Iran: one for a mutual return to full implementation of the JCPOA and one on the release of all four US citizens unjustly detained in Iran… Unfortunately, at this stage, neither negotiation has been successfully concluded."
Second Furlough
The regime released Tahbaz on bail in July 2022 and put an electronic bracelet on him. He is staying with his wife at the Tahbaz family home in Iran. Roxanne Tahbaz said the release will "allow him to receive the medical attention he urgently needs."
Oman apparently assisted in facilitating Tahbaz's release. U.S. Special Envoy for Iran Robert Malley tweeted that he had "extended our warmest thanks to Oman for its help in achieving the furlough of Morad Tahbaz" in a meeting with the Omani foreign minister. A State Department spokesperson told al-Monitor that "We are grateful to Oman and the UK for continuing to press Iran to fulfill this commitment. Simply put: Iran is unjustly detaining innocent US nationals and others and should release them immediately."
The FCDO said in a statement after Tahbaz's release that "Morad is a tri-national and we continue to work closely with the United States to urge the Iranian authorities to permanently release him and allow his departure from Iran."
Release 
Tahbaz was moved from Evin Prison to house arrest in August 2023 as part of a pending U.S.-Iran deal to release him and four other Americans held hostage by Iran. As part of the arrangement, $6 billion in Iranian funds frozen due to U.S. sanctions was unfrozen, and several Iranians held in U.S. prisons were released. After over five years of being held hostage, Tahbaz was freed and left Iran on September 18, 2023.
Move to House Arrest
Tahbaz was moved from Evin Prison to house arrest in August 2023 as part of a pending U.S.-Iran deal for the release of him and four other Americans held hostage by Iran. As part of the arrangement, $6 billion in Iranian funds frozen due to U.S. sanctions would be unfrozen and several Iranians held in U.S. prisons would be released.
International Reaction
The Trump administration publicly called for Tahbaz's release, including in a State Department video posted on social media on June 6, 2019 (World Environment Day). On June 9, 2019, Brian Hook, U.S. special envoy for Iran, said he had been negotiating with Tehran to free Tahbaz and other American nationals, trying to build on recent prisoner swaps that had freed U.S. citizens Xiyue Wang and Michael White. Likewise, the Biden administration's special envoy for Iran, Robert Malley, tweeted in January 2022 that "Iran should release [Tahbaz], the Namazis, Emad Shargi, and Morad's fellow UK citizens immediately."
The British government has publicly urged Iran to free all UK-national hostages. British Foreign Secretary Liz Truss released a statement about Tahbaz on his 66th birthday, October 1, 2021. "As Morad Tahbaz turns 66 today, he faces another birthday spent unjustly detained in Iran, Truss said. "I call on Iran to immediately end its cruel treatment of Morad and allow him proper medical treatment. I raised Morad's case with the Iranian Foreign Minister last week and remain committed to bringing him home to be reunited with his family."
United Nations human rights experts condemned Iran's arrests of the environmentalists. "We are concerned that Iranian authorities now seem to be arresting and investigating peaceful scientific activists for their invaluable conservationist work," they said on February 23, 2018. "It is hard to fathom how working to preserve the Iranian flora and fauna can possibly be linked to conducting espionage against Iranian interests. The detention and punishment of environmentalists for their work to conserve and protect the natural environment cannot be justified]. Nowhere in the world, including Iran, should conservation be equated to spying or regarded as a crime. Detention of human rights defenders for their work is arbitrary in nature." The United Nations Environment Programme has urged that the environmentalists be "guaranteed a fair, transparent, and independent trial."
Several human rights organizations have also spoken out against the environmentalists' imprisonment. Human Rights Watch has demanded that they receive adequate access to medical treatment, be released instead of being detained arbitrarily without being charged, and that a fair and transparent investigation be launched into allegations that they have been tortured. Amnesty International has also called for the environmentalists to be released and the charges against them to be dropped.  Conservationist groups, including the Environmental Conservation Society and the World Wildlife Fund, have also issued statements supporting the hostages, as did famous British anthropologist and primatologist Jane Goodall. Actor Leonardo DiCaprio also expressed support for the environmentalists on social media.
Relatives of the jailed environmentalists have written to Ayatollah Ali Khamenei, Iran's supreme leader, and Ebrahim Raisi, then the head of Iran's judiciary and now Iran's president, seeking their loved ones' immediate release.
Possible Intimidation of Journalists
Two Iranian environmental journalists who publicly panned the treatment of Tahbaz and his imprisoned colleagues later conspicuously backtracked, apologizing for their initial comments and supporting the Revolutionary Court's verdict. These recantations likely resulted from coercion by the regime, since Iran is one of the world's worst persecutors of journalists and has previously pressured members of the press to retract or change pieces critical of the government.
Receive Iran News in Your Inbox.
Eye on Iran is a news summary from United Against Nuclear Iran (UANI), a section 501(c)(3) organization. Eye on Iran is available to subscribers on a daily basis or weekly basis.