Michael White
Michael White
U.S. Navy Veteran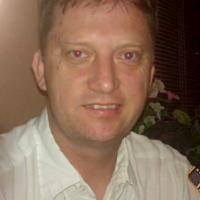 Biography
Michael White is a California native who served for 13 years in the U.S. Navy.  He suffers from asthma and cancer. He flew from Los Angeles to Dubai on July 9, 2018, and then from there to Iran to visit a woman he claimed was his girlfriend.  He visited her four times over in the years before his detention.
Arrest
White's family announced in January of 2019 that he was arrested that past July while in Iran to visit his girlfriend. The Iranian Foreign Ministry claimed in January of 2019 that White was arrested "in the city of Mashhad a while ago, and within a few days after his arrest the U.S. government was informed of the arrest through the Swiss Embassy in Tehran."  According to his mother Joanne, he was taken to court at least twice and has been held in Vakilabad Prison. White is the first American—to public knowledge—that Iran has taken hostage during the presidency of Donald Trump.
Treatment in Prison
According to his mother, White, who has asthma and previously suffered from cancer, "was badly beaten when he was arrested and… has been taken to court at least twice for proceedings in Farsi that he couldn't understand.  My son is not well. His health is deteriorating, and I want him back so I can get him the care he badly needs." A spokesman for White's mother later said that she was concerned that his cancer had returned. And in August of 2019, Swiss diplomats learned that White's cancer had come back after the authorities permitted them to meet with him. The diplomats were told that prison hospital physicians had excised a melanoma from his back and that White still had other health problems, including dental issues caused by his previous courses of chemotherapy.
White's family has had to start a GoFundMe account to pay for legal representation because he has no funds. Since January of 2019, White has not been permitted to contact his family.
Charges, Trial, and Sentencing
An Iranian prosecutor stated in January of 2019 that White's arrest was premised on the claim of an "individual plaintiff" and that he might be charged with security-related offenses, but was also being investigated for other, undisclosed possible security crimes.
The White family's lawyer announced in March 2019 that White had been convicted of two charges—insulting Iran's leadership and posting private photos on public platforms (namely, uploading a photo of him sitting with his girlfriend)—and sentenced to ten years in prison. The lawyer added that White's court-appointed lawyer did not know English.
In September of 2019, White's mother said that he had lost his appeal.
International Outcry
As of September 2, 2019, the U.S. government has not commented on White's case.