Massud Mossaheb
Massud Mossaheb
Iranian-Austrian Businessman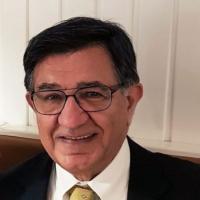 Biography
Massud Mossaheb is an elderly Iranian-Austrian dual national based in Vienna. He was born in 1937 in Iran and moved to Austria in 1965, attaining a doctorate in mechanical engineering from the Vienna University of Technology. He worked in Iran for the International Atomic Energy Agency in 1977–78, prior to the Islamic Revolution. He later worked for the German technology company Siemens, where he served as technical project manager of Austria's first space mission.
According to Mossaheb's daughter, he worked pro bono for the Iranian-Austrian Friendship Society (ÖIG), which was founded in 1991 by the then–foreign ministers of Iran and Austria. Mossaheb served as secretary-general of the society, which names as one of its focuses "developing economic relations between the two countries, with ÖIG acting in close cooperation with the Austrian Federal Economic Chamber and the Tehran Foreign Trade Office." The group states that it "has numerous contacts with Iranian authorities and can informally assist in initiating and maintaining contacts."
Arrest
The regime arrested Mossaheb in late January of 2019 when he traveled to Iran with a delegation from MedAustron, an Austrian radiation therapy and research firm seeking to establish a center in Iran. The president of ÖIG, former Austrian defense minister Werner Fasslabend, expressed surprise that the Iranians took Mossaheb as a hostage, given the latter's devotion to building Iranian-Austrian cooperation. "[T]here is no connection" between Mossaheb's arrest and his consulting work for the MedAustron project," Fasslabend said.
Treatment in Captivity
Amnesty International stated that the regime initially detained him in a hotel room, where they deprived him of sleep and questioned him without access to legal counsel, eventually forcing him to sign documents. He was then transferred to Tehran's notoriously brutal Evin Prison, where he was placed in solitary confinement for weeks, refused health care, threatened with physical abuse, denied sleep, and not permitted access to legal counsel. Because Iran does not recognize dual citizenship, Mossaheb has not been granted Austrian consular access.
Amnesty International released an alert in November 2020 claiming Mossaheb suffers from "serious medical conditions, including heart and kidney failure, diabetes and high blood pressure, for which he needs ongoing specialist medical care and daily access to medication." Amnesty said the regime refused to let him see a cardiologist outside the prison.
In January 2021, a secret audio recording of Mossaheb was released. In it, he pled with listeners to "help me and rescue me from this hell." He said that he suffers from multiple medical illnesses, including diabetes, a faulty heart valve, neuropathy, cystic lung disease, and a kidney cyst. Mossaheb added that he also had a stroke, received nine rounds of kidney dialysis, and contracted COVID-19. Mossaheb's daughter added that he "now suffers from asthma, shortness of breath, and severe depression."
Charges, First Trial, Sentencing, and Second Trial
Mossaheb languished in prison for close to one year before his trial, which commenced on January 4, 2020. According to a pro-Mossaheb Twitter account, on May 20, the Revolutionary Court sentenced him to ten years' imprisonment for espionage, and an appeals court upheld Mossaheb's sentence on July 13. However, al-Jazeera did not report that Mossaheb had been convicted until August 11.
A judiciary spokesperson said Gholamhossein Esmaili said Mossaheb was "spying for [the] Mossad and Germany in the guise" of his ÖIG work, giving them intelligence on the "missile, nuclear, nanotechnology and medical fields" in Iran.
On May 5, 2021, Iranian human rights lawyer Hosein Taj tweeted that Branch 41 of Iran's Supreme Court had granted Mossaheb a new trial.
Medical Furlough
In late November 2022, Mossaheb was indefinitely furloughed from prison for medical reasons. The Austrian foreign ministry said the furlough resulted from "intensive diplomatic efforts." Mossaheb reportedly must stay in Iran.
International Reaction
The Austrian government is in touch with Mossaheb's family and has tried to use "silent diplomacy" to get Mossaheb released, to no avail. In July of 2019, Austrian Foreign Minister Alexander Schallenberg contacted his Iranian counterpart, the supposedly moderate Mohammad Javad Zarif, seeking his help to free Mossaheb.  On July 31, 2019, seven months after Mossaheb's arrest, an Austrian foreign ministry spokesman said his government had insisted—unsuccessfully—that Tehran release Mossaheb as a humanitarian gesture, given his age.
Mossaheb's daughter, Fanak Mani, has written, "I wish my homeland—Austria and the European Union—would fight more for their hostages in Iran. The careful exchange of courtesies… proves to be a dead end. We are not talking about individual cases, but now about systematic hostage-taking. Shouldn't you reclaim your own people first before continuing profitable business with Iran? In any case, we will not accept the fact that an innocent man should spend the rest of his life incarcerated…."
ÖIG President Werner Fasslabend urged Iranian President Hassan Rouhani and Foreign Minister Mohammad Javad Zarif to enforce "clarity and the rule-of-law principles" in this "absolutely incomprehensible and absurd matter."
In an open letter to Austrian Foreign Minister Alexander Schallenberg in April 2021, the families of Mossaheb and fellow Iranian-Austrian hostage Kamran Ghaderi slammed Schallenberg for refusing to pressure Iran publicly to release the captives. "You do not publicly request their release, nor do you publicly acknowledge the injustice, torture and illegality of their imprisonment," the families wrote. "After years of continuing to rely on 'silent diplomacy,' we interpret this either as a sign of resignation, a lack of commitment or a lack of will to consider alternative strategies." The hostages also criticized the minister for not communicating with them for over a year. They urged him to use the April international negotiations in Vienna over the Iran nuclear deal to publicly demand that Iran free Mossaheb and Ghaderi.
Austria's Foreign Affairs Ministry told the media that the cases of the two hostages were at the "top of our agenda" and that the ministry had raised the issue during the Vienna talks. "We have been consistently advocating for their unconditional release in all our contacts with the Iranian government at all levels. Austrian citizens imprisoned abroad are entitled to consular protection. We constantly work on obtaining improvements of prison conditions and adequate medical treatment for the persons concerned. In our efforts, we are in close touch with the families' of the prisoners. Our ultimate goal is the prisoners' release and to see them reunited with their families and loved ones."
Release
On June 2, 2023, Austria's foreign minister announced that Iran had released Mossaheb and fellow Iranian-Austrian dual national Kamran Ghaderi and that they were returning home. The Danish foreign minister announced the same day that Iran had freed an unnamed Danish citizen. The ministers thanked their Omani and Belgian counterparts for their "valuable support," indicating that Oman had brokered the release and that Belgium's recent release of Iranian terrorist and former diplomat Assadollah Assadi may have been connected to the release of the Austrian and Danish hostages.