Kamran Ghaderi
Kamran Ghaderi
Iranian-Austrian businessman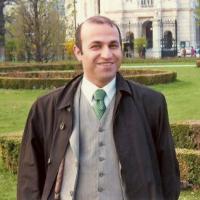 Biography
Iranian-Austrian businessman Kamran Ghaderi, a Kurd, is the CEO of Avanoc, an Austrian IT management and consulting company that has operated in Iran for many years. Ghaderi had been living with his wife and three children in Vienna at the time of his arrest. 
Arrest
Ghaderi was detained upon arrival in Tehran on January 2, 2016, when visiting for an official Austrian-Iranian trade meeting attended by senior Austrian officials. In response to his arrest, his wife Harika said, "everything he's been doing is legal, he was working in Iran; it's not forbidden."
Treatment in Captivity
Ghaderi is currently being held at Tehran's notoriously brutal Evin Prison, and was kept in solitary confinement for almost a year. He has been denied access to Austrian consular assistance and was not allowed to speak with a lawyer until two days before his trial. He was allowed to call his mother in April of 2016 for the first time since his arrest. Since then, she has been allowed to visit him in prison every other week. Harika said her husband had lost a lot of weight since his arrest. In December 2018, a report claimed that the authorities were denying him treatment for a tumor in his left leg and had not provided him the opportunity to do physical therapy to recover from surgery to relieve disc pain in his back.
The Hengaw Organization for Human Rights, which reports on violations of Iranian Kurds' human rights, claimed in December 2020 that Ghaderi had contracted COVID-19 in prison.
Charges, Trial, and Sentencing
On October 18, 2016, Tehran Prosecutor General Abbas Jafari Dolatabadi said that Ghaderi was among six individuals who received 10-year prison sentences for spying and working with the U.S. government. According to the anonymous source, the prosecution used a coerced confession to convict Ghaderi. "They threatened him that if he didn't cooperate, his wife would be taken into custody. They forced him to sign a confession under intimidation and psychological torture, otherwise, they had nothing to convict him of espionage." Ghaderi also stated that his interrogators lied to him, claiming that they had arrested his mother and brother and would keep them imprisoned until he agreed to make their desired confession.
Responding to the charges, his wife said, "How can they say something like that about Kamran? I don't understand," adding that he had no ties to the United States and was not involved in politics. She said that the family is planning to appeal the sentence.