Fariba Adelkhah
Fariba Adelkhah
French-Iranian Academic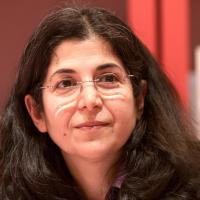 Biography
Fariba Adelkhah is a French-Iranian anthropologist at the university SciencesPo in Paris. She has published a study of Islamic women in Iran and, more recently, has focused on Shiite clerics' movements between Iran, Iraq, and Afghanistan. She has spent extensive time researching in Iran, and has largely stayed out of politics. In 2009, she wrote an open letter to Iran's then-president, Mahmoud Ahmadinejad, protesting the government's equating of academic research to espionage.
Arrest
On June 5, 2019, Adelkhah was arrested in Iran—reportedly by the intelligence service of the Islamic Revolutionary Guard Corps (IRGC)—where she was conducting research and visiting her mother. Her SciencesPo colleague and longtime companion Roland Marchal, who had flown to Tehran to spend the Eid holiday with her, was also arrested. 
Treatment in Captivity
Marchal was held, and Adelkhah remains, in Tehran's notoriously brutal Evin Prison. Unlike Marchal, Adelkhah has not been allowed to meet with French consular officials because Iran does not recognize dual nationality.
On June 22, 2020, Agence France-Presse published a story about a secret audio recording from Anousheh Ashoori, another hostage held by Iran. Ashoori said a fellow detainee told him the detainee saw Adelkhah entering the prison being beaten and dragged by her hair.
Adelkhah's international support committee claims that the Iranian authorities offered to release her if she stayed in Iran and stopped her scholarly activities. She allegedly refused that offer. Marchal said after his release from prison that Adelkhah wants an unconditional release. "She wants to go out with her head held high, with her computer and her field notes, and does not want her release to be subject to restrictions on her rights of expression in Iran. She wants to continue doing her research work in Iran and does not want to submit to any blackmail."
On December 24, 2019, Adelkhah started a hunger strike to demand that the regime release Marchal and her. She ended it on February 12, 2020, due to health concerns, and shortly after that, Adelkhah was admitted to the prison's hospital for acute kidney damage. Her lawyer said in May of 2020 that Adelkhah still had kidney problems and walked with difficulty.
In early February of 2020, Marchal and Adelkhah petitioned for permission to marry so that they could meet with each other in prison. No judgment on their petition was made public.
Reports in September of 2020 claimed that Adelkhah was being transferred from Evin Prison, but no further details were provided.
Charges, Trial, and Sentencing
The regime held Marchal and Adelkhah for months without making criminal charges public, but finally disclosed that he would be tried for "collusion to endanger national security," while she would be tried for both that charge and "propaganda against the political system of the Islamic Republic." She had also initially been charged with "espionage" (by contacting dissidents and civil rights activists under the pretense of her research) and "disturbing public opinion" (by opposing laws mandating gender discrimination and requiring women to wear head-coverings), but those counts were dropped.
The trial commenced on March 3, 2020, though only Adelkhah appeared. Further proceedings were postponed until April 18, 2020.
After the couple's trial began on March 3, 2020, their Paris-based committee of supporters condemned the hearing as a "masquerade of justice" and accused the regime of "deliberately putting in danger the lives of our two colleagues—already weakened—by keeping them in an overcrowded jail while the country is hit by a serious coronavirus epidemic whose scale is being played down and which is not under control."
On May 16, 2020, Adelkhah was sentenced to five years in prison for the aforementioned "collusion" charge and one year for the "propaganda" charge. Her lawyer said that he expected the prison terms would be served concurrently. An Iranian judiciary spokesman announced on June 30 that Adelkhah's appeal was denied and she would serve a total of five years in prison.
Marchal's Release
Iran freed Marchal on March 20, 2020, in exchange for France simultaneously releasing Jalal Rohollahnejad, an Iranian accused of violating U.S. sanctions laws. Marchal returned to France the next day. The regime continues to hold Adelkhah hostage in Evin Prison.
Adelkhah's First Furlough
Adelkhah's lawyer announced on October 4, 2020, that she had received an indefinite furlough and is staying with her sister and brother-in-law in Tehran. The authorities required her to wear an electronic ankle monitor and not go further than 300 meters from where she lives. Her attorney did not say if the regime released her due to the widespread COVID-19 infections in Iranian prisons.
The Iranian authorities imprisoned Adelkhah again in January 2022, claiming she had broken the conditions of her house arrest "dozens of times" despite multiple warnings.
Adelkhah's Second Furlough
Adelkhah's attorney said on August 9, 2022, that the authorities had furloughed her for five days. The regime reimprisoned her after five days.
Release from Prison
The regime released Adelkhah from prison on February 10, 2023. Her lawyer said the next day that Adelkhah's release was final, but that it was undetermined when the authorities would permit her to leave the countries.
International Reaction
In July of 2019, French President Emmanuel Macron personally asked Iranian President Hassan Rouhani to explain the reason for Adelkhah's arrest. France's foreign ministry also insisted on consular access to her "without delay," to no avail. In October 2019, the ministry outright demanded Adelkhah's release.
In December of 2019, the French government summoned Iran's ambassador and demanded again that Marchal and Adelkhah be released and that French consular officials be allowed to meet with them. France's foreign minister reiterated those demands to his Iranian counterpart in February of 2020, and President Macron again urged Tehran to free Adelkhah after Marchal was freed in March of 2020.
SciencesPo has claimed that it is taking several steps to help Adelkhah and Marchal, working closely with the French Ministry of Europe and Foreign Affairs and the French National Centre for Scientific Research. The university specifically mentioned that it had made sure that the two hostages had a very experienced attorney who is on the Iranian regime's approved list. In July of 2019, the SciencesPo faculty issued a message expressing their "warmest support" for Adekhah and her family and their "strong hope" for her speedy release. The International Sociological Association endorsed that message.
Also, in July of 2019, the president of the Middle East Studies Association (MESA) and the chair of its Committee on Academic Freedom sent a letter in support of Adelkhah to Ayatollah Ali Khamenei, Iran's supreme leader, and Major General Hossein Salami, the IRGC's commander-in-chief. The MESA officials objected to the regime's increasing imprisonment of academics and urged the recipients to free Adelkhah immediately and make sure she returned to France safely.
In May of 2020, French Foreign Minister Jean-Yves Le Drian decried Adelkhah's prison sentence. "This sentencing was founded on no serious elements and was politically motivated," he said. "So, we firmly say to the Iranian authorities to release Fariba Adelkhah without delay." Le Drian added that "This decision makes our relations with the Iranian authorities a lot more difficult." A foreign ministry spokesman condemned the denial of her appeal in late June of 2020.
Adelkhah's support committee has characterized Iran's repeated hostage-taking of scholars and researchers as a challenge to academic freedom and the "international scientific community." In that vein, the committee criticized France's minister of higher education, research, and innovation, Frédérique Vidal, for showing "indifference" to Adelkhah's case despite its significance for academic freedom. The committee said Vidal had "confined herself to a few mechanical statements" and referred questions to the French foreign ministry. "Her silence is shocking and contemptuous of our profession as researchers and teachers," they added.
Vidal, a former biochemist and university administrator, denounced the Iranian judiciary's rejection of Adelkhah's appeal in late June of 2020, calling it "unacceptable" and saying, "The freedom of researchers must be guaranteed everywhere in the world." The support committee also criticized European countries for their silence on Adelkhah's detention, and called for "suspension of international scientific cooperation with Iran" until the regime released imprisoned academics.
A portrait of Adelkhah was displayed on the façade of Paris's City Hall on June 5, 2020, the one-year anniversary of her arrest.
In late September 2020, France, Germany, and the U.K., in a coordinated action, each summoned the Iranian ambassadors to those respective countries to protest the Iranian regime's imprisonment of citizens of those countries, as well as other human rights abuses. However, there were no reports that any of the three governments threatened Iran with any consequences if those policies continued.
In December of 2020, Adelkhah was granted the Irène Joliot-Curie Prize for Woman Scientist of the Year by the French Ministry of Higher Education, Research and Innovation. During a phone call on January 29, 2022, President Macron urged Iranian President Ebrahim Raisi to immediately free Adelkhah.
After Adelkhah's release from prison on February 10, 2023, the French foreign ministry stated that "[i]t is essential that all of Ms. Fariba Adelkhah's freedoms are restored, including returning to France if she wishes."
Receive Iran News in Your Inbox.
Eye on Iran is a news summary from United Against Nuclear Iran (UANI), a section 501(c)(3) organization. Eye on Iran is available to subscribers on a daily basis or weekly basis.