Ahmadreza Djalali
Ahmadreza Djalali
Iranian-Swedish Expert in Emergency Disaster Medicine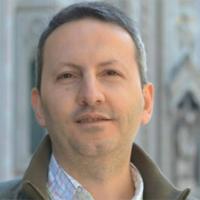 Biography
Dr. Ahmadreza Djalali, an Iranian-born Swedish resident (now citizen) and expert in emergency disaster medicine, is a scientist at the Research Center in Emergency and Disaster Medicine (CRIMEDIN) run by the University of Eastern Piedmont in Novara, Italy and a professor at the Free University Brussels (VUB). His work has been described by his colleague, Caroline Pauwels, rector of the Free University in Berlin, as "important humanitarian work." Dr. Djalali has a PhD in medical science (disaster medicine) from Karolinska Institute in Sweden. He has published 46 scientific articles in journals across the world. Some of his previous work included collaboration with Tehran University and Shiraz University, as well as the Natural Disaster Medicine Institute in Iran.
Arrest
Dr. Djalali was arrested on April 24, 2016, in Tehran by agents of Iran's Ministry of Intelligence. Djalali was visiting Tehran from Sweden, where he lives with his wife and two children, at the official invitation of Tehran University.
On January 5, 2016, after keeping silent for several months, Djalali's wife, Vida Mehrannia, publicly revealed that her husband was imprisoned in Iran. According to Vida, "Ahmadreza had always traveled to Iran by invitation of state organizations, including the Red Crescent, and never experienced problems before." The family had remained quiet after his arrest because they hoped, to no avail, that there was some "mistake or misunderstanding, and that he would be acquitted and released."
Treatment in Prison
Djalali has been jailed in Evin Prison without trial since his arrest on bogus charges of "collaborating with enemy states." Djalali was reportedly placed in solitary confinement and interrogated by the intelligence ministry for seven months, without access to legal counsel, before being moved to a general ward. His wife noted that "[a]]fter he was transferred to a public ward, he was permitted legal counsel, but his lawyer told us he cannot talk about the case because it involves national security." On December 25, 2016, when his interrogators threatened him with a harsh sentence, Djalali began a hunger strike. According to his wife, "he says that if they are going to execute him he prefers to die under hunger strike." Djalali is experiencing severe health issues after losing 18 kilograms from his hunger strike. In July of 2019, United Nations human rights experts expressed concern that Iran was denying Djalali access to health care, even though tests indicate he may have cancer.
Death Sentence
On February 3, 2017, Ahmadreza's employer, Free University Brussels (VUB), announced that he had been sentenced to death and that the execution was scheduled to take place in two weeks. Ahmadreza informed his family in Iran that he was forced to sign a confession, which became the basis for his death sentence. According to VUB, the charges appeared to be related to Djalali's international contacts. The University program draws students and professors from around the world, including countries such as the U.S., Saudi Arabia, and Israel.
Djalali reportedly was convicted of "working with enemy states" and "spreading corruption on earth" in a trial before Judge Abolghassem Salavati, who is nicknamed "the hanging judge" or "the judge of death" for imposing harsh sentences, including capital punishment, in political cases. Djalali claimed that he had been compelled to make videotaped confessions, psychologically tortured, and threatened with death.
In December of 2017, his sentence was upheld.
International Outcry
A petition calling for Djalali's release and signed by over 300,000 supporters was sent to Iranian President Hassan Rouhani and Foreign Minister Mohammad Javad Zarif. In August of 2019, Zarif said the Iranian government would "do our best on humanitarian grounds to see if the sentences on Mr. Djalali can be delayed, but he has been accused of multiple capital crimes… and he has been convicted of them."
In February of 2018, the Swedish government granted Djalali citizenship in order to improve their ability to negotiate with Iran over his case.