Ahmadreza Djalali
Ahmadreza Djalali
Iranian-Swedish Expert in Emergency Disaster Medicine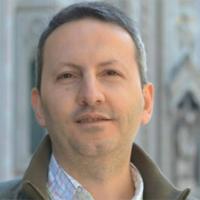 Biography
Dr. Ahmadreza Djalali, an Iranian-born Swedish citizen (a Swedish resident at the time of his arrest) and expert in emergency disaster medicine, is a scientist at the Research Center in Emergency and Disaster Medicine (CRIMEDIN) run by the University of Eastern Piedmont in Novara, Italy, and a professor at the Free University Brussels (VUB). His efforts have been described by his colleague Caroline Pauwels, rector of the Free University in Berlin, as "important humanitarian work." Dr. Djalali has a PhD in medical science (disaster medicine) from Karolinska Institute in Sweden and an MD from Tabriz University in Iran. He has published 46 scientific articles in journals across the world. Some of his previous work included collaboration with Tehran University and Shiraz University, as well as with the Natural Disaster Medicine Institute in Iran.
Arrest
Dr. Djalali was arrested on April 24, 2016, in Tehran by agents of Iran's Ministry of Intelligence. Djalali was visiting Tehran from Sweden, where he lived with his wife and two children, at the official invitation of Tehran University.
On January 5, 2017, Djalali's wife, Vida Mehrannia, publicly revealed that her husband was imprisoned in Iran. According to Vida, "Ahmadreza had always traveled to Iran by invitation of state organizations, including the Red Crescent, and never experienced problems before." The family had remained quiet after his arrest because they hoped, to no avail, that there was some "mistake or misunderstanding, and that he would be acquitted and released."
In an undated letter smuggled out of prison, Djalali wrote that the regime had arrested him for refusing to spy for Iran's intelligence ministry on European Union states.
Treatment in Prison
Djalali was jailed in the notoriously brutal Evin Prison without trial since his arrest on bogus charges of "collaborating with enemy states." Djalali was reportedly placed in solitary confinement in the prison's Ward 209. The intelligence ministry—and not the prison system's bureaucracy— controls that ward, which houses political prisoners.
Ward 209 is infamous—even by the standards of Evin Prison—for its tormenting of inmates. The names of those detained there are not put on Evin's prisoner list, and Iranian parliamentarians have been denied access to it. Former prisoners there told Radio Free Europe / Radio Liberty that they were "subjected to long and multiple daily interrogations," "deprived of sleep and medical care,"  "threatened by authorities with indefinite imprisonment," and "beaten up."
Djalali was interrogated in Ward 209 for seven months without access to legal counsel, before being moved to a general ward. His wife noted that "[a]]fter he was transferred to a public ward, he was permitted legal counsel, but his lawyer told us he cannot talk about the case because it involves national security." After he was transferred, the Islamic Revolutionary Court still blocked every single attempt he made to engage a lawyer to represent him.  
On December 25, 2016, when his interrogators threatened him with a harsh sentence, Djalali began one of several hunger strikes. According to his wife, "[H]e says that if they are going to execute him he prefers to die under hunger strike." 
In October of 2017, an audio recording of Djalali was posted to YouTube. In it, he said the authorities had compelled him to recite while being videotaped two "confessions"—scripted by his captors—to committing espionage for a "hostile government." Djalali said the authorities had psychologically tortured him into making his recorded confessions, including by threatening to execute him and arrest his children. Djalali said the charges against him were false and made up by agents from the intelligence ministry.Iranian state television broadcast a forced confession by Djalali on December 17, 2017. His wife said that the authorities threatened to kill his family if he did not read the statement.
Djalali is experiencing severe health issues. His wife said in February of 2019 that after receiving test results indicating he may have leukemia, he was scheduled to leave prison to see cancer and blood specialists. However, the authorities stopped him from going because he refused to wear his prison uniform while away from Evin.
Djalali also reportedly lost 24 kilograms due to his hunger strike.
Djalali's wife stated that he had been moved on July 29, 2019, from Evin to an undisclosed location where he was in solitary confinement, watched by a camera.
The regime hasn't even temporarily released Djalali as the dangerous COVID19 virus has ravaged Iran, killing over 26,000 people (according to the Iranian regime's official statistics; a BBC investigation indicted the actual number may be almost triple that) as of October 1, 2020. Inmates living in appalling conditions in Iran's prison system are at particular risk of contracting the virus. As of April 3, 2020, Iran had released a reported 100,000 some-odd prisoners, presumably to reduce the population density in its prisons and thereby minimize the spread of the virus, but Ahmadreza Djalali remains in prison, simultaneously awaiting execution and at risk of contracting and dying of coronavirus.
Charges, Trial, and Sentencing
Djalali reportedly was charged with "working with enemy states" and "spreading corruption on earth." Djalali's trial began on January 30, 2017, in the Islamic Revolutionary Court in Tehran. On the first day, Judge Abolqassem Salavati read him the indictment and said, "Your sentence is death and it won't change at the end of the trial." Salavati is nicknamed "the Hanging Judge" or "the Judge of Death" for imposing harsh sentences, including capital punishment, in political cases. Djalali claimed that he had been compelled to make videotaped confessions, psychologically tortured, and threatened with death.
On February 3, 2017, Djalali's employer, Free University Brussels (VUB), announced that he had been sentenced to death and that the execution was scheduled to take place in two weeks. Ahmadreza informed his family in Iran that he was forced to sign a confession, which became the basis for his death sentence. According to VUB, the charges appeared to be related to Djalali's international contacts. The University program draws students and professors from around the world, including countries such as the U.S., Saudi Arabia, and Israel.
In December of 2017, Djalali's sentence was upheld on appeal.
On September 17, 2020, the International Observatory of Human Rights received from Djalali's wife an audio recording of an interview with him. Djalali said, "I am still under continuous risk of being executed," adding that nonetheless, "I have decided to sustain and fight with this catastrophe."
Djalali added that the prosecutor's office told him that while he is still liable to capital punishment, "[T]hey are ready to solve this problem if Sweden decides to help me. Practically, not just verbally. As I heard from them, Sweden not only doesn't perform any real action to save me and release me, but also they may prefer that I'd be executed." Djalali said that the Swedish government's treatment of his family is "very unfriendly," claiming, "By now, none of Swedish authorities, such as the Minister of Foreign Affairs Ann Linde, or before her, have allowed my spouse or children to meet them. Never."
International Outcry
In October of 2017, Amnesty International demanded that the Iranian regime nullify Djalali's capital-punishment sentence, as well as to release him if he was convicted because of his academic work and exercising of his human rights.
A petition calling for Djalali's release and signed by over 300,000 supporters was sent to Iranian President Hassan Rouhani and Foreign Minister Mohammad Javad Zarif. In August of 2019, Zarif said the Iranian government would "do our best on humanitarian grounds to see if the sentences on Mr. Djalali can be delayed, but he has been accused of multiple capital crimes… and he has been convicted of them."
In February of 2018, the Swedish government granted Djalali citizenship in order to improve their ability to negotiate with Iran over his case.
In December of 2018, 121 Nobel Laureates wrote to Supreme Leader Khamenei, asking him to permit Djalali to "return home to his wife and children and continue his scholarly work for the benefit of mankind."
In July of 2019, United Nations human rights experts expressed concern that Iran denied Djalali access to health care.