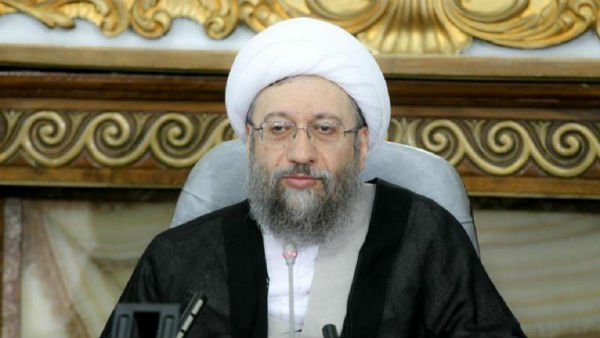 Sadeq Larijani, who was born in 1960 in Iraq, is a member of the Larijani dynasty—his father was a grand ayatollah, his brother Ali has served as speaker of the parliament, and his other brother, Mohammad-Javad, was a longtime diplomat for the Islamic Republic and served as secretary-general of Iran's High Council for Human Rights. His father-in-law, Grand Ayatollah Hossein Vahid Khorasani, according to one account, opposed Ali Khamenei's elevation as a source of emulation, and once even told Khamenei, "[y]ou be the sultan, but leave marjaeiyat to others." Many consider the remark as questioning Khamenei's religious credentials as supreme leader. Ironically, like Khamenei's ascension from president to supreme leader, Larijani himself started his tenure as head of the judiciary as a hojatolislam before Iranian news outlets suddenly began referring to him as an ayatollah later in his tenure. Most importantly, Larijani's decade as head of the judiciary has provided a platform for wide-ranging administrative experience. There are even rumors that Larijani may be a candidate to succeed Ahmad Jannati as head of the Guardian Council given that Jannati is a nonagenarian.
Electorally, Larijani has proven his mettle after winning a seat on the Assembly of Experts in 1999. Khamenei has also given him a seat on the Guardian Council, which vets candidates for state elections. Likewise, in a nod to Larijani's continued status as a favorite son of the Islamic Republic, the supreme leader named him in 2019 as the new chairman of the Expediency Council, which is tasked with resolving disputes between parliament and the Guardian Council. In this new role, Larijani has found himself on the frontlines of an internal power struggle between the Rouhani government and unelected power centers over Iran's satisfaction of the Financial Action Task Force's action plan.
In addition to his solid resume, Larijani fits well within the Islamic Republic's prevailing governing ideology. He once stated, "[w]e support a society which is based on the spirit of Islam and religious faith, in which Islamic and religious values are propagated, in which every Koranic injunction and the teachings of the Prophet of Islam and the Imams are implemented. It will be a society in which the feeling of servitude to God Almighty will be manifest everywhere, and in which people will not demand their rights from God but are conscious of their obligations to God (Jahanpour)."
Nevertheless, Larijani's career hasn't been without controversy. Then-President Mahmoud Ahmadinejad accused the Larijani family of monetizing their positions of trust in the government. For example, in 2013, Ahmadinejad showed a video to lawmakers depicting Fazel Larijani, another brother of Sadegh, soliciting a bribe from a member of Ahmadinejad's administration in exchange for convincing Ali Larijani, then-speaker of the parliament, to support a pet project. Sadegh Larijani has also feuded with President Hassan Rouhani. There was speculation in Tehran that Larijani maintained illicit bank accounts totaling $77 million. Some members of parliament even accused Larijani of depositing bail funds into his personal bank accounts, with one claiming Larijani held 63 such accounts. After he stepped down from the judiciary, Larijani was a focus of his successor Ebrahim Raisi's anti-corruption probe, with his former top deputy, Akbar Tabari, being implicated.
Separately, in 2018, Sadegh Larijani was sanctioned by the U.S. Treasury Department under Executive Order 13553 for human rights abuses. According to the U.S. government, "[a]s head of Iran's [j]udiciary, Sadegh Amoli Larijani has administrative oversight over the carrying out of sentences in contravention of Iran's international obligations, including the execution of individuals who were juveniles at the time of their crime and the torture or cruel, inhumane, and degrading treatment or punishment of prisoners in Iran, including amputations." Lastly, during the populist unrest which continues to sweep across Iran, protesters have at times focused their ire on Larijani personally.
The allegations of corruption have left a black mark on Larijani's stock as a candidate for the supreme leadership. Additionally, given Ali Larijani's interest in running for the presidency of Iran in 2021, some power centers in Tehran may object to a potential dynastic dynamic, particularly because of Ruhollah Khomeini's wish that his family not enter politics. But Supreme Leader Ayatollah Ali Khamenei's recent praise of Larijani, crediting him with starting the anti-corruption campaign with which his successor is most identified, as well as his current role as chairman of the Expediency Council, make it difficult to discount him as a contender for the supreme leadership.