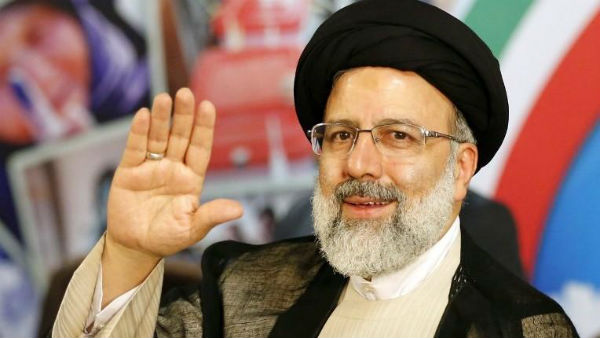 Conservative cleric Ebrahim Raisi, born in 1960, has largely avoided the limelight in his decades-long career as a government official, although in recent years there has been a concerted campaign to boost his public profile. Like Supreme Leader Khamenei, Raisi hails from the city of Mashhad, and his extensive political and familial connections to Khamenei and his inner circle are the key to understanding his rise to prominence. Many analysts judge that Khamenei is grooming Raisi as his designated successor.
Raisi first encountered Khamenei as a young seminarian in the holy city of Qom at the time of the 1979 Islamic Revolution. Raisi was among 70 students selected for a crash course in governance, where Khamenei was one of his teachers. Raisi began his career as a prosecutor at age 20 and although he lacked a brilliant legal mind, he rose through the ranks of the judiciary by demonstrating loyalty to Iran's revolutionary principles and a willingness to sentence dissidents and political prisoners to death. Most notably, in 1988, he was a member of a four-man panel that sentenced thousands of dissidents and leftists to death. Raisi went on to become deputy chief of the judiciary under Sadegh Larijani and then attorney-general from 2014-16. Attorney-general is an important post in the Islamic Republic—multiple former intelligence ministers have held the post after serving at the helm of the intelligence ministry.
Raisi is married to the daughter of Ayatollah Alam al-Hoda, a reactionary cleric also from Mashhad who has been a key Khamenei ally since he became supreme leader. Raisi also counts Khamenei's son, Mojtaba, as a prominent backer. These family connections have cemented Khamenei's trust in Raisi and boosted him throughout his career, particularly in the last year.
In March of 2016, Supreme Leader Khamenei tapped Raisi to head Astan Quds Razavi, Iran's largest charity and the overseer of the Imam Reza Shrine, one of the holiest sites in Shiite Islam and a large source of revenue for the regime. Raisi's appointment offered him the opportunity to court powerful backers, and to build a patronage network of his own. He was once pictured with senior Iranian military commanders seated at his feet, an image which bolstered his authority.
In 2017, Raisi emerged as a presidential candidate, challenging incumbent President Hassan Rouhani. While Raisi lost the race, his entry into electoral politics gave him an opportunity to build a public, electoral brand—an important qualification, constitutionally, in the selection of a supreme leader. Raisi shares Khamenei's mistrust of the West, favors a confrontational posture, is a populist rhetorically, and promotes efforts to build a resistance economy in Iran. For instance, on April 26, 2017, he stated, "[t]oday Americans are afraid of the word 'Iran.' ...This is the solution. The solution is not backing down. We must force them to retreat." Raisi struck an economic populist tone throughout the campaign, calling for the amelioration of growing income inequality, pledging to increase cash subsidies to poor Iranians, and railing against corruption which he attributes to Rouhani's presidency. Also indicative of the effort to elevate his profile, Raisi was Khamenei's choice to head Iran's judiciary, succeeding Sadegh Larijani. Notably, some reformists, in addition to Raisi's more conservative supporters, cheered his appointment because they hope Raisi will initiate institutional reforms to make the judiciary more efficient and less corrupt, given the scandals that have swirled around former Chief Justice Sadegh Larijani. Since taking office, Raisi has increased his profile—spearheading an anti-corruption campaign which has ensnared top regime officials, including an aide to the former chief justice. Speculation has mounted that Raisi has launched this campaign, in part, to eliminate Larijani from contention as a potential candidate for the supreme leadership. The U.S. Treasury Department sanctioned him in November 2019 as a member of the supreme leader's inner circle.
Religiously, while Raisi is a hojatolislam, Khamenei held that rank before he ascended to the supreme leadership. But the Iranian press is already giving him a promotion to ayatollah, following the precedents set by Mahmoud Hashemi Shahroudi and Sadegh Larijani after they assumed the helm of the judiciary. Politically, even though Raisi doesn't hold elective office, his previous campaign against Rouhani heightened public awareness of his brand of conservatism. Even though Rouhani won more than 23 million votes, Raisi still garnered 15.8 million votes in the election. Coupled with the patronage network that he built during his tenure at Astan Quds Razavi, Raisi has the political constituency and has commanded a financial largess that other candidates lack. Additionally, the IRGC's support for Raisi during his election campaign is an indication of their potential receptiveness to his candidacy for the supreme leadership. Administratively, his management of Iran's largest foundation and control of the judiciary are all significant positions which will bolster his stock.