Nazanin Zaghari-Ratcliffe
Nazanin Zaghari-Ratcliffe
British-Iranian project manager at the charity Thomson Reuters Foundation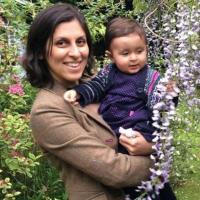 Arrest
Nazanin Zaghari Ratcliffe, a British-Iranian project manager at Thomson Reuters Foundation, a charity organization promoting socio-economic progress, independent journalism and the rule of law, was detained on April 3, 2016 at Tehran's Imam Khomeini Airport by officials believed to belong to Iran's Revolutionary Guards. She had traveled to Iran on March 17, 2016 to visit her family during the Persian New Year holiday. She was detained as she was about to return to the UK along with her toddler daughter, Gabriella. Before being taken into custody, Nazanin was allowed to leave her daughter in the care of her parents, who had accompanied her to the airport. The authorities have confiscated the passport of her daughter, who holds British nationality. Nazanin was subsequently accused of partaking in a plot to overthrow the Iranian government.

Treatment in Prison
Nazanin was taken to an undisclosed detention center in Kerman in southern Iran for interrogation and was held in solitary confinement for 46 days. On June 5, 2016, Nazanin was transferred from Kerman Prison to a ward controlled by the Revolutionary Guards in Evin Prison. While in Evin, Nazanin briefly shared a cell with Homa Hoodfar, the Canadian-Iranian professor who was arrested in June 2016 and released on September 26, 2016.
Since her arrest, Nazanin has been denied the right to access a lawyer and is feared to have been coerced into making "confessions." She was allowed a meeting with her parents and daughter for the first time on May 11, 2016, in a hotel room in Kerman. The meeting, which lasted over two hours, took place in the presence of security agents. According to her husband Richard, "When she met [her family] at that hotel, she wasn't able to stand up she was so weak. She couldn't walk without getting a blackout. She wasn't able to pick up her baby, and our baby had to be put on her lap, she was so weak."
Nazanin has been permitted to make several brief phone calls to family members in Iran and to her husband outside the country, and those were only to tell him she had stood trial, and that had been sentenced to five years in prison. Authorities halted the phone calls to her family in Iran on June 5, 2016. In July 2016, her husband reported that she had lost weight, seen her hair fall out, and was virtually unable to walk.
In October 2016, her husband Richard told Amnesty International that his wife's health had sharply deteriorated and that she was even contemplating suicide. She is suffering from heart palpitations in addition to pain in her hands, arms and shoulders, and blurred vision. On November 13, 2016, Nazanin began a hunger strike to express her despair over the prospect of never being released.
On November 25, 2016, Nazanin told her family that Revolutionary Guard officials had pressured her to choose between moving their two-year-old daughter Gabriella, into Section 2A of Evin Prison with her for up to three days a week or sign a document to say that she does not want "the right to be with her young daughter."
Conviction & Sentencing
On April 27, 2016, the family was told that Nazanin was being held for "reasons related to national security," without elaborating on further details and that she would likely be held for another two or three months until the completion of an investigation. On June 9, 2016, Nazanin telephoned her family in Iran informing them that she had been told she was going to be released "and then, after she did that, someone called her parents and said: 'there has been a mistake, we are changing things, and she is being transferred.'" On June 15, the Revolutionary Guard in the Kerman Province accused Zaghari-Ratcliffe of being a "top operative in a foreign network" who was participating in a "plot for the soft overthrow of the Islamic Republic."
On August 14, 2016, Nazanin faced a secret trial before the Revolutionary Court. On September 9, 2016, Zaghari-Ratcliffe was sentenced to five years in prison. An official statement in Iranian media accused Nazanin of attempting to overthrow the Islamic Republic as "one of the chief members of networks of adversary institutions who — with the direction and support of foreign media and espionage services — has committed her criminal acts over the past few years."
In a statement released by the Free Nazanin Campaign, Mr. Ratcliffe said his wife's appeal was dismissed in a secret hearing of an Iranian Revolutionary Court on January 4, 2017, but only announced on January 22, 2017. During the appeal hearing, two new accusations from the Kerman branch of the Revolutionary Guard were raised against Zaghari-Ratcliffe. These charges included the claim that she was knowingly married to a British spy, and that she acted as the head of recruitment for BBC Farsi at the time of its founding in 2009. Nazanin never worked for BBC Farsi and she had been to Iran on holiday many times without a problem since she left her role as Project Assistant for BBC Media Action in 2010.
In January 2019, the British press reported Iran's Islamic Revolutionary Guard Corps had tried to recruit Zaghari-Ratcliffe as a spy in exchange for her release. This came at the same time as Iranian authorities' alleged refusal for provide her medical assistance for a lump on her breast. 
International Outcry
Since going public with the news of her arrest in May, her husband Richard has taken every opportunity to tell Nazanin's story and has launched a petition calling for her release, signed by hundreds of thousands of people. A report from the UN Working Group on Arbitrary Detention (WGAD) strongly condemned the imprisonment of Nazanin. On October 24, 2016, petitions were delivered to the UK Foreign Office with a letter co-signed by 117 Members of Parliament and Members of the House of Lords calling for the release of Nazanin along with two other British-Iranian citizens. The petition, signed by more than 73,000 supporters, was sponsored by Amnesty International.
The United Kingdom's Foreign Office granted Nazanin diplomatic protection in 2019, which Iran has rejected. This move has raised the matter beyond a consular dispute and into a full bilateral legal dispute between Iran and Britain.